Last Updated on June 27, 2022 by Laila Oliveira
The euphoria after your flight lands in Portugal may get you a little giddy. Oh, we understand, alright! Your dream life in this country has just begun, and you can't help but daydream about everything you'll do this week. Right off the bat, you'll need to get a SIM card in Portugal before anything else follows.
Arriving in a new country is a big change. With all tourism and bureaucratic processes heavily digitized, having a Portuguese contact number is essential. It determines how people can contact you, help you use mobile internet, and get in touch with your travel agent.
Keep reading to understand the entire process of obtaining a SIM card, from start to finish. We'll also list down the best options you could get and whether or not you can still use your old SIM. By the end of this article, you should be confident enough to know where you can get your new SIM from – just before you get ready to celebrate this milestone!
How can I get a SIM card in Portugal?
It's pretty challenging to move around without having a phone on you, especially a phone in which you can do the basics. When you land in a new country, you'll need the internet to help you navigate around, right? That's why it's important to get a SIM card in Portugal. 
It becomes a whole different story when you're here for longer than a few weeks. It's an absolute necessity the longer you stay here. Later in the article, we'll discuss how you can get a Portuguese phone contract too.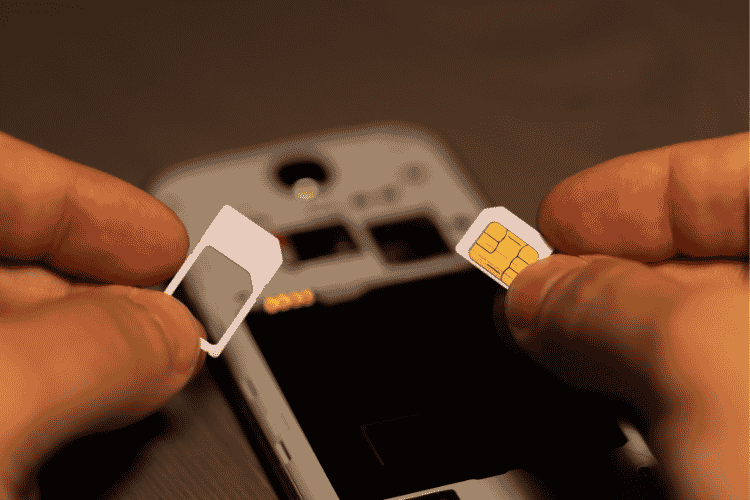 The process is fairly simple when you land at the airport. You'll find a small store with the best SIM carriers at the airport in the arrivals area. The store representatives often speak excellent English, so you won't go through any communication barriers trying to explain yourself. 
Depending on whether you need the SIM for mobile data, calls, or texts, the representative will guide you appropriately. Within the next few minutes, you should have your new SIM card installed on your phone. Voilà! Wasn't that simple?
Another option is to purchase it from outside the airport. Some people prefer this since the queue at the airport can be a little long, and they're already tired from their journey. And sometimes, people are just too excited to explore Portugal and forget they had to get a SIM card. It's not a problem either way!
You can get a new SIM card from the carrier's stores around Lisbon, Porto, and other major centers. There are stores, kiosks, and other shops that sell mobile phones also have them.
Can I buy a SIM card for Portugal from abroad?
The answer is yes! You can grab an eSIM or a SIM card in advance for your stay in Portugal. SimOptions has an Orange SIM card that's trusted, easy to use, and has one of the best 4G mobile networks in Europe.
This prepaid SIM will be ready to install and activate even before you leave your house to travel. It'll cater to your on-the-go internet needs, calls, and SMS to 30 countries within Europe. In case your stay is longer than two weeks, you should consider getting a Portuguese mobile phone contract.
What are the best SIM cards in Portugal?
There are three main options when it comes to the best SIM cards in Portugal. They're reliable, easily accessible, and are used by the vast majority. With thousands of tourists choosing these three SIM cards every year, you can be sure their service will be great.
Without further ado, let's get right into it!
Vodafone
Vodafone Portugal has nationwide coverage and many people go straight to their store at the airport. You can get a SIM card for €9.9 to €30 depending on what package meets your requirements. Vodafone continues to be the dominant operator in Portugal thanks to its reliable connectivity to 4G.
NOS
Another excellent option is NOS Portugal, a fast-speed network that covers nationally. You can get a SIM card for €10 to €40 from the airport or other shops throughout major cities. The €40 SIM is a data-only SIM with unlimited mobile internet for 30 days.
MEO
The third option is MEO Portugal, known for having really good network coverage even in the Azores or Madeira. You can purchase a SIM card for €2.5 to €30 from the airport you land at.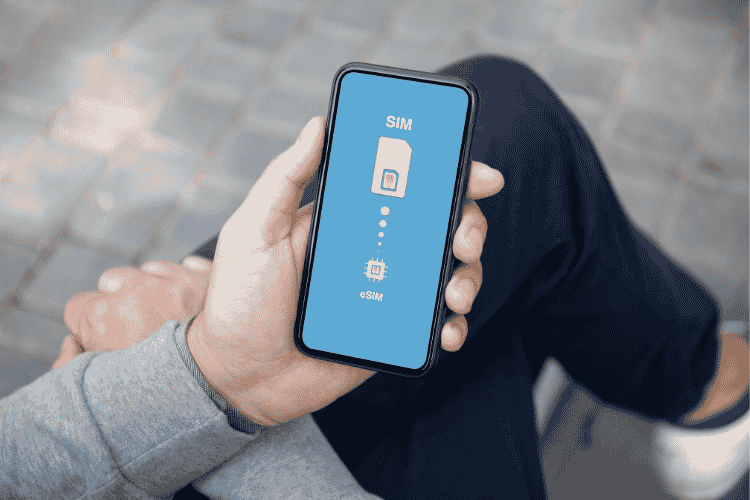 Just visiting Portugal? See the international SIM cards
First, let's explain what an international SIM card is, followed by what kind of SIM you'd need depending on your stay.
An international SIM card (also known as a travel SIM card) allows you to connect to local networks in various countries worldwide. It's a much more flexible option for frequent travelers since they're all about convenience and low rates. Having one SIM for multiple countries is a lot less hassle.
You can check out some of the following international SIM cards:
Using either of these SIM cards will allow you to have low-cost calls, SMS, and mobile data. If your SIM doesn't offer calls or SMS, you can use mobile data for communication apps like WhatsApp or Facebook Messenger.
An international SIM card is a go-to option for many tourists just visiting Portugal. Whether they're here for a scouting trip, some business work, or to soak up the golden sun. However, expats who have moved to Portugal must get a phone contract since their purposes differ. 
Does my old number work in Portugal?
Your old number will work even if you get a SIM card in Portugal. However, it's not a preferred way to go about it because of how expensive it gets. In fact, people say it's unwise, especially in the long run.
Using your old number in Portugal counts as using "international roaming". International roaming is when the network provider allows calls and other data transfers outside the geographical area of your home network. 
You'd be required to pay additional charges on your old number in addition to the charges on your new SIM card. In some cases, the charges will be lower, for example, if you were using Vodafone in your home country. But, it's still costly.
Therefore, most people prefer to get a SIM card in Portugal from a local network provider for affordable packages. If you're traveling from inside the European Union, you probably won't need to change your SIM. But, if you're moving from outside the EU, you'll want to switch.
SIM card or phone contract?
SIM cards are much more affordable in Portugal than in other European countries, and they usually make sense in the short term. On the other hand, phone contracts are preferred by international students, people here for a job, retirees or digital nomads.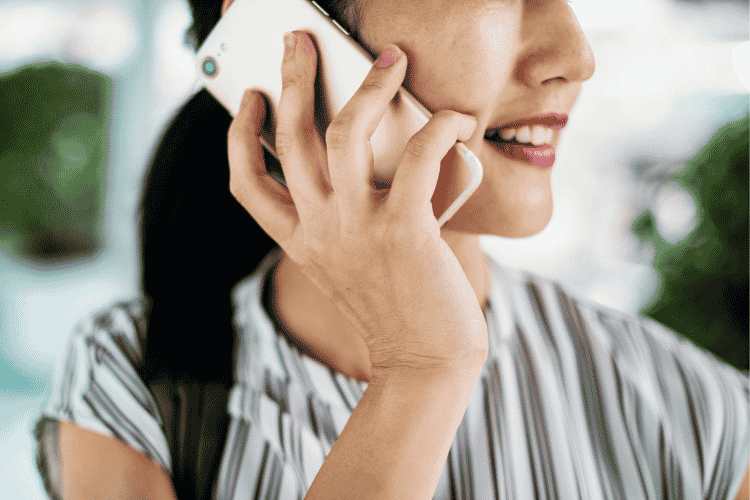 So, generally speaking, a phone contract is optimal when you're here to stay for longer than a year. SIM cards come in handy when you're looking for a quicker way to obtain a local Portuguese phone number.
A phone contract is also significantly cheaper than a prepaid SIM card, especially if you require lots of mobile data. And remember, you'll always need to carry your passport before buying a SIM.
What do I need to get a Portuguese phone contract?
Out of the two options, people traveling to Portugal for a more extended period opt for a Portuguese phone contract. Not only is it much more affordable, but it's also easier to manage. There'll be stores throughout the city; all you have to do is visit one and make your purchase.
Here's a list of all the documents you'll need to get a SIM card in Portugal:
In case you don't know what a NIF Number is, we've got an article explaining everything about the NIF Number in Portugal. To simplify it for you, it's your Individual Tax Identification Number and is a vital part of your life in Portugal. A lot of your tasks as an expat or student depend on this piece of information, for example, to open a bank account or attend university. 
How much does it cost to get a SIM card in Portugal?
As mentioned earlier in the article, the cost varies depending on the packages and your requirements.
To give you a summary of the expected cost you're likely to incur, let's explain a bit more in detail now. The monthly cost can vary from €14 to €35 to get a prepaid SIM card in Portugal that includes internet, SMS, and calls. Make sure to choose your plan's internet and minutes wisely so that you don't run out before the end of the month and have to pay extra.
There are also options in which you can use chat and social media apps without spending your plan's data and that you can upgrade or downgrade your minutes and gigabytes when needed.
Should I get a SIM card in Portugal before or after moving here?
Both options are equally feasible, whether you want to get a SIM card in Portugal or before you start traveling. In most cases, it doesn't even matter. However, when you're moving to a new country, every little experience feels like a milestone. Likewise, getting a new SIM after landing here will give you some exciting goosebumps.
Your dream of relocating to Portugal is slowly coming together; doesn't it feel thrilling?
Many people also prefer buying a SIM card after they land simply because physically purchasing something gives you the assurity of being valid. Sort of just like how some people prefer buying clothes from physical retail stores instead of online.
We've already talked about getting an eSIM online earlier in the article, and that's always an option if you deem it fit.
Moving to Portugal means planning ahead
Are you feeling confident enough yet? Now you know everything about how to get a SIM card in Portugal. You're ready to take on any challenge this new chapter throws at you! Use your mobile data to locate a cozy cafe, or perhaps call that friend you wanted to get in touch with after moving here.
In case you still have questions, feel free to get in touch with current residents via our Facebook Group – All About Portugal For Expats. A community of over 5,000 Portugal enthusiasts is ready to help you out. Explore their experiences and decide what you would like to do for yourself.
And remember, Viv Europe will always be there for you every step of the way. From planning your relocation to making it come to life, we've got you. Contact Us now and let us know how we can be at your service!