Last Updated on May 5, 2022 by Letícia Melo
The Algarve coast isn't just for the summer holidays. Thousands of expats from all over the world decided to relocate here and enjoy southern Portugal all year round. Find out if living in the Algarve is worth it, the cost of living, where to live, and some tips for a smooth relocation process. Check it out!
What is it like to live in the Algarve?
The Algarve region is a great place to live. Not only it is located in southern Portugal, with sunny days and the many perks of a safe European country, but it is also cheaper than most countries on the continent.
There aren't big cities in the region, the capital and main city, Faro, holds a population of 60 thousand inhabitants. However, the entire region is blessed with good infrastructure, hospitals, and schools between the many cities and villages.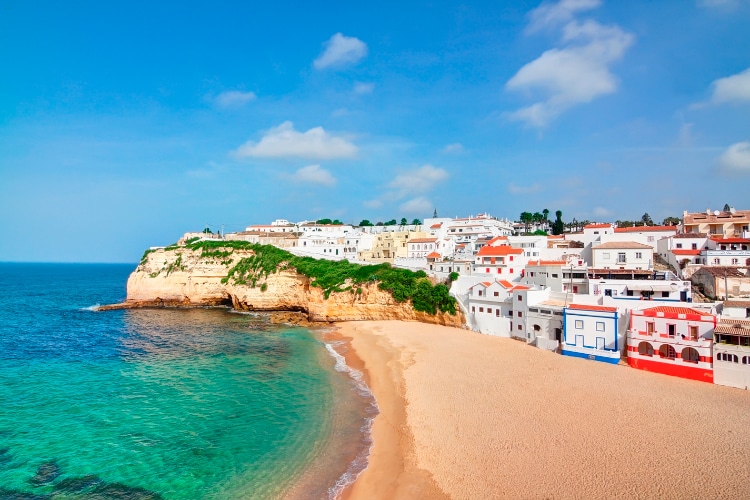 From Faro to Lisbon it takes 2h30 to travel by car, and the capital of the Algarve has one of the busiest international airports in Portugal. You feel like you're living in a small town with great weather and fantastic beaches, just a flight away from big European capitals. It's a perfect place to enjoy a calm and chilled lifestyle, with proximity to nature and amazing weather.
Cost of living in the Algarve
The Algarve region is very touristic. And because the tourists in the region usually come from higher-income countries, prices here for services and even accommodation are higher than in the rest of Portugal.
Although we can provide you with an estimate of expenses, the cost of living in the Algarve can vary a lot depending on your consumption habits and needs. Take a look at the average expenses of a couple in the region:
| Expenses | Costs |
| --- | --- |
| 1-bedroom apartment rental | €600 |
| House bills | €120 |
| Groceries | €400 |
| Health insurance | €50 per person |
| Mobile internet | €20 per person |
| Transportation (bus + subway pass) | €40 per person |
| Meal at a restaurant | €20 per person |
| Beer | €1,70 |
Read also: Cost of living in Portugal: how much do you need compared to other countries?
The best cities and villages for expats
When living in the Algarve is in your plans, you must not forget to research about all the best cities and villages of the region. Depending on your needs and lifestyle, you'll be happier living in one rather than the other. Check out the 5 best places to live in the Algarve region:
Faro
Capital of the Algarve region, Faro is the biggest and most important city in the south of the country. It is where the local airport, university, and main hospital are, but it's not where all the tourists want to go.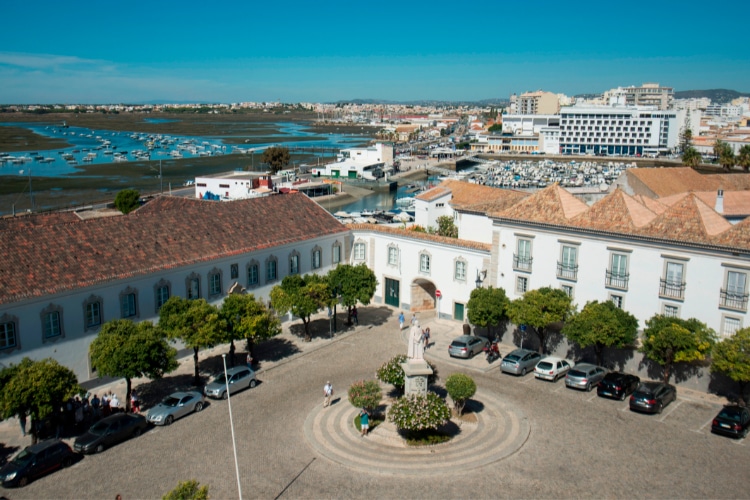 As tourism is not the main economic activity in the city, Faro and its 60,000 inhabitants are dedicated to various sectors of activity. There is a lot of commerce, shopping malls and everything you could need in Faro, even so, the city can't be considered big as it doesn't even have a subway.
Lagos
Located on the western Algarve, the city of Lagos is one of the most beautiful ones in Portugal. The charming white buildings, narrow streets, and stunning beaches and rock formations make Lagos a wonderful place to call home.
It is home to 30 thousand people, 8% of which is foreign. Like most of the Algarve, Lagos lives a lot from summer tourism, being full in the months of June to September, but much more empty in winter. But definitely, it's a place to have on the list if you are looking for peace and quiet and beautiful views.
Portimão
Portimão is the second-biggest city in the Algarve region, and one of the main ones for local tourism. Like Faro, it has a population of around 60 thousand inhabitants and a more diverse economy.
The city has excellent infrastructure, good hospitals, and schools, cultural and sports agenda. It was here in Portimão that Portugal received in 2021 Formula 1 races at the Algarve International Circuit.
Also, a good tip to live here is to have your own car.
Albufeira
The most famous and most touristic city in the Algarve is Albufeira. Its central location, amazing beaches, restaurants, bars, and sunny weather have made this city a favorite of the British Community in the Algarve.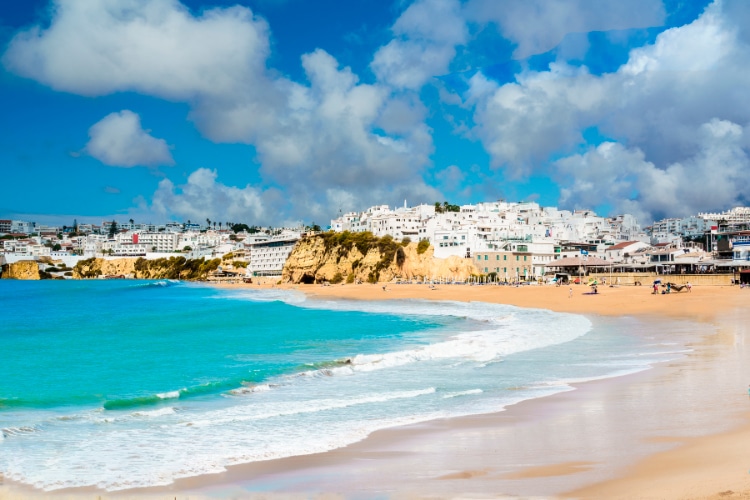 So much that many Brits decided to extend their holidays and embark on the adventure of living in the Algarve. Here you can find many businesses with signs in English and even employees who do not even speak a word of Portuguese. It is definitely a very different Portugal than you're used to.
Read also: Pros and Cons of Living in the Algarve
Carvoeiro
A small town with huge quality of life, this is Carvoeiro. This stunning white-washed village built on top of a golden cliff grew to become one of Portugal's most beautiful postcards. To top it all, the scenery is complemented by sunny and calm days.
The clean air of the village already attracts many tourists and, although Carvoeiro is no longer just a fishing village, it continues to maintain its Algarvean traditions. The village is located only 20 minutes away from the city of Portimão, contributing with the necessary infrastructure to live well.
Weather in the Algarve region
This is one of the main reasons the Algarve attracts so many expatriates. The weather conditions here are almost always pleasant, the sun shines throughout the year and rain is a rare visitor. Summers are hot, winters are cold, just like they should be.
See what the average weather is like in the Algarve region below:
Spring
Summer
Fall
Winter
Maximum temperature
18,8 °C
(65.84 °F)
25,8 °C
(78.44 °F)
21,5 °C
(70.7)
16,4 °C
(61.52 °F)
Minimum temperature
13,8 °C
(56.84 °F)
19,8 °C
(67.64 °F)
16,9 °C
(62.42 °F)
12,2 °C
(53.96 °F)
Average Rainfall
42 mm
(1.6 in)
2 mm
(0.07 in)
53 mm
(2 in)
67 mm
(2.6 in)
Average Humidity
70%
63%
72%
73%
Data was acquired from the official
Climate Data
website.
The real estate market
Buying a property in the Algarve is the dream of many Portuguese and foreigners. The region has, therefore, one of the most expensive square meter in Portugal. There are places, however, less touristy and far from urban centers, that are cheaper and more private.
The prices vary a lot, and it's hard to tell exactly how much you should expect to invest. You must know the real estate market in Portugal very well and have by your side experts to guide you.
These are the average prices per square meter of houses in different cities in the Algarve, as published by the Portuguese real estate website Idealista, from the most expensive to the cheapest:
Lagos: 2715 €/m²
Lagoa: 2697 €/m²
Albufeira: 2460 €/m²
Tavira: 2230 €/m²
Silves: 2099 €/m²
Portimão: 2096 €/m²
Faro: 2061 €/m²
At these values, a house in central Albufeira would cost around €600,000, on average, and a 2-bedroom apartment in central Faro would cost around €200,000.
Deep research is recommended before jumping into any big investments. If you need, talk to our experts about investing in real estate in Portugal and get high-quality advice and guidance.
Healthcare in the Algarve
Although living in the Algarve comes with many perks, the public health system in the region is not the best. Unlike Lisbon and Porto and their successful healthcare, in the Algarve, there are many more cases of delays in services and a lack of doctors in hospitals.
Therefore, to get around the situation and avoid long lines, most expatriates living in the Algarve use the private health system, with health insurance. The rates are a little higher than in public hospitals, but depending on the case and the importance you give to your health, it's worth it.
International schools in the region
Portugal has an ever-growing expat community and, as such, more and more international schools across the country. Here are the biggest international schools in the Algarve:
Nobel Algarve British International School
Vilamoura International School
Aljezur International School
Barlavento International Primary School
Colégio Santiago Internacional
Eupheus International School
Vale Verde International School
Eden Montessori International School
Especially if your family comes from an English-speaking country, enrolling your children in one of these schools may help them integrate and adapt better to their new life in Portugal.
More information about English-based schools in Portugal here.
The labor market in southern Portugal
As mentioned, the main economic activities in the Algarve are related to tourism. Therefore, most of the region's job offers are in the hotel industry, restaurants, and tourist activities at sea.
Also, real estate, construction, and digital marketing are areas on the rise in the Algarve. Besides that, there are the more traditional occupations, related to agriculture, winemaking, and fishing.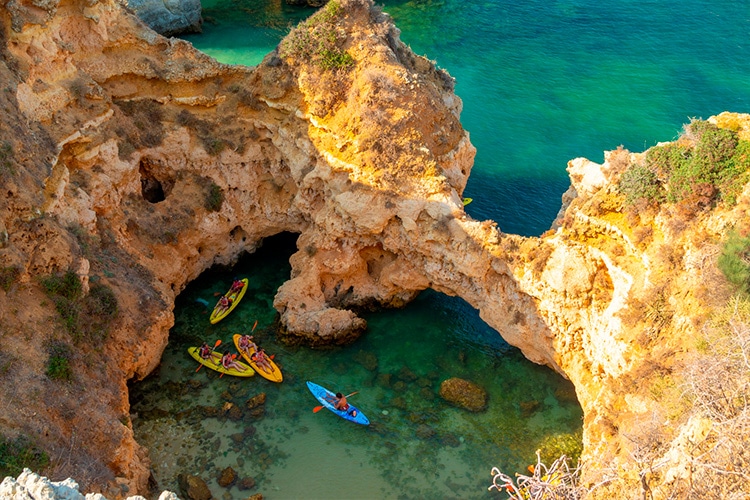 According to the Portuguese Ministry of Labor, in 2017 the average salary in the Algarve was around €968 per month, below the national average of €1300. In 2022, the minimum wage in Portugal was €705/month. Salaries in Portugal are known for not being high.
Anyone who wants to work in large companies or to make money, however, should not think about finding work in the Algarve, unless it is in the areas mentioned above.
A curious fact about the labor market in the Algarve is that many businesses close their doors during the winter. As most of their clients are tourists, when there are no tourists, there is no work.
Read also: Finding a job in Portugal before relocating: an expat guide
A destination for digital nomads
Ever since the pandemic in Portugal, however, a new audience turned their attention to the Algarve. Digital nomads, people who are able to work at a distance from anywhere they have an internet connection, realized that they could work and enjoy life at a fantastic and cheap place.
The Algarve region is beginning to be seen less as a tourist destination and exclusively for retirees, and more as a complete paradise for remote workers.
Read also: Where to work remotely in Portugal? See the top 5 places
Living in the Algarve as a retired person
The Algarve has been elected countless times by countless rankings as the best place to retire in the world. And that's not by chance!
After all, the region is perfect for living with quality of life, pleasant weather all year round, good infrastructure, and the security of Europe for a lower price than average. Some of the many reasons to retire in the Algarve.
Living the retirement in Portugal isn't altogether a bad idea, but doing it in the Algarve is stupendous.
The expat community in the Algarve
As expected, the Algarve region enchants any foreigner who passes by. So much that the region holds the highest percentage of expatriates legally residing there, as shown by the official PORDATA data in 2019.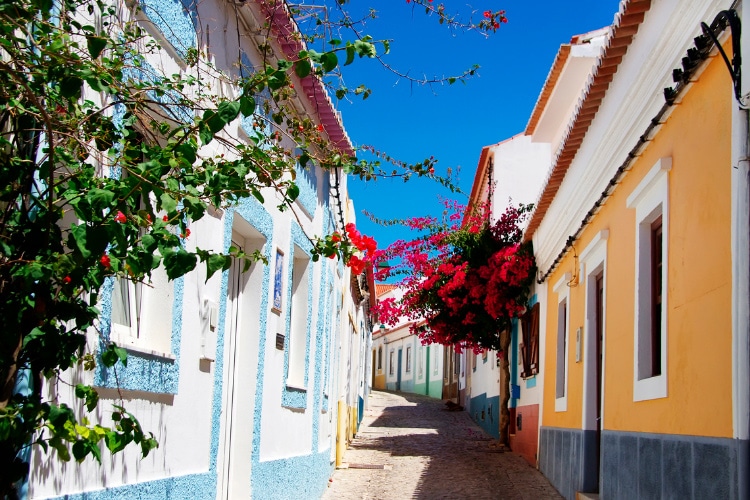 The foreign population living in the Algarve is equivalent to 21.1% of the total number of residents. Far above the national average of 5.7%.
This is the region where it's more common to find Portuguese people who speak English, besides central Lisbon. The Algarve is where so many people choose to spend their time. That cannot be a coincidence.
Is it worth living in the Algarve?
Yes. I moved to the Algarve 5 years ago and since then I do not regret it at all. It is a beautiful and safe place, with warm weather for most of the year, the friendliest people in Europe, and at a close distance from the main metropolis of the continent.
Of course, it does not offer the best public healthcare in the country and job opportunities and salaries are quite disappointing. But if you go around these small issues, you get to enjoy life at its best.
Consider visiting the Algarve before relocating, though. Going on a scouting trip to Portugal is the best way to be sure that you should live in a new country. After all, being an expat comes with many challenges.
You will also like to read: Lisbon, Porto or Algarve: Which one should I choose?
When are you coming to Portugal?
If you're considering moving to Portugal and living in the Algarve, you'll have to plan a lot of things before definitely relocating.
Join our online community on the All About Portugal For Expats Facebook Group. Sharing is caring, and having people to help or simply understand what you're going through is priceless.
Viv Europe offers assistance to any step of your relocation process to Portugal. We can help you apply for the right visa, find a real estate property, or even open a business here.
Contact us and tell us how we can be of service. We will love to help you turn your Portugal project into a reality.