Last Updated on October 14, 2022 by Laila Oliveira
Living in the second-largest city in Portugal is exactly what you would imagine it to be like. It is a beautiful destination full of culture and a lot of ancient European history. Porto is also popularly known for its port wine, not to mention the unique architecture that is a major draw for tourists from all over the globe. Despite this, there are pros and cons of moving to Porto.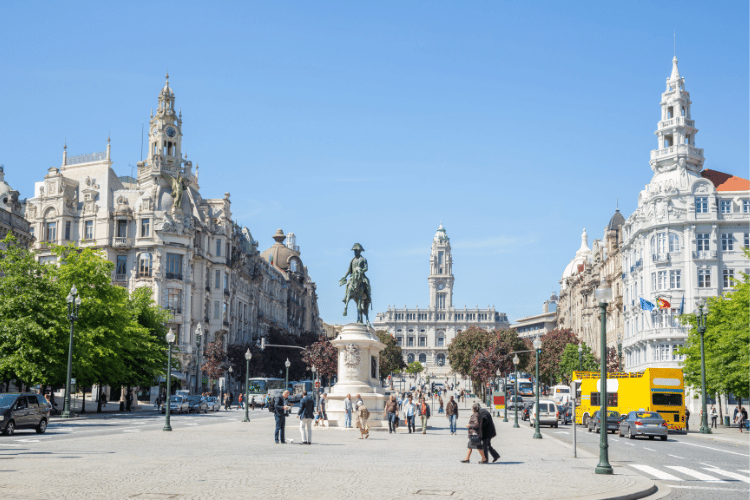 Although Porto is the second largest city in Portugal, it's certainly not a big city, boasting a population of just over 200,000 residents. It goes without saying that Porto is a good destination for tourists and expats. 
However, every city has its ups and downs, so to help you get to know more about this beautiful city in northern Portugal, let's have a look at some pros and cons of moving to Porto.
What is it like living in Porto?
Porto is a great city to live in whether you are a student, an expat, a retiree, or even a digital nomad; this city has just a little bit of everything. The local population is quite friendly and accommodating, making life a lot simpler for foreign nationals. 
You will love walking around the cobblestone streets to explore the art and architecture that you probably haven't seen before. When talking about living in Porto, we cannot miss mentioning the lower cost of living compared to other European cities. Besides the good weather and rich history, the cost of living is another significant reason expats love this city.
Who lives in Porto?
The cosmopolitan city of Porto is loved by locals and expats alike. Porto exists in the expansive northern region of Portugal, and most expats choose to live here. As mentioned earlier, Porto is not a very big city compared to the likes of Barcelona; however, it is home to quite a significant number of expats.
To put this into perspective, data from Pordata indicates that close to 8% of the population in Porto is foreign. This is quite impressive given the fact that the national foreign population average is 6.4% in Portugal. Judging from recent data, these numbers seem not to slow down anytime soon.
Why are expats moving to Porto?
Portugal is among the most sought-after counties by expats and tourists today. This country promises the prospects of a better quality of life and good weather all year round. With this in mind, it is easy to figure out why expats choose to move to Porto.
But before you decide to relocate, you should know the pros and cons of moving to Porto:
Pros of living in Porto
There is no doubt that living in Porto is exciting. In fact, this city comes with many advantages that you wouldn't get from a lot of the bigger and more popular cities across Europe. Let's discuss a few just to give you a glimpse of what to expect.
Climate
The climate in Porto is quite different from mainland regions. The semi-Mediterranean climate presents a mix of hot and cold weather depending on the season. Due to the ocean's proximity, Porto experiences more bouts of rainfall during the year, which is a far cry compared to other cities in Portugal. 
Regardless of the city in Portugal, one thing you can always rely upon is the hot and sunny summer that peaks during August with temperatures getting as high as 40ºC (104F). Winter, on the other hand, is quite cold but warmer than London or even Paris. Winter temperatures can plummet to 0ºC (32F) in Porto and other cities in Northern Portugal.
Relatively low cost of living
The cost of living in Porto is relatively lower than in most European cities, including Lisbon, the capital of Portugal. According to data from Numbeo, the cost of living in Porto is 10.32% cheaper than in Lisbon.
Generally, the biggest bill you will have is rent. Other utility costs are relatively cheaper, especially if you are living alone. However, it is worth mentioning that living costs also depend on your individual spending habits. Now let's look at estimates about the cost of living in Porto.
| Expense | Cost |
| --- | --- |
| One-bedroom apartment (rent) | €700 |
| Three-bedroom apartment (rent) | €1,240 |
| Utilities | €105 |
| Groceries per month | €200 |
| Public transport | €40 |
Estimates are from Numbeo (as of October 2022).
Great nightlife and social scene
The only way to truly know a city's vibrance and pulse is to get right into the nightlife. If you love a good night out, Porto will not disappoint. There are plenty of bars, clubs, and night events that you can be part of to kill the weekend nights. 
Porto has something for everyone, right from the dark and dingy underground clubs, to bars where you can watch your favorite teams play. A lot of Porto's nightlife takes place right in the heart of the city; however, if you happen to be by the coast during the evening, you will be glad to know that there are plenty of beach clubs where you can go to unwind and kick back.
Good jobs and business opportunities
Porto and Lisbon are two of the best destinations for anyone looking to find a job in the corporate world. Some fields like Pharmaceuticals, IT, and engineering are on the rise and are among the major employers in the cosmopolitan corporate city of Porto.
The average wage in Porto is the second highest after Lisbon, currently at €1,417 per month. According to the European Commission, the northern region of Portugal is a central industrial zone.
However, the biggest employer is still the service industry. Porto is also an excellent place to set up a business because the city is safe and gives you the peace of mind to get creative.
Great digital nomad and expat scene
Although Lisbon is a favorite for digital nomads, Porto is also a great alternative. As mentioned earlier, Porto is a smaller city that presents great working conditions for anyone looking to break away from the busy city life in Lisbon. 
The cost of living is also cheaper than in Lisbon, making Porto an excellent destination for those who want to keep the cost of living low.  The foreign population in Porto is quite significant, so expats and digital nomads find it easy to integrate and settle in compared to other cities and towns in Portugal.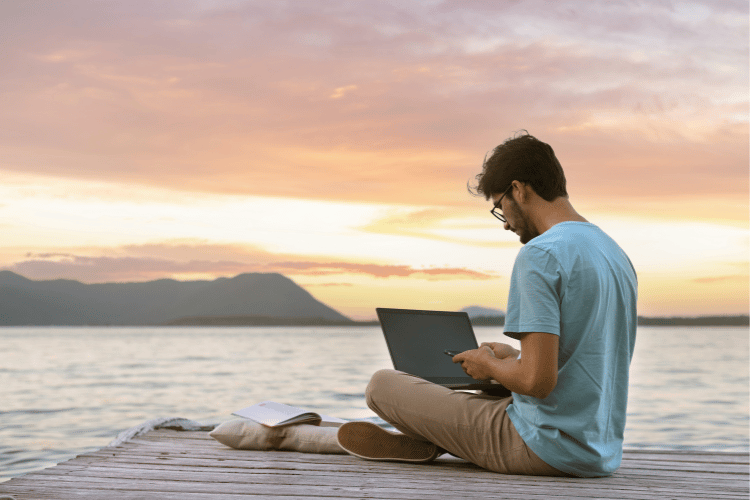 Safety
How safe a given destination is, plays a significant role in the general quality of life. Fortunately, Portugal is among the safest countries in the world, ranked fourth on the Global Peace Index. With that in mind, Porto is also among the safest cities in Portugal; there are almost no cases of violent crimes.
However, keep an eye out when you are in tourist hubs or on public transport; there are some reported cases of pickpocketing and snatching phones. Unfortunately, this is a global problem that is not unique to Porto. 
The Portuguese locals are also very accommodating and quite liberal. Discrimination of any nature is highly discouraged by the government. While Porto is generally safe, it will be beneficial to be aware of the environment and take precautions.
English is widely spoken
While Portuguese is the national language in Portugal, you will be pleased to know that English is also widely spoken in Porto. While it will be easier to integrate into the community if you speak the local language, you don't have to learn Portuguese in order to get by. 
People have noticed that Porto is the best English-speaking city in Portugal. In fact, the Portuguese are well-ranked as the best English-speaking people in the Southern region of Europe.
The Portuguese government is going above and beyond to encourage English in Portugal. People who speak English as their second language stand a greater chance of securing a job compared to their non-English speaking counterparts.
Proximity to Spain
This might be the biggest pro in the list of pros and cons of moving to Porto for Spanish expats.
Porto's geographical location makes it a good destination for individuals who like traveling. The distance between Porto and Vigo in Spain is 149 km by road. This is particularly beneficial to those with the Golden Visa that allows travel within the Schengen region. 
You can easily take a road trip from Porto to Madrid for a vacation with friends. The fastest route by car will take you 5 hours and 25 minutes but if you prefer getting there quicker, consider using a plane. There are daily flights from Porto to Madrid and Barcelona.
With Viv Europe your plans for Portugal
will finally come to a reality
Cons of living in Porto
Just like any other destination worldwide, Porto comes with its fair share of shortcomings. By being aware of the downsides of living in Porto, you can easily decide whether this city is for you or not.
Learning Portuguese
While you don't really need to know Portuguese to get by in Portugal, learning the language is important if you intend to move permanently. Of course, no one expects you to speak the language fluently, but being able to understand and speak will do you good in the adaptation and daily life in Porto. 
While this is true, it is worth mentioning that Portuguese is not the easiest language to learn. You will need to enroll in lessons that will help you speed up the learning curve. Other than that, you will also need to practice with the local people just to perfect your speech over time.
However, while you might need to put in some effort, Portuguese is not impossible to learn.
Bureaucracy
If it's your first interaction with the Portuguese public system, get ready to deal with plenty of paperwork and wait in lines just to get things sorted. As a new expat in Porto, it can get quite frustrating, given the frequency with which you will have to seek public services. 
Whether you are filing your returns or arranging for property purchase, you will need to deal with plenty of bureaucracies and tie-downs along the way. Another point worth putting across is that public services in Portugal can also take quite longer.
The beaches are not as good as in the south of Portugal
If you fancy your time at the beach, then you should know that the beaches around Porto are not quite as stunning and scenic as those you will find in the Algarve and near Lisbon. 
In addition, the water is also colder due to the relatively colder temperatures of the northern region of Portugal. If you don't mind a good time in colder temperatures, then you will find the beaches in Porto just fine.
The stairs and hills
Porto is small enough that you can easily walk around to explore the city's architecture. However, the caveat is that Porto is quite hilly, and walking around can quickly turn into a day-long workout that you had no plan for.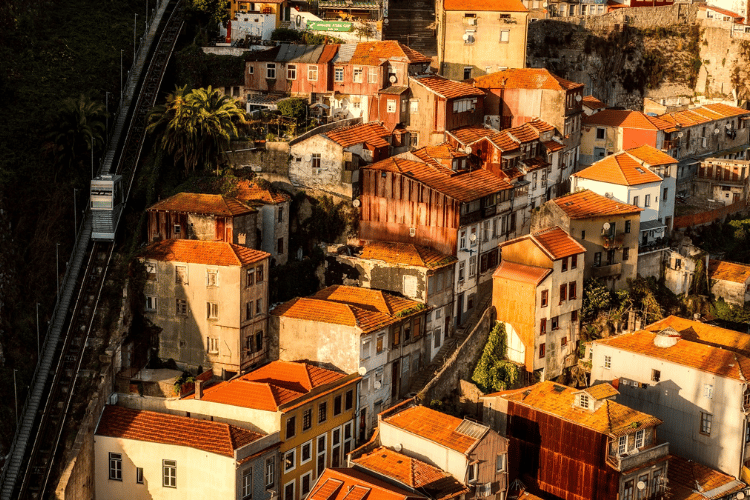 Get prepared to walk through steep couple stone pathways and narrow paths. Be sure to carry comfortable shoes if you fancy a walk down the streets, the cobblestones can be brutal to the feet if you have the wrong shoes. 
Fortunately, there are a few sights that are bunched together; therefore, you can avoid too much legwork.
Colder than Lisbon and the Algarve in the winter
There is no doubt that Portugal has one of the best climates in all of Europe. While this is true, the northern region is notorious for having colder winters than other regions in Portugal. 
Serra da Estrela, the mountain range in continental Portugal, experiences snow during winter, presenting some unique opportunities to engage in snow sports like skiing. Although Porto doesn't get this cold, it is still located in the north of Portugal, so you should brace for cold and wet winters if you choose to move to this region.
What do you think of the pros and cons of moving to Porto?
There you have it, folks; the good, the bad, and the ugly about Porto. It is evident that Porto has a lot of good that overshadows the bad. But now that you know the pros and cons of moving to Porto, you should be able to properly judge whether it's your ideal destination. Nonetheless, it is important to mention that Porto is a good city that is easy to fall in love with.
So if you are ready to make the move, our immigration experts at Viv Europe are willing to help make your dreams come true. Contact us today, and let us do the heavy lifting on your behalf.
If you have further questions and concerns, consider joining our Facebook Group – All About Portugal From Expats, and talk to expats who have been through the journey before.