Last Updated on September 26, 2022 by Laila Oliveira
Lisbon has truly got everything, and by everything, we also mean exceptional healthcare. The capital city is famous for its business world, start-up culture, food, and history. And with all that comes the responsibility of taking care of its people. Let's dive into how the best hospitals in Lisbon provide excellent services to all residents of Portugal, no matter their nationality.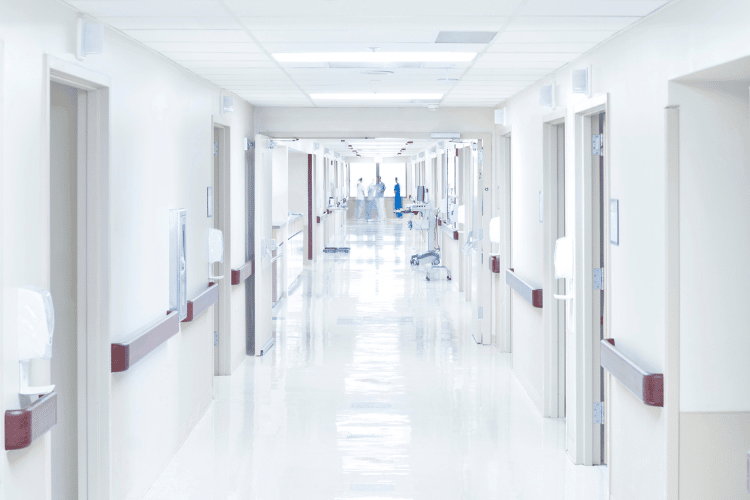 Whether it's public or private healthcare, this European country is well-equipped with some of the best medical facilities out there. Of course, public healthcare takes time, like any other place, but affordable private healthcare is always an option.
By the end of this article, you'll hopefully be fully prepared to know where to go, what to do, and why these hospitals are ranked as the best in Lisbon. We hope you never have to face an unpleasant emergency, but it's always best to be safe than sorry. Without further ado, let's get started!
What are the best hospitals in Lisbon?
If you're planning to relocate to the heart of Portugal, it's essential to have information about the city's healthcare system. We understand relocating can be pretty stressful. 
To make things easier, we have compiled a list of some of the best hospitals in Lisbon for you, which include highly trained staff, medicinal access, short waiting queues, and availability of all sorts of treatments.
Centro Hospitalar de Lisboa Central
No matter what you think of the city, one thing's certain; you'll be safe and healthy here! Centro Hospitalar de Lisboa Central, one of the best hospitals in Lisbon, is known for providing excellent healthcare services so that you feel physically fit. It is ranked 189th globally, which is a very good ranking. 
The hospital doesn't have a specific specialty but still ranks as one of the best, which shows that all medical professionals know how to deal with different diseases and health problems. It also has an online portal that patients can log in to using their SNS number, where they can make appointments, ask for clinical information, etc. 
Hospital de Santa Maria
Hospital de Santa Maria is the country's leading university hospital located in the capital city. Don't be mistaken! Even though it is an educational institution, it does not mean the quality of treatment provided here is any less than the other notable hospitals. 
Not only does it generate highly trained and knowledgeable medical experts, but it also provides patients top-tier treatment with lots of special aftercare. This hospital is known for having an excellent craniofacial team and has treated several craniofacial malformations over the years, specifically children with syndromic and nonsyndromic craniosynostosis.
Instituto Português de Oncologia
One of the deadliest diseases that has taken several lives over the years: cancer, instantly rings a bell in our head. Many people get to know they've contracted the lethal illness much later in life and are therefore not able to treat it timely. 
Thankfully, Lisbon has a hospital solely dedicated to treating cancer patients known as Instituto Português de Oncologia. Their highly trained doctors make sure you feel comfortable throughout the entire process. Providing first-rate chemotherapy and studying the disease further to tackle it, the healthcare facility is doing its part in establishing a cancer-free world. 
Hospital Pulido Valente
In today's fast-paced way of life, we often come across certain stressful scenarios that result from work, family matters, or other disputes. This frequently leads to elevated levels of stress, which may even cause breathing problems and other severe ailments related to the lungs in the long run. 
This is where Hospital Pulido Valente comes in quite handy. The hospital is mainly devoted to pulmonary care medicine and is essentially the largest hospital of this specialty in the whole of Portugal. The hospital has an exceedingly attentive team of doctors specializing in all sorts of lung diseases, treatments, and research.
Lisbon Psychiatric Hospital Centre
Mental health is as important as physical health but is not given the same ounce of priority that it should be. Very few cities actually prioritize mental health – Lisbon is one of them. Lisbon Psychiatric Hospital Centre is a notable hospital that provides adults accessibility to specialized mental and psychiatric healthcare.
The hospital is located in the Greater Lisbon area and has around 800,000 individuals in its care. The facility is highly involved in giving medical training, particularly in Psychiatry, Neurology, and GP.
If you face any symptoms that may pertain to anxiety, bipolar disorder, or even anorexia, this hospital will help and take the best care of you. Make sure not to make these symptoms go unnoticed, and prioritize your mental health!
How to have access to the Portuguese public health system?
You would be delighted to know that Portugal is one of the few countries in the world that offers free and top-notch healthcare. If you're a legal resident residing in Portugal, you can reap the benefit of free healthcare from the fourth-safest country in the world to live in! 
Let's break down the process for obtaining access to the best hospitals in Lisbon for an expat. Firstly, it is essential to have a visa or a residency card. Once you have this, you will have access to the same rights as a Portuguese resident. This will assist you in getting the Número de Utente – a user number for each individual to get access to healthcare. 
Additionally, due to mutual health treaties between some countries, citizens of countries including Andorra, Brazil, Cape Verde, Morocco, and Quebec, share the same rights as the citizens of Portugal. Residents of Brazil and Cape Verde can apply for the PB4 document to access Portuguese public healthcare.
Public or private hospitals?
To differentiate between the two, Portuguese public hospitals are governed under the SNS, i.e., National Health Service. This body ensures free public healthcare for Portuguese citizens and expats both. The SNS covers the healthcare of Portugal's continental areas, whereas independent areas, like Azores and Madeira, have their own governing system.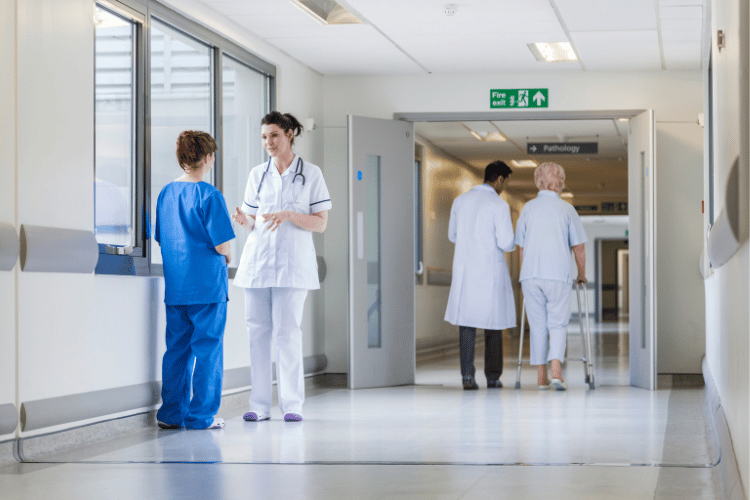 Presently, while picking a public or private hospital, there's no correct decision here. It depends on what you find convenient and which decision is best suited for your needs!
Public clinics have been made accessible without any charges incurred. Hence individuals opt for them as they save tons of money. However, opting for a private hospital makes you escape the long waiting hours.
Also, if you are looking for premium treatment, then private healthcare with a good insurance package would be a better option. Private hospitals may be expensive for some people who'd rather get the same treatment at a public hospital for free.
Are hospital costs expensive in Lisbon?
Since June 2022, Portugal has made public healthcare free for all legal residents. Which is one of the many reasons it has become an attractive location to move to for expats. Unreffered emergencies and those that don't lead to hospitalization are charged a very minimal amount of €15. 
Private healthcare obviously comes at a greater cost. However, it is still inexpensive in Portugal compared to other countries in the world.
Refer to the table below to understand the average costs of a private hospital in Lisbon:
| Service | Private Hospital Cost |
| --- | --- |
| Emergency | €100 |
| Special Appointment | €40 |
| Examinations or Scans | €30 to €400 |
| Overnight stay | €300 per night |
What's the difference between health centers and hospitals?
In health centers or hospitals, you are sure to be in good hands wherever you go! Lisbon offers premium healthcare facilities to take care of you and your well-being. You will be assigned a General Practitioner (also known as a family doctor) once you register for free healthcare. The GP will then recommend you go to a specialist if needed. 
Unlike hospitals, health centers are generally open for 12 hours, from 8 am to 8 pm. Many health centers provide maternity and child care along with essential emergency services. Some also offer dental care. 
Depending on the medical emergency, you can opt for either a health center or a hospital. If your case is severe, then you'd much rather go to a hospital as it has the resources available to handle an emergency situation.
You would need a doctor's referral to get a specialist's appointment. Moreover, if you have a general checkup, you would most likely go to a health center. 
Where should I go if I have a health emergency?
Your health should be your top priority. In case of a health emergency, it's best to rush to the ER as they are better equipped to deal with a complex situation and avoid matters from going bad to worse.
Hospitals in Lisbon have all the necessary resources, if not more, to properly take care of an urgent circumstance. The hospital staff is highly equipped and experienced in dealing with any matter that comes their way.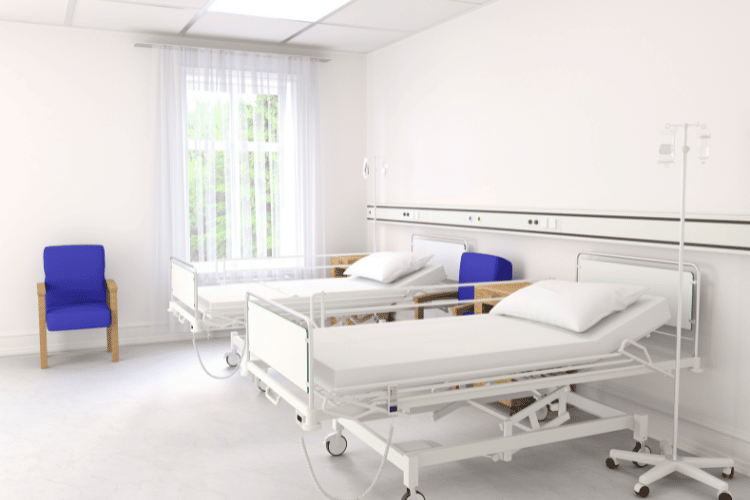 Should I have health insurance in Portugal?
The answer to this depends on many factors and, therefore, can't be answered with a simple yes or no. Quite plainly, it depends on the area you live in and whether it's near good hospitals or not. As Portugal has an efficient and well-planned healthcare system, many Portuguese citizens don't have health insurance or even go to private hospitals. 
Many expats do opt for private health insurance to escape long queues at public hospitals. There may be instances where hospitals do not have enough staff or have a shortage of resources. Therefore it is always a good backup option to have basic healthcare insurance as it widens your options!
We would advise you to assess your situation and the location of your residence carefully. If you have the best hospitals near your proximity, you may not need healthcare. However, if you need specific treatment, health insurance can help you cover the healthcare expenses.
Some expats decide to go for a mix between using public healthcare and a basic insurance plan that could come in handy at some point.
Does Portugal have good hospitals?
It is without any wavering doubt that Portugal has one of the best healthcare services in the world. The government values the citizens significantly, raising the healthcare budget annually. Currently, Portugal's healthcare budget makes up around 9.5% of the country's GDP. 
Moreover, the two highest ranked hospitals in Portugal fall under the top 500 best hospitals in the world! This shows that your health is regarded as a priority and that you will be well taken care of! This further strengthens the fact that Portugal has a top-tier healthcare system that gives it an edge over other countries.
Portugal's healthcare system is ranked the 17th best in the world. According to the World Index of Healthcare Innovation (WIHI), and 3rd in patient-centered care. Portugal is well-equipped to deal with the most challenging medical matters and provides special after-care services as well. 
So don't worry, you're in good hands! Also, check out the Top 10 Best Hospitals In Portugal to access the best healthcare the country has to offer.
Living in Lisbon means having access to good healthcare
Living in Portugal's most famous city means a lot of things. And one of those things is having access to good healthcare no matter where you're from. You will always be cared for in the best hospitals in Lisbon and only be sent home once the professionals know you're safe. 
If you have any doubts about how medical facilities are run, you can always get in touch with 8,000 Portugal enthusiasts through our Facebook Group – All About Portugal For Expats. Share your concerns, clarify your queries, and start preparing for the best days of your life!
When you feel ready for professional help, contact Viv Europe and let our team of experts guide you through the entire process. We've helped numerous families relocate to Portugal and would love to see your dream come true too.