Last Updated on February 13, 2023 by Laila Oliveira
It's never a dull moment in Portugal! Get your party dresses out and prepare for one of the year's most exciting events. The costumes, the food, the music, and the theme – it's something you must experience at least once in your life. Get ready to be awestruck by the Carnival in Portugal!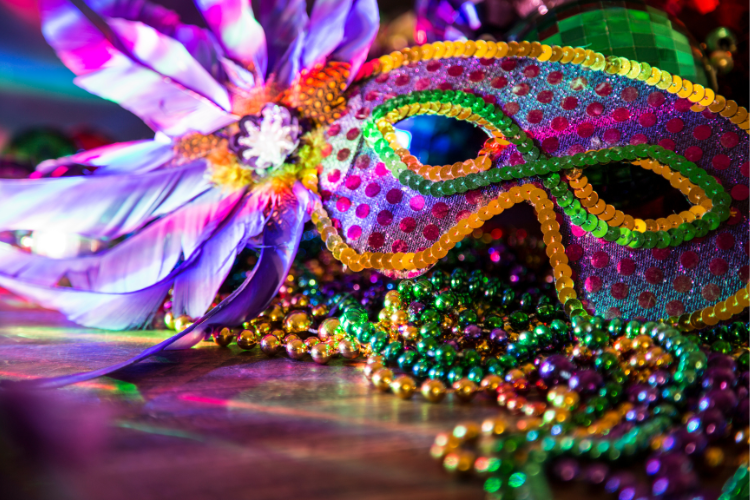 With less than a month to go, preparations are in place for the Carnival celebrations, and what better way to enjoy the fun than knowing exactly where to find it? Even if you've attended similar events elsewhere, each festivity is unique. Are you ready to explore Portugal's extravaganza? 
Keep reading to know how this tradition came into being, what ways the Portuguese celebrate, and where you'll find all the fun! But here's a little warning: you might start drooling at the delicacies, and your skin might tingle to experience the parties. Here we go!
How is Carnival celebrated in Portugal?
Carnivals are pretty popular in a number of locations, including Brazil, the USA, Italy, Barbados, and Nigeria. In fact, you must've heard about them before at least once. Each Carnival has a unique traditional significance to it, and these celebrations are planned months in advance. 
The most famous Carnival, which is in Rio de Janeiro and is also extremely famous in South America, was actually brought to Brazil by the Portuguese. This Portuguese tradition is centuries old and has originated from ancient Roman celebrations, which were later adopted by various cultures.
Carnival in Portugal is a way to mark the end of winter and the start of spring. If you know anything about the Portuguese, you'd know how much they value having a close community and enjoying the joys of life. This celebration is yet another way to get out and party the night away! 
So, how do the Portuguese like to celebrate Carnival?
Masked balls, colorful parades, fancy costumes, lots of music, and of course, street delicacies! Months of planning go into this event to bring everyone out on the streets and dance their worries away.
Streets are decorated with bright multicolored adornments that people start crafting weeks ahead. And participants go to great heights to curate the perfect eye-catching outfit that goes with the year's theme. 
This was just a glimpse into how Carnival is celebrated; keep reading to find out more!
When did Carnival begin in Portugal?
Although it is unclear exactly when these festivities began in Portugal, they're known to be more than five centuries old, going back to Catholic roots. The earliest recorded Carnival festivities in Portugal date back to the 16th century when the House of Aviz ruled the country.
The House of Aviz was a Portuguese dynasty that ruled the Kingdom of Portugal from 1385 to 1580. At that time in history, Carnival was different from what it is now. It was primarily celebrated by the country's affluent nobles who'd host grand events like masked balls and others. 
Over the years, the popularity of Carnival in Portugal has grown tenfolds, resulting in more widespread and magnificent celebrations taking place all over the country. The tradition is still loved by many and holds great importance in the local culture. And it's an absolute joy to see expats like you be a part of it too!
When is Carnival celebrated?
In Portugal, Carnival is usually celebrated in February or March, in the weeks leading up to Lent. Lent is a time of religious observance and reflection and a period where Catholics abstain from meat.
The exact dates of Lent change every year, depending on the liturgical calendar and the date of Easter. It's a period of 40 days and starts on Ash Wednesday, with which the Carnival celebrations come to an end. 
Typically, Carnival in Portugal is 40 days before Easter, just before Lent starts. This time is a very important part of Portuguese culture and religious traditions. People come together to help those in need through charity and community service, adding to the meaningful observance.
The dates for this year's Carnival are February 17th to February 21st, 2023, but celebrations can go on a little longer, depending on the city.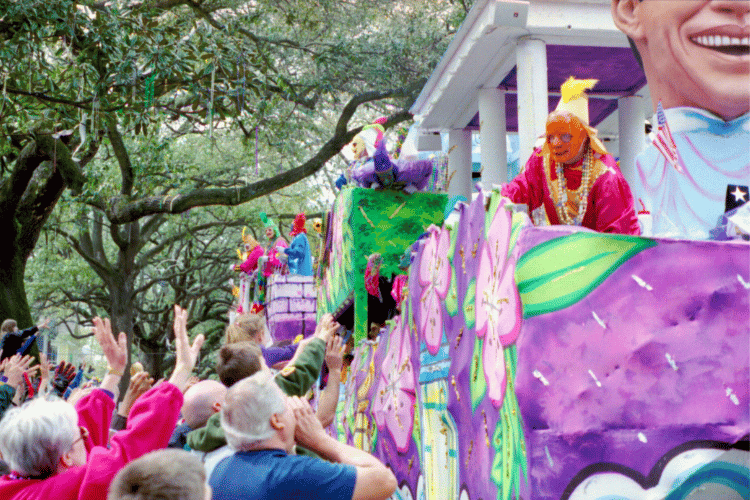 Fat Sunday, Carnival Tuesday, and Ash Wednesday
You've probably never heard of these terms before, but don't worry; most expats haven't! To understand the true essence of the Carnival, we'll briefly describe three important dates: Fat Sunday, Carnival Tuesday, and Ash Wednesday.
These events are of extreme importance in the Christian liturgical calendar. Carnival celebrations start on Fat Sunday and end on Ash Wednesday. Let's begin by explaining each one. 
Fat Sunday, or Domingo Gordo, is the last day of feasting before Lent starts. On Fat Sunday, people dress up in costumes and masks to sing, dance, and eat traditional sweets and cakes. One of the very traditional joys of being Portuguese.
Carnival Tuesday, or Terça-feira Gorda, is the main day of the traditional festival and is celebrated all over the country. As we mentioned above, the festivities last longer than just one day. We'll explain how this differs in the various cities of Portugal in just a bit; keep reading!
Last up we have Ash Wednesday, or Quarta-feira de Cinzas. Ash Wednesday marks the end of the Carnival celebrations and the start of Lent. With this, the beginning of a 40-day fasting period begins, and some people partake in different traditional practices.
Main Carnival traditions in Portugal
This part will get you excited to experience the exotic celebrations!
First up, the tradition that Carnival in Portugal can't take place without vibrant costumes and masks. It's an amalgamation of creativity and tradition, and it often takes months to perfect the looks. People of all ages dress up in the most elaborate costumes while incorporating traditional themes such as mythical creatures, animals, or political figures.
These costumes are worn to another main tradition: parades and street parties! This festivity is known for its lively street parties in cities and towns across the country. You'll find locals, expats, and tourists dancing, singing, and celebrating to the music and brass bands.
To refuel your energy levels in between, enjoy the traditional delicacies from street vendors. More about that in just a bit.
Symbolizing the end of the festival and the beginning of Lent, an effigy of King Carnival is burnt on the Carnival's last day, accompanied by fireworks, music, and dance.
With Viv Europe your plans for Portugal
will finally come to a reality
Carnival typical foods
Traditional food and drinks play a very important role in the festivities. The Portuguese love sharing meals anyway, and this is another perfect excuse to bond with your dear ones.
Sardines are a staple of Portuguese cuisine and are served grilled or fried by street vendors. More savory snacks include grilled or roasted meats such as pork, chicken, and beef, along with traditional side dishes such as potatoes and vegetables.
And for dessert, the Portuguese staple Bolo Rei (King Cake), Cavacas, stuffed malasadas, queijadas de nata (custard tarts), queijadas de coconut (coconut tarsts), filhós (deep-fried dough balls), and fios de ovos (sweet egg noodles).
A few other traditional dishes locals cook are Cozido (stew), Feijoada (bean stew), and Papas de Sarrabulho (a kind of meat porridge). How could we forget the famous Cerveja (beer) and wine?
Carnival celebrations in Portugal
Are you getting as excited as we are? We won't make you wait longer; let's dive into exactly where you can find all the fun. 
Here's how different cities celebrate the Carnival celebrations in Portugal:
Lisbon
Of course, how could Lisbon not be the center of all Portuguese celebrations?
Like always, the capital city remains the biggest tourist attraction of all. Whether it's the Carnival, Santos Populares (Popular Saints Festivals), or New Year's Eve, staying in Lisbon for events will never result in disappointment.
The city's cultural heritage adds to Carnival's lively and joyful celebrations for more than half the month. If you're in Lisbon in February, it's impossible to miss some of the festivities! 
For the last ten years, Chapitô has been organizing a parade around the city. It passes through the historic neighborhoods of Alfama and Bairro Alto to the Príncipe Real Garden and Cais do Sodré. Don't expect anything less than lots of Samba, funk, and music to keep you on your toes.
Ovar
Another central location for Carnival in Portugal is Ovar, a city in northern Portugal. Thousands of people in this region anticipate it all year round, and the costumes are definitely worth the wait. Ovar celebrates Fat Sunday and Carnival Tuesday in full swing with decorated allegorical floats and exotic masked costumes.
Celebrations usually go on up until the third week of February, and it's anticipated to be the same this year. Two popular Carnival events in Ovar include the Carnival Ball and the King Carnival Party, which are open to locals and visitors.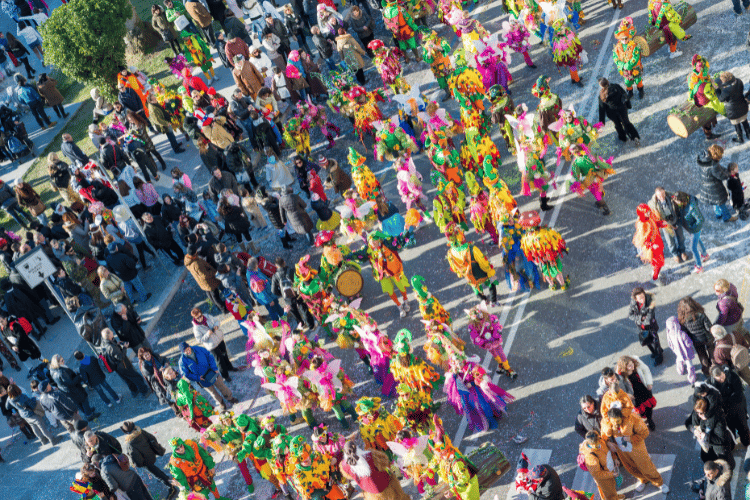 Mealhada
The town of Mealhada is located in central Portugal and has a population of only 20,000 people. However, when it comes to partying, the locals know exactly how to do it right!
Since Mealhada is only 30 minutes from Coimbra, one of the main districts in central Portugal, visitors partake in the Carnival parade and festivities. The parade passes through the town's main square and continues through the city center.
Don't worry if you missed it; there are plenty of neighborhood parties and informal gatherings around Mealhada to eat, dance, and enjoy. 
Torres Vedras
Approximately 40 kilometers from the district of Lisbon, Torres Vedras is a municipality in western Portugal. A little over 83,000 inhabitants live here, and Carnival is a very unique celebration in this town. Some might even say it's the most Portuguese Carnival in all of Portugal.
A few of the highlights are thirteen allegoric cars parading around town. These include Cabeçudos, large carved heads with satirical references to national and international affairs, Zés Pereiras drumming groups, and Matrafonas (men who dress as women). The crowd interacts with the parade by throwing cocotes, which are small objects made out of paper, sawdust, and rubber.
Loulé
Algarve's little secret town, Loulé, is full of sunshine and excitement all year. The region has more to it than being an authentic Portuguese city with a large working-class population. 
Like every year, the parade will take place at Avenida José da Costa Mealha with circus artists, trapeze artists, and clowns on allegoric cars. Even though Carnival in Portugal is centuries old, it's one of the most important events of the year in Loulé.
Madeira
This little Portuguese paradise, known to be a top retirement destination, is home to Carnival celebrations too.
On Carnival Tuesday, Funchal (the capital of Madeira) explodes with excitement and color. But before that, the city awakes to the sounds of brass bands and parades on Friday. The celebrations continue for five consecutive days, with parades during the day and concerts in the Praça do Município at night. 
Is it worth visiting Portugal during Carnival?
We couldn't imagine missing Carnival! Although you might've seen something similar elsewhere, the streets of Portugal are mesmerizing, to say the least. 
It isn't just about Torres Vedras' unique parades, Lisbon's food vendors, or Ovar's King Carnival Party. The energy in Portugal during these weeks is contagious. The collective effervescence of Carnival creates a sense of camaraderie as revelers come together to party in the celebratory atmosphere.
The vibrant parades, pulsating music, and theatrical costumes are truly unforgettable experiences. Don't believe us? Experience Carnival yourself!
Are you ready for Carnival in Portugal?
We cannot wait for Carnival in Portugal! Even though there are always exciting things happening in the cities, some traditions are an absolute bliss to experience. It warms our hearts to see everyone coming together, bringing the community closer and dancing away. 
If you're an expat who wants to be a part of this glorious tradition but doesn't know where to start, join our Facebook Group – All About Portugal For Expats. We're a community of over 10,000+ Portuguese enthusiasts waiting to help you out with queries and concerns. 
And remember, while you're enjoying the best parts about Portugal, Viv Europe is here to turn your dream into reality! Contact us for a FREE consultation with our team of relocation experts and get all the guidance you could need. See you soon!