Last Updated on May 31, 2023 by Laila Oliveira
When learning a new language, we typically jump into the details of vocabulary, grammar, pronouns, and verbs… the list is extensive. But extensive doesn't have to mean difficult. It's all about setting your language learning goal and taking it step-by-step.
But what if I told you that there is a step – and a crucial one – that precedes language learning per se? And what if I told you that this step is so vital that it can fast-track your language learning progress?
Let's help you through the process. Keep reading to learn how to set your language learning goal in a way that works for you. Happy reading!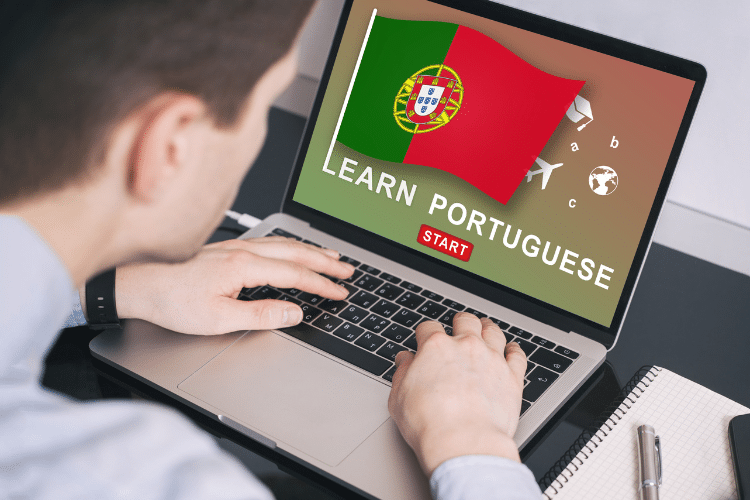 How can you set your language learning goal?
We often want to learn a new language but need clarification on what we want the language for. We tell ourselves that we need the language to work in a new country, or to communicate with locals, or even because it's the "right thing to do" when we live abroad.
And all that is great. Nothing wrong with that. But more is needed to keep us motivated throughout the learning curve. There will be moments when it'll be hard, and if our motivations are external, it's almost certain we will procrastinate and not know how to deal with the frustration. 
That's why creating a language learning goal is so crucial – it's the prize you will keep your eye on when things get tough. And the proverbial prize must be something that comes from within – ideally, a feeling you'll get when you accomplish the goal.
It can be hard to dig deep into our motivations on our own. Let's face it – we might not even know what questions to ask ourselves to create this so-called language learning goal. 
If that's you, you're in luck because I'm going to share some important tips to help you create a language-learning goal that makes sense and feels motivating.
Know what you want the language for
When thinking about your goal, make it very specific and simple. Sometimes we say, "I want to be fluent." without defining what fluency means to us. 
So, when starting out creating your language learning goal, think about where, with whom, and in what context you want to use the language.
Is it for work? Are you going to study? Are you going to use the language in daily conversations?
Visualize the situations where you will use this new language and write it down.
Start small
One of the most common reasons we don't reach our language learning goals is that it seems too vague or big. You make it less vague when you are specific, but it might feel unattainable. 
So start small. Make your goal tiny and build up as you go.
Sometimes when creating our language learning goal, we feel goal FOMO – if we choose a small goal, we miss out on more significant achievements.
But here's the thing – once you reach a goal, you can always create another one, a bit bigger. And little by little, you get to your ultimate goal, keeping up your motivation and stamina.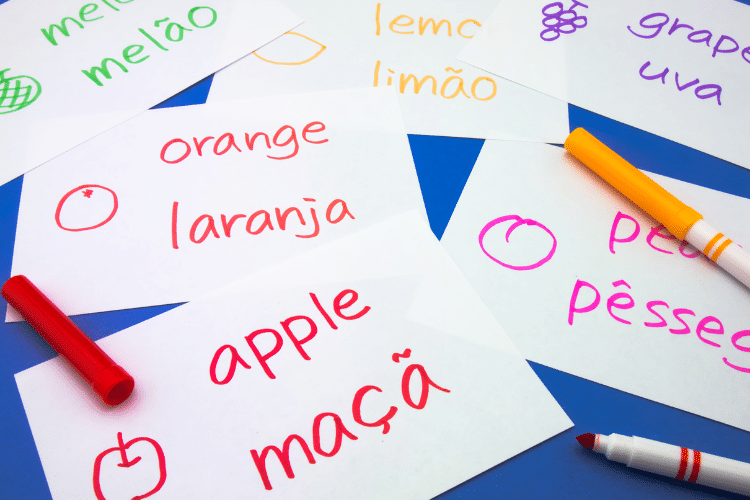 A real-life example
Language learning is a huge part of adjusting to a new country, so it's no surprise that my clients have this challenge. 
Let me tell you about Grace – we worked together when she was preparing for her move to Portugal from the US, and like most people, she wanted to learn Portuguese because it was "the right thing to do". 
Very quickly, she realized that pleasing other people – the locals – was not enough to make her book her classes and do the homework.
So she defined her goal – she wanted to have a 5-minute conversation, entirely in Portuguese, with an Uber driver. That would make her feel independent and functioning in her new country. That also seemed attainable enough.
She gave herself 2 months to achieve the goal and focused her studies on phrases and words she'd use in this type of situation. 
With Viv Europe your plans for Portugal
will finally come to a reality
When we met one month later, she celebrated the fact that she had been able to have a 5-minute conversation with an Uber driver without using English. And right after the celebration, she set herself a new goal: go to a yoga class in Portuguese and not ask for help in English.
Starting to learn a language can be daunting. But the abstract becomes tangible when we have the right structure to organize what we want, when we want it, and how we want it.
Our desired outcome becomes ever more real so our language teachers can help us get there faster.
Deborah Dahab
Is an expat coach and intercultural psychologist.
Also, as a seasoned expat, she has lived, studied, and worked in 5 different countries on 3 continents.
Her own experience, coupled with my observation of other people's experiences, motivated her to search for answers as to why we sometimes fail when moving to a new culture and, more importantly, how to increase our chances of success.
This quest led her to pursue a Master's in Intercultural Psychology and complete a coaching certification at ICC (International Coaching Community). She's also a certified trainer and NLP Practitioner.
With these tools in hand, Deborah has been helping expats and expats-to-be so they can overcome the challenges of moving and creating their best life abroad through 1-1 coaching, group programs, online courses, and workshops.
For more information and free resources: www.deborahdahab.com
---
This article is part of our series with Deborah Dahab – a certified NLP Practitioner and fellow expat that helps her clients ease into the cultural transition that comes with relocation.