Last Updated on December 16, 2022 by Laila Oliveira
Although Portugal is a generally smaller country, it surely compensates for this with attraction. Right from the busy and vibrant city of Lisbon to a more laid-back destination like Setúbal, there are so many beautiful places in Portugal. Although not quite as popular among tourists as other destinations, living in Setúbal means experiencing the countryside life of Portugal.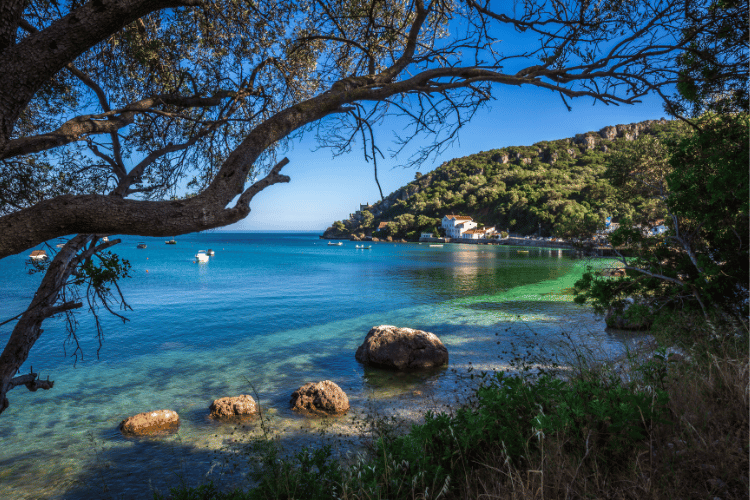 Setúbal is a gem, for sure. This city offers a delicate balance between a quiet countryside life and urban provision since Setúbal is only thirty minutes from Lisbon.
So if you are wondering how life is in this beautiful destination, you're in the right place. This article will give you everything you need to know about living in Setúbal. Stick around to find out more!
What is living in Setúbal like?
As mentioned earlier, living in Setúbal gives you the exclusive experience of the Portuguese countryside. Situated between mountains and long stretches of scenic beaches, Setúbal is the ultimate destination for expats from all walks of life.
The weather in this city is almost similar to Lisbon, with the temperature all year round above average, as to be expected. The city center has an old charm, and the local population is known for their love for seafood. As you walk down the city's cobblestone streets, there are plenty of local restaurants that serve nothing but traditional meals, honoring that authentic Portuguese gastronomy.
Other than that, this destination offers other social amenities that are necessary for everyday living. There are several good hospitals and schools to serve the local community, not to mention the extensive transport network that connects Setúbal to other regions as well.
Who lives in Setúbal?
Setúbal is home to approximately 123,153 inhabitants who reside within a 230km² geographical size. Compared to other cities on the outskirts of the capital, Setúbal offers a relatively cheaper cost of living which is a major draw for locals and expats alike.
According to data from Pordata, Setúbal is also home to a sizable expat population of about 7.7%. This is quite impressive, considering the average expat population in the entire country currently sits at 6.7%.
If you are looking for a life away from the city, Setúbal is an excellent option to explore. It is neither too close nor too far from the capital, giving you the unique opportunity to enjoy the best of both worlds.
Why are expats moving to Setúbal?
Although not quite as popular as other destinations in Portugal, Setúbal also experiences its fair share of attention from tourists and expats. There are several reasons why expats are now turning their attention to this destination.
The relative cost of living and the relaxed and quiet ambiance are among the major draws. We cannot deny that the proximity to Lisbon is also a major reason expats choose to move to Setúbal. Apart from that, here are the three top reasons why expats love this city.
Rich gastronomy and authentic Portuguese culture
If you want to have a taste of the authentic flavors of Portugal, then Setúbal is the place to be. This region is known for having the best seafood in the country. Choosing to move to this destination means experiencing and indulging in a plethora of flavorful meals that are unique to Portuguese culture. Among the popular savory meals in Setúbal include choco Frito (fried cuttlefish), oysters from Sado, and cheese of Azeitão.
But there is more; Setúbal is also home to the famous Municipal Market – Mercado do Livramento, that promises a consistent supply of fresh produce. This market is arguably the biggest in the country and is a major breadbasket of Setúbal and other cities within this region as well.
Good quality of life
There are plenty of things that contribute to a good quality of life. Among them include enough social amenities like hospitals and schools, just to mention a few. Setúbal promises decent healthcare and education, perfect for raising a family.
Moreover, the transport network and availability of shopping centers will facilitate easy access to everyday needs. In addition, Setúbal is a generally safe place to live. With a crime index of about 38.69, the level of crime in Setúbal is considered low, mentions Numbeo.
While it might not be the safest city in Portugal, taking basic precautions like keeping your possessions safe and being aware of your surroundings will ensure you are safe at all times. Setúbal is also quite beautiful, with several beaches and national parks where you can sit back and enjoy your time with friends and family.
Golden Visa prospects
The Golden Visa program has by far been the most beneficial program specifically for anyone looking to invest in Portugal. While the recent shakeup in the program has left different regions ineligible for the program, there are plenty of other regions with a lot of great investment potential.
For investors looking to invest and qualify for the Golden Visa program, Setúbal is the perfect gateway to this dream. Although not eligible for this program, Setúbal is the perfect destination to settle in and get your footing as you look for investments in different regions that will qualify you for the Golden Visa program.
In fact, since this city is not far from Lisbon, you can also explore other opportunities in the capital as you look for suitable investments.
Buying a property in Setúbal
Just like buying property in any other destination, properties in Setúbal also vary in price depending on the location and specific features of the property. However, the average cost of property in Setúbal is €2,158/m².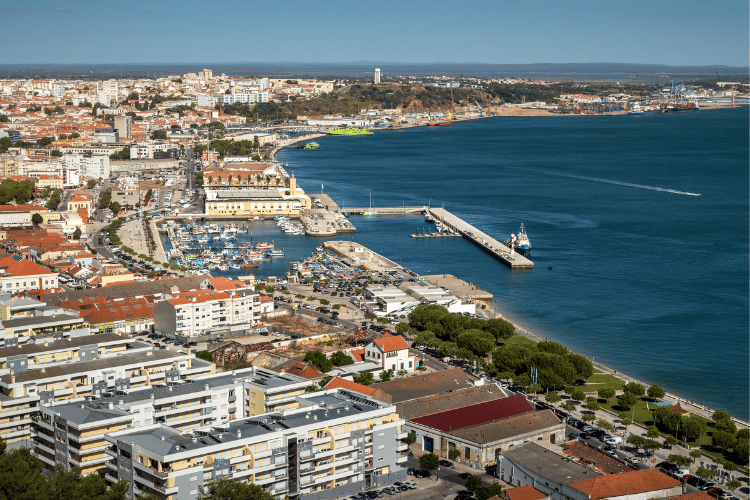 Setúbal is not the cheapest destination in Portugal. However, this is to be expected because of the proximity to Lisbon, where the cost of property is even higher. With the increased interest in this city, the cost of property is expected to rise even further. Let's take a look at the property prices in the different neighborhoods in this city.
| Region | Price per/m2 |
| --- | --- |
| Azeitão | €2,503 |
| Gâmbia – Pontes – Alto da Guerra | €2,505 |
| São Sebastião | €1,736 |
Data is from Idealista (as of December 2022).
Renting a flat in Setúbal
Although located quite close to Lisbon, you will be glad to find out that the cost of rent per month in Setúbal is not as expensive. This is one of the perks of living in the countryside of Portugal, which is also not far away from the city.
On average, the cost of rent is €9.5/m² as of December 2022, according to Idealista. This is quite reasonable and within the acceptable range since the cost of renting a one-bedroom house in the city center is about €675 while a three-bedroom apartment in the same region will cost you €1,200 every month.
It is also worth mentioning that during peak seasons, the cost of rent is bound to go higher because of the increased demand for accommodation. This is particularly true during the busy summer months.
Is it better to live in Setúbal or Lisbon?
There is no right or wrong answer to this question; it all comes down to your individual likes and preferences. As mentioned earlier, Setúbal is rather quiet, with a countryside vibe. This destination might be ideal for anyone looking to start and raise a family away from the chaos and fast-paced city life.
On the other hand, Portugal's capital is the country's economic hub. This is where all the opportunities are, so if you are looking for active employment in the corporate world, Lisbon might be a better opportunity for you.
With Viv Europe your plans for Portugal
will finally come to a reality
Is living in Setúbal better than living in the Algarve?
There is no denying that the Algarve is one of the most popular destinations in Portugal. It is home to some of the most magnificent beaches in the whole world. However, similar to Lisbon, this region experiences a lot of tourism action and is often overrun by tourists during the peak months.
Setúbal, on the other hand, is the polar opposite; although it has some beautiful beaches, you cannot compare the activity it experiences during summer. Nonetheless, the weather is almost similar, with plenty of sunshine from both destinations.
So pick your fancy; if you don't mind living in the middle of all the action, then the Algarve might be ideal for you; however, if you want a life away from too much chaos, then Setúbal awaits.
What is the cost of living in Setúbal?
The cost of living in Setúbal is not so different from the rest of Portugal. Compared to other European countries, living in Setúbal is relatively cheaper. The cost of commodities and services is lower compared to major cities like London or Paris.
However, it is also worth mentioning that Setúbal is a relatively expensive city judging from the local standards. Expats from other nations, however, find it relatively cheaper to live here. Here is a breakdown of some of the basic commodities in Setúbal.
| Expense | Cost |
| --- | --- |
| Groceries | €200 |
| Transportation (Monthly Pass) | €130 |
| 1 -bedroom apartment in the city center (rent) | €675 |
| 3-bedroom apartment in the city center (rent) | €1,200 |
| International private primary school fees 1-year | €7,800 |
| Fitness club for 1 adult | €33.86 |
| Average monthly salaries after tax | €996.33 |
| Three-course meal for 2 | €50 |
Values are from Numbeo (as of December 2022).
Safety living in Setúbal
Portugal is a relatively safe country, and so is Setúbal. To bring some perspective to this, Portugal ranks fourth in the Global Peace Index. With a crime rate index of 38.69 and a safety rate index of 61.31, it is fair to conclude that Setúbal is safe.
However, you should always take personal responsibility for your safety and take precautions. Remember, while the crime rate is low, incidences of petty crimes like pickpocketing do tend to happen, especially in touristy destinations. Luckily, the local community accommodates foreigners of all ages and ethnicities.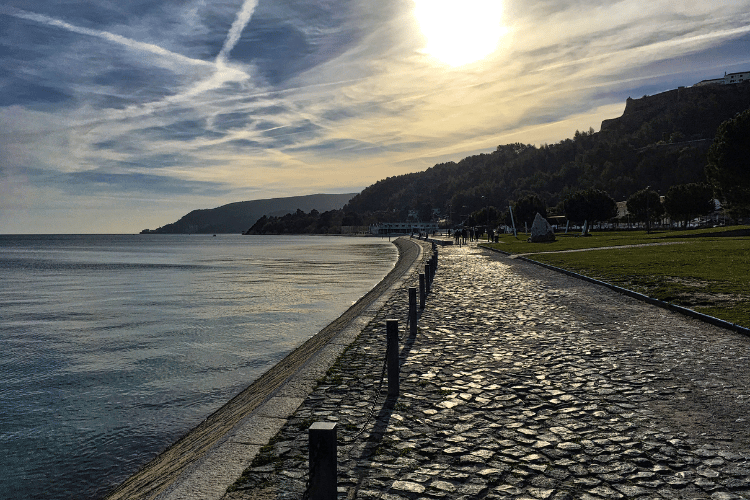 Access to health care in Setúbal
Similar to the rest of Portugal, all legal residents have access to the national public healthcare in Setúbal. So immediately after you get your residency permit, be sure to register at the nearest public healthcare facility.
There are four hospitals in Setúbal, both public and private, two public health centers, and about 30 pharmacies that serve the local population. While public healthcare is free for the most part, private healthcare, on the other hand, can be a bit costly. However, with good medical insurance, you can access private healthcare if you so wish.
Work labor in Setúbal
The benefit of moving to this city is the proximity to the capital Lisbon. While Setúbal might not have so many employment opportunities, you can easily work in Lisbon while living in Setúbal thanks to the strong transport network that connects this city and other destinations.
Setúbal gets a considerable amount of tourism. Therefore, you can get a lot of opportunities in this industry. Other industries that are also significant employers in this city include IT and hospitality, just to mention a few.
Education in Setúbal
Although not known as a major education hub in the country, Setúbal has a few educational institutions that serve the local community. As far as higher education is concerned, the Polytechnic Institute of Setúbal is the main institution offering plenty of disciplines to specialize in. This institution has over 6,000 students with over 85 undergraduate, graduate, and post-graduate courses.
Setúbal is also home to a few international schools for children, one of the most popular private schools in the region is St. Peter's School. This school has been operational for nearly three decades, providing the best education for children in the region.
How can a foreigner move to Setúbal?
Moving and eventually living in Setúbal begins by finding legal entry into the country. Fortunately, you can relocate to Portugal for work, higher education, family relocation, and also to find a suitable investment.
Each of these entry criteria into Portugal grants you a different type of Visa you can apply for. Some of the visas that the Portuguese government issues include the D2, D7, and Golden Visa, just to mention a few. Nonetheless, the passive income Visa, better referred to as the D7 Visa, is the most common among expats.
Each type of Visa has its requirements regarding documentation and application fees. It is only after you have been granted an entry Visa to Portugal that you can start planning for a life in a city of choice, for instance, Setúbal.
Is it worth living in Setúbal?
There is no doubt that Setúbal is an excellent destination to live and relocate to. Think about the good food and a relatively cheaper cost of living. The weather is great, and Setúbal is only 35 minutes away from the capital city.
In essence, there are many great things to say about this countryside city in Portugal. Unfortunately, the decision on whether living in Setúbal is worth it or not has to come from you. Moving to a different country is a significant decision that needs careful introspection before reaching a decision.
Do you need help moving to Setúbal?
There you have it, a detailed guide about living in Setúbal. We hope that you have found this article informative and it has helped answer most of your questions. However, if you have further questions, be sure to join our Facebook Group – All About Portugal For Expats, and interact with other expats who have been in your shoes before.
Whenever you are ready to make the big move, contact our immigration expats at Viv Europe. We're here to make your dream of living in Portugal turn into a reality.