Last Updated on January 12, 2022 by Lea Melo
Ever wanted to go to a nude beach in Portugal? Although increasingly common in Europe, nude, naturism or topless beaches are not that easy to find in Portugal. The naturist practice has slowly acquired its space among the Portuguese in the last decades. Find out in today's article where the nude beaches in Portugal are located, how to get to them, and some basic rules of coexistence for beginners so that everyone has an amazing time – with the most comfortable outfits.
The main nude beaches in Portugal
To improve everyone's life, it is very important that nude, naturist, or topless practitioners know where to go. After all, looks of amazement are not the goal of those of us who adhere to nudism.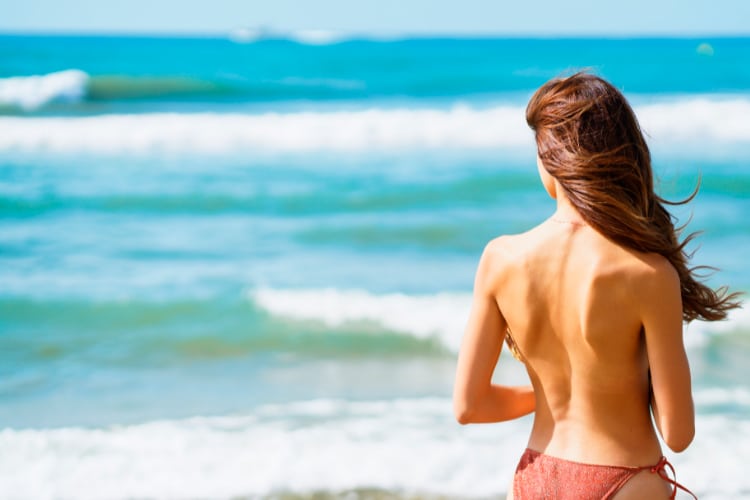 See the official nude beaches in Portugal, according to the Portuguese Federation of Naturism, to enjoy the sun in peace.
Bela Vista Beach, Almada, south bank of Lisbon
Adiça Beach, Almada, south bank of Lisbon
Meco Beach, Sesimbra, south bank of Lisbon
Salto beach, Sines, Alentejo region
Alteirinhos Beach, Odemira, Alentejo region
Malhão Beach, Odemira, Alentejo region
Adegas Beach, Aljezur, Algarve region
Deserta Island Beach or Barreta, Faro, Algarve region
Homem Nu Beach, Tavira, Algarve region
Also read the article: 8 reasons why Portugal became so popular
Nude beaches on the south bank of Lisbon
Close to the Portuguese capital, see the nude beaches in Portugal that lie on the south bank of Lisbon.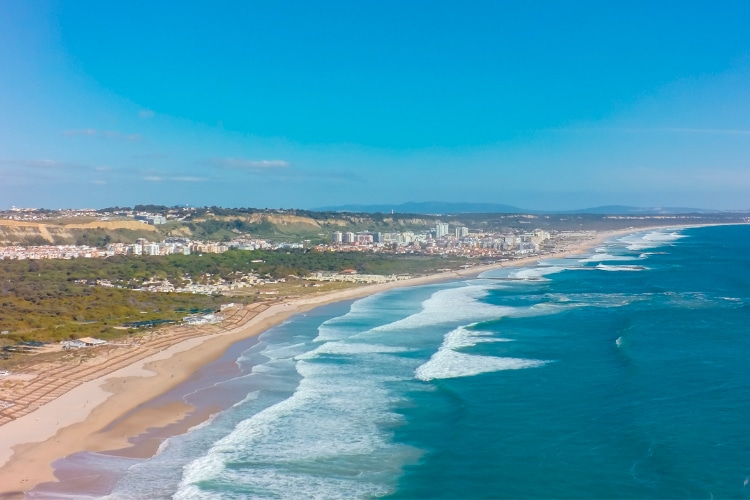 Bela Vista Beach
Located in the beautiful Caparica coast, south of Lisbon, the Bela Vista beach was the first official nude beach in Portugal. It is known for its extensive sand and rough sea, which attracts both windsurfers and naturists. Besides, this beach, along with the neighboring Dezanove beach, is very popular amongst the LGBTQ+ community in Europe.
About Praia da Bela Vista
20 km away from Lisbon
Access via public transport
Guarded beach
Bar or restaurant on the beach
LGBTQ+ friendly
Nudist area starts 400 meters from the beach restaurant
Adiça Beach
Also located in the Almada region and only 25 km away from central Lisbon, Adiça beach is also famous for being nudist-friendly. It is also known as Nato beach, and has extensive sand, surrounded by nature, and far away from the crowds.
About Praia da Adiça
25 km away from Lisbon
Access via public transport
Unguarded beach
Bar or restaurant on the beach
Nudist area starts 50 meters before the end of the dirt road for motor vehicles
Meco Beach
Located in the Sesimbra area, Meco beach was the second in Portugal to be made official for the practice of nudism. If you are a naturist, you will find here one of the longest beaches, comprising 3 beaches, and the encounter of choppy sea waters with a fresh water spout that falls from the cliff.
About Praia do Meco
Paid parking at the beach entrance
Grilled fish restaurant on the beach
Partially guarded beach
Also frequented by families
Nudist area has recently moved to the sands of the two neighboring beaches further south.
Nude beaches in the Alentejo coast
The Alentejo region, between the south of Lisbon and the north of the Algarve, also has beautiful and official naturist beaches.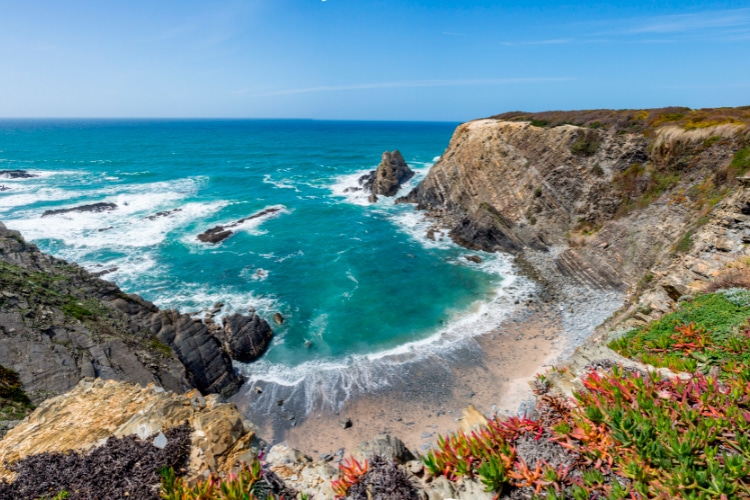 So get to know them:
Salto Beach
Almost hidden between the cliffs, where a freshwater spout meets the sea, is Salto beach. This nudist paradise is located in the middle of the Alentejo coast, in the village of Porto Covo, near Sines. Because it is so protected, the beach offers greater privacy and tranquility to nude bathers.
About Praia do Salto
15 km away from Sines
Access via a long wooden staircase
Restaurant near the beach
Unguarded beach, protected from viewers by cliffs
Sometimes frequented by families, usually empty in weekdays
Alteirinhos Beach
The beautiful Alteirinhos beach is right in the middle of the Natural Park of Sudoeste Alentejano. In addition to providing an incredible setting with its cliffs, this beach is close to the famous village of Zambujeira do Mar. The rock formations and nature that surround the beach of Alteirinhos make it one of the best nude beaches in Portugal.
About Praia dos Alteirinhos
20 km from Odemira
Access by wooden stairs
Unguarded beach
Free parking on top of the cliff
Restaurant near the beach
Malhão Beach
Close to one of the largest urban centers on the Alentejo coast, Vila Nova de Milfontes, is Malhão beach. It is the latest beach to officially enter the list of nudist beaches in Portugal. Since 2019, it has become easier to go nude or even topless in Portugal. Here you can enjoy extensive white sand surrounded by beautiful dunes.
About Praia do Malhão
The beach is 10 km north of Vila Nova de Milfontes
Guarded beach
Parking at the beach entrance
Restaurant near the beach
Access to the naturist area is via a dirt road, after passing the wooden walkway and turning right
Nude beaches in the Algarve
Famous for its paradisiacal beaches, the Algarve region, in the south of Portugal, also has some fans of naturism. There are, however, only 3 official nude beaches in the Algarve.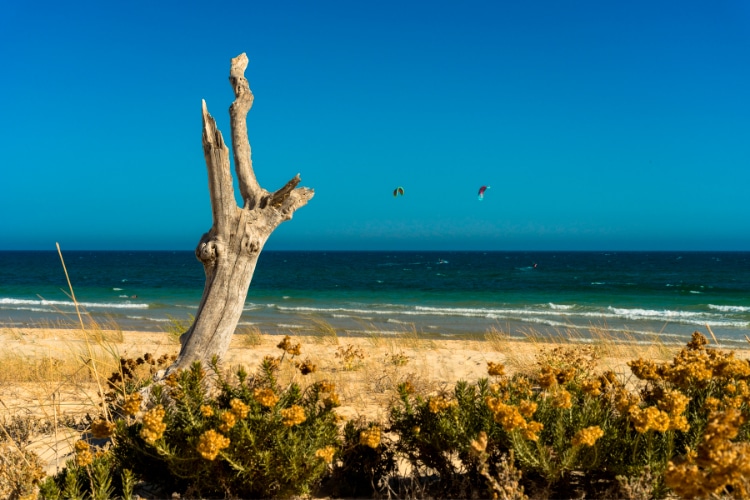 So get to know them and plan your visit:
Adegas Beach
Adegas beach forms one of the most stunning landscapes in Portugal – and luckily it's an area officially for naturists. Here, on the marine beach of Odeceixe, on the Vicentina coast, clothing is optional, and the air is warmer. The current here is usually strong, but it is definitely a beach to visit.
About Praia das Adegas
Access to descend the cliff on foot, by stairs
Partially guarded beach
Parking at the entrance or on the side of the road
There are no restaurants on this beach
Homem Nu Beach
In what is literally translated as "nude man beach", this is the official nude beach in Portugal with the warmest waters. The Homem Nu beach is located in Tavira, Eastern Algarve, near the island's biggest beach, Barril beach. It has a very long beach, more than 4 km, and is located in the Ria Formosa National Park. Therefore, the beach offers plenty of freedom and privacy, essential for the naturist practice.
About Praia do Homem Nu
It is only 9 km from Tavira
Guarded beach
Parking at the entrance
There is a restaurant at the beach
South of Barril beach
Read also: Living in the Algarve: all about sunny southern Portugal for expats
Deserta Island Beach
Deserta island beach, also known as Barreta island beach, is the most recent official naturist beach in the Algarve. It is located on an island near the city of Faro, and you can only get there by boat. The trip itself is already an attraction, in Ria Formosa, the beach on Deserta island is, as the name indicates, quite safe and empty, with long sandy areas.
About Praia da Ilha Deserta
Access to the beach is made by boat from the city of Faro or Olhão
Partially guarded beach
There is a restaurant on the beach
It's a natural paradise, with difficult access for naturists, but worth knowing
Beaches where nudism, naturism, and topless are traditional in Portugal (but not official)
Although the practice of nudism and toplessness are accepted in Portuguese society, they are not tolerated on all beaches. There are, however, in addition to the list of official beaches, some beaches where people traditionally enjoy the naturist life. Discover some of the best:
Afife Beach, Viana do Castelo
Estela Beach, Póvoa de Varzim
Cabedelo do Douro, Vila Nova De Gaia
Duna Alta beach, Aveiro
Aguda beach, Azenhas do Mar
Pessegueiro beach, Porto Covo
Pinheiros beach, Lagos
Caneiros beach, Ferragudo
Praia Grande, Armação de Pêra
Topless beaches in Portugal
While naturism and nudism in Portugal require more care and attention from practitioners, topless sunbathing is common on any beaches across the country.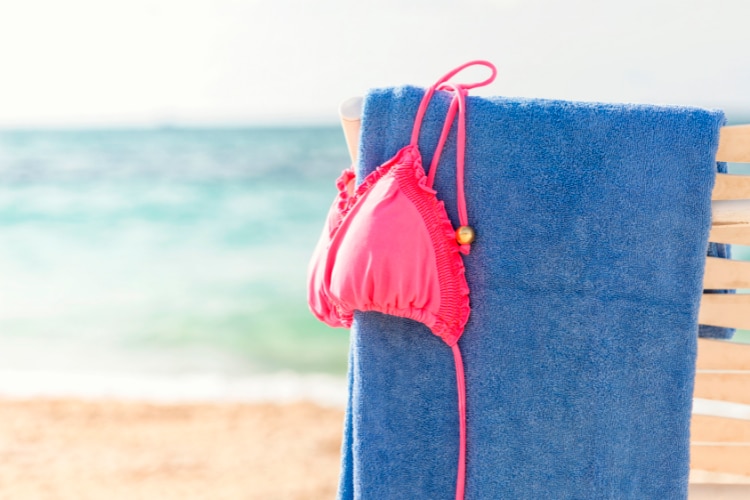 Curiously, it is not so common for Portuguese women to go topless, but foreign women do more often. In the Algarve, for example, which has many more foreigners than Portuguese in the summer, there are always topless women on any beach.
Naturist tradition in Portugal
But after all, what does naturism consist of? What are the benefits of allowing yourself to be naked freely? According to the Portuguese Federation of Naturism, there are many advantages. In fact, this lifestyle goes far beyond taking your clothes off.
"Naturism is a way of living in harmony with Nature characterized by the practice of social nudity, with the purpose of promoting self-esteem, respect for others and for the environment"

Portuguese Federation of Naturism
Get to know some of the most important naturism organizations in Portugal:
It is very important to know the region to be more comfortable as a nudist in Portugal. So, if you need it, don't hesitate to contact organizations in the country that can guide you in whatever you need.
Tips for first-time nudists
As liberating as the naturism experience may be, the first time may cost a little. Check out some tips to make the most of life without clothes!
Know where to go and what rules to follow (this article helps you with that)
Respect people's privacy and don't stare
Use a lot of sunscreen
Never go anywhere without a towel
Relax and enjoy your moment with your body
Don't forget to put your clothes on when you leave.
It is possible to have a wonderful naturist experience on the nude beaches in Portugal. The thousands of expats who live in the country can confirm that!
Join the expat community in Portugal
Are you curious about the lifestyle of foreigners living in Portugal? Join our online community.
Join our All About Portugal For Expats Facebook group to meet people and share experiences in the country.
For anything that needs your adjustment in Portugal, talk to the team of professionals at Viv Europe. Welcome to Portugal!