As a parent, the first thing you do is ensure that your children feel welcomed in a new country. It's quite natural for expats to look for quality education and an environment that will nurture growth. This article will help you understand how Portuguese public schools offer a conducive learning environment for your children.
Keep reading to know how Portugal's public education curriculum works and the key differences between the two systems. We'll also go over a list of the best public schools in Portugal and the enrollment process.
How do public schools in Portugal work?
Relocating to Portugal comes with its challenges, but thankfully we have a community that's here to help you. Before enrolling your children in a school, it's better to know the differences between public and private schooling.
The structure of schooling is divided into two parts; Basic and Secondary education. Here are the details of each:
Basic Education
Basic Education is completely free and has a universal curriculum that's easy to follow. It's also compulsory to attain Basic Education, after which you may proceed to Secondary Education.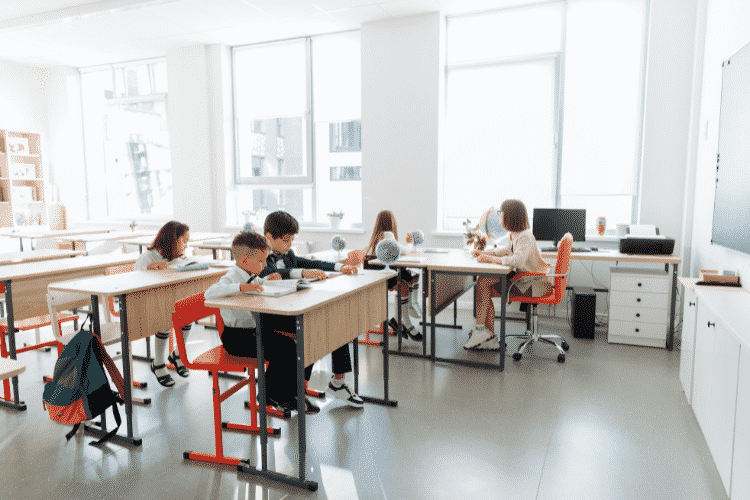 The aim is to acquire skills and fundamental knowledge that enhances comprehension and excellence. The years of Basic Education are divided as follows: 
First Cycle: Grades 1 to 4
Second Cycle: Grades 5 and 6
Third Cycle: Grades 7 to 9
Secondary Education
Secondary Education equals high school, which is essentially Grades 10 to 12. Students are encouraged to choose courses according to their preferences to make university education easier if they opt for it. One of the following fields is to be chosen:
Language & Humanities
Socioeconomic Sciences
Sciences & Technology
Art
At this stage, students have an idea of what career options they'd like to explore. Hence it's better to choose a field relevant to their interests. We also recommend that you give your child the freedom to decide for themselves to motivate their personal growth.
Do public schools in Portugal teach in English?
All public education is done in Portuguese, but learning English is a mandatory part of the curriculum.
We understand that this language barrier might be a concern if your children are older. Some people prefer International Schools in Portugal to overcome the possible complications of not knowing the local language.
It's important to note that expats from Britain, France, and the US have adapted pretty well to the lifestyle. Enrolling your children in a public school is particularly beneficial if you've decided to stay in the country for a long time. Young minds learn Portuguese quicker and will feel a heightened sense of belongingness once they can speak eloquently. Unlike other languages, Portuguese is relatively easier to understand.
Read our article Learning Portuguese to know whether expats are bound to learn the local language.
Public school Vs International school in Portugal
There really isn't a "Which one is better?" debate. Both choices are equally valid and have an excellent quality of education. Of course, it's better to know why expats prefer one of the two over the other. We've helped you assess both options by preparing a list of pros for public and international schools:
Pros Of Enrolling Your Children In A Public School In Portugal
Let's look at the most popular reasons why expats prefer enrolling their children in a public school:
✔️ Free of cost
Sometimes, the biggest deciding factor can be your financial circumstances. It's a viable option to save on basic education expenses to invest in university fees later on. 
✔️ They'll dive into Portuguese culture
Relocating to a new country for the rest of your life can be a big decision. Getting to know the culture will help your children form lifelong connections and feel a sense of belonging.
✔️ Easier to learn the local language
As an expat, you might eventually have to learn the language at some point. By enrolling your children in a public school, you won't have to spend on extra language classes. It will also be significantly easier to learn Portuguese if they get a public education.
Pros of enrolling your children in an international school in Portugal
These are the most popular reasons why expats go for an international school instead of public schooling:
✔️ Education is in English
If your children are older, their performance might hinder slightly if they're unable to understand Portuguese.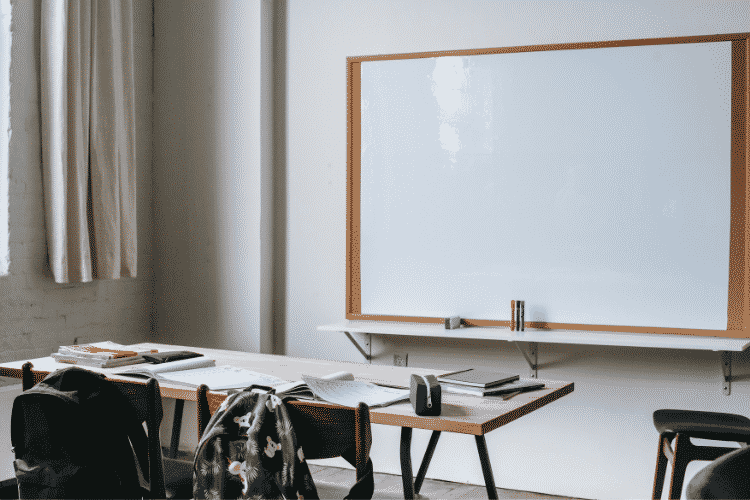 Shifting schools in the middle of their education is a big decision in itself. So, it may be better to go for a curriculum in the language they're comfortable with.
✔️ International curriculum
The curriculums include but are not limited to, the International Baccalaureate and the National Curriculum for England. International schools usually have higher budgets to spend on their facilities and extra-curricular activities such as gardening, robotics, cooking, etc. 
✔️ Connection to multicultural families
Many expats from different countries have enrolled their children in International schools after relocation. One reason is that they get to connect with families from various cultures, which encourages diversity.
Check out the best International Schools in Lisbon to find the perfect option for your children.
How much do public schools cost in Portugal?
As mentioned in the list of pros above, public schools in Portugal are free of cost for citizens and expats. The government funds these schools, and all basic educational expenses are waived off. Though the quality of public schools can vary greatly, some are well-reputed and are ranked higher compared to private schools.
Parents are only required to pay for meals that are given during school lunch breaks. The standardized menu includes soup, meat/fish on alternate days, bread, and fruits/jelly for dessert. The total expense for school meals is around €2 per day.
What is needed to enroll a child in a public school in Portugal?
The enrollment process for public schools is between January and May before the next academic year begins. You can also choose to register your children online through the Portal das Matrículas which the government regulates. If you're confused about the process, you may visit the public school in your metropolis for more information.
The procedure is standardized among all schools, but it's better to check in with the school's administration beforehand. Typically, you would need the following documents when enrolling your child.
The enrollment form (provided by the school)
Your child's ID card or birth certificate
One photograph of your child
Immunization and vaccine records
Can children of non-regularized foreigners study in public schools in Portugal?
Yes, they can. Education is a right given to all non-regularized and regularized foreigners in Portugal. All students are encouraged to perform better and surpass the averages scores.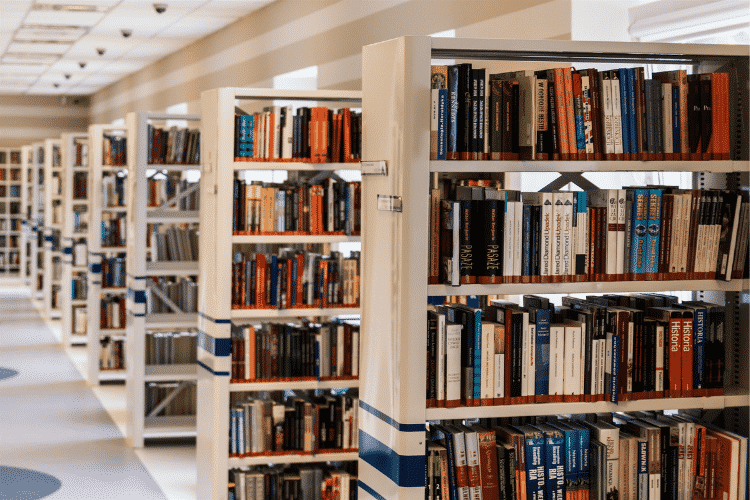 The International Convention on the Protection of the Rights of All Migrants guarantees equal education opportunities for non-regularized foreigner children. 
Read also: Complete Guide to Live in Portugal to better adapt to the new lifestyle.
What are the best public schools in Portugal?
There are various public schools all over the country, so you'll find a decent option regardless of where you live. However, people have made an interesting observation regarding children who have better grades studying at school. Students of public schools located in Lisbon, central and northern Portugal, have better grades compared to the rest.
This isn't to say that other public schools aren't worth going to. Here is a list of the top 10 Portuguese public schools:
Arga and Lima Primary and Secondary School, Lanheses, Viana do Castelo
Quinta das Palmeiras Secondary School, Covilhã
Miguel Torga Elementary and Secondary School, Bragança
Infanta D. Maria Secondary School, Coimbra
D. Filipa de Lencastre Elementary and Secondary School
Eça de Queirós High School, Póvoa de Varzim
Alves Martins High School, Viseu
Tamel Valley Primary and Secondary School, Lijó, Barcelos
Elementary and Secondary School Eng. Dionísio Augusto Cunha
Domingos Sequeira High School, Leiria
Rankings are based on Observador's list of Best Schools.
When does the school year start in Portugal?
While the admission process starts in January, the academic year officially begins in September and continues until mid-June. During this time, you can prepare your children for the new challenges to help them overcome the initial hesitancy. A few suggestions we'd offer are taking them to explore the city with you and socializing with children their age. This will ease them a bit before their public education starts.
Public schools also have sets of holidays during the year. There is a two-week Christmas and Easter break each and a few days for the Mardi Gras Carnival in February.
Do you need help bringing your family to Portugal?
This article summed up almost everything you needed to know about public schools in Portugal. If you have any questions regarding the academic experiences of expat children, join our Facebook group to connect with expats. 
Alternatively, you can also shoot us a message any time you like! Our team at Viv Europe is here to make the relocation process seamless for you and your family. Contact Us and get help with enrolling your child, family regrouping, or Visa processes.