Last Updated on December 16, 2022 by Laila Oliveira
Everyone loves Lisbon, but does everyone know how to get around the city? As a tourist, not knowing your way through public transport is a pretty common thing. However, we have a feeling you'll be coming back for more! Here's your complete guide to public transport in Lisbon, Portugal's busiest city all year round. And, well, the one loved by expats the most.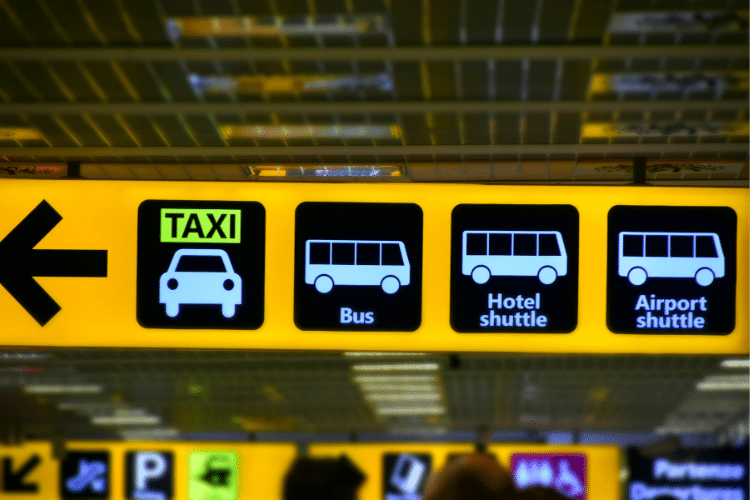 There are a few ways to commute through the busy streets. The famous yellow trams are one way to go about it, but more recent developments are much faster and way more efficient. Portugal aims to implement more routes throughout the country, but till then, let's know how the system works in Lisbon.
This article will guide you on how to make your trip, or stay, in Lisbon a hassle-free experience. What's the cheapest mode of transport and is it the quickest too? How can a tourist or expat benefit from the recent developments? Let's get started; happy reading!
Is public transport in Lisbon good?
Lisbon and Porto are two cities where public transport has been heavily improved to cater to the growing needs of visitors in the region.
Known for steep hills, winding alleyways, stunning architecture, and more, Lisbon is one of the world's most fascinating cities. Taking a walk through Lisbon is the best way to explore it, but it's not always feasible to cover all the sights on foot if you're a tourist. 
In this case, you may need to take advantage of the public transport facilities, which are reliable and efficient.
Public transport in Lisbon consists of both underground and surface modes of transportation that connect the metropolis and the surrounding municipalities in and around Lisbon to a great extent.
You'll find yourself using everything from trains, metros, and trams. The system is well organized; trams and metros connect most tourist attractions, and you can even take train trips for a pleasant day. 
In comparison to other European cities, public transport in Lisbon is also very inexpensive. We'll save those details for later; follow through! 
Here are your options as a resident or tourist in Lisbon:
Buses in Lisbon
Known for their bright yellow colors, Lisbon's buses stand out from the crowd. In general, buses run from 5 am to 11 pm, but some popular routes have buses that run until midnight. 
With over 170 lines, the bus system crisscrosses the city and goes everywhere, including places where trams cannot. You can purchase tickets on board which will most likely cost you around €1.80. However, you can save a few bucks by using a Viva Viagem card. Keep reading to learn all about the Viva Viagem card and how it works!
Metro in Lisbon
Metro is one of the fastest and least expensive modes of public transportation. It's exceptionally clean and well-kept, and it is run by Viva Viagem. A single ticket costs €1.50 and is open every morning from 6:30 am to 1 a.m.
The green line connects the tourist areas around Baixa and the train station to Cascais. The red line links the airport to other lines and Expo Park, and the yellow and blue lines run along Lisbon's main thoroughfares.
Trains in Lisbon
A train ride through Portugal's diverse beauty is an essential part of any trip to Lisbon, especially if you're here for a short time. You can add a whole new dimension to your travels by taking day trips on the Portuguese railway system without spending too much.
Lisbon has fifteen train stations, making it a very well-connected city. They have 67 lines that connect to the metro, buses, and Tagus ferries in Lisbon. The main stations provide interfaces with other operators as well as access to parking lots. A single journey can cost between €1.35 and €3.45, depending on the distance.
Trams in Lisbon
Trams have been in existence since 1873 and currently have six lines. The system is 31 kilometers long, and there are now 63 trams running on it.
Lisbon contains 58 trams, 40 of which are historic streetcars. The landmark trams make for beautiful images since they are a true representation of Lisbon's history. 
Onboard tickets for the Lisbon trams cost €3; however, if you have a 7 Colinas Card, the price is reduced to €1.50 per trip.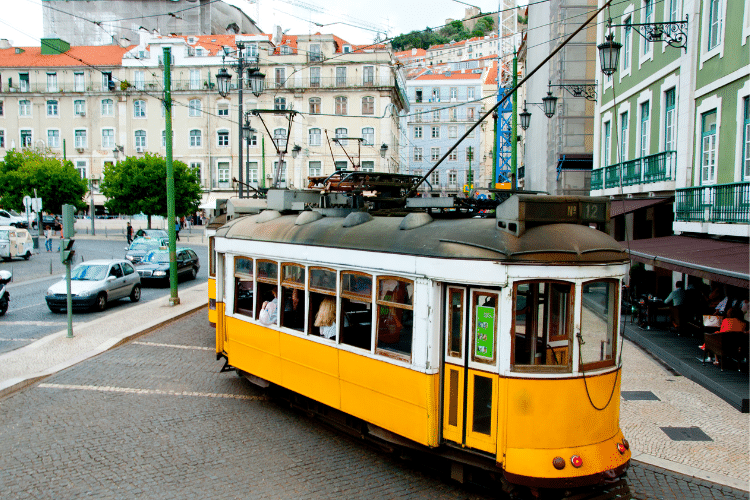 Ferries in Lisbon
Lisbon stretches along the Tejo Estuary's banks, and commuter boats are an essential component of the city's public transportation system. From the residential areas on the southern banks of the Tejo Estuary to central Lisbon on the north, the ferries offer an affordable mode of transportation.
Additionally, these ships escape the terrible rush hour congestion on the Ponte 25 de Abril suspension bridge.
Funicular in Lisbon
Lisbon's "lifts or elevators" are funiculars that give inhabitants and visitors a pleasant and quick way to ascend the long, steep hills that are so distinctive to Lisbon.
The three funiculars in the Portuguese capital were all created by Portuguese engineer Raoul Mesnier de Ponsard. Elevador do Lavra, Elevador da Glória, and Elevador da Bica is the names of the three funiculars.
When purchased on board, a ticket costs €2.90; however, with the 7 Colinas or Viva Viagem card, it costs €1.45.
Elevators in Lisbon
The city's elevators offer four other ways to avoid Capitol Hill, but it is most often crowded. Riders can quickly ascend and descend the city's hilly areas thanks to the vehicles' short lines.
These modes of transportation, particularly the Santa Justa Elevator and Tram 28, became tourist attractions. Tickets are often purchased on board, and one ticket costs €1.85.
The Viva Viagem and 7 Colinas Card
Let's talk about the card that can help you save money in Lisbon!
The Viva Viagem and 7 Colinas cards can be your main asset as they give you access to the cheapest travel through the city. It costs €0.50 and can be purchased and reloaded at any metro station, newsstand, or Carris point of sale.
The 7 Colinas card allows you to load it with different tickets if you don't want to use the same mode of transportation every day. It's better to purchase a 1-day pass, which can be used on trams, buses, elevators, and the subway, as well as accepted by Carris and Metro.
With Viv Europe your plans for Portugal
will finally come to a reality
Lisbon public transport prices
Public transport prices in Lisbon are moderate, especially for a city that's one of the busiest business centers in the country. If you compare the prices to public transport in the United States or other European countries, you'll find that it's significantly cheaper. 
The ticket price for trams, buses and funicular starts from €1.50, and a metro ride starts from €0.80. If you have sufficient zapping credit, you can pay the driver when you board the tram or use a Viva Viagem card to verify. 
However, the prices are different for every destination; it varies on where you are and where you are going, and the cost of a train ride is not set. 
The prices also vary depending on the transit zone. For example, traveling from Lisbon to Cascais will cost you €2.25 for a one-way ticket, but you will only pay €1.35 if traveling from Cascais to Belem on the same train as Cascais because Belem isn't in the same transit zone as Cascais.
It might be confusing to understand at first, but you'll get the hang of it in no time! 
Where does public transport in Lisbon fall short?
So, we've discussed all the amazing services public transport offers residents and tourists. But surely, it can't be perfect, right? 
The system is reliable, effective, and available most of the time – something you will only find in some places in Portugal. By most standards, Lisbon's system is inexpensive and functional. 
However, the system still has some flaws. Some bus routes are overcrowded, and passengers are sometimes unable to board because the bus is already full. Even on the very infrequent night service, this is still possible.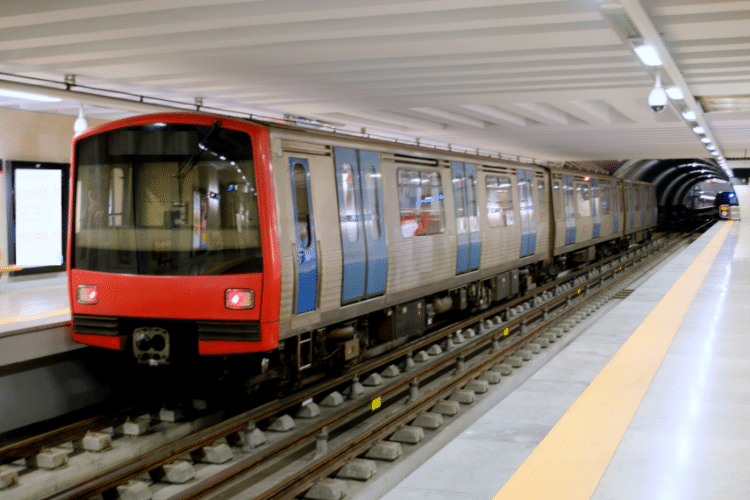 Buses, trams, and metro services are also targets of commuter rage, as increased tourist traffic and limited capacity cause delays, long lines, and overcrowding. Although some aspects are not ideal, they are gradually improving over time.
Despite all of this, public transport still remains to be one of the best modes of commuting through Lisbon, whether you're here as a tourist or living as an expat. 
Is public transport in Lisbon accessible for the differently-abled?
Unfortunately, there are accessibility challenges in most places in the world, and we hope this changes for the better. However, differently-abled Portugal enthusiasts can still enjoy this lovely old city. There are plenty of accessible tourist attractions and accommodations in Lisbon.
A majority of metro stations in Lisbon have elevators for those that cannot use stairs, and these stations also assist people who need help. Public transport vehicles have designated spaces for differently-abled people and/or those who use wheelchairs.
It's common to find wheelchair spaces and ramps on trains, trams, buses, and metros. To find out which bus stops in the city center have wheelchair accessibility, you'll have to spend a bit more time studying your specific routes with the help of maps. Don't be afraid to ask for help; you'll be surprised by how kind the Portuguese people are.
Other options for getting around Lisbon besides public transport
Despite its hills and cobblestones, Lisbon is an easy city to navigate. In case you're not a fan of public transport, here are a few other ways to get by the city:
Transport apps and taxis in Lisbon
For taxis, you will need to call one of the two major options, Autocoope and Radio Taxis, which often have English-speaking operators if you're unable to hail a cab on the street. 
Additionally, Uber was the first ridesharing company in Lisbon and continues to be the most widely used, similar to that in most countries. A tuk-tuk is an additional transportation option to taxis. Although they are considerably more expensive than taxis, they are handy in hillier neighborhoods like Graça and Alfama.
Renting a car in Lisbon
Sometimes you just want to have the freedom to drive to your destination yourself; we completely understand. There's nothing quite like the independence and convenience that a car makes you feel. It can also be an excellent choice if you're planning a road trip with friends or a scouting trip to choose the best neighborhood with your family! 
Likewise to public transport, rental cars are also reasonably priced in Portugal. There are numerous rental car companies, some of which are well-known worldwide brands.
Booking a car online can help you compare prices and reserve a vehicle that meets your requirements. Discover Cars is a trustworthy source for comparing car rental prices.
Renting a bike or electric scooter in Lisbon
The city's roadways have been reconstructed to include bike/scooter lanes and other cycling infrastructure. Parque das Nações, Cais do Sodré, and Belém are some of the best neighborhoods for scooter or bicycle riding along the Tagus River promenade.
Renting electric scooters in Lisbon is relatively inexpensive. There are numerous apps available for renting an electric scooter in Lisbon. Some of these apps are Lime, Bolt, Voi, and Link.
Lisbon transport: more information and some advice
Due to Lisbon's popularity, travelers are found every time of the year. However, there are benefits to traveling in the winter as well, especially for low-budget vacationers, as lodging costs are significantly lower during the off-season. 
It's usually half as expensive as during the busiest times. Since Lisbon is a hilltop city with narrow and occasionally steep streets, driving can be a difficult and time-consuming task. Public transport works pretty well in Lisbon, and it's better to make optimal use of it.
If need be, a recommendation is to use an Uber instead as they have a better reputation, are safer and more secure than traditional taxis, and drivers are more likely to speak English fluently. All transactions are handled digitally via your smartphone to prevent overcharging. Additionally, you may monitor your travel and create a visual map of your path.
Is it worth relying only on public transport in Lisbon?
Did we miss anything out? As you can tell by now, there is more than just one way to commute through your favorite city. Public transport in Lisbon stays at the top of the list by tourists and residents because of its convenience, affordability, and efficiency. Which mode of transportation do you prefer the most? Let us know in the comments below! 
Every resident may not want to rely solely on public transport, and that's okay. Depending on your needs, you may find that owning a car is much more helpful. Living in the city for a few weeks will help you decide whether you should choose other options. 
Kickstarting your relocation journey has never been easier! Join our Facebook Group – All About Portugal For Expats, to know what other expats think of the public transport in Lisbon. Once you're ready to make the move, contact Viv Europe and let experts deal with all your troubles!