Last Updated on November 20, 2023 by Maryam Siddiqui
Unlike the Algarve, Lisbon, or Porto, Braga is not quite popular, giving it the 'hidden gem' type of status. Owing to the fact that it is less popular, the city is often more laid back and quiet, which makes living in Braga perfect for a family.
In this article, we attempt to unpack everything you need to know about this city, right from the cost of living to matters of education and healthcare. Stick around to find out more!
What is living in Braga like?
Living in Braga essentially means having the freedom to do whatever you want, whether outdoor or indoors, because of the reliable weather. Although it's relatively quieter than big cities, like Lisbon or Porto, you can get everything you want in this charming city. 
There are two shopping areas with plenty to offer, including big Walmart-like stores. Braga is a city right at the center of Portugal's history; there are several ancient monuments like the famous Thermae of Maximinus Roman baths.
Right from the architecture to the design of the streets, there is so much to learn about ancient Portugal from this city. Braga is beautiful; a regular walk down the streets is the best way of exploring this city. However, be sure to carry around a nice pair of comfortable shoes for the sake of your feet!
Who lives in Braga?
With a population of 193,333, according to the data from Instituto Nacional de Estatística Portugal, Braga is the seventh largest city in Portugal. However, it's worth mentioning that a big percentage of this population is predominantly local, with fewer expats than other regions.
Nonetheless, Braga is also a university town hosting about 20,000 university students during a single academic year. The huge population of young students from Portugal and other nations is slowly changing Braga from a traditional town to a more urban and English-speaking destination.
When this is coupled with the fact that the city also experiences a fairly moderate tourist action, Braga is an easy destination for expats to live and quickly fit into the community.
It is also the third largest metropolitan city in Portugal but often flies below the radar because of the other big tourist cities.
Why are expats moving to Braga?
Moving to Portugal and deciding to live in Braga is a relatively easy decision to make once you understand what this city has to offer. It's no coincidence that everyone is moving to this city in the north of Portugal.
Previously, Braga wasn't quite as popular. However, it's about time this beautiful city gets the recognition it deserves. Here are some reasons why living in Braga is becoming popular among expats.
Braga is beautiful and peaceful
As mentioned earlier, Braga is a laid-back city with relatively less tourist action compared to other popular destinations like Algarve or Lisbon. While Braga is not located right at the beach, there are several smaller fluvial beaches like the famous beach of Vermin.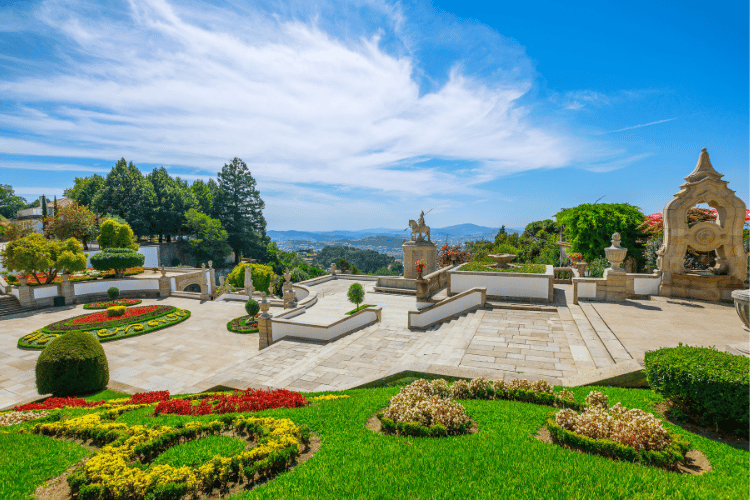 Other than that, Braga is just the perfect city for anyone who wants to learn about the rich Portuguese history. There are plenty of avenues to learn this history, from the local population to the plenty of historical monuments and sites waiting to be explored.
The local population is also quite tolerant and accommodating to foreigners. A good number of the local population also communicates in passable English, making it easy for you to settle in.
Good quality of life
You will be pleasantly surprised to know that Braga is among the top 10 happiest cities in Europe (via Idealista). The quality of life index assesses different aspects of everyday life like security and how satisfied the residents are living in that particular city.
Braga, being the happiest city in Portugal, has a lot to say about the quality of life. Tranquility is one of the things you will find more in Braga compared to other destinations like the Algarve or Lisbon, the capital of Portugal.
The fact that you can find anything in this ancient town at a great bargain is also one of the reasons why the population is satisfied with living in Braga.
Tax benefits
There are plenty of tax benefits that expats enjoy after moving and settling in Portugal. The two major tax benefits the Portuguese government extends to expats living in most cities, including Braga, are the non-habitual residence (NHS) scheme and the Golden Visa Program.
The non-habitual residence (NHS) offers tax breaks to foreign residents and has helped over 10,000 foreign nationals since its inception. This tax incentive provides a standard 20% tax on income for up to 10 years.
On the other hand, the Golden Visa program might not apply to Braga, but it is an incentive for foreign investors who meet certain criteria. Foreign investors are issued the Golden Visa that allows free travel across the Schengen area.
Also, if you have been a Golden Visa holder for more than 5 years, you're eligible to apply for permanent residency or citizenship in Portugal.
Buying a property in Braga
If you are considering living in Braga long-term, then it is a good idea to consider buying property. While Braga is largely considered an old city, there are different types of property that you can buy. Right from modern townhouses to laid-back country houses with a backyard where your kids can play.
Buying property in Braga, however, requires you to follow a strict process, especially as an expat. Nonetheless, the procedure is quite straightforward, and if you need some help, our experts at Viv Europe are willing to guide you through the process.
Remember, Braga is quite attractive for digital nomads, among other expats. Therefore, properties are often high in demand. It is also worth mentioning that the cost of property in Braga differs from region to region. Nonetheless, the average property price per square meter is €1,816 in the city center and €950 outside the city (via Numbeo).
Renting a flat in Braga
You'll find renting a flat in Braga quite affordable as compared to other cities like Lisbon. This will allow you to save quite some money on this front. Also, the fact that Braga is also a university town, there is a wide range of accommodation available for rent.
Living in the heart of Braga will limit you to a particular type of housing since the architecture is quite old. However, moving further away from the town into the country opens you up to different types of housing at a significantly cheaper cost as well.
Data from Numbeo (as of August 2022) details that renting a one-bedroom apartment within the city center costs about €566 while renting in the country region for the same size apartment will cost you €431.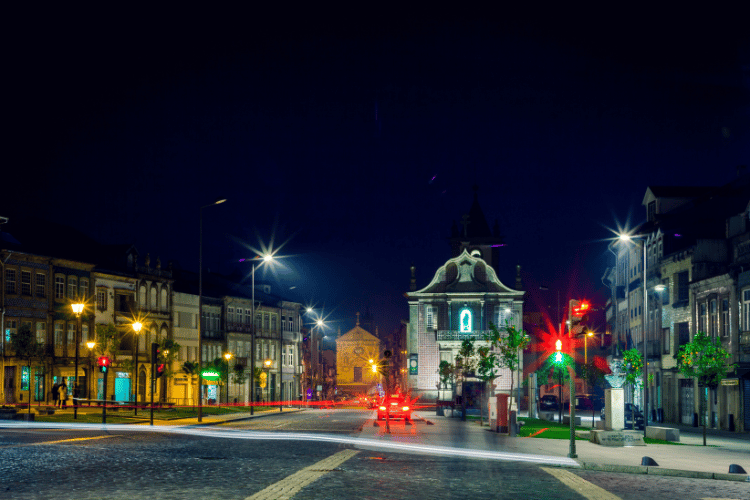 Is it better to live in Braga or Porto?
Both destinations are amazing, and there is no right or wrong choice when choosing where to live. However, to help you decide on the right destination, let's look at how these two cities compare.
Braga, as mentioned earlier, is a smaller laidback city, not as popular as Porto. Braga has less tourist action, making it an ideal destination for anyone looking to escape the crazy noise of big cities.
Porto, on the other hand, is the second largest city in Portugal, perfect for those looking for city life. Also, it goes without saying that there are more corporate employment opportunities in bigger cities. With that said, keep in mind that the right city to live in is one that is ideal for you.
Is living in Braga better than living in Lisbon?
Everyone wants to experience life in the capital of Portugal. This vibrant city has so much to offer, for example, corporate employment opportunities and access to beautiful beaches in Portugal.
However, living in the capital is quite expensive compared to other smaller cities like Braga. Typically everything is expensive in Lisbon; for instance, rent for an average one-bedroom apartment in Lisbon is €1,002. While in Braga, it's about €566. So living in Braga makes more sense for anyone looking to escape the expenses and noise of big cities like Lisbon.
What is the cost of living in Braga?
Generally, living in Portugal is affordable as compared to other European countries. Now, living in a relatively smaller city like Braga makes living even cheaper. So what does everyday expenditure look like in Braga? Here is a list that gives you a glimpse of what to expect if you are considering living in Braga.
| Expenses | Costs |
| --- | --- |
| 1 bedroom apartment in the city center | €566 |
| 3 bedroom apartment in the city center | €900 |
| Basic utilities | €133 |
| International private primary school fees (1 year) | €5,020 |
| Groceries | €200 |
| Fitness club for 1 adult | €37.50 |
| Average monthly salaries after tax | €938.33 |
| Three-course meal for 2 | €30 |
Safety living in Braga
Portugal is among the safest countries in the world, placing fourth, right after Iceland, New Zealand, and Denmark. Safety in Portugal begins with the local's tolerance and accepting attitude toward foreign nationals.
Also, Portugal has strict gun ownership laws that go a long way in reducing the occurrence of violent crimes in the country. You will find your stay in Braga quite peaceful because you don't always have to look over your shoulder in the streets.
However, you should also know that there are some petty crimes like pickpocketing and phone snatching in tourist hubs. You should be aware of where you are and take safety as a personal responsibility.
Access to health care in Braga
Before your big move, it's wise to think about healthcare in the respective country you are going. You will be pleased to learn that medical care is top-tier in Portugal. In fact, there are plenty of public and private hospitals in Braga where you can get good medical services.
Additionally, Portugal offers free and subsidized healthcare to Portuguese residents, including expats. However, you will need to get yourself registered with the Instituto da Solidariedade, where you will be given a Servico Nacional de Saúde.
This is what you will need to produce in public healthcare facilities to get free medical treatment. However, if you wish to get private healthcare, you should get private medical insurance to help cover the bills in private hospitals.
Work labor in Braga
Braga is the third largest cosmopolitan city in Portugal, and there's a wide range of job opportunities for skilled expats. Expats with IT and software development skills have higher prospects thanks to the high demand for such skillsets in Braga and all over Portugal.
Also, the construction industry thrives in Braga, offering employment opportunities to everyone, including expats. However, the biggest employer in Braga is the hotel and hospitality industry. While this city doesn't get quite as many tourists as the Algarve or Lisbon, there's a sizable tourist population that visits this city every year.
Finally, Braga also offers the perfect business environment for anyone looking to open their own business in Portugal.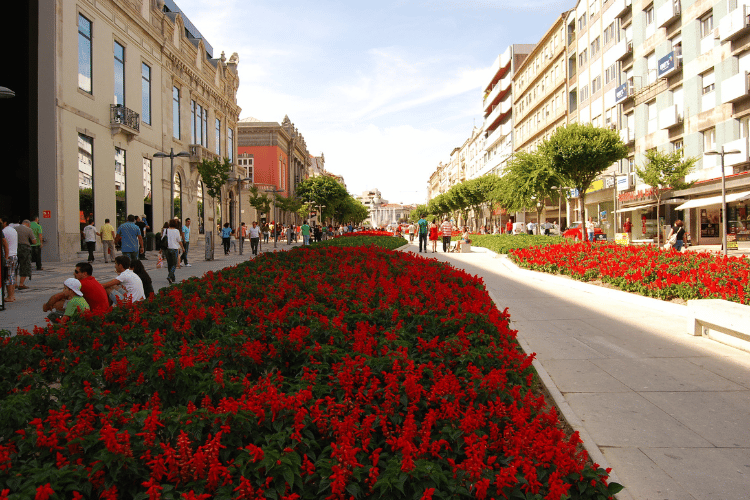 Education in Braga
Braga is a university city where Universidade do Minho offers plenty of opportunities for students from all over the world to further their education and learn Portuguese as a second language. Universidade do Minho is a pioneer in certain areas of education, research, and training.
It's among the most popular institution for higher learning in Portugal and has also established its presence on the international scene.
If you are relocating with your children, there are plenty of international schools in Braga that offer a different education system and have English as the primary medium of instruction.
You can also take your children to state schools for a chance to learn the Portuguese language and also interact with local Portuguese kids.
How can a foreigner move to Braga?
Moving to Portugal will require you to first apply for a visa that grants you entry and also a chance to apply for permanent residency. There are visas for work, business, and retirement, depending on why you want to move to Portugal.
Another type of visa that guarantees entry and also free movement through the Schengen region is the Golden Visa. Do your due diligence and apply for a suitable visa, depending on your case.
After you know which visa you're applying for, you'll want to gather all the correct documents and visit the Portuguese consulate in your country. The application is usually processed within three to four months and costs €90 per application.
Is it worth living in Braga?
While Braga has a reputation for having a relatively slower-paced life, you should know that it is the ideal destination for anyone in the IT and innovation field. This is also what attracts young digital nomads to this town as well.
Braga also has so much to offer to retirees; there's every amenity you would wish for and the proper subsequent access. So is living in Braga for you? Well, that is a very personal question that only you can answer.
Do you need help moving to Portugal?
Moving to a different country is equally exciting as it is scary. However, if you're having trouble regulating the nerves that come with this process, get help from our professionals at Viv Europe. We have financial and legal experts who will handle the bureaucracies on your behalf.
Finally, consider joining our Facebook Group – All About Portugal for Expats. Here you'll receive emotional support and advice from others who have been through the same process as you before.