Last Updated on March 20, 2023 by Laila Oliveira
Formerly known as a popular fishing village, Portimão has since become a beloved tourism destination in the Algarve region. Being the second largest city in the Western Algarve, this destination is home to about 60,000 inhabitants. But the population quickly goes up during the peak summer months. But for an expat envisioning a life in this destination, what is living in Portimão like?
Portimão is not nearly as popular with tourists compared to other nearby towns like Lagos. Nonetheless, it's a big decision to leave your home country and travel thousands of kilometers to settle somewhere new. Well, if you're confused if this place is for you, this article is all you need. We're going to shed some light on what living in Portimão is like, especially for an expat. Let's get right to it!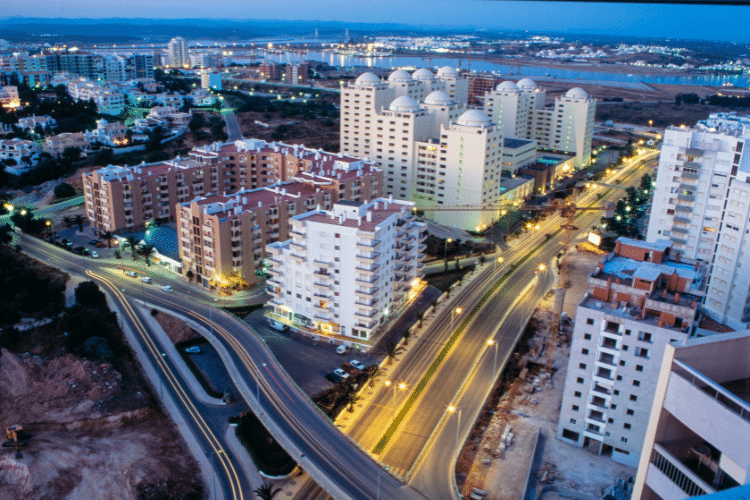 What is living in Portimão like?
Are you craving warm weather all year round? Well, this is what living in Portimão is like. Just like the rest of the Algarve region, Portimão promises plenty of sunshine all year round. This allows you to explore your outdoor activities whenever you want.
Other than that, there's so much to love about this town. There's a fantastic fish market where you can get fresh supplies anytime. Portimão is an ideal location for visiting other towns using the available public transportation.
Compared to other towns in the Algarve, Portimão is more than a popular tourist destination; it has a working-class corporate feel to it. When it comes to fun activities within this city, the one thing that you will love is taking a stroll along the Arade riverfront.
Another fun activity you should not miss is visiting the famous Praia da Rocha beach, about two miles south of the city.
Who lives in Portimão?
Generally, the entire Algarve region is home to people from all walks of life. This is attributed to the fact that it is a popular tourist hub and one of the world's most sought-after destinations.
To put this into perspective, foreign presence accounts for just over 20% today compared to the 16.7% that was registered a decade ago.
It's also necessary to mention that Portimão has maintained its authentic Portuguese culture thanks to the relatively lower tourism action than other more popular towns.
Why are expats moving to Portimão?
From the recent data, there is no doubt that expats are finally paying more attention to this destination in the heart of the Algarve. Most of the expats are choosing to move to this destination because of the fair weather and advantages the greater Algarve region offers. 
Also, the fact that it is one of the few towns in the Algarve that tourists do not overrun makes it quite desirable for expats. That said, here are other reasons expats choose to move to Portimão.
Portimão has so much to offer
If you're looking for a destination that has a little bit of everything, then look no further than Portimão. Being the second largest city in the Algarve region, you will find almost everything here. This is especially true for those looking for a mix of tourist vibes and a little corporate working environment.
Also, Portimão has the necessary social amenities that you would want from any destination. There are international schools, a good public transport system, and proper private and public healthcare for you and your family.
The large indoor market, Mercado Municipal de Portimão, will ensure you don't miss your fresh seafood supply. You know how important seafood is to Portuguese cuisine.
Finally, there is no shortage of supermarkets for you to shop at. You can visit the local supermarkets or shop at the popular British food supermarket Overseas Supermercados.
The Algarve region is a good place to live
It goes without saying that tourists flock to the Algarve every summer for a reason. As an expat, choosing to live in this region of Portugal might be one of the best decisions you might have just made.
To begin, this famous tourist region has benefited immensely from tourism action. The annual revenue has made it possible for this destination to improve most of its public services, including transport, education, and healthcare.
Also, apartment buildings have been developed to cater to the ever-growing population. This means that you won't have to worry about not finding the right accommodation for you. When talking about the Algarve, it would be a disservice not to mention the long stretches of coastline and beautiful, picturesque beaches.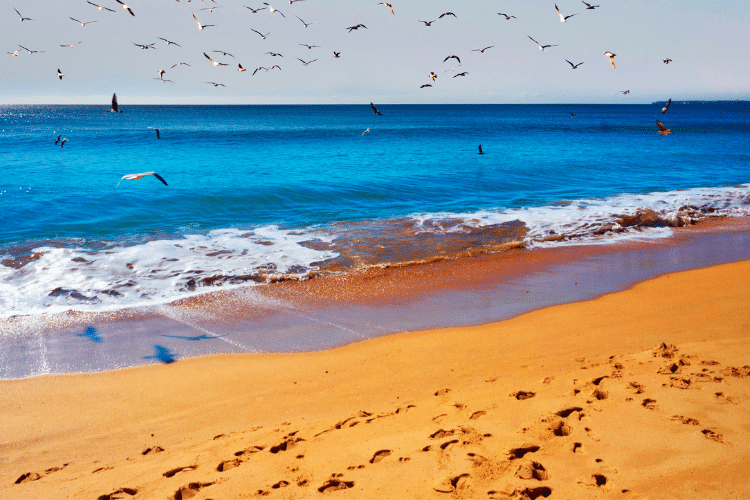 Friendly to Digital Nomads
Portimão is not just an excellent destination to live in but also quite welcoming to digital nomads from around the world. Previously, digital nomads only had to rely on passive income visas to gain entry to live in Portugal. 
However, the new Digital Nomad Visa has completely changed the game, making it easy for digital nomads worldwide to live up to one year in Portugal!
The good news is that digital nomads get to enjoy some of the advantages that come with living and working in Portugal, including low taxes, a relatively lower cost of living, and also free travel in the countries within the Schengen zone.
Portimão has several coworking spaces where you can go and get your work done while interacting with your fellow digital nomads.
Buying a property in Portimão
Although buying property in the Algarve region is often more expensive than in other destinations in Portugal, there are a few towns and cities where the cost is relatively cheaper.
The beauty of living in Portimão is that the cost of buying property is not nearly as high as in other destinations within the Algarve region. According to data from Pordata, the cost of buying property in this town is about €2,444 per square meter.
While this is true, the actual cost will depend on factors like the size, location, and specific condition of the house. Those located close to the beaches or the town center are expected to be costlier than those further inland.
Whether you are looking for property for business or residential purposes, buying property in Portimão is a good idea.
Here is a breakdown of the cost of property in popular neighborhoods.
| Neighborhood | Price per/m2 |
| --- | --- |
| Portimão | €2,354 |
| Mexilhoeira Grande | €2,397 |
| Alvor | €3,375 |
Estimates are from Idealista (as of March 2023).
Renting a flat in Portimão
Similar to buying property in Portimão, the cost of renting a flat will depend on factors like the size, type, and location of that particular apartment.
Living in Portimão allows you to find the right flat for you, whether it is a villa near the beach or a townhouse if you want to live in the center of all the action. On average, renting a flat in Portimão costs about €11.6 per square meter.
With Viv Europe your plans for Portugal
will finally come to a reality
Is it better to live in Portimão or Albufeira?
Let's begin by mentioning that there is no better destination between the two; in fact, it all boils down to individual preferences and needs. However, from a financial standpoint, it is worth pointing out that living in Portimão is relatively cheaper than living in Albufeira. 
To bring some context to the previous statement, you will need about €2,875 in Albufeira to live the same lifestyle that you can get for €2,400 in Portimão, assuming you choose to rent in both destinations.
Also, you should know that Albufeira is quite popular among tourists. Therefore, the summer months seem to get quite chaotic compared to Portimão. Other than that, both destinations are good, and it is up to you to choose.
Is living in Portimão better than living in Faro?
Faro and Portimão are not so different when it comes to the cost of living and life in general. These two destinations located in the Algarve region come with unique perks that you can take advantage of.
For instance, the international airport in Faro will allow you to travel easily to other parts of Portugal and the world. On the other hand, Portimão is fairly laid back, which is ideal for raising a family.
While these two cities are almost the same, there are subtle differences in the cost of living. On average, living in Portimão is cheaper than in Faro, and the average salary in Portimão is higher than what regular employees get paid in Faro. For some reason, Faro is popular among retirees, while Portimão is home to the young working population.
What is the cost of living in Portimão?
Generally, the cost of living in the Algarve region is higher than the national average, and Portimão is no different.
However, when compared to other cities around the world, you will quickly realize that living in Portimão as an expat is considerably more affordable. For instance, you will need €2,433 in Portimão to live the same lifestyle that €6,132 will afford you in London.
When it comes to day-to-day living, a single person will need about €487 monthly, exclusive of rent. On the other hand, a family of four will need about €1,691 without rent, as per Numbeo. 
That said, you need to keep in mind that the cost of living is different from one individual to the next. Your spending habit is often the determining factor of exactly how much you will need for expenditure every month.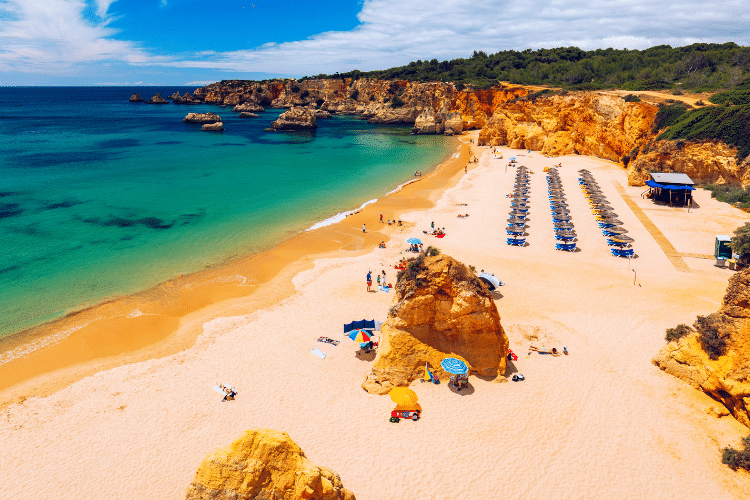 Safety living in Portimão
Portugal is one of the safest destinations in Europe. In fact, Portugal is ranked sixth according to the Global Peace Index. First off, the residents are very friendly to foreign nationals and will go out of their way to help.
Also, in a tourist hub like the Algarve, English is widely spoken, making it easy for you to get by and settle in with ease. It is important to note that safety starts with you! You have to be aware of your environment and be cautious of how and where you place your items.
While Portugal is relatively safe, there are isolated incidents of petty theft like pickpocketing and muggings. Other than that, you will find life quite calm and peaceful during your stay in Portimão.
Access to health care in Portimão
Access to healthcare is among the most important considerations you need to keep in mind before choosing to live in any destination, including Portimão. 
The good news is that this particular destination is known for having the best healthcare facilities, including public and private hospitals that serve the nearby community and beyond.
In order to get access to healthcare, you may want to contact the municipality or the Portuguese National Health Service (Serviço Nacional de Saúde), as the SNS provides universal access to healthcare for all citizens and residents.
Keep in mind that public healthcare in Portugal is free for legal residents, except for a few services. While public hospitals can be quite slow, with long queues sometimes, there are plenty of private hospitals that will serve you, especially when you need specialized healthcare.
Work labor in Portimão
Generally, Portimão is among the few destinations with an average salary above the recommended €1,000 for EU nations. Compared to the Portuguese standard, this is quite impressive.
Although high-paying jobs are not easy to come by, if you're a highly skilled professional, you can secure a job in some industries like tourism, technology, real estate, or even customer service.
Education in Portimão
Unfortunately, the best international schools in the Algarve region are not located in Portimão. Nonetheless, you can take your children to plenty of international schools in the nearby cities of Loulé or Faro. The same is also true when it comes to the major universities and institutions of higher learning.
How can a foreigner move to Portimão?
The first step for moving to Portugal is to get a Visa, depending on your reasons for immigration. There are so many types of visas to apply for. However, the most popular ones are the D7 Passive Income Visa and D2 Business Visa. 
Once you have gotten your Visa, the next step is to look for accommodation in the destination of your choice. Whether you choose to rent or buy property is all up to you. 
Finally, you will need to register with your local authorities and national healthcare system to access public services like transport and healthcare.
While this might appear like a huge task, remember that working with trusted immigration professionals will help make the process easier.
Is it worth living in Portimão?
The decision of whether to consider living in Portimão or not is often quite subjective and differs from one person to the other. However, if you're looking for a warm destination close to the beach and with a rather slow-paced life, then Portimão is totally worth it.
The local population is not only friendly but also quite accommodating to people of all ethnicities and cultures. However, before making this bold step in life, take your time and reflect on your individual preferences and needs. This is the only way you can make an informed decision.
Do you need help moving to Portimão?
There is no doubt that living in Portimão, right in the heart of the Algarve region, is a dream come true for many people. However, we do realize that making this major move can be intimidating, especially if you have never done it before.
In that regard, whenever you are ready to start a new life in Portimão, contact professionals at Viv Europe, who are more than willing to help make your dreams of living in Portimão come true. Also, consider joining our Facebook Group – All About Portugal For Expats, and ask other expats what they think of Portimão. Happy planning!