Last Updated on November 7, 2023 by Maryam Siddiqui
Hospital bills are no joke. It can get pretty expensive really quickly and isn't affordable for everyone. You wouldn't want to feel stuck in a new country, and we understand your concerns. Even though public healthcare is free for all legal residents, people also consider getting health insurance in Portugal.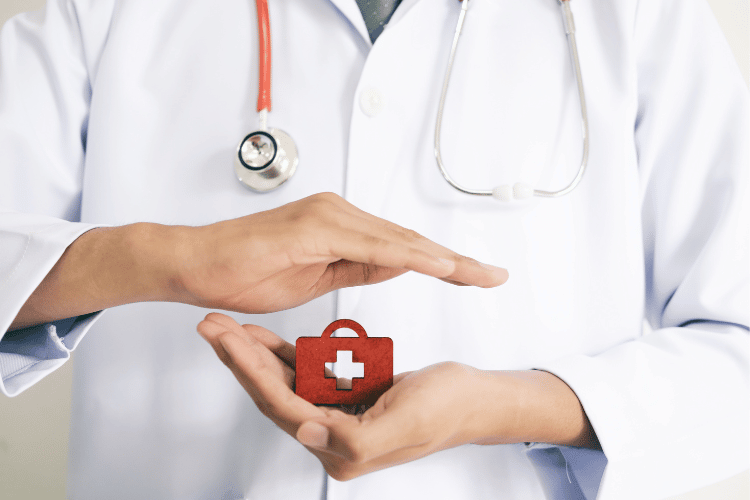 Not everyone seeks this route, though. A vast majority rely on public healthcare facilities because they're satisfactory and efficient. And even private healthcare is far more affordable than it is in other countries.
So, what makes expats and locals get a health insurance plan in Portugal? What are the best options, and how can a new expat get them? Find all the vital information you need to know to be prepared for your health concerns. Stay safe, and happy reading!
What is healthcare in Portugal like?
Portugal's public and private healthcare systems are just like other European healthcare systems: efficient, reliable, and of great quality. According to the World Index of Healthcare Innovation (WIHI), the quality of Portugal's healthcare system ranked third best. The medical infrastructure and in-patient care facilities are one of the finest!
There's public healthcare, which we'll talk about in detail later on, and private healthcare. Hospitals in Lisbon, Porto, and the Algarve have better state-funded facilities. Then there's private healthcare, which is managed far better, thanks to the extra funds. 
The quality of both systems is equally excellent; patients are cared for and only sent home when they're satisfied. Since public healthcare is free, many people don't even have a health insurance plan, while others do. Generally, residents living close to good hospitals in well-equipped regions don't have an insurance plan if their health concerns aren't serious.
Public healthcare in Portugal
The National Health Service provider (SNS) is responsible for public healthcare on the mainland. It manages six regions: Lisbon, the Algarve, North and Central Portugal, Tagus Valley, and the Alentejo. For the Madeira and Azores Islands, there are separate healthcare systems. 
As we mentioned earlier, public healthcare in Portugal is free of cost for all legal residents since June 2022. However, there's the exception of unreferenced emergencies that don't result in hospitalization.
To get access to public healthcare, you must have your Número de Utente (a user number assigned to you by the SNS). This number is assigned to individuals when they register at the nearest health center.
After you receive your Número de Utente, you can visit any health center or public hospital near you.
If you're an expat with a Work Visa (D1 Visa) and a full-time job, be sure to recheck with your employer if they offer health insurance. It's common for full-time contracts to include insurance plans, so you might not even have to consider getting a plan.
Knowing how to access a public hospital as an expat should be one of the first things on your to-do list before relocating here. Read our article Accessing Public Hospitals In Portugal As A Foreigner and be prepared! 
What does public healthcare cover?
Everything, of course!
The public healthcare system ensures that you get all the care you need, from dental services to post-operation checkups.
Here's a list of some services that public hospitals in Portugal offer:
Emergencies
Nursing
Maternity care
Post-OP care
Intensive outpatient program
Fatal diseases care
Dental
Psychiatric care
Given the circumstances, public healthcare can often take longer than usual to cater to you. As with all state-owned healthcare systems around the globe, queues are longer, and people don't always have the privilege to wait that long.
What's the cost of public healthcare in Portugal?
Public healthcare in Portugal is free of cost for all legal residents and citizens, with the exception of unreferenced emergencies as well as those that don't result in hospitalization. Depending on the severity of these unreferenced emergencies, they can cost around €20.
This wasn't always the case; public healthcare has only been declared free since June 2022. However, rates were very subsidized even before this. The above-mentioned exception also does not apply in the case of pregnant women and children up to the age of 12 years.
Private healthcare in Portugal
Now that you know all about public healthcare, let's talk about the other option that expats consider, too. Since queues at public hospitals can take longer, some people tend to prefer private hospitals for convenience.
It comes with an added cost but is still cheaper than what private healthcare looks like in other countries, especially outside of the EU.
Private hospitals in Portugal are generally not as expensive, where an appointment can cost around €40, an emergency can cost €100, and an overnight stay in a private room can cost €300.
Although it looks pricey when you compare it to Portugal's low cost of living, it comes down a lot if you also have health insurance. 
If you're not well-versed with how insurance works, or it's your first time living in a new country for an extended period, you're probably wondering whether you'd need health insurance in Portugal.
Let's get into the details of when, who, and why people get medical insurance for themselves and their families.
Do I need health insurance?
The answer is quite subjective. Some families think they absolutely need health insurance in Portugal, while other individuals prefer to opt-out and go for public healthcare facilities when needed.
Of course, it's always safer and cheaper when an unforeseen emergency meets your fate. But only you can be the best judge of your needs.
Sometimes, risking your health over financial matters isn't a risk worth taking. Hence, getting a basic plan to cover you and your loved ones is cheaper.
The Portuguese medical insurance system is ranked as the 12th best by the World Health Organization and the 20th best (out of 89 countries) as per the Health Care Index of 2023.
So, there's no harm in trusting a globally renowned medical insurance system to keep you safe in dire circumstances. If you're healthy, we'd recommend getting a plan with higher deductibles and a lower monthly premium.
Types of private health insurance plans
Depending on your chosen insurance company, there are different monthly (or quarterly and semi-annual) plans that cater to your needs. The plans can cost from a few hundred euros to thousands.
Additionally, it's also possible to get more economical packages for your family, even if you're just two people.
A couple of things that insurance plans consider are:
Your age;
Your profession and lifestyle;
The level of coverage you're looking for;
Any pre-existing medical conditions;
The amount that you can manage to pay.
A basic plan guarantees protection at a lower cost; this is the cheapest plan you can get. An individual with a basic plan usually gets special consultations, exams, and medication covered.
A more comprehensive plan than a basic one includes consultations, exams, medication, and even maternity care like childbirth.
The most comprehensive plan is for those individuals with health as a number one priority. This plan has a wide range of services, even for serious surgeries like prosthetics.
Keep reading to know how much each plan can cost and which insurance companies are the top ones in Portugal.
What to consider when choosing health insurance?
This step requires the most research you'll need to do to choose the best insurance policy for yourself and your family. Not every company offers the same plans and features, so do your due diligence.
You should consider the following things before choosing your health insurance provider:
Type of plan
Age limits
Healthcare provider network
Premiums
Deductibles
Coverage of medicines
Co-pay or Coinsurance policies
Make sure to take your time to research everything according to your specific needs.
With Viv Europe your plans for Portugal
will finally come to a reality
What does Portuguese private health insurance cover?
Some insurance companies in Portugal do not cater to people over 55 years of age; some others also stop insuring individuals who are over 65 years of age.
Usually, most insurance companies will also have a limit on the amount you can spend on medical treatment; any additional fee must be co-paid.
Private health insurance can cover any of the following medical situations:
Consultations
Exams and X-Rays
Dental care and stomatology
Maternity care
Orthopedic and prosthetics
Psychiatry and psychotherapy
Medication
Emergencies
You can either go to a partner hospital and use your insurance directly or go to any hospital and get your reimbursement later on.
What's the cost of health insurance in Portugal?
As you probably know by now, health insurance costs depend on your plan and what you want to include in your package. The most basic plan can cost anywhere from €400 to €1,000. 
Here are some examples of plans and their costs, based on different age brackets and needs:
| Type | Characteristics | Details |
| --- | --- | --- |
| Premium Payable: €728 | Young adult (in their 20s) | – Annual limit: €100,000– Coverages: Hospitalization, Outpatient, Childbirth, Stomatology, Prostheses, and Medicines– Only ends at the insured's initiative– No age limits– Pre-existing diseases covered |
| Premium Payable: €1,094 | Two adults (in their 30s to 40s) | – Annual limit: €60,000– Coverages: Hospitalization, Outpatient, Childbirth and Medicines; Network: Stomatology and Prostheses– Only ends at the initiative of the insured– No age limits– Pre-existing diseases covered |
| Premium Payable: €1,389 | An elderly (in their 70s) | – Annual limit: €60,000– Coverages: Hospitalization, Outpatient, Childbirth and Medicines; Network: Stomatology and Prostheses– Only ends at the initiative of the insured– No age limits– Pre-existing diseases covered |
To get your own free simulation done, head over to the Deco Proteste website and check out all the possible plans. 
Which insurance provider should I choose?
There's no one-size-fits-all to this question. The only answer is, whichever one fits your needs the best. However, we will give you a basic summary of all the possible options you can consider.
Your job will be to research each insurance company on your own and go with the one that meets your requirements.
Here are the top insurance companies in Portugal, in no particular order:
Médis
Médis has three options, namely Option 1, Option 2, and Option 3, ranging from basic to more comprehensive. Their website has an online guide and simulation like the one on Deco Proteste, through which you can see what each plan costs and the level of coverage it will provide. 
You can subscribe to this insurance provider till you are 75 years old. People over 55 have two options, Vintage and Vintage Plus, where the latter offers coverage of up to €1,000,000 for critical illnesses (such as cancer, heart bypass, or organ transplants).
Multicare Fidelidade
Multicare Fidelidade is an affordable option among all insurance providers, with packages starting at €30 to €50 per month. You can take a look at their packages and test their online simulator on the official Multicare Fidelidade website. 
Advance Care
Advance Care has multiple partners on board to provide you with the best insurance facilities through its network. They don't have an online simulator, but you can check out the official Advance Care website for more information. 
Allianz
Allianz Care offers different packages for individuals studying, working, or living in Portugal. It's one of the leading insurance providers internationally and has a name for itself since they've been in the industry for a while. 
They have three packages: Care, Care Plus, and Care Pro. The Care package includes in-patient and day-patient care, medical evacuation, and oncology. Additionally, you can add on out-patient care, dental, and maternity according to your needs.
Generali
Generali has been present in Portugal since 1942 and is one of the largest insurance companies. They have four plans: Start, Plus, Complex, and Exclusive, ranging from basic to the most preventive one. 
MGEN
MGEN is another big name among the top health insurance providers in Portugal. Their packages for a family of three individuals start from €33 and go up to €384 per month.
They also have student plans starting from as little as €11 a month; you can look at their online simulator on the official MGEN website. 
Is it worth having health insurance in Portugal?
Whether or not getting health insurance in Portugal, or anywhere else for that matter, is worth the expense is completely up to you to decide. Many people opt to be safe than sorry and go ahead with getting a basic plan for themselves and their families.
At the same time, residents also feel completely cared for by state-provided healthcare systems.
If you'd like to talk to expats who've made the same decision as you, join our Facebook Group – All About Portugal For Expats. Understanding different perspectives is always a good way to reach a conclusion that you feel strongly about. Our community can help clear your doubts and help you make the best decision possible.
Apart from expats, our team of professionals at Viv Europe will always be here to help you out. From visa applications to finding the perfect residence, we're right here to turn your dream into a reality. Contact us now and book a consultation!