Last Updated on January 13, 2023 by Laila Oliveira
Have you ever thought about living in a small European country with safety, quality of life, and low cost? Welcome to Portugal, the new darling of American expats. In the article, find out if Portugal really is the California of Europe and see what you have to do to move to Portugal from the United States. Good reading!
Move to Portugal from the United States: what Americans need to know
First of all, know that in order for Americans to move to Portugal, they will need to obtain a visa and obtain a residence permit.
That is, unless you also have citizenship in some European Union country or want to get a Golden Visa.
But even if you don't, you'll be glad to know the following: anyone who has legally lived in Portugal for more than 5 years is entitled to apply for Portuguese citizenship!
The advantages of having a Portuguese passport are many, you can benefit from the protection of the European Union and much more.
How can Americans obtain a visa to live in Portugal?
In order to live in Portugal, an American citizen needs to obtain a Residence Permit. Usually, the way to obtain it is through a Residence Visa process.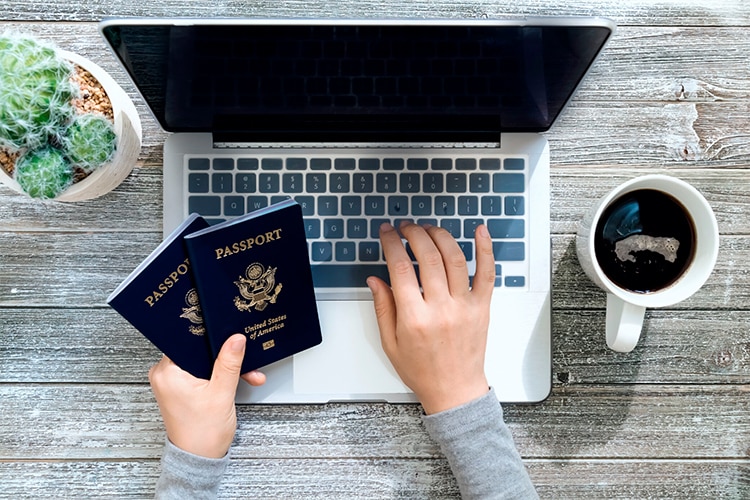 Take a look at the most common Visas to Portugal required by Americans:
To apply for your residency visa, you must contact the representatives of the Portuguese consulates in the United States. In other words, VFS Global, a visa outsourcing company.
When applying for a visa to Portugal, the process starts online. However, at the final stage, it will also require an interview at one of the application centers (VFS Global) in the US, such as those located in New York, San Francisco, or Washington DC.
There is also a possibility to obtain a Residence Permit without requiring a Visa first. That is the case of the Residence Permit for Investment Activity, better known as the Golden Visa.
The process of obtaining a Golden Visa, however, is not fully conducted in the United States. This process also requires a large investment, whether real estate, investment funds, or company, which must be requested from the Immigration Services in Portugal.
You will also like to read: What Americans need to know about Portugal
Deciding where to live in Portugal: best regions and cost of living
Portugal is a small country when compared to the United States of America. See its true size on the map below.
But that does not mean that this is why it is a country with little diversity. This small country surprises both visitors and residents due to such variety of nature, culture, and customs.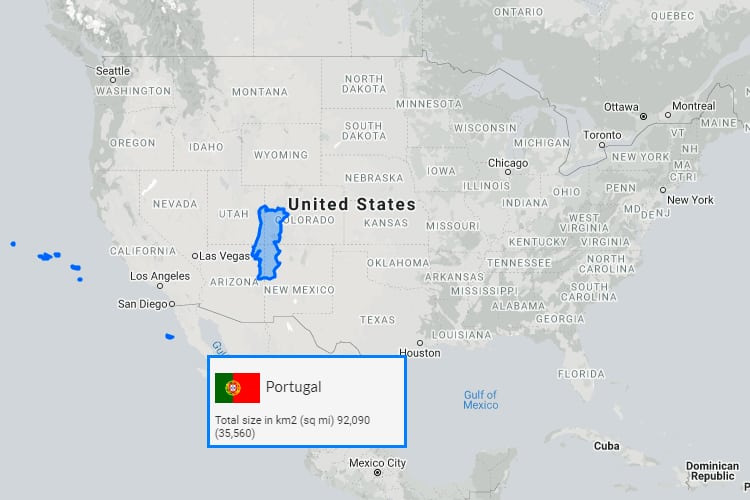 Therefore, it becomes a tricky task to decide where to live in Portugal. Check out some suggestions of the best cities for expats to live in the country:
Lisbon: the biggest city and the capital of Portugal, located in the center;
Porto: Portugal's 2nd biggest city, capital of the northern region;
Lagos: charming city of the sunny southern region, the Algarve;
Coimbra: one of the most traditional and important cities in the center, near the Silver Coast;
Braga: a very important city in northern Portugal;
Setúbal: beautiful city located only 40 minutes south of Lisbon;
It is impossible to define a single city that is better than the others. Your choice should be based on your personal tastes and whether your lifestyle matches the city. But rest assured that Portugal has the right place for everyone.
A good tip is to know your list of possibilities in person and take the test. Going on a scouting trip to Portugal before relocating will help you make the best decisions.
Think about joining the labor market in Portugal
For those Americans who are interested in entering the labor market in Portugal, some tips. Portugal has one of the lowest average salaries in Europe, €760 monthly (in 2023). So you should expect to have a much different way of life here.
As you can read in our article on average wages in Portugal, making money in Portugal isn't that easy. Portugal is a place to live well, but it is not suitable for those who want to create wealth. Perhaps for that, you should stay in America.
What most American expats who work in Portugal do is keep their remote job from the US. That means you get to keep your salary and get to live in a place with a low cost of living. Digital nomads who live in Portugal get to experience an amazing lifestyle, in the most beautiful locations.
Consider the cost of living
Everyone knows that the cost of living in Portugal is much lower than in the United States. See the table below for an estimate of monthly spending:
| Expenses | Costs |
| --- | --- |
| A single person estimated monthly costs (without rent) | €547 |
| Family of four estimated monthly costs (without rent) | €1,922 |
| 1-bedroom apartment rental in the city center | €721 |
| 3-bedroom apartment rental in the city center | €1,258 |
Data is from Numbeo (as of September 2022).
To make it even clearer, Numbeo shows that the cost of living in Portugal is, on average, 41.88% lower than in the United States, while rent is 57.5% lower.
And of course, it is worth remembering that the cost of living can vary a lot depending on the region, neighborhood, and even tastes and spending habits.
You will also like to read Is Portugal the California of Europe? See similarities and differences.
What about taxes?
One of the most common questions expats make about the relocation process is if you have to pay taxes in Portugal or in the US. And the answer varies greatly depending on the case which should really be analyzed by a lawyer or accountant.
Luckily we have already answered the most asked questions about taxes in Portugal in another article. It can be quite a complex matter, but you must not move here before taking this into consideration.
However, something that might be of interest to you is that Portugal offers a special Non-Habitual Resident Tax Regime (NHR) that you may enjoy. Among the main benefits of this regime, are:
20% IRS tax rate for internal income;
10% rate on foreign income.
You can see how Portugal can be very welcoming when taxing non-resident people.
Finding a new home
Now that you have decided which region of Portugal you want to move to, it remains to be seen exactly where you will live.
An apartment or house? In the center or in the countryside? Buying or renting a property?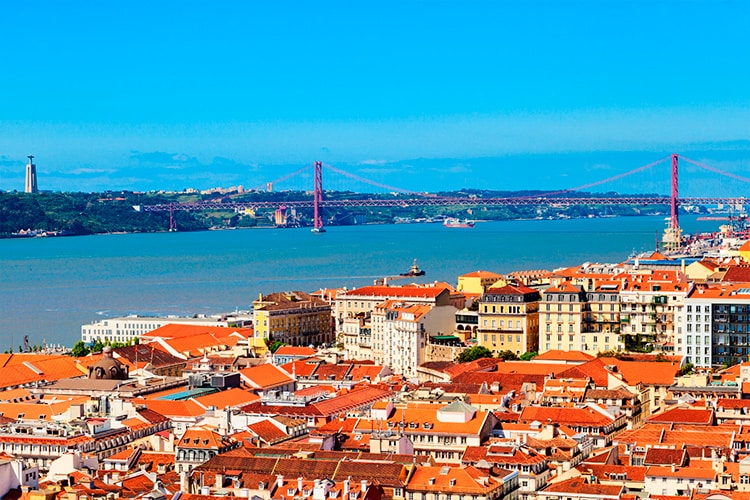 The decision to buy or rent your house in Portugal is your own. But both require in-depth research beforehand and that you learn about Portugal's real estate market. Check out the table below for some values:
| Region in Portugal | The average purchase price for a 100 m² property | Average monthly rental price for a 50 m² apartment |
| --- | --- | --- |
| Lisbon | €384,100 | €705 |
| Porto | €237,200 | €510 |
| Algarve | €284,400 | €580 |
| Madeira | €227,300 | €530 |
The table data was taken from Idealista (as of September 2022).
Also, consider reading our article Top real estate websites in Portugal and tips for buying properties online to help you through this step.
Finally moving to Portugal
Once all the Visa bureaucracy is done, and you know exactly where you're going to live, it's time to move!
It's time to say goodbye to friends and family that you're staying in the United States. Portugal is right there, and they will be able to visit you at will!
But it's important to remember that, before you buy a plane ticket, you should plan what personal items you'll want to take.
Taking your belongings to Portugal can be expensive, so not everything is worth transporting. You can buy new furniture in Portugal or even new clothes. After all, you'll be starting your life from scratch in Europe!
As for the transport of pets, this is essential! Taking your pet to Portugal is also possible and requires some documents and bureaucracy (like everything else in Portugal). Make sure you plan your trip well and notify the authorities of your arrival.
Why are American expats moving to Portugal?
The reasons Americans move to Portugal are similar to those leading the British, South Africans, and many other nationalities.
Portugal has been so popular in recent years due to many reasons, such as:
Spectacular landscapes;
Idyllic climate;
Traditional cuisine;
Standard of living;
Cost of living.
Furthermore, the country is one of the most welcoming and with the simplest visa procedures in Europe. Real Estate investors and more recently Cryptocurrency traders love Portugal.
When are you moving to Portugal from the United States?
Do you already know if Portugal is the place for your next adventure? Join thousands of other American expats in Portugal on our Facebook Group – All About Portugal For Expats.
Moving to Portugal from the United States is a lot of work, but it is definitely worth it.
Maybe we can help you get here faster and easier. If you want help relocating to Portugal, make sure to contact Viv Europe's professional team. Let's turn your Portugal dream into a reality.