Last Updated on February 27, 2023 by Laila Oliveira
The Algarve region and Lisbon are popular destinations – but even they have setbacks! Many people prefer living in the north of Portugal as opposed to the southern or western districts. Portugal is a relatively smaller and economically friendly European country, but there's something for everyone! Keep reading to discover the pros and cons of moving to Northern Portugal.
In what ways is northern Portugal better for expats? Does it have better housing facilities, or are the prices lower than most of southern and western Portugal? This article will help you decide whether this region could be your new home. Happy reading!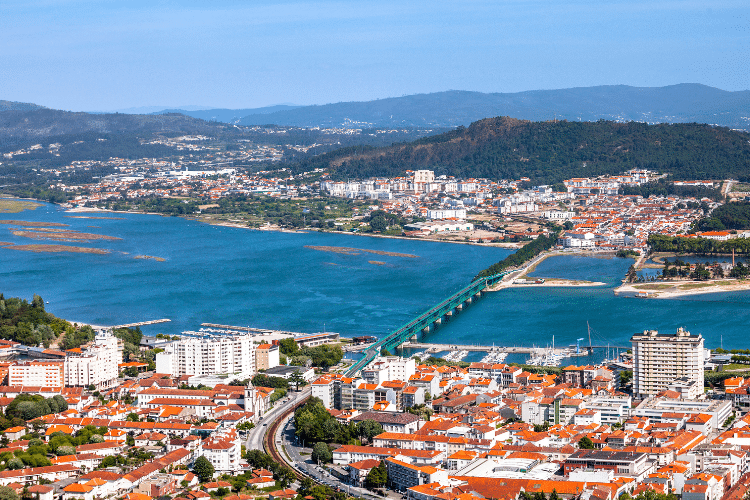 What is it like living in Northern Portugal?
Northern Portugal is home to an increasing percentage of expats. The northern cities are packed with scenery and history alike. And these are home to a safe environment, peace, and delicious cuisines. 
The climate, for the most part, remains comfortable for outdoor activities. Barcelos, for example, is a small town perfect for familiarizing yourself with Portuguese culture. Viana do Castelo is more of an industrial hub of northern Portugal with more opportunities such as shipbuilding and fleet fishing.
Before you decide to move to Portugal, you must gather all the information that matters. Continue reading to find out both the pros and cons of moving to northern Portugal.
Before we begin, you should know that the prime focus of this article is not Porto, as we already have an article on the Pros And Cons Of Moving To Porto. In this article, we'll get into details about all other major cities of northern Portugal to help you get a better perspective of the entire region.
Who lives in Northern Portugal?
Northern Portugal is home to about 3,590,846 people, of which 12.3% are under 15 years of age, 65.1% are working age, and 22.7% are people of age 65 and over. You can see that the population density is well-spread, and the region welcomes people of all ages.
Whichever age bracket you lie in, you're bound to have company and resources ready for you. As well as fun and leisure activities no matter where you can. So don't let your age come in the way of you shifting to northern Portugal. 
However, you must keep in mind that there are others pros and cons of moving to the north of Portugal, so you must research well before making any decision.
Why are expats moving to the North of Portugal?
Expats love the region for the variety of living options present for them. Each city has its distinct service to offer. For example, Braga is a religious hub with historic churches preserved for use and tourists, Porto is a highlight with its beauty, history, and city life, and Vila Nova de Gaia is known for its rich gastronomy.
The living costs of one city may be higher than another – but overall northern Portugal has relatively low living costs. This is a major reason for the north of Portugal being an expat preference.
You must be wondering about other aspects, such as security, climate, and the available food options. Don't worry; all these are offered in abundance in northern Portugal! Continue reading to find out more pros of moving to the north of Portugal.
Pros of living in Northern Portugal
The scenic beauty and rich culture are not the only good things Northern Portugal offers. All your questions about the cost of living, buying a property, cuisines, and much more will be answered below.
Continue reading to enjoy learning about the pros of moving to northern Portugal.
Low cost of living
The overall cost of living in northern Portugal is quite affordable. If you're from Europe or nearby, you will find it cheaper than the rest of Europe. Take Lisbon for an example. It is another city in Portugal, but the living costs round up to €3,668 while they remain €3,100 for Porto – a popular city in northern Portugal. 
The living cost will vary for each city in the northern region, and rent is often way cheaper than in Porto. Average rent prices for different cities have been shared below for you to get a better idea:
| City | Apartment (1 bedroom) in city centre | Apartment (3 bedrooms) in city centre |
| --- | --- | --- |
| Viana do Castelo | €525 | €760 |
| Guimarães | €566 | €816 |
| Braga | €604 | €971 |
| Vila Nova de Gaia | €666 | €1,233 |
Estimates are from Numbeo (as of February 2023).
Great lifestyle
The region combines peace, beauty, and city life perfectly. Northern Portugal does not fall behind when it comes to services. Public healthcare and private healthcare options are open for the expats, and the region has a plethora of educational institutes to choose from. 
There are a number of international schools in northern Portugal whose curriculum is in English. Education is not too pricey and comes with a reputation of good quality. If you're interested in textiles, the shoe industry, and metal mechanics opportunities, then Guimarães is the place for you.
Additionally, cities in northern Portugal are close-by and make good weekend retreats. There are tons of recreational activities, from cycling to gastronomy and wine tasting, that you can explore on your days off. This is definitely one of the best pros in the list of pros and cons of moving to Northern Portugal!
Safety
Safety comes first, of course! You do not need to worry about northern Portugal in this department. Portugal as a whole, and northern Portugal specifically, is known to house friendly people – locals, expats, and tourists alike. If you walk down any street, you won't encounter any discrimination or other ill-wishers.
However, you must always take your own safety as a personal responsibility. We recommend that you stay vigilant while visiting crowded places and keep your belongings close by. But remember that the locals will almost always help you if you're in need.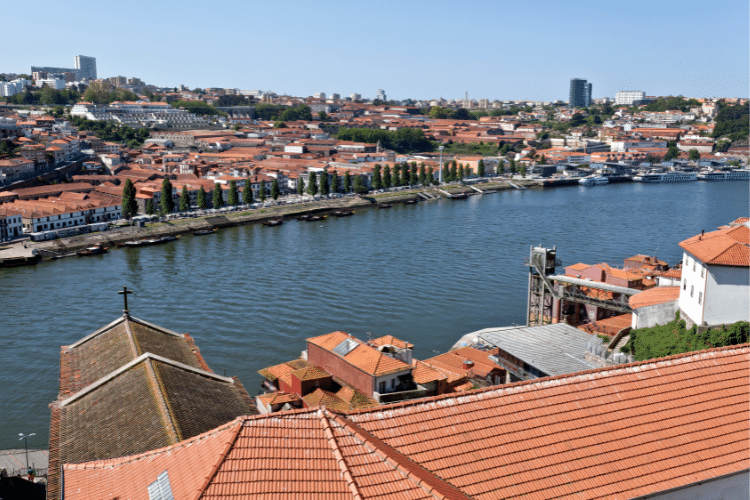 Climate
For the most of the year, the climate remains very hospitable. Northern Portugal has riversides which make the summers very pleasant, and you will find the evenings to be rather beautiful. 
Evening walks or cycling in the post-afternoons are an expat recommendation – the pleasant evenings make the gorgeous city views even more breathtaking!
The food and wine
When it comes to cuisine, northern Portugal has no intention of falling behind any other European region. Wine and gastronomy are the highlights of northern Portugal!
If you're interested in learning the art of cooking and getting yourself familiar with what qualifies as "good food", then you must visit Vila Nova de Gaia! The city is known for the rich gastronomy it has to offer. 
This city is also the hub for the infamous Portuguese winemaking. It is home to wine cellars that offer wine tasting. The buses in Porto make stops at the wine cellars, so it is easier to visit them!
With Viv Europe your plans for Portugal
will finally come to a reality
The cultural and historical heritage
Viana do Castelo, Guimarães, Braga, and Barcelos are northern Portugal's top four cultural hubs. Barcelos is a small town loaded with ancient traditional Portuguese practices. This town is the perfect weekend retreat if you are living in a neighboring city. They even host a weekly market to sell organic produce, so schedule your visit along the timeline! 
Rich culture and historical sites are abundant in Guimarães, and Viana do Castelo. Guimarães is called the birthplace of Portugal owing to its gothic Monastery and preserved medieval historic architecture. Similarly, Braga is considered the religious hub as it houses medieval churches rich in history.
When in northern Portugal, you will see that the region does not fall short of rich and cultural history.
More affordable property prices
Like the living costs, the properties in northern Portugal are quite affordable. However, some northern Portugal cities may have higher rates than the rest. The properties in the city center roughly add up to the following:
| City | Price per m2 |
| --- | --- |
| Vila Nova de Gaia | €1,993 |
| Guimarães | €1,430 |
| Braga | €1,382 |
| Viana do Castelo | €1,152 |
Estimates are from Idealista (as of February 2023).
People interested in property investments prefer coming to the north, as these prices are much lower than those in Lisbon, which may go up to €5,686 per square meter.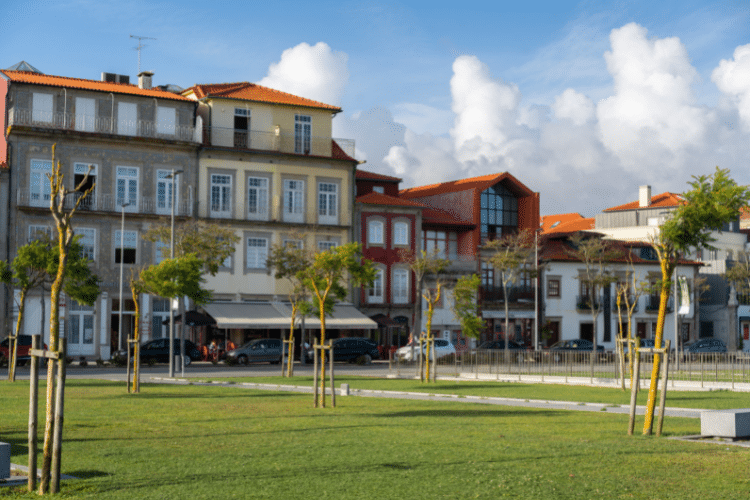 English is spoken in most cities
This is often a relief for expats. Imagine shifting to a country where no one can understand what you are saying! English is usually spoken in bigger cities of northern Portugal, like Porto, Braga, and Guimarães. However, in smaller towns, you may find it more challenging to find someone who can communicate in English.
It is still best for you to try learning Portuguese when you are settled there. However, you would not face any hardships or communication issues even if you rely on English until you know Portuguese.
Cons of living in Northern Portugal
Northern Portugal is the dream destination that it sounds like. However, even the most perfect places have their setbacks.
It is essential to know both the pros and cons of moving to northern Portugal before you make your decision. Now that you know the pros keep reading this article to learn about the potential drawbacks attached to the region.
Learning Portuguese
English is often spoken in most cities in northern Portugal. Still, it is a good decision to learn the local language. Learning Portuguese can act as a catalyst in helping you adapt to your new home. However, this is not an easy task. The language is a difficult one with a unique pronunciation style. 
Nonetheless, learning the language is not a con that should stop you from shifting to northern Portugal. It may be difficult to get a smooth hand on, especially if you are older, but you don't need to worry about speaking the language before shifting. You can start learning it at your own pace through online classes. 
✅ Pro-tip: Start by learning the greetings and meal names, so help yourself engage with the locals when you are out!
Bureaucracy
Be mentally prepared for a pile load of paperwork and long queues. As a new expat, things can get pretty frustrating if you need anything sorted. This is so as you would need public assistance multiple times when you are beginning to settle in a new city. 
However, if you ask the locals, they are not as upset about the system because, at the end of the day, their needs are catered to.
As an expat, you need to enter the field with a lot of patience as you would need to go through bureaucratic tie-downs for your taxes to your new property ownership.
Public transport
Unlike Porto's efficient transport system, the rest of northern Portugal's public transport is honestly not the most reliable source of commute. The train lines are fairly reliable; however, they are used for inter-city travel.
The costs vary depending on the routes taken. From Viana do Castelo to Barcelos, the train ticket may range from €1.87 to €3.73, but if you want to travel from Guimarães to Braga, you will have to take a 50 minutes bus ride for about €6.53. There are no reliable services for within-city commutes.
Fewer job opportunities
As mentioned earlier, the cities in northern Portugal are industrialized, and they do have job opportunities. However, it may still be challenging to land a well-paying job immediately. 
Since northern Portugal is loaded with culture, history, and beauty, it is a common spot for tourists and retirees. The area is gaining more popularity among expats, but there is room for improvement.
Porto would have more diverse job opportunities than the rest of the cities, but you can still find work after researching your options thoroughly.
Cold in the winter
While the climate remains pleasant for most of the year, winters in northern Portugal are hard. Due to being located next to water bodies, the temperature falls drastically in winter. This is coupled with more rainfall in winter than in summer, which prevents the weather from gaining temperature. 
You should know that houses in northern Portugal generally do not have central heating installed within them. So you would need to have a unit installed yourself. You can't continue living in a space without heating – the winters in northern Portugal will make it difficult for you. Remember this factor before you select a living space for yourself. 
Do you need help relocating to Northern Portugal?
What do you think of the pros and cons of moving to Northern Portugal? Does it sound like a place you could call home? If you still feel divided, join our Facebook Group – All About Portugal For Expats, and ask questions! We're a community of over 10,500 members and would love to help you decide.
In case you need professional help with relocation, getting a Visa, or enrolling your child in a Portuguese school, contact Viv Europe and let experts deal with bureaucracy. Planning your relocation is a lot easier when you have experienced individuals helping you out!