Last Updated on February 20, 2023 by Victor Queiroz
You may very well say that Porto and Lisbon lie at the heart of Portugal. If you're looking to settle down in an affordable, beautiful, and developed city, then Porto is just the place for you. This article will help you navigate the city by sharing everything you need to know about public transport in Porto.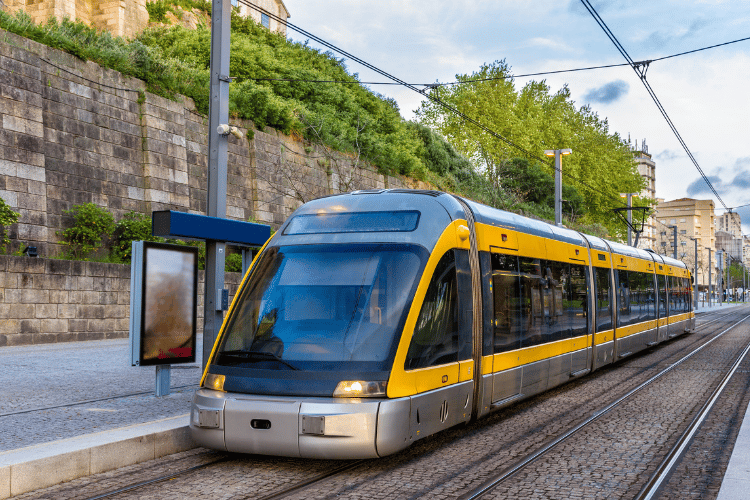 There are quite a few options for you to choose from, and that makes it even more confusing! Are buses better than trams, or are metros better than buses? We're here to evaluate each one of your options.
Keep reading till the end to learn how to save some extra cash using public transport cards and some tips we've learned over time. Happy reading!
Is Public Transport in Porto good?
If you're an expat from a developing country, you might be worried if public transport is the way to go. Your concerns are valid, but allow this read to put your mind at ease. The public transport in Porto is all the good things – economic, secure, clean, and efficient. 
Porto has a wide range of public transport – from taxis to trains to trams. Continue reading to see which transport suits you for which specific endeavor or adventure! 
Make sure the first thing you do is figure out which travel card would work best for you. Then, get that card charged as soon as you can. Don't worry; there's an entire section dedicated to travel cards later on in this article. 
When in Porto, you should take casual walks through the streets to observe which transport suits the destination. Here are some examples:
If you need to commute to work and your office is slightly far away, you must take the metro as it would help you reach there timely, allowing you to relax for a few minutes before taking on the day.
Alternatively, let's suppose you plan to visit a museum. In that case, a bus is the best option. Buses drive through the city, encouraging sightseeing in Porto while dropping you off at your destination. 
Buses in Porto
The locals' favorite public transport in Porto is buses. It is a known fact that the bus drivers in Porto drive really fast; however, they guarantee that the passengers reach their desired destination timely and safely. 
When choosing which public transport to select, you must consider your desired destination. For example, buses are popular for daily commutes to work, trips to the wine cellar or the beach – and cost approximately only €2 per journey!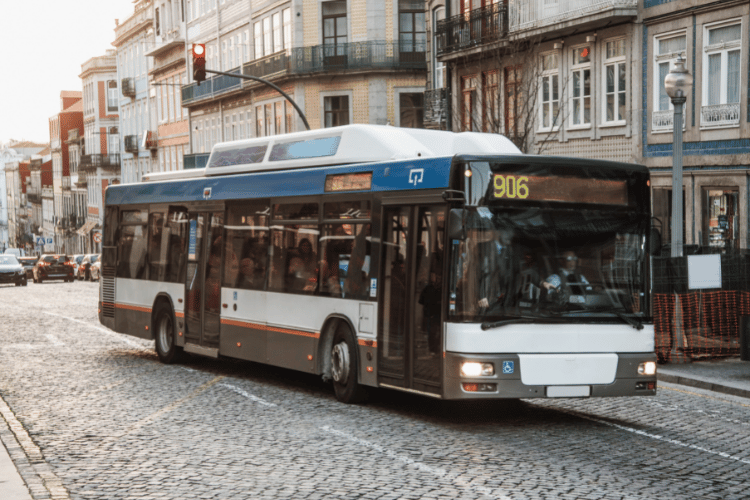 Metro in Porto
The metro in Porto is a good choice for a quick and safe journey. Like the buses, the metro also runs from 6 am to 1 am at every 15-minute interval. Sometimes the gap is shortened to every 4 minutes, so it's best that you regularly check the schedule before hopping on board. An average metro journey costs about €1.20, although rates may increase for a longer distance. 
Porto has five metro lines, and keeping track of them may be tricky initially. We've shared the general overview with you below in hopes of making the process easier for you.
Line A (Blue): Estádio do Dragão – Senhor de Matosinhos.
Line B (Red): Estádio do Dragão – Póvoa de Varzim.
Line C (Green): Estádio do Dragão – ISMAI.
Line E (Purple): Estádio do Dragão – Airport.
Line F (Orange): Fânzeres – Senhora da Hora.
Trains in Porto
In Porto, trains are preferred only for cross-city travel. Using trains for daily routes is neither as efficient nor as economical as other conveyance means. However, trains are the best option if you need public transport in Porto for inter-city travel.
This is an excellent opportunity for your weekend getaway because if you take the train, it significantly reduces the distance to other cities. You can reach Lisbon in under 3 hours for €84.45, and others like Braga or Aveiro in an hour for €7. Quite economical, no?
You need to vigilantly keep a track of where you're going since the ticket prices vary as per the distance. They may range from €1.5 to €20, so be very careful in choosing your destination.
Trams in Porto
People love to travel by tram in Porto! However, you must keep in mind that trams are usually preferred for shorter distances. If you want to drop by a cafe on a rainy day, trams are just what you need to enjoy the beautiful drive. 
These are popular amongst tourists not because of their efficiency but rather because of their vintage outlook. You should definitely travel by tram for the unmatched experience of it but be mindful that the metro or buses in Porto are a better option for routine traveling.
Funicular in Porto
Funiculars are a unique and identity-specific mode of public transport in Porto. These are used for specific journeys as Funiculars only connect certain points with each other. These points are commonly Rua da Batalha and the Ribeira neighborhood. The idea behind the communication is to save the passengers' time by preventing them from taking the route with hills. 
More importantly, it offers a safer alternative if you aren't a hiking pro. Funiculars in Porto are only €3.50 per ticket, so we suggest traveling in them once for an unparalleled experience!
Andante and Porto Card
Porto is thoughtful of the mishaps and hassle that the ticketing system may put forth. To avoid queuing and ensuring you have enough cash, you should look into Porto's traveling cards. Porto Card and the Andante Card will make your life easier when it comes to using public transport.
Andante Cards are non-personalized and rechargeable, and you can use the card multiple times. An Andante Card holds the capacity of 31 occasional tickets – imagine the cash you'll be saving! To check out more info on the types of cards, visit the STCP website. 
Moreover, Porto Cards are another personal favorite of many! In addition to traveling discounts and ease, the cards offer discounts on restaurants and act as a free pass to certain museums. You can book your very own Porto Card on the official website to avail these discounts.
With Viv Europe your plans for Portugal
will finally come to a reality
Porto public transport prices
Let's talk a bit about the prices of Porto's public transport. There are two types of Andante Cards: the Andante Tour Card and the Andante Card. Invest in the former only if you are a tourist. If you're an expat or looking to live in Porto for a longer term, then the Andante Card is the one for you. 
The Andante Tour Card remains valid for up to a maximum of 72 hours and costs €15. Whereas a 24-hour Andante Tour Card is available for €7.
The Andante Card, or as the locals like to call it, the "Normal Andante Card", is preferred by those who regularly travel through the public transport of Porto. 
Initially, the card will cost you €0.60 when it is empty. You manually insert your travel option, after which the respective credits will be charged. The prices of the trips to the metro vary according to the number of zones you may cross. To make your life easier, the following is a breakdown of the cost per zone:
A trip covering 1 or 2 zones: €1.20
A trip covering 3 zones: €160
A trip covering 4 zones: €2
With the load of 10 trips at once, you will automatically receive 1 additional trip of the same fare, and children under four get to travel for free!
The Porto Card also offers unlimited access to public transport in Porto. The card is especially used for the buses and metro system. Below are the categories the card offers, along with the prices. Carefully review the sets before deciding which card is meant for you.
1-day Porto Card & Transport: €13
2-day Porto Card & Transport: €20
3-day Porto Card Transport: €25
4-day Porto Card & Transport: €33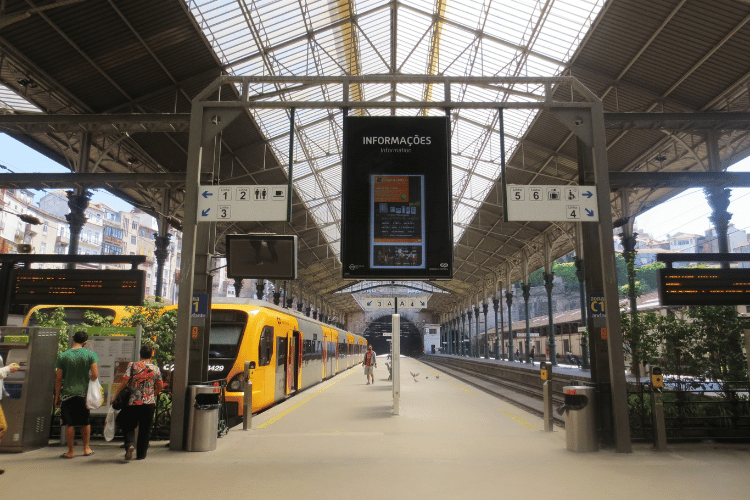 Where does public transport in Porto fall short?
Since Porto and Lisbon are often the choices of tourists and expats, the public transport there is better than in some other areas of Portugal. However, even public transport in Porto has its shortcomings. The trams and funiculars in Porto are only somewhat reliable for routine travel as they fall short of punctuality.
So if you have a meeting with a client or somewhere urgently to be, it's better to take the metro, bus, or walk, depending on the distance. Porto is a safe city with negligible mugging rates, so you can easily walk to your nearby destination while enjoying the unique architecture and passing by friendly faces.
Is public transport in Porto accessible for the differently-abled?
To an extent, yes! Most of the metro and buses are equipped with ramps and other dedicated spaces and items necessary to accommodate the differently-abled. Porto is an inclusive city that ensures that no person – tourist, local, or expat – is left unsatisfied by the services provided to them.
Unfortunately, accessibility challenges remain a big part of the world. To better understand the public transport system, we recommend that you scout the city, research, or talk to residents in Porto beforehand.
Other options for getting around Porto besides public transport
Public transport is definitely more economical than private options in Porto, but many might not prefer that for personal reasons. It is also quite efficient for the majority, so exploring other options is seldom needed.
However, it is advisable to keep a tab on all the options that are available to you. Continue reading to learn about the other transport choices available in Porto!
Transport apps and taxis in Porto
Uber and Cabify are popular transport apps that you must install on your cell phone while in Porto. The apps work as a backup in case of unforeseen reasons when the bus you had to take cannot make it or if you urgently need to be somewhere at an odd hour. The fares for the ride would naturally depend upon the distance.
Pro-tip: After 9 pm, the rates usually increase by 20%, so if you are taking a cab after that hour, be sure to settle the ride fare beforehand.
Buying a car in Porto
Buying a car in Porto really depends on your need and financial capacity. It is not highly advisable to do so, though. If you are in Porto, you will see that public transport works considerably well and there is seldom a need for a private car. Getting a car is an expensive process, given the taxation rates.
However, the state may exempt you from vehicle tax (ISV), VAT, and customs duties to import a vehicle only if you register a car 6 months before your arrival. You can look into Importing Your Car to Portugal if you think it's a feasible option. 
Renting a bike or electric scooter
Porto's serene beauty is best discovered on foot or via cycling. Porto offers city bikes and electric scooters, which can be rented easily. Rentals like Vieguini Bike Rentals are available in multiple corners of Porto. 
The rate for a single seater bike is €6 for 2 hours and €25 for a half day for a 50cc scooter. Visit the link above to find the full breakdown of prices along with the bike variety.
Cycles and scooters are not allowed to be ridden at night as these need to be collected between 10 pm and 6 am.
The electric scooters are user-friendly and will definitely add excitement to cycling. The idea behind these is not so much linked with daily commutes but inclined towards exploring the city on a, say, sunny day. The riverside of Porto is a wonder to be enjoyed while cycling!
Porto transport: more information and some advice
A quick recap is in need after this thorough info session! Remember to carefully choose your preferred means of transport based on the specialty of each.
It is important that you always keep your traveling cards with you and keep track of when they need to be recharged. You don't want to board a bus and realize you are out of both cash and credit!
Is it worth relying only on public transport in Porto?
It all comes down to what your need is. If you're looking for a daily commute option, perhaps metros would suit you the best. However, if you like to explore different parts of Portugal via road trips, you might want to use your own car. 
Talking to expats through our Facebook Group – All About Portugal For Expats, is an excellent way to connect with other people. Ask questions, share concerns, and find the best solution for yourself. 

And once you're ready, or need any help at all, get a FREE consultation with our experts at Viv Europe. Having professionals by your side can minimize unnecessary complications, get your Visa faster, and help you relocate easily. See you soon!