Last Updated on November 11, 2022 by Maryam Siddiqui
On November 23rd at 6 pm CET, join us for our FREE Webinar to learn how to invest in a hotel for the Portugal Golden Visa. Open the doors to obtaining Portuguese citizenship and living in Europe! REGISTER NOW!
The self-explanatory name is precisely what it offers! The Portuguese Golden Visa is your golden ticket to the life you've dreamt of for years. What started as a subject of criticism has now turned into a pathway to investment. Applying for Golden Visa by investing in a hotel has been gaining attention recently, and the only way to reap its benefits is by staying informed.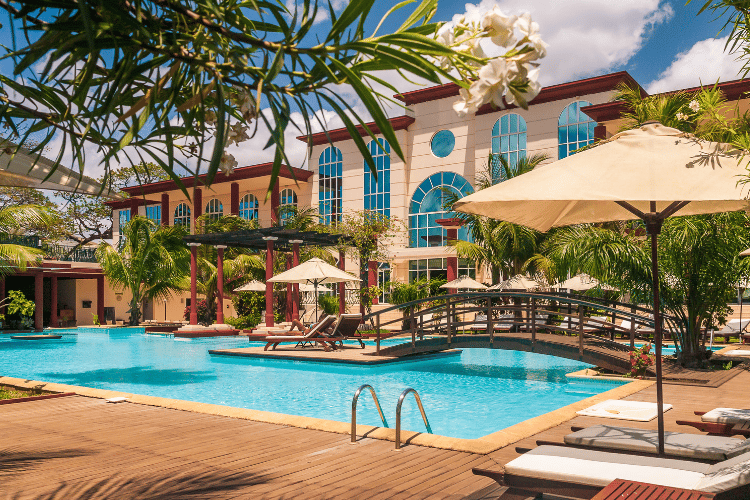 Some investors go this route because they can foresee the potential of the Portuguese real estate market. Others do it because it's a one-stop solution to getting a European Passport. But the benefits don't stop there.
Keep reading to know how a hotel can change your life forever. There is a lot to learn, questions to ponder over, and important policies to discuss beforehand. And we're here to help you with ALL of it. Let's dive right in!
What is the Golden Visa?
Essentially, the Golden Visa is the easiest way to obtain a Residence Permit in Portugal. It is officially known as the Residence Permit for Investment Activity and provides many benefits to those that wish to invest in it.
The Golden Visa has undergone many changes since it was first created in 2012, but it is still accessible to foreigners worldwide. It was created with the intention of attracting foreign citizens to invest in Portugal via capital transfers, property acquisition, and so on.
As we mentioned earlier, the legal process has undergone a few changes since it was initially created. The most recent changes state that Lisbon, Porto, the Silver Coast, and the Algarve Coast are no longer available to purchase residential property to apply for a Golden Visa. 
But some people still want to own a property in these regions' booming real estate market. So, there's something special for them!
Applying for Golden Visa by investing in a hotel within any of these regions is the best way to make this dream come true.
Who can apply for a Golden Visa?
The Immigration Service of Portugal (SEF) issues the Golden Visa instead of the Portuguese consular authorities. This is because the Golden Visa is a Residence Permit for Investment Activity rather than a Visa to visit Portugal.
Anyone outside the European Union or European Economic Area states (EU, Iceland, Liechtenstein, and Norway) can apply for the Golden Visa. In simpler terms, you can apply if you are an investor without European citizenship.
It is possible for you to conduct your investment as an individual businessperson or through a company set up in an EU Member State.
You need to meet other requirements before applying for the Golden Visa. Due to the complications and bureaucracy, it's recommended that you get in touch with professionals before making this big decision.
Why invest in a hotel?
Since the Changes in the Golden Visa in 2022, investing in residential properties in expats' favorite regions is no longer possible. The Algarve, Lisbon, Porto, and the Silver Coast are some of the most loved areas with the highest footfall every year.
Investing in a hotel allows you to build your assets by investing in the most thriving regions of Portugal. Moreover, this is a new way to invest in commercial property in these regions to get a Golden Visa.
The benefits of investing specifically in hotels are:
Investment starts from as little as €280,000;
Commercial investment in the high-demand tourism sector;
Fully recoverable GV investment;
No maintenance is required by the investor; the developer takes care of it;
Transfer of ownership tax – €14,787 is paid by the developer;
After the reconstruction is done, investors receive a guaranteed rate of 3% of rental income a year;
High profit margins of yield;
Investors with a resident permit can get a status of Non-Habitual Resident for 10 years;
Spend your holidays in the hotel you have invested in;
Return Yields are higher than residential properties.
Advantages of investing in a hotel
Let's talk a bit more in detail about why applying for Golden Visa by investing in a hotel is the easiest way to obtain this Visa.
Take a look at some of the top reasons:
Lower entry investment
Investing in a hotel is one of the cheapest and most straightforward ways of obtaining a Golden Visa. Whether you wish to build a life in Europe or not, a real estate investment that starts from just €280,000 is reasonably achievable.
Residential properties in Portugal can cost more than the minimum investment amount, so low barriers to entry into this market greatly benefit investors, especially if they're focusing on building their assets and watching the value grow tenfolds.
Possibility to invest in larger cities
If residential properties in the renowned regions of Portugal are still your areas of interest, investing in a hotel is one way to get through to them!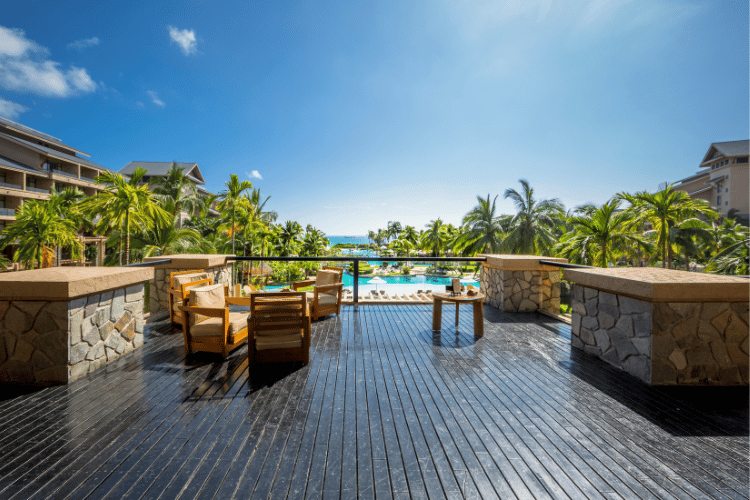 Remember how we mentioned the recent changes in the Golden Visa don't allow investments in Lisbon, Porto, the Algarve, and the Silver Coast?
When an investor chooses to invest in a hotel in Portugal, they get access to the possibility of investing in larger cities that were previously inaccessible.
Access to the upscale property
The reason why it's labeled as " upscale property" is because these properties are more resistant to recession than other types. The prices are less likely to fluctuate, and the value of luxury hotels does not depreciate.
These luxury hotels are usually in some of the best neighborhoods in town, and if you were to buy a property there, you'd have to invest a much more significant amount.
Potential tax advantages
When investing in commercial real estate in Portugal, foreign investors receive privileged tax treatment than if they were to buy residential real estate.
The developer pays the transfer of ownership tax in most cases, thus making this kind of investment the cheapest way to purchase Portuguese commercial real estate.
Let's also not forget that investors with a resident permit can get a status of Non-Habitual Resident for 10 years. This means there's a possibility to receive tax incentives for an entire decade!
With Viv Europe your plans for Portugal
will finally come to a reality
Spend an average of 7 days per year over 5 years
Perhaps the best part for people who don't intend to live here for a long time and have business to attend to elsewhere!
Any investor wishing to stay in their home country while receiving a European Passport can do so by investing in a hotel in Portugal.
You're required to spend an average of 7 days a year for 5 years. Although we think that might exceed because you will fall in love with the country, the restrictions are much less rigorous than in other countries.
And there's some exciting news – You can spend up to 7 days a year in the hotel you invested in without any charges! You know what to do for your next vacation after applying for Golden Visa by investing in a hotel.
What are the other Golden Visa benefits?
Although the Golden Visa has been a topic of much debate and criticism in the Assembly of the Republic, it provides countless benefits for Portugal and investors.
Its popularity is prevalent for a good reason! Here are some of the most immediate benefits:
Entry to Portugal with the exemption of a Visa;
Permission to live and work in Portugal;
Free movement through the Schengen countries without the need for a Visa;
Possibility of extending benefits to family members through the Family Reunification procedure;
The possibility to apply for a Permanent Residence authorization after 5 years of investment;
Possibility to apply for Portuguese nationality after 5 years in a regular situation in Portugal.
You're probably starting to understand why it's so famous. The Golden Visa has proven to be an excellent option for expats who want to enjoy Portugal's benefits while building their assets.
It's highly worthwhile to talk to experts about what benefits you're looking for. Since this article can not cover all the details according to your personalized goals, get in touch with our real estate experts. Talk about your goals and what kind of investment you should partake in.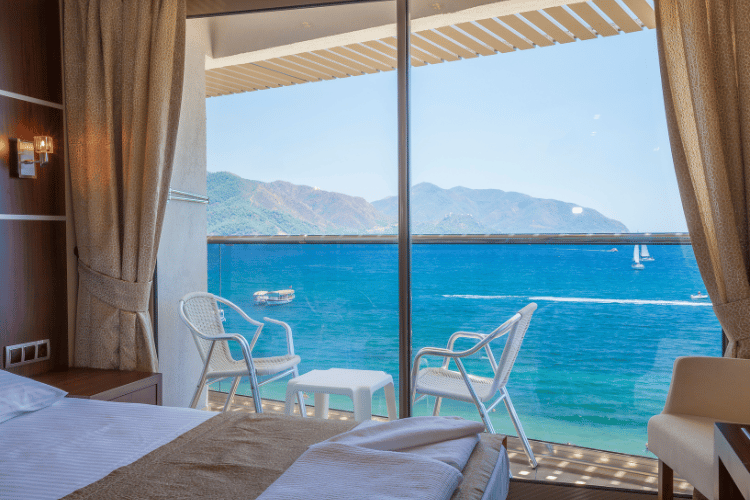 Golden Visa process: How to apply and obtain it
The process of applying for and obtaining a Golden Visa differs from the D7 Passive Income Visa or the D2 Business Visa.
Once you have fulfilled the criteria and requirements, the next step is to fill out the online pre-registration form. You can find this form on the official Golden Visa website called ARI Portal.
Here are some mandatory documents you must submit along with your application:
Valid Passport;
Evidence of entry and legal stay in Portugal;
Criminal Record Certificate (duly certified by Portuguese diplomatic or consular representation) from the country of origin or from the country where you have lived for more than one year;
Authorization to search for your background by the Portuguese Criminal Registry;
Declaration of Commitment of Honor, through which you declare you will comply with the minimum investment time period (5 years) in Portugal;
Tax and Social Security clearance records;
International health or travel insurance;
Receipt of payment of the application fee.
The fee for the initial analysis of your application costs €533 only and is non-refundable in case of rejection. It's important to know that SEF has complete authority to accept or reject a Golden Visa application.
Is applying for Golden Visa by investing in a hotel worth it?
While the answer is quite subjective to what your goals are, we'll try to answer this question with reference to statistics from real life. Here's a short answer: Yes, it is absolutely worth it! Let's look at why we're saying this.
The Golden Visa has been highly successful in Portugal, surpassing 1,000 concessions for five consecutive years and 1,526 authorizations in 2014 alone. Since 2012, accumulated investment brought into Portugal has exceeded 5 billion Euros.
Moreover, China, Brazil, Turkey, South Africa, and Russia are among a few countries that have invested concessions into this Visa over the last few years. The number of concessions totals more than 7,000 to date.
As a prospective investor yourself, you should know that no investor puts their money into something they can't yield a return.
Hence proven that applying for Golden Visa by investing in a hotel is one of the many sought-after ways to benefit from the booming Portuguese real estate. Especially since the tourism sector is performing incredibly well.
However, of course, you're the only one who can answer whether this type of investment really seems worth it to you.
Do you need help obtaining a Golden Visa?
We're not asking you to make this important decision on a whim. Take your time to learn all the information on applying for Golden Visa by investing in a hotel in Portugal. It takes time to study the market, weigh your options, and sign the deal.
You should welcome complications with open arms, but having a professional deal with those is what can help you get through them! Viv Europe's team of experts can guide you through the process and help you find the perfect hotel to invest in. Nothing beats having experience in this field and making others' lives easier.
Our Facebook Group – All About Portugal For Expats, has many Portugal enthusiasts who have obtained a Golden Visa. Ask them what it has been like and explore a new world of possibilities. Once you're done, contact Viv Europe to start working on your dream project!