Last Updated on October 24, 2022 by Laila Oliveira
The capital city of Portugal is well-loved for many reasons. The plethora of business opportunities, fantastic nightlife, and, most importantly, the coolest neighborhoods in the country! It doesn't get better than this. Read this article to explore the best neighborhoods in Lisbon and decide where to relocate.
It's also nice to know all about these neighborhoods, even if you're coming for a short trip to have fun or to scout cities for future plans. Stay prepared and get ready to have the most fun you've had in a while.
We'll go over every neighborhood that's been explored and approved by expats from all over the world. The safest, calmest, and coolest neighborhoods in Lisbon are waiting for you! Happy reading.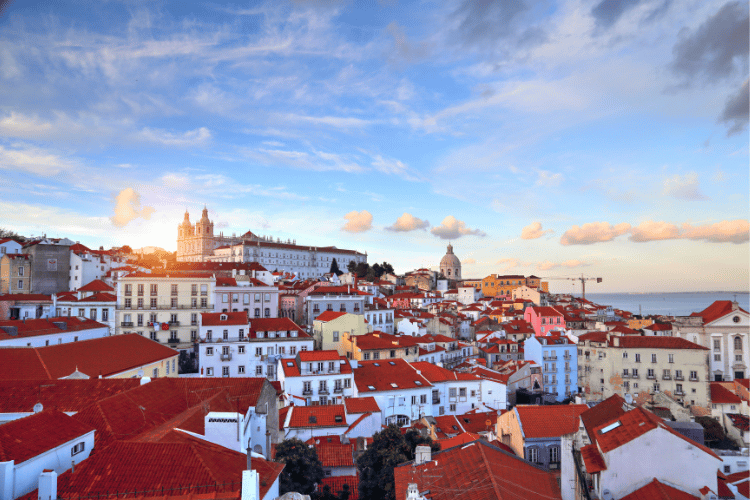 What is living in Lisbon like?
A buzzing city that feels like a warm hug is just one way to describe one of our favorite cities in Portugal! 
The ever-so-stunning calm, blue sky balances the bustling streets of the business hub like a cup of fresh coffee on a Monday morning. A quick glance outside your window is enough to explain why people love the city so dearly.
For many years now, Lisbon has been a business hub for entrepreneurs, startups, and multinationals alike. The ideal geographical location serves as a major perk to provide many benefits to all kinds of businesses and people looking to make connections. 
But living in Lisbon is about more than just business.
It's about celebrating love, exploring the rich Portuguese culture, living in a safe city, being near beautiful beaches, and savoring every single moment of your life. Lisbon's popularity is growing tenfolds, and it's easy to understand why.
Discover the best neighborhoods in Lisbon to understand why expats are relocating to the Portuguese capital and what makes it so fun to live in!
Didn't get enough? Check out our complete article on Living in Lisbon to know more about expats' points of view on living here! 
Why are expats moving to Lisbon?
Apart from being a top holiday destination and a tourist magnet, Lisbon has been on every expat's list before they found their forever home. Moving to Lisbon isn't just a trend; it's a conscious decision that expats have been making for years now; let's tell you why.
Since the geographical location is favorable, Lisbon is an ideal spot for those intending to expand their businesses or set up new ones. The Golden Visa and the D2 Business Visa have made it possible for foreign investors to reap the benefits of this while contributing to the growth of the Portuguese economy.
Through these Visas, expats can live and work in Portugal without restrictions. This presents opportunities for families to relocate and upgrade their standard of living while minimizing their monthly costs.
Although Lisbon is one of the most expensive places to live in Portugal, living costs are still considerably lower than what individuals would pay in other countries. Lisbon also has a huge expat community, so it's easier to adjust in the city than it would be elsewhere. 
All these reasons are enough for expats to move to Lisbon. Enough about the reasons; let's move on to the best neighborhoods in Lisbon as per expats' experiences! 
The best neighborhoods in Lisbon
Here's our first category of the best neighborhoods in Lisbon:
Saldanha
The perfect hybrid between old architecture and modernity, with a touch of entrepreneurship. Saldanha isn't very touristic since there aren't many sights worth seeing, but the neighborhood itself is worth living in. 
Saldanha is becoming popular among digital nomads and people with startups, offering an ideal environment with the availability of public transport. It is a little upscale, so you'll find that the rental prices are also higher since it's only 3 minutes from the city's center.
The beautiful Parque Eduardo VII is nearby for you to take a stroll in the evening. Or perhaps visit the Gulbenkian Foundation for music recitals and entertainment.
Alfama and Graça
A village-like neighborhood is full of charm and refreshing small-town vibes. Alfama and Graça are known as one of Lisbon's oldest neighborhoods. You can find it close to the Graça castle along the hill towards the Alfama river, almost 9 minutes away from the city's center. 
This is where you'd go when in the mood to have a delicious traditional meal. The Se Cathedral, Castelo de São Jorge, Panteão Nacional, and the Igreja de Santo António monuments are located here and are some of the most historic buildings present. 
Despite having some of the most gorgeous views, people think the area is too hilly with narrow streets that can't park cars.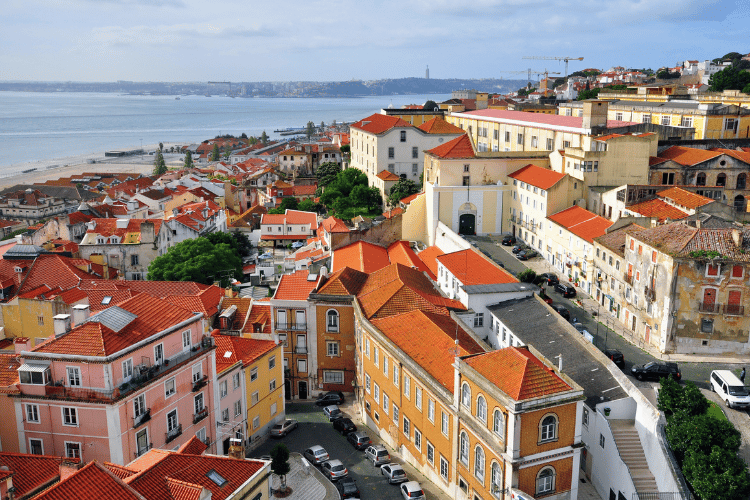 Ajuda
Ajuda is very close to the neighborhood of Belém. Unlike other central neighborhoods in Lisbon, this area gives an outer suburb vibe. It does not attract a lot of tourism and is home to the working-class community.
Although there aren't many touristic attractions, Ajuda has plentiful parks and lush green areas to enjoy. Definitely, a location you'd want to explore if you don't like the city vibe.
However, bus and train stations are nowhere near, and the city center is about 14 minutes away.
Rato
People say the best thing about Rato is its location. Only 11 minutes away from the city center, Rato is a small neighborhood close to an intersection that leads to Estrela, Príncipe Real, and other rich neighborhoods.
There's a subway station close by and lots of buses that make it easy to commute to wherever you need to go. Rato is also quite safe, so you won't have to worry about much. However, it is a little on the pricier side, so you might need to search for the best accommodation options if you're on a budget.
Rato is also convenient for students in university since institutions are close and the region has well-equipped public transport.
The nicest neighborhoods in Lisbon
Discover some of the nicest neighborhoods in Lisbon:
Avenidas Novas
Avenidas Novas gives the expected "Lisbon vibe" with modern architecture, expensive apartments, and middle to upper-class individuals trying to build their lives here. Being only 11 minutes away from the center, Avenidas Novas is home to many young professionals and university students.
Although not the ideal neighborhood for an eventful social life, Avenidas Novas does have a few shopping malls and restaurants nearby.
The local architecture may not be very aesthetically appealing, but the neighborhood is a good option for families who enjoy peace.
Campo de Ourique
Historic yet modern; in the neighborhood of Campo de Ourique, you'll find traditional shops alongside modern architecture. Only 10 minutes away from the city's center, Campo de Ourique is popular among locals and expats with a middle-class background. 
There are numerous small cafes and restaurants to explore if you ever get bored of the central Jardim da Parada park. You will also find a big food market close by that makes grocery shopping easier.
All the peace and quiet in this neighborhood come at an added price. You'll find that the property prices are relatively higher, but families still love it nonetheless. 
With Viv Europe your plans for Portugal
will finally come to a reality
Príncipe Real
Príncipe Real is close to Central Lisbon, almost 6 minutes away from the city's center. This neighborhood feels like one of the richest neighborhoods in the city, and there are explainable reasons why! 
It's home to some of the best and most-renowned entertainment options, such as bars, restaurants, art galleries, and fashion stores. Thus making it an attractive spot for expats and also tourists. 
You'll find restaurants with different cuisines celebrating the neighborhood's multicultural population. The only catch is that property can be pretty expensive given the central location.
Alcântara
The neighborhood of Alcântara is located between the city's center and the parish of Belém, around 15 minutes away from Lisbon's center. For many years, it was known as the industrial and residential part of the city. However, things are slowly changing for the better. 
Alcântara is where the famous Tagus River flows and is met by the 25 de Abril Bridge. LX Factory, a historical industrial complex, is now equipped with art studios, shops, and unique restaurants. The location is now considered one of Lisbon's trendiest centers. 
Life in Alcântara is peaceful and stress-free. It also has relatively lower air pollution around it thanks to Monsanto Forest Park, which purifies the air and attracts trekkers.
Belém and Restelo
Belém and Restelo are located very close to each other, where the river meets the Atlantic Ocean. Restelo is a more affluent district you'll find up the hill from Belém. They're both nearly 16-17 minutes away from Lisbon's center.
Mosteiro Dos Jerónimos, one of the seven wonders of Portugal, is a stunning 16th-century monastery that all tourists love to glance at. Despite being away from the downtown and metro stations, people love to visit Belém for its famous museums and monuments.
Restelo, on the other hand, is known for its big houses and beautiful views right next to the river. The neighborhood is home to the low-profile upper-class population of Portugal, and people love the tranquility of this region.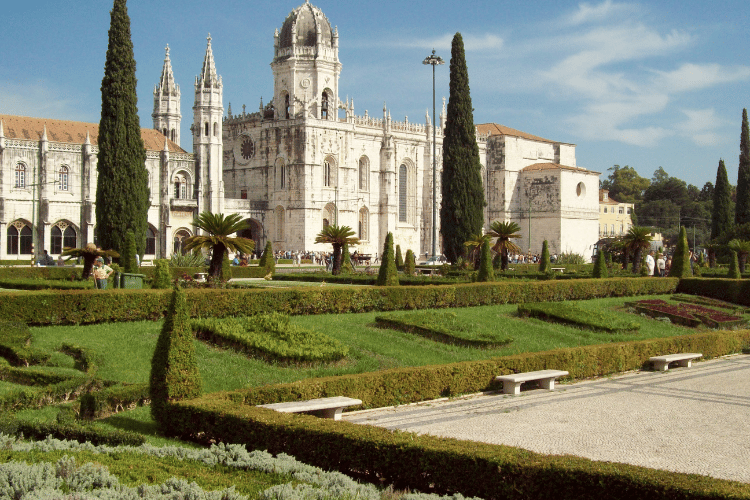 The calm neighborhoods in Lisbon
Here are details of some of the calmest neighborhoods in Lisbon:
Parque das Nações
A family favorite, Parque das Nações is a small neighborhood nearly 18 minutes away from Lisbon's center. This neighborhood is well-connected by trains and makes it easy to access and explore if you're trying to visit the Urban Park or Pavilhão Do Conhecimento.
It is also home to one of the largest aquariums in Europe, Oceanário, and serves as a tourist spot during peak months. Despite the tourism, you'll find families living here because of the many parks, coffee shops, food markets, and shopping malls.
Parque das Nações offers a collective experience but at very high prices. Although you'll find much of what an expat family wants in their new neighborhood, the property prices here are some of the highest in Lisbon. 
Santos e Lapa
Similar to Parque das Nações, Santos e Lapa are expensive neighborhoods and also one of Lisbon's oldest. Back in the 18th century, many upper-class families lived here and near Estrela in their mansions. 
Lapa is also where the parliament of Portugal is located, so you'll see some political events taking place. In recent years, these neighborhoods have become interior design hubs with new decor stores such as Paris-Sete and Fermob. 
These neighborhoods are magnificent places to live. The city center is nearly 15 minutes away, so you can live peacefully, away from the city's business commotion.
Alvalade
A peaceful residential neighborhood approximately 14 minutes away from Lisbon's center that isn't full of museums and history. Alvalade is a newer neighborhood known for locally-owned cafes, a diverse community, and many dining options.
Since the Universidade de Lisboa is nearby, there are more than just a few affordable dining and shopping options to cater to students residing nearby. Although rent is on the pricier side, you can find accommodation to suit your needs. 
It's also an ideal location if you intend on traveling a lot because the airport is nearby, and there's a metro line and many buses nearby. Alvalade is an underrated neighborhood, for sure.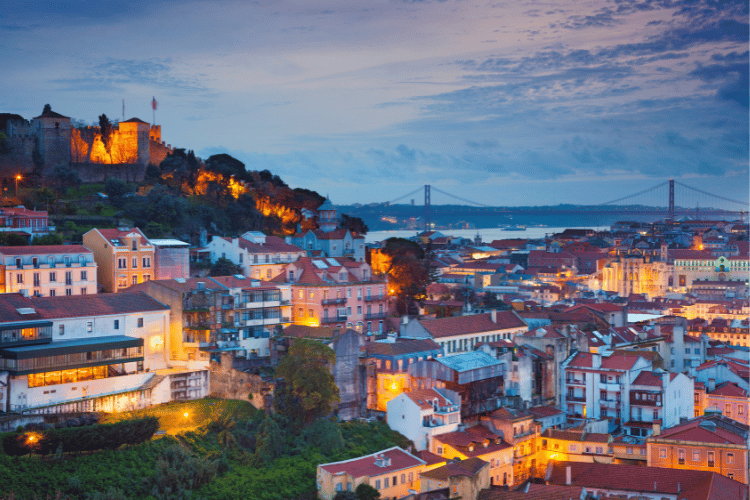 The cool neighborhoods in Lisbon
Check out the coolest neighborhoods in Lisbon: 
Baixa
The heart of Lisbon and one of the city's most renowned neighborhoods, Baixa is super busy on most days. Being just ten short minutes away from the city's center, this is the place you should call home if you're in love with Lisbon's typical city vibe.
Apartments and houses in Baixa are often difficult to find since investors keep a close eye on them for potential opportunities. Many homeowners also take advantage of the tourist attractions close by and give their rentals on short-term contracts for profit.
The super famous Restauradores Square is located in Baixa, along with numerous other eateries, shopping centers, and other tourist attractions. Living in this neighborhood is never a dull moment.
Bairro Alto
Bairro Alto may seem like a typical Portuguese neighborhood, but it's far from being simply historic and uneventful. This neighborhood is famous for its pretty architecture, picturesque streets, and the best nightlife spots you'll find in Lisbon. 
This isn't the best place to live if you're someone who likes to sleep early or in peace because party-goers make sure to keep the night alive. If you're not a fan of partying but want to enjoy the views at night, go to Miradouro de São Pedro de Alcântara and be mesmerized by the stunning panoramic views of the city.
People might consider it a little far away from the city's center, about 19 minutes, but the distance seems small when planning one of your life's best nights.
Chiado
Another one of the best neighborhoods in Lisbon is Chiado, a cultural and commercial district that's also known for its historical landmarks and museums. A bronze statue of Fernando Pessoa is one of the most famous tourist attractions for people visiting this area of Lisbon.
But Chiado is more than just a tourist attraction. Since it's close to the city center, about 14 minutes away, most restaurants and bars are within walking distance. There are tons of activities you can do with your friends and family while living here.
The neighborhood might not be for everyone considering it does attract tourists all year round. Despite all the attention and crowd, people are still fond of Chiado as it is one of Lisbon's most commercial, artistic, and elegant neighborhoods. 
Anjos
A neighborhood that was once not as popular as it is now, Anjos is now one of the best neighborhoods in Lisbon. An ideal location for students, Anjos is cheap, central, and multicultural.
Although not so popular among tourists here to see the best of Portugal or the affluent that like to live among luxury, Anjos is still an attractive location for old couples and small families. In most cases, you get to secure affordable living options close to Lisbon's city center, which is only 6 minutes away.
You will find that the entire neighborhood is very vibrant, atmospheric, and diverse. Anjos is safe and has restaurants and shops nearby, which makes it a great place to stay.
Which neighborhood do you want to move to?
Where's your next stay going to be? It's difficult to conclude, but it isn't impossible! The best way to know where you'll enjoy the most is by trying out the best neighborhoods in Lisbon for yourself. There's nothing quite like exploring the city on your own or with a loved one. 
If you're looking for other expats' experiences, we have an online community of over 8,600 Portugal enthusiasts waiting to help you out. Join our Facebook Group – All About Portugal For Expats, and get honest feedback from Lisboetas who are spending their life in one of these neighborhoods. 
And when you're ready to try things out yourself, get professional help to get your Visa processed faster than you could expect. Good things take time, but they don't have to take longer when Viv Europe is here! Contact us today and make your dream come true.