Last Updated on October 4, 2022 by Maryam Siddiqui
Even though we love Portugal, there's no place on Earth that you could call flawless. As always, we're going to be honest with you. While the capital city is everything people dream of, there are pros and cons to Lisbon too. We're here to guide you so you can make the best-informed decision possible.
Get to know all about why Lisbon has been such a hot topic for the last few years and why expats from all over the world are lining up to relocate here. Are all those things people love about this city true? What is it really like?
Keep reading the article to know what makes people want to leave their home country behind and what makes them stay. Soon you'll know whether Lisbon really is worth the extra effort you need to put in to be able to relocate here. Happy reading!
What is it like living in Lisbon?
Simply put, the quality of life in Lisbon is quite remarkable. The metropolitan hub has one of the best climates in Europe, with pleasant weather all year round. And there's always something to do in Lisbon.
The best aspect of Lisbon is that it's large enough to have all the perks of a big city but small enough to have a close community. The beautiful sky-blue calming beaches further add to the pros of Lisbon and why you should move there.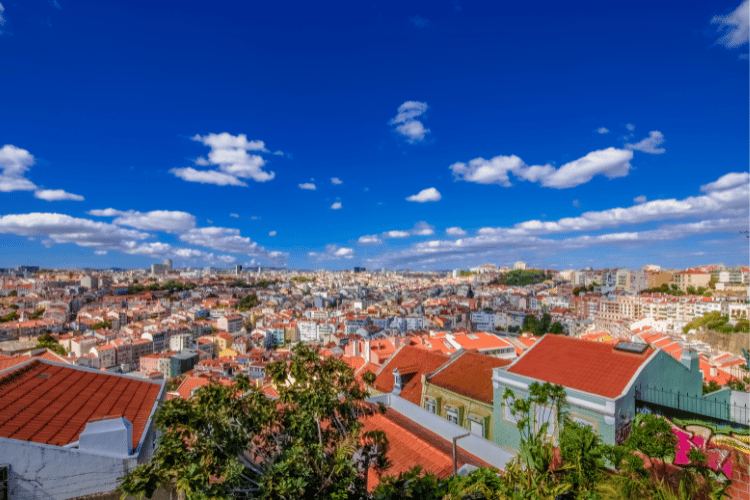 You can reach most places in Lisbon in 30 minutes, saving plenty of time to spend on your social life. It's also known for having exuberant festivals and glorious cultural events with a playful way of life and tons of opportunities. A perfect city for expats, without a doubt!
Sun-kissed soil, friendly residents, and affordable necessities are what make Lisbon an eye-catching place to dwell in. All this aside, there's still so much more to the city; keep reading to know what we mean because there are pros and cons of Lisbon.
Who lives in Lisbon?
Lisbon is known for being a multicultural city with people from around the world. There are nearly 3 million urban dwellers, a small population that does not overpopulate the region. The Portuguese comprise around 91% of the entire population, while foreigners cover the remaining 9%.
Approximately 63% of Lisbon's population is of working age as it is the metropolitan area of Europe, rich in evolving businesses and endless employment opportunities. Moreover, the young generation comprises 13% of the whole population, while the elderly constitute 23%.
You can find many people from the UK, USA, Asia, etc. Due to the multiple ethnicities in the heart of Portugal, you can easily find people from your home country.
Other than that, the people of Lisbon are known to be some of the friendliest people to mingle and have drinks with. They are very welcoming, friendly and always offer a hand to help – much like the rest of the Portuguese people.
Why are expats moving to Lisbon?
Among the pros and cons of Lisbon is that it has become a very trendy place to move to, primarily because of the various benefits (that don't seem to stop) you can reap from it. It has been regarded as a top holiday destination for a long time; however, it's also popular for business ventures. 
Lately, Lisbon has been classified as an entrepreneurial hub for business-minded individuals from all over the world. An amalgamation of great infrastructure coupled with a top-tier economy and innovative technology makes it an attractive startup center in the entire European region.
It's considerably easy for families to move to Lisbon due to these reasons and the large expat community from all sorts of ethnicities. This makes it relatively effortless for individuals to adjust to the new environment. Moreover, the city was also regarded as one of the safest cities to live in, with a rich cultural history and a great life for the outdoors.
Pros of living in Lisbon
If you're looking to relocate, Lisbon ranks pretty high on the list of top cities to move to within Portugal. The breathtaking landscape, pleasant climate, booming economy along with being a multicultural hub makes it the best choice as your second home.
Let's dive into the details of the pros of Lisbon:
Climate
Who doesn't want to live in a city with a pleasant climate? Of course, no one!
Lisbon is one of the most pleasant cities to relocate to, with cool breezes and the right amount of sunshine. The heart of Portugal has a Mediterranean climate, which includes warm summers and mild winters with frequent showers.
As it's located at the brink of the Tagus River, it widens into the bay, leading to fresh and chilly winds throughout the year. Most of the cities in Europe experience extreme weather conditions in both summer and winter; that, however, is not the case with Lisbon.
Moreover, the average temperatures range from 12℃ to 28℃ throughout the year, with January being the coldest month and August being the warmest. Tourists from other cities frequently come here, especially in summer, to escape the scorching heat in other areas.
Relatively low cost of living
Lisbon is regarded as an economical hub for everyone, especially expats, primarily due to its low cost of living. While the locals might disagree, expats such as Americans and the British find it relatively cheaper to live in Lisbon than in their home country.
According to statistics, rental costs are 51.42% lower in Lisbon than in London. A one-bedroom apartment in London would cost around €1500, while in Chicago, it would cost around €1300. However, in Lisbon, it could cost only €770. Unbelievable, right?
Other expenses, such as utility bills, groceries, transportation, etc., are also far lower in Lisbon than in London and Chicago. The utility bill in Lisbon is generally €150, while in London and Chicago, it's €312 and €208, respectively.
Moreover, groceries are also pretty inexpensive for expats residing in the area. The monthly grocery bill amounts to €250 in Lisbon, while in Chicago, it's €315. London tops them all with the monthly grocery bill being €392 on average.
Great nightlife and social scene
Vibrant, lively, and festive – these are the words that automatically come to mind when thinking of Lisbon's nightlife. The city is awake until the early hours of dawn and is a hub for tourists, foreigners, and many university students.
The locals are friendly; hence everyone is able to mingle around and have a great time. Bairro Alto, Parque das Nações and Santo Amaro Docks are the most popular places in Lisbon that have the ultimate nightlife. Don't forget to check out these places and dance the night away!
The city has various clubs and bars, along with astounding cafes and restaurants playing some classical hits. Moreover, you can also find tons of shopping malls, parks, cinemas, festivals, etc., throughout the year.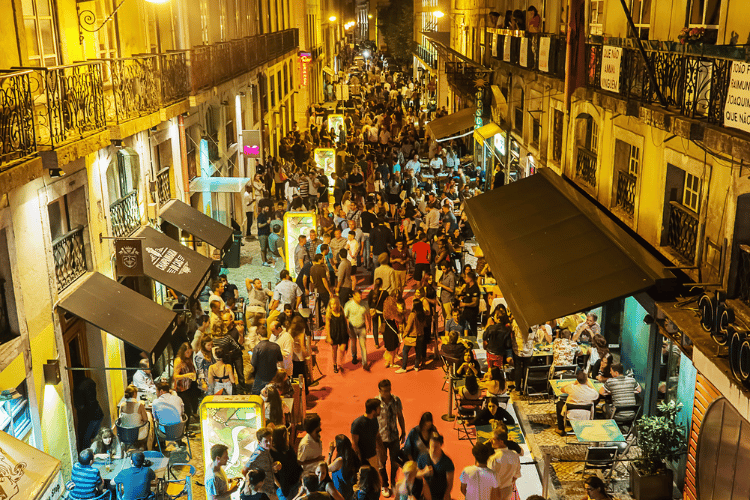 Lisbon is also known for having a splendid wine tasting experience, which gathers large crowds every year, specifically in wintertime. Douro Valley is another popular destination to have an enriched wine-tasting experience.
All of these entertainment options are a huge advantage of living in Lisbon and the reason why people love this place! Is this enough for you to love the city despite all the pros and cons of Lisbon?
Good jobs and business opportunities
Employment is gradually on the rise in Lisbon; therefore, organizations want employees that are skilled and knowledgeable. Knowing how to speak Portuguese is an added advantage; however, you won't be at a disadvantage if you don't know the language. This is probably the most important pro in Lisbon's list of pros and cons.
There are tons of English-speaking opportunities as many organizations are seeking to collaborate with international teams, and English is a common medium for both. The average monthly salary is around €1,200 after tax, which is decent enough to have a comfortable standard of living.
Numerous expats have also started their own businesses, as Lisbon is an attractive spot for business opportunities. With low average property prices and an ideal location, entrepreneurs are automatically appealed by this, along with the prospects of growth for the business.
Close to a lot of great beaches
Cool breezes, glistening sand, and sparkling sunshine – a perfect scene of Lisbon's sensational beaches. There are tons of beaches located in the heart of Portugal that you can explore and relax at for a weekend getaway.
The best thing is that most beaches are super near and you can reach there quite easily as Lisbon has the best public transport in Portugal.
Some nearby beaches that are worth dropping by and enjoying the sun include:
Some beaches attract watersport enthusiasts, while some prefer calmer seaside spots with resorts for families.
The mere distance to reach these places coupled with inexpensive and accessible transport further adds to the pros of moving to the glorious city of Lisbon.
Great digital nomad and expat scene
Lisbon has become a hub for digital nomads, which have significantly increased in the past few years due to convenience. Individuals prefer to adopt the digital nomad way of living as it allows them to live their dream while working for a living at the same time.
Read our article 10 Ways Portugal Is A Digital Nomad Paradise to get further insights into the digital nomad lifestyle and how it can be a good fit for you!
Due to the rise in opportunities, Lisbon has also seen a surge in the number of expats moving into the country. It's a beautiful experience to live in a low-cost city with all the benefits of a developed European country.
Another factor contributing to the pros of Lisbon is that the city offers visas that ease entry for foreigners. This is your sign to pack your bags and move to the heart of Portugal!
English is widely spoken
In current times, living in Lisbon without being fluent in Portuguese is fairly common now. As we mentioned earlier, English has become a widely used medium in Lisbon. Almost everyone knows it and understands it too.
Learning Portuguese is always an added advantage; however, you can easily make your way through by speaking English as well. Hence, it's easy to make friends, communicate with people, and ask queries.
Living in a city with language hindrances is something no one wants. That's why the universality of English is regarded as a cherry on top of the pros of Lisbon.
To add further, Lisbon has a typically large group of people working in the customer service sector, showing that knowing only English can easily get you a job and that your language skills are your key strengths. You would be an advantage for companies with international teams based on you simply knowing the English language.
Cons of living in Lisbon
While all the pros of Lisbon are true, no place is perfect. As with relocating to any other city, Lisbon too has a few cons on the list.
We're here to give you a holistic and complete picture of the city so that you can make the right decision. Weigh the pros and cons of Lisbon and assess whether this is the right fit for you or not.
Learning Portuguese
This isn't necessarily a huge con since English is common, but if you were to live here as an expat, learning Portuguese might be challenging for you.
When moving to a new country, it's always recommended to know a few basics of the local language as it helps you significantly to navigate on your own in the city. It's suggested that expats learn Portuguese to make a living in Lisbon slightly easier for them.
If you're buying groceries, negotiating rent, or asking for directions, knowing the local language can always come in handy. However, it is considered challenging to learn Portuguese from scratch.
Nevertheless, there are many expats living in Lisbon who don't socialize with the locals and are more comfortable mingling with their own expat groups. Hence, this reason probably wouldn't top your list of pros and cons of Lisbon. We would suggest you see what works for you and how much you want to broaden your horizons. 
Bureaucracy
Adding to the list of cons of Lisbon is the bureaucracy associated with the city. This is a concern for not only foreigners but the Portuguese as well. The paperwork and documentation are quite slow and can take some time. The available information is unclear most of the time.
However, having a local buddy can help you navigate through this process. Our advice would be to prepare all the information beforehand and know the process prior to getting any work done.
This would save a lot of time, and you wouldn't have to revisit to resolve any unfinished business. Taking an appointment before going to the office is also a lengthy process itself, but you'll get used to it! It would help you to keep in mind that Lisbon is quite a relaxed city – this can be both good and bad. Hence, make sure to be prepared.
Renting and buying property is a challenge
Since property prices and rentals are cheaper in Portugal, finding a rental in Lisbon is becoming more and more challenging.
Generally, prices of houses have steadily risen over time in Lisbon, reaching approximately €3,800 per square meter. It's also much harder to find a long-term rental than a short-term one in Lisbon since vacation rentals give much more profit in the summer. This results in families starting their property search a year in advance to make sure they land a good deal.
Many expats set off to other cities close to Lisbon, such as Cascais. Cascais is known for its luxurious lifestyle that many expats are attracted to, specifically, those who are affluent. If you have the means, you can always go explore Cascais due to its resemblance to Lisbon and the very short distance between the two picturesque cities.
The stairs and hills
Lisbon is built on seven hills and plenty of steep stairs, which aren't easy to navigate for everyone. Thankfully, Lisbon has shortcuts, which are free of cost.
Even though the city may not be the most walking-friendly, you'll be surprised to know that it's still easy to walk around without any tiredness.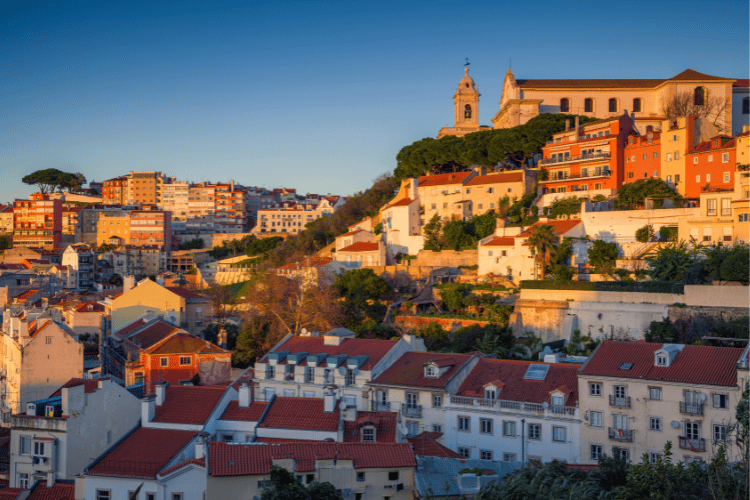 Lisbon's public transport system makes it far more convenient to move between hills and stairs. The trams, buses, elevators, etc., are quite comfortable and enjoyable to navigate from one place to another.
It does take time to adjust to these modes of transport, but it doesn't take away the fact that riding these different types of transport offers a unique and memorable experience.
Nonetheless, many people add the hills as a con in their list of pros and cons of Lisbon.
Cold inside in the winter
Despite the pleasant climate, it does tend to get chilly at night. It's particularly chilly inside homes due to the lack of heating.
There aren't radiators in many homes, as that's how the houses are generally constructed. For many people, this seems to be a big con in Lisbon's list of pros and cons.
It's still definitely possible to avoid the cold. You'll have to choose the right location and property to make a living in Lisbon easier. You could also always purchase a heater if you like a certain house, in particular, that doesn't have proper heating.
Many expats work their way around these solutions, making it easier for them to live here during wintertime.
What do you think of the pros and cons of Lisbon?
Did we miss out on any pros and cons of Lisbon? We'd love to know your thoughts! Hopefully, you'd have a clearer idea of what it's like living here and whether this city is the right fit for you and your family.
You could also ask other expats what they think of Lisbon; they'd be able to guide you the best, thanks to personal experiences of trial-and-error. Join our Facebook Group – All About Portugal For Expats, in case you don't know anyone who lives here. We have a community of over 8,000 Portugal enthusiasts waiting to guide you!
When you reach a conclusion, our experts at Viv Europe would love to help you with the visa application or finding the best property for you. Let us deal with the bureaucracy while you plan for this new chapter of your life. Contact us now, and let's turn your dream into reality.