Last Updated on September 16, 2022 by Maryam Siddiqui
There are many reasons for buying a house in Alentejo, but calmness and tranquillity are often at the top of the list. Unlike the popular cities in Portugal, like the Algarve, Lisbon, or Porto, Alentejo is often considered a hidden gem.
This city boasts beautiful plains, fertile fields, and picturesque beaches, unlike anything you have seen before. Located between Lisbon and the Algarve, the positioning is quite strategic if you want to visit the two destinations at any given point. What's more, Alentejo's proximity to the Atlantic Ocean makes it one of the places with the warmest weather in Portugal.
Since buying a house is necessary, especially if you are considering a move to Portugal permanently, this article will bring you up to speed with everything you need to know about real estate in Alentejo. Moreover, you will also get to find out why Alentejo might be the best destination for you to call home.
Why should I think about buying a house in Alentejo?
Often considered the breadbasket of Portugal, Alentejo is a quiet and peaceful destination, perfect for a family setup. Also, this particular region is one of the least populated destinations in Portugal, with open fields with an ideal countryside vibe.
You will get a chance to live among locals in small villages that haven't changed much for almost a century. Having said that, let's look at some of the main reasons driving expats to this region in Portugal.
One of the most beautiful coastal zones in Portugal
Escape the overcrowding on the popular beaches in Portugal and head over to the hidden scenic beaches in Alentejo. The coast stretches from River Sado to Zambujeira do Mar and often comes as a shock to many just how well the beach is preserved.
It is like the Portuguese are preserving this hidden gem for themselves. The few who have had the opportunity to visit some of the beaches in Alentejo always vouch for its unique charm. The landscape is quite appealing, with several rugged cliffs, reefs, and islets.
The vast coastal strip is also home to different birds, ideal for bird watchers. Other than basking in the sun, there are other activities you can engage in as well, for instance, hiking and trekking.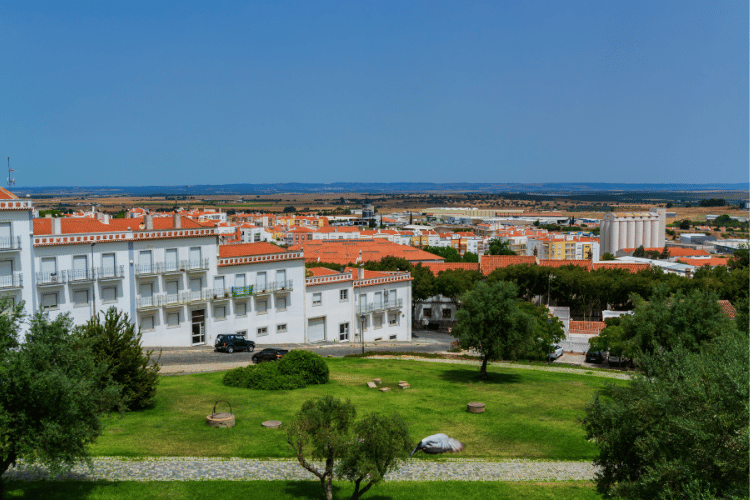 Portugal offers benefits for foreign investors
One of the reasons why foreign investors are making their way to Portugal is because of the incentives and benefits they can get from the government. First, it is essential to mention that Portugal is among the few European countries that have made it easy for expats to relocate.
In fact, the Portuguese government has gone the extra mile by providing tax incentives, all in a bid to attract foreign investors. One of the most popular benefits foreign investors can get in Portugal is the Golden Visa. This program gives qualified foreign investors the Golden Visa that comes with the opportunity to acquire Portuguese citizenship after as little as five years.
Also, the Golden Visa allows you to travel within the Schengen countries. Another incentive for foreign nationals is the non-Habitual tax regime. Here is an article that breaks down the Non-Habitual Tax regime.
The real estate market is booming
There is no better time to get involved in the real estate industry in Portugal than now. It's like everyone is rushing to get a piece of this beautiful country. It is pretty surprising how fast the real estate market in Portugal has bounced and reached greater heights compared to the pre-pandemic years.
To put this into perspective, the average cost of property per square meter increased by 10%. What's more, the real estate sector also contributed 15% to the Portuguese GDP in 2021.
The good political climate and generally investor-friendly environment have a lot to do with the real estate success in the country.
The expatriate community in Alentejo
While Alentejo might not be quite as common as other popular tourist destinations in Portugal, this region has a sizable population of foreign nationals calling this place home.
According to the demographic data for 2020, the foreign population in Alentejo accounted for 5.2% of the entire population. This is just about average compared to the general foreign population in the whole of Portugal, which accounts for 6.4% of the population.
Can a foreigner buy a house in Alentejo?
Absolutely! Buying a house in Alentejo is possible for every foreign national with a clear criminal record. However, similar to any other nation, you must meet certain requirements.
Nonetheless, it is necessary to emphasize that Portugal is among the few countries that welcome foreign nationals and also go the extra mile to offer tax incentives as well.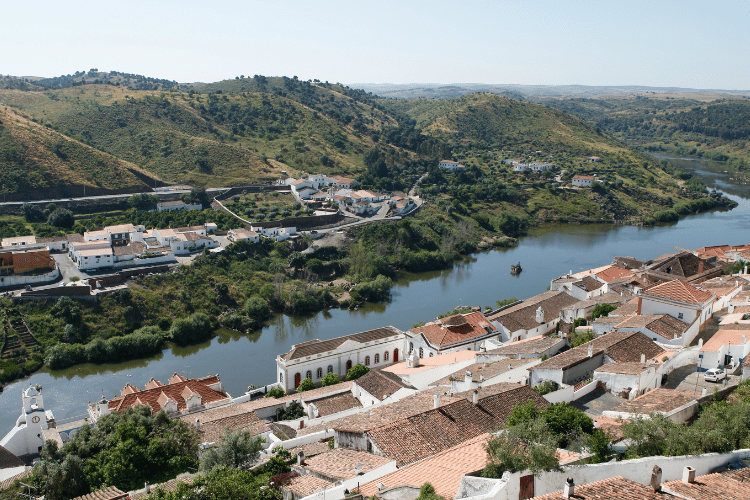 Step-by-step process to invest in real estate in Alentejo
Alentejo is a beautiful place, and buying a house in this region of Portugal is not as difficult as you would assume. You should, however, expect some paperwork and a few tie-downs here and there, but the process is typically straightforward. Take a look at the following steps that should get you well on your way to buying property in Alentejo.
Research and choose your investment
People buy property for various reasons; it might be for personal use or investment; regardless, Alentejo has so much to offer, depending on your needs. So the first order of business is to understand the objective of buying a house in Alentejo.
If you are looking for tranquility, your best bet would be further inland, away from the beach. However, buying a home close to the beach is ideal if you want to capitalize on the housing demand during summer.
Also, there are plenty of houses ranging from expensive villas down to regular homes for everyday living. Once your intentions are clear, finding the right property option perfect for your needs should be a no-brainer.
Prepare the paperwork
As mentioned earlier, the Portuguese public system is quite bureaucratic, and you might have to deal with more paperwork than you had anticipated. The first documentation you need includes:
A valid passport, especially for Non-EU citizens, or a residency card from any country in the EU.
NIF Number (Número de Identificação Fiscal), which is a tax identification number that you can easily obtain from the Finance office.
A valid proof of income from your home country.
Remember, the NIF Number is necessary; whether you are a foreigner or a Portuguese national, you will not be able to buy any property in Portugal without this document.
Read this guide on the NIF Number and get a better understanding of why you need it and also how you can get it as a foreigner.
Visit the property in Alentejo
While there are plenty of websites that can do the inspection on your behalf, no one really understands your needs better than you. This is particularly important, especially if you are moving with your family and need to get a feel of the environment.
Also, choosing to inspect in person gives you the rare opportunity to get acquainted with the homeowner and also negotiate for a better deal one-on-one. With plenty of online scam activities, sometimes you need to inspect the property to validate its existence physically.
Get your documents settled in Portugal
This is the last but most crucial bit of paperwork you will have to deal with before buying a house in Alentejo. This process should get the necessary documents legitimized by the respective authorities. Here are the four key non-negotiable documentation.
Building Book (Caderneta Predial): You will need this document to show that the property has been tax compliant. You can obtain this document from the finance office.

The license of Use (Licença de Utilização): Obtained from the parish council of the respective house; this document clearly indicates the purpose of the said property.

Certificate of Land Registry (Certidão do Registo Predial): This document is obtained from the land registry and documents the current owner of the property prior to the sale.

Housing Technical File (Ficha Técnica de Habitação): This document highlights all the technical descriptions of the house.
Transfer the payment and sign the deed
Before the deed is transferred to your name, you first need to ensure that the payment reaches the seller. Unlike a decade ago, today, there are plenty of ways of transferring money from anywhere in the world.
You no longer have to rely on bank transfers that often take longer; besides, no one loves queueing at the bank. There are three online money transfer options that we recommend because they have proven safe and reliable over time.
Xoom (A PayPal Service)
Wise (Previously known as TransferWise)
Remember, sending money should always be the final step after all the documentation is legitimized and you have signed the contract.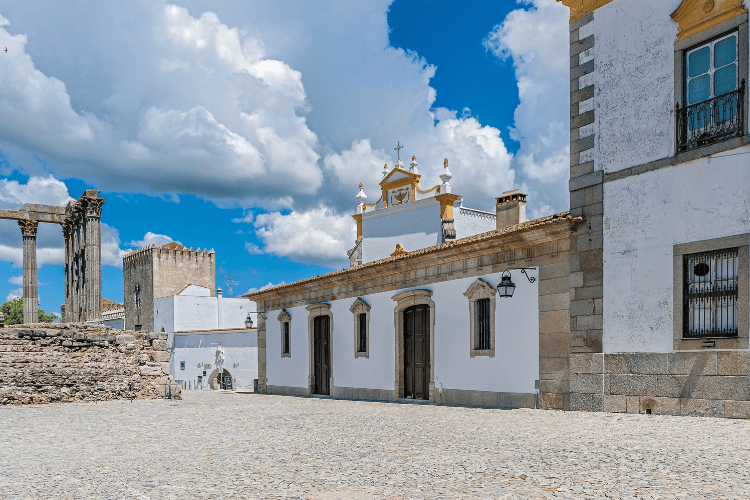 How much does it cost to buy property in the Alentejo region?
As far as buying a house in Alentejo is concerned, there are plenty of options at quite an affordable rate compared to the most popular cities in Portugal. While Portugal is known for having relatively cheaper properties across Europe, Alentejo also has some of the lowest property prices in the country.
In fact, some neighborhoods in Alentejo are considered among the cheapest to live in the entire country. Here is a breakdown of the cost of buying property in the popular districts in the Alentejo region.
| District | Price per/m² |
| --- | --- |
| Évora | €1,054 |
| Beja | €847 |
| Portalegre | €630 |
| Setubal | €2,200 |
| Santarem | €968 |
The data above is from Idealista (as of September 2022).
How much is the rent in the Alentejo region?
Similar to buying a house in Alentejo, renting property also depends on the region and the type of house you get. Here is a breakdown of the cost of rent in the various districts in this region.
| District | Rent per/ 50m² |
| --- | --- |
| Évora | €400 |
| Beja | €410 |
| Portalegre | €245 |
| Setubal | €440 |
| Santarem | €250 |
Can I apply for a Portugal Golden Visa to invest in a property in Alentejo?
Unfortunately, the recent changes to the Golden Visa program in Portugal excluded some regions, including Alentejo. However, while investing in Alentejo might not qualify you for the Golden Visa program, other cities in Portugal still offer this incentive to qualified foreign investors. Here are some of the benefits that come with the Golden Visa program.
The possibility of getting Portuguese citizenship after 5 years
Freedom of movement within the Schengen region
The opportunity to live and work in Portugal
You can also extend these benefits to your immediate family.
Read Also: Complete Guide to Golden Visa in Portugal
Is making a real estate investment in the Alentejo region worth it?
Financial and investment decisions need personal introspection and enough due diligence. Having said that, only you are capable of determining whether the investment is worthy or not.
However, it is also worth mentioning that buying a house in Alentejo comes with its fair share of perks that you ought not to ignore. Think about living in one of the cheapest cities in Portugal, strategically located between the famous Algarve and Lisbon.
This region is quite laid back with the traditional countryside vibe, perfect for raising a family in a quiet environment. However, if you fancy going out, meeting new people, and enjoying city life, then Alentejo might not be the best option for you at the moment.
When are you buying a house in Alentejo?
Moving to a different country is similar to plunging into the unknown; however, the transition need not be tough and exhausting with the right people to guide and show you the way.
So if you are ready to pack your things and see what this beautiful region of Portugal has to offer, our professionals are more than ready to help you out.
Contact us today, and let's set you up with experts who will do all the work for you.
Also, consider joining our Facebook Group – All About Portugal For Expats, and exchange concerns with other expats who are living in Portugal at the moment. Go ahead and share your experiences, and get to know how the process has been for other expats already in Portugal!