Last Updated on May 5, 2022 by Letícia Melo
If you're considering moving to Portugal and seek tranquility, this is it. One of Portugal's most underrated regions, with long plains and medieval castles, Alentejo is a perfect place for enjoying Portugal's true essence. In this article, we are going to present to you all about living in Alentejo.
Get to know the highlights of each region, the cost of living, things to do, and what it's like to live in absolute peace. Good reading!
Get to know the Alentejo region
Alentejo, the south-central region of Portugal, has long been known as a peaceful area, where nature meets tradition. However, as time goes by and Portugal is getting more popular, people start realizing its potential.
It was 2019 when Forbes noticed this hidden gem and described it as "the new place to go in Portugal". Rich Lisbon families have long chosen the empty beaches and plains of Alentejo for holiday houses, long weekends, and wine tasting.
And now, as the entire world is falling in love with Portugal, and as the new Golden Visa rules favor Alentejo real estate market, more and more foreigners are turning their heads here.
But what is it really like to live in Alentejo? First of all, you must get to know the region.
The Alentejo region covers a large part of the country and is known as the heart of Portugal. Located between the Centro region, Lisbon until the border with the Algarve, Alentejo is made up of 5 districts, each named after their capital cities:
Santarém (the southernmost part only);
Portalegre;
Évora;
Setúbal (the southernmost part only);
Beja.
A curious fact about this region is that Alentejo has the lowest population density in Portugal. Perfect for those looking for some alone time!
To dig deeper into Portugal's geography, you can check out the system of the division of the Portuguese territory on the Pordata website.
Living in Alentejo: day by day
The heart of Portugal, Alentejo is a region of plains, agriculture, and small villages. The Alentejanos have a very rich culture and are warm and friendly like nowhere else in Portugal.
Not to mention, the food here is the best! Maybe the north of Portugal can compete, but Alentejo is definitely a place where you cannot get enough of the delicious traditional dishes.
Take a look at this video by Visit Alentejo and see with your own eyes what I'm talking about.
Why are expats moving to Portugal?
Especially in the last decade, Portugal has become extremely popular. People from all over the world are spending their vacations in Portugal, and some decide to stay forever.
Among the main reasons why Portugal is so popular are:
Spectacular landscapes;
Idyllic climate;
Traditional Cuisine;
Cost of living and quality of life.
Not to mention that many foreigners can obtain tax benefits via the Non-Habitual Resident tax regime.
Cost of living in the Alentejo region
Alentejo is one of the less expensive areas of the entire country. In fact, many of the main cities in Alentejo are listed as some of the cheapest cities to live in Portugal. Even so, the cost of living in Portugal is already considered low when compared to other European countries.
Take a look at the table below for some estimates of how much it costs to live in Alentejo:
| Expenses | Costs |
| --- | --- |
| A single person estimated monthly costs (without rent) | €500 |
| Family of four estimated monthly costs (without rent) | €1,850 |
| Average 1-bedroom residence rent | €350 |
| Average 3-bedroom residence rent | €700 |
It's important to remember that these values are estimates from our own experience and research on Idealista. Values may vary greatly depending on the city you're living in and your own spending habits.
Living in each district of Alentejo
Find out what it's like to live in each district that is a part of Alentejo.
Setúbal
Although Setúbal is not entirely part of Alentejo, the southernmost part of the district is officially Alentejo.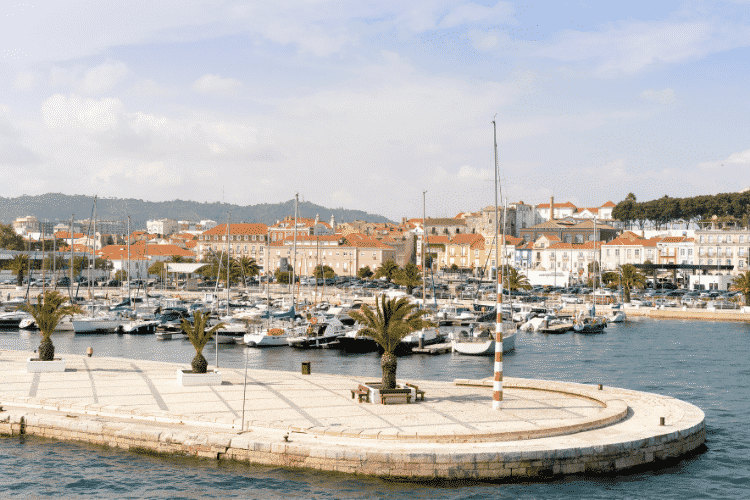 The Setúbal region comprises half of the Alentejo coast and has several of the largest cities in the Alentejo region. It is very close to Lisbon, the capital, so it is more developed and busy.
Besides the city of Setúbal, the main towns of this district (on the Alentejo part) are Grândola, Santiago do Cacém, and Sines.
| Info about the city of Setúbal | Data |
| --- | --- |
| Population | 123,519 |
| Percentage of population that is foreign | 7,6% |
| The average price for a property of 100 m² | €192,800 |
| Average rental price for a 50 m² one-bedroom apartment | €440 |
Évora
The Évora district is exactly what people think of when they think of Alentejo. No surprise, the city of Évora is the capital and one of the most important cities in the entire Alentejo region. This vast district is characterized by its many long plantations, wine production, cattle raising, and rural tourism, located only 130km away from Lisbon (82mi).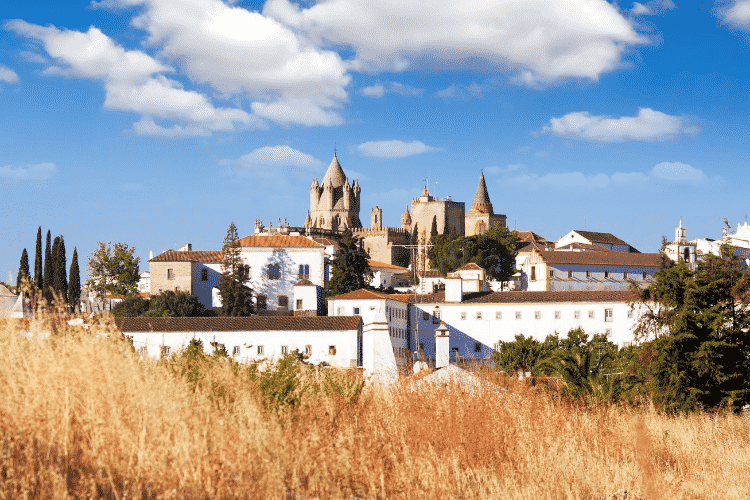 Besides being a UNESCO World Heritage site with beautiful ancient buildings everywhere, Évora is a wonderful place to live. Although not yet as famous as it should be among expats, this calm city is safe, charming, and with its own personality.
In the middle of its Roman monuments and medieval buildings, Évora holds one of the first universities in Europe, the University of Évora, founded in the 1500s. And while many Portuguese take their degrees there, the institution also accepts foreign students.
Also, in the city of Évora, there is one of the largest public hospitals in Alentejo, as well as many offers in private healthcare. In general, Alentejo is slowly opening up to the modern globalized world, while keeping its traditions strong.
Living in Évora could be great if what you're looking for is a peaceful lifestyle, not completely isolated and far enough from crowds.
| Info about the city of Évora | Data |
| --- | --- |
| Population | 53,591 inhabitants |
| Percentage of population that is foreign | 4,4% |
| The average price for a property of 100 m² | €105,100 |
| Average rental price for a 50 m² one-bedroom apartment | €400 |
Santarém
With easy access to nature and quality of life, Santarém truly deserves the attention it's getting. It's true that part of this district belongs to the Centro region, but still, much of Santarém is in Ribatejo, the northernmost part of Alentejo.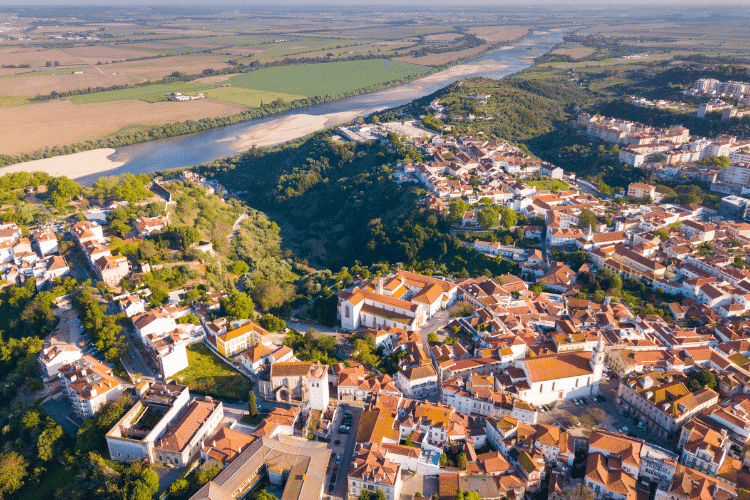 The Santarém district has stood out a lot since the pandemic and the possibility of working at a distance. As it is a much cheaper area than Lisbon, yet so near it, many Portuguese have come to see Santarém as a potential new home.
As for the capital of the district, the city of Santarém, new businesses are arriving at the same time that the younger population is moving here. In fact, Santarém is one of the cheapest cities to live in Portugal, which is very attractive for digital nomads.
However, the day-to-day life here is still pretty much as it has always been in Alentejo: easygoing.
| Info about the city of Santarém | Data |
| --- | --- |
| Population | 58,671 |
| Percentage of population that is foreign | 5,1% |
| The average price for a property of 100 m² | €85,000 |
| Average rental price for a 50 m² one-bedroom apartment | €250 |
Beja
This small city of Beja, as well as the entire Beja district, is known for its low cost of living, agriculture, and pleasant atmosphere. Beja is the main city of the so-called Baixo Alentejo and borders the Algarve region.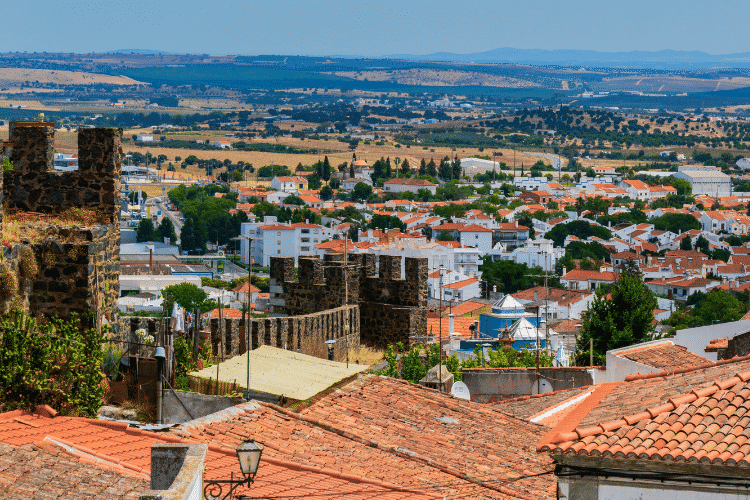 The city has its own life, but at a slow pace and without much movement. There are some interesting historical monuments to visit, squares, and good restaurants with the best local food and wine.
In addition to the interior of the district, the Beja district also has its portion of the Alentejo coast. This is where some of the most beautiful coastal villages in Portugal are located, which especially attract surfers and digital nomads. Definitely, a place to consider. Why not meet in person before deciding?
| Info about the city of Beja | Data |
| --- | --- |
| Population | 33,400 |
| Percentage of population that is foreign | 4,8% |
| The average price for a property of 100 m² | €83,000 |
| Average rental price for a 50 m² one-bedroom apartment | €410 |
Portalegre
Portalegre is isolated in the Alto Alentejo region, on the Spanish border and far from the Portuguese metropolises. Wheat, barley, olive oil, and cork productions paint the district's landscape. A curious fact is that the city of Portalegre is the capital of a Portuguese district with fewer inhabitants across the country.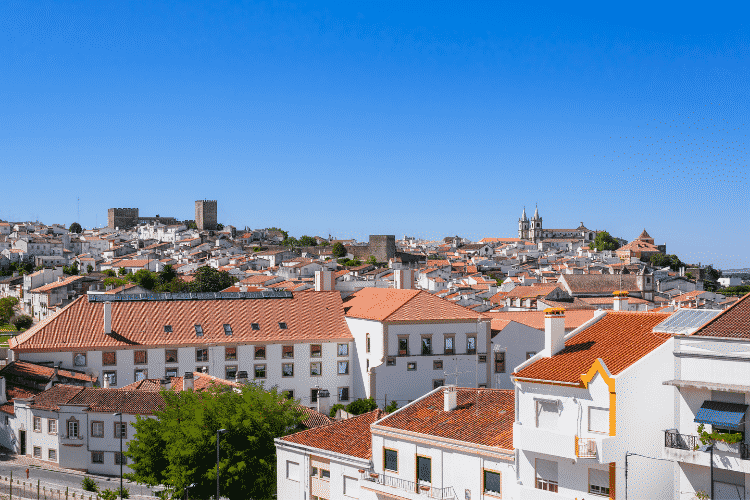 Even so, the city has its independent daily routine, very calm, a Polytechnic Institute, a district public hospital, and commercial centers with shops and restaurants. Not everyone likes living in a small isolated town like Portalegre, but if that's you, you'll definitely love it here.
Something worth mentioning that surely lights up Portalegre is its people. You won't find friendlier people in Europe than the Portuguese, and the Alentejo people are the icing on the cake. You'll feel at home at once.
| Info about the city of Portalegre | Data |
| --- | --- |
| Population | 22,341 |
| Percentage of population that is foreign | 2,7% |
| The average price for a property of 100 m² | €59,700 |
| Average rental price for a 50 m² one-bedroom apartment | €245 |
Living on the Alentejo coast
While Alentejo is mainly referred to as an agricultural area, it is also home to some of the most beautiful coastal zones in Portugal.
With wild nature, cinematographic beaches, and strong waves, the Southwest Alentejo and Vicentine Coast Natural Park is definitely a place to consider spending some time. Surfers, backpackers, campers, and trailer-travelers, in general, are the ones who enjoy the Alentejo coast the most.
But that doesn't mean that high-class tourism stays behind. It's not uncommon to come across 5-star hotels in this area. Besides, the Alentejo coast has been attracting some rich and famous celebrities like George Clooney and Christian Louboutin to buy their own properties here.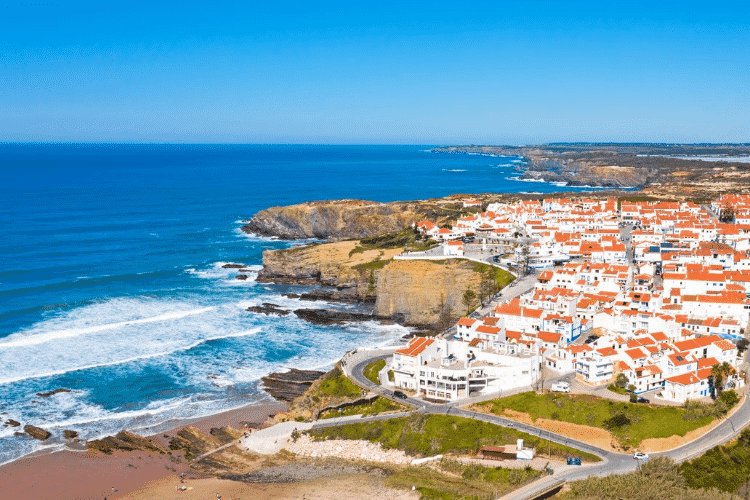 Take a look at the main places to live on the Alentejo coast:
Melides: compared to Saint Tropez in the 50s by the New York Times in 2021;
Zambujeira do Mar: one of the most charming small towns on the Alentejo Coast;
Sines: home to one of the most important ports in Portugal, alongside Lisbon and Porto;
Vila Nova de Milfontes: a small town and famous vacation destination for Portuguese families from Lisbon.
Speaking of which, you may also like to read: Where do the rich live in Portugal? See the most exclusive regions
Labor market in the Alentejo region
Anyone who wants to live in the Alentejo and work will be lucky to apply for jobs in the following areas:
Agriculture and animal production;
Wholesale and retail trade;
Administrative and support services activities;
Hotels and restaurants;
Consulting, scientific, technical and similar activities;
Construction.
According to Pordata's 2019 data, the average monthly salary in Alentejo is €1,067.8, while the national average wage was €1,206.3.
Among the main productions in the Alentejo, and which most mark the region's postcards, are the productions of olive oil, wine, and cork. In addition, many services are needed to meet the demands of locals and tourists.
A quick search for jobs in Alentejo on the Indeed website showed opportunities for professionals in-store sales, call center service, social media management, IT assistant, receptionists, cooks, university professors, and academic investigators.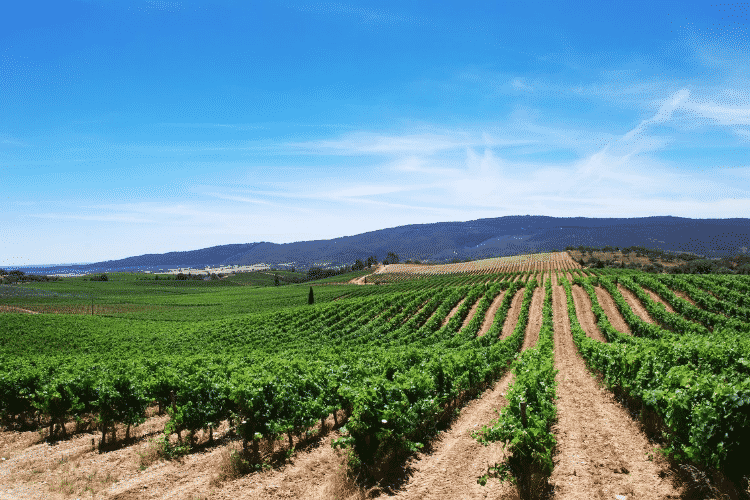 It's important to remember that when looking for a job in Portugal, you should consider learning Portuguese in advance.
If, however, you are a digital nomad in Portugal and want simply to live in Alentejo and work remotely, good choice. I myself have done that in the past, and you should just keep in mind that not every place has good internet coverage. The tip is to stay close to a good Wi-Fi connection and know when to work and when to enjoy Alentejo.
Public and private healthcare
Healthcare in Portugal is known for its quality and low cost. Especially if you live in Lisbon or Porto, the biggest cities in the country, public health services tend to work out smoothly.
In the Alentejo region, however, public healthcare reputation is not the best. Complaints about the lack of specialized doctors and long waiting periods are quite common. Also, if you choose to live in a remote area, you may take quite a long time to get to a hospital.
Thankfully, cities like Setúbal, Évora, Santarém, and Beja offer plenty of excellent options in private healthcare. To access private healthcare, it is recommended that you take health insurance. But don't worry, prices are still much cheaper than what one pays in the United States, for example.
Leisure living in Alentejo
Are you a fan of outdoor sports and activities? Then Alentejo will be perfect for you. The weather here is great for spending time in the garden, or in its beautiful parks and beaches.
Speaking of beaches, in addition to the beaches on the west coast, Alentejo also has several river beaches and dams in the interior.
If you're looking for indoor activities, you can find nice shopping malls and movie theaters in Évora, Santarém, and Setúbal.
Along the year, many traditional festivals take place in Alentejo, celebrating the region's rich culture and cuisine. If you're looking for things to do in Alentejo, the tip is to always check the events on Facebook and the official Visit Alentejo website. There may not be as many offers as in Lisbon, but if you plan ahead, you can catch a nice spectacle every now and then.
Weather in Alentejo
The climate in Alentejo tends to please most expatriates in Portugal. The interior especially has very hot and dry summers (it can even be too hot for the most sensitive). And it's common for the maximum temperatures in August to reach 35ºC (95ºF).
Meanwhile, during winter, it rains much more and it gets humid and cold, never reaching temperatures below 5ºC (41ºF) though.
Meanwhile, on the Alentejo coast, the climate tends to be less extreme than inland. Summers are very hot too, but not so hot, and winters are less cold.
Check out more about the weather in Portugal on the Climate data website.
Is it worth living in Alentejo?
Living in Alentejo may be a blessing to some people, but terrible for others. Basically, it all depends on the lifestyle you want for yourself.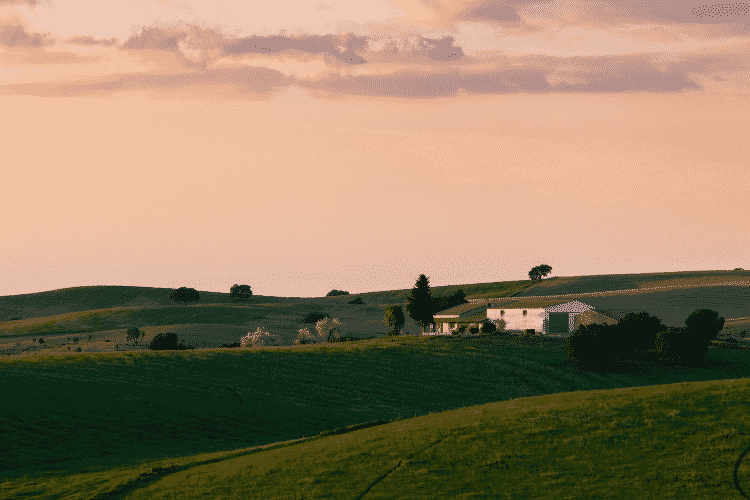 If you're in a phase of your life where you want to meet new people, get in touch with many different cultures, and maybe party with other expats, Alentejo probably won't be perfect for you. For busy city life, you should consider living in Lisbon or living in Porto.
But, if what you want is to be in touch with nature, enjoy silent days, fresh air, and who knows, take a walk in a historical center from time to time, welcome to Alentejo. You'll find that privacy and exclusivity are a great part of the quality of life.
When are you planning to move to Portugal?
Moving to a whole new country is quite an adventure. By becoming an expatriate, you'll go through experiences that cannot be explained but will make you feel alive. Moreover, Portugal will easily make you feel at home.
Living in Alentejo is a choice that more expats are taking every year. The expat community here may not be as expressive as in Lisbon or the Algarve, which may be attractive for some people. Alentejo is still very exclusive, and not at all mainstream.
Definitely one of the less-talked-about regions of Portugal, but with a great potential for a quality lifestyle that people often forget about.
Consider going on a scouting trip to Portugal and see for yourself how you'd feel living here. It's a great opportunity to be sure about your decisions.
If you're moving to Portugal, make sure to read all our articles on the Viv Europe blog. You'll need a lot of quality information before, during, and after your move, and we're committed to making your relocation as smooth as possible. Also, join our Facebook group All About Portugal For Expats to meet other people going through the same experiences and share your thoughts.