Last Updated on October 28, 2022 by Laila Oliveira
Cascais is one of the many popular destinations, particularly because it is close to the capital city and relatively quiet and peaceful. However, the big question is what the cost of living in Cascais is. We believe that the cost of living in any destination is essential to determine the quality of life you will live.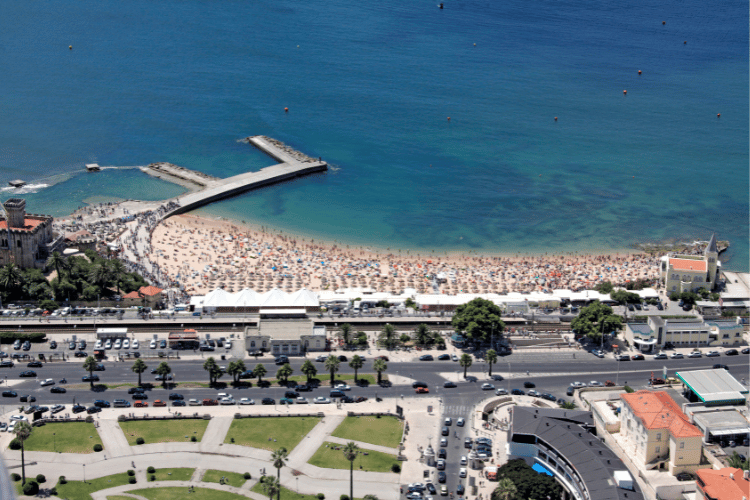 Portugal is one beautiful country, to say the least. There are plenty of unique destinations that expats and tourists can visit and also choose to move permanently to. Other than that, Portugal is also famous among travel communities because of the relatively cheaper cost of living.
This post will bring to the fore everything you need to know about the cost of living in this seaside town in Lisbon municipality. We are also going to present you with reliable estimates of how much you would need to lead a comfortable life in this destination. Stick around to find out more.
How expensive is Cascais?
When it comes to the question of whether Cascais is expensive or cheap, there is no one true answer. Depending on who you ask, you will get completely different answers.
Nonetheless, it is also worth mentioning that Cascais is among the wealthiest towns in the Lisbon municipality. By regular Portuguese standards, Cascais easily flies as one of the most expensive places to live in Portugal. However, this doesn't necessarily mean it is away from the reach of many people, particularly expats.
From a global standpoint, Cascais is relatively cheaper than most popular destinations across Europe and North America. To put this in perspective, the cost of living in Cascais is 57.65% less expensive than in New York and up to 40% cheaper than in Paris.
Most expats who choose to live in Cascais have passive income that allows them to live comfortably and enjoy the best of what this town has to offer.
What is the cost of living in Cascais for expats?
As we have already established, Cascais is a relatively expensive destination to live in when compared to other small towns in Portugal.
While that is true, it is also worth mentioning that the cost of living often depends on your individual spending habits. Nonetheless, let's take a look at some data that will paint a picture of the cost of living in Cascais.
Cost of rent in Cascais
Cascais is a town and municipality in the greater Lisbon region. Like any other town in the capital of any country, you expect the cost of everything, including rent, to be higher than average. This is also true when it comes to Cascais.
The demand for housing is ever on the rise, and basic economics dictates that an increase in demand comes with a price increase. On average, the cost of renting a space is €16.2/m². Let's take a look at the cost of renting a house per square meter in the popular parishes in Cascais.
| Parish | Rent per m² |
| --- | --- |
| Alcabideche | €13.2 |
| Carcavelos e Parede | €14.4 |
| Cascais e Estoril | €19.0 |
| São Domingos de Rana | €12.1 |
Estimates are from Idealista (as of October 2022).
House bills
Fortunately, utility bills are priced almost the same all over Portugal, with little differences depending on where you live. The main house bills that you should expect include gas, internet, phone packages, electricity, water, and TV packages.
| Utility | Cost |
| --- | --- |
| Electricity, Gas, Garbage, and Water | €127.30 |
| Mobile internet | €20 |
| TV channel package, wifi, and phone calls package | €35 |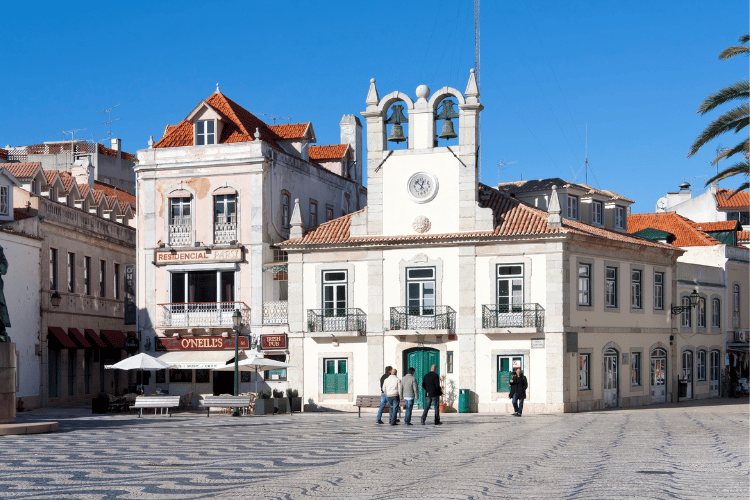 Average spending on food
You may already be aware of how important food is to Portuguese culture. For the Portuguese, food is more than just a fuel source for the body. It is part of what brings families and friends together.
Enjoying a meal together has arguably helped the Portuguese locals foster close ties with their extended family. If you fancy regular bites at restaurants, you should expect your monthly expenditure on food to go up; however, preparing your meals at home is relatively cheaper and will save you a couple of Euros every month.
With that in mind, it is also worth mentioning that the cost of food is quite a significant bill on your monthly expenditure. In fact, buying food comes second right after the cost of the rent. Here is how much you should expect to pay whenever you are out buying food.
| Expense | Cost |
| --- | --- |
| Milk (1 liter) | €0.72 |
| Loaf of Fresh White Bread (500g) | €1.21 |
| Rice (1kg) | €1.13 |
| Eggs (1 dozen) | €1.76 |
| Local Cheese (1kg) | €6.26 |
| Apples (1kg) | €1.62 |
| Potato (1kg) | €0.81 |
| Tomato (1kg) | €1.35 |
| Onion (1kg) | €1.01 |
| Lettuce (1 head) | €0.94 |
| Water (1.5-liter bottle) | €0.59 |
| Chicken Fillets (1kg) | €4.59 |
| Bottle of Wine (Mid-Range) | €5.99 |
Estimates are from Numbeo (as of October 2022).
Expected transport cost in Cascais
Cascais is a relatively small town, and you can easily move around by walking or even cycling. However, if you need to travel to other towns or cities, you will be delighted to know that the public transport system is reliable and efficient.
In fact, Cascais is the only municipality in Portugal with free public transit services for the residents. Free public transportation is essentially above-ground buses that operate within the municipality. However, as mentioned earlier, if you need to move around the city, you can always go walking or cycling away.
Leisure expenses
There are plenty of things you can do for leisure in Cascais; some you will need to pay while others are entirely free. For anyone new to this town, taking a walk along the narrow cobblestone streets to familiarize themselves with the place is highly recommended.
However, you can also engage in other fun activities like playing tennis, going to the cinema, or visiting games and entertainment centers nearby. Also, if you are the outgoing type, the nightlife in Cascais is electric, to say the least.
There are plenty of bars and pumping nightclubs guaranteed to keep you entertained. Now let's take a look at some of the expenses for different leisure activities in Cascais.
| Expenses | Cost |
| --- | --- |
| Gym monthly fee | €38.44 |
| Streaming platform basic price | €8.00 |
| Tennis Court Rent (1 Hour on Weekend) | €12.29 |
| Cinema, International Release, 1 Seat | €7.00 |
| Three-course meal for 2 at a mid-range restaurant | €50.00 |
| Imported Beer (0.33-liter bottle) | €3.00 |
Estimates are from Numbeo (as of October 2022).
What are the cheapest areas in Cascais?
There is no doubt that Cascais is among the most expensive towns in Portugal; however, within this small coastal town, it is not impossible to find relatively affordable neighborhoods that you can call home.
One of the most affordable parishes in the Cascais municipality is Alcabideche. One of the best indicators of a cheaper destination is the cost of property or rent. From previous data, it's needless to say that this particular parish is among the most affordable as far as rent is concerned.
While São Domingos de Rana is cheaper, Alcabideche comes with other perks like the availability of an international school nearby, not to mention its proximity to Sintra national park.
With Viv Europe your plans for Portugal
will finally come to a reality
What are the most expensive areas in Cascais?
When it comes to the most expensive neighborhoods in Cascais, Cascais and Estoril sit right at the top of the list. Here is where the most expensive properties and houses reside.
You will also find the famous Praia da Rainha in this region, where you can have a good time regardless of the year's season. In addition, you also have the option of strolling around on the weekend in the gorgeous Cascais Marina.
Cascais and Estoril are among the most expensive areas for a reason. To put this into perspective, Estoril is also home to the oldest casino in Portugal and the largest in Europe, Casino Estoril. The expensive properties within this region are close to the beach, which is attractive to prospective house hunters.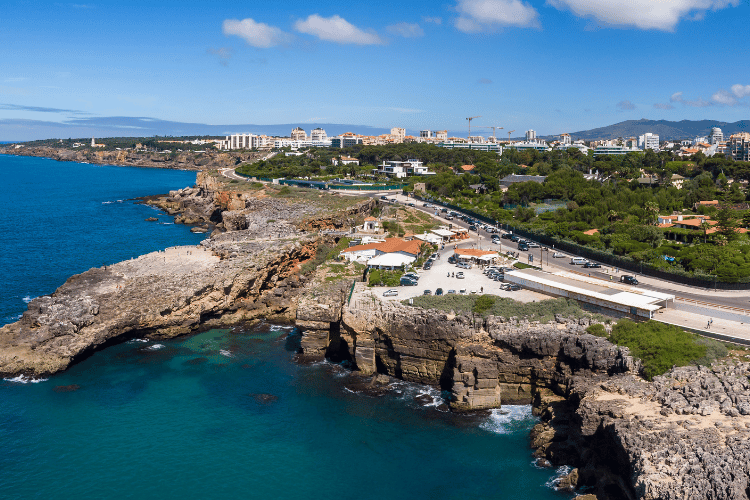 Is Cascais more expensive than Lisbon?
Lisbon is the capital and also the financial hub of Portugal, and the cost of living in this city is more expensive than in any other place in the country. While Cascais is a municipality in the Lisbon region, it is about 30 km away from the heart of the capital city.
With this in mind, the cost of living is, on average less than in Lisbon. According to data from Numbeo, consumer prices are 9.64% higher in Lisbon than in Cascais. However, it is also worth mentioning that Cascais is more expensive than Portugal's national average.
Is Cascais more expensive than the Algarve?
The beautiful region of the Algarve is also among the most expensive destinations in Portugal. When the two destinations are kept side by side, it is fair to conclude that Cascais is relatively more expensive than the Algarve.
Data from Numbeo indicates that you would need about €3,080 in the Algarve to maintain the same standard that €3,300 will give you in Cascais.
Other than the cost of groceries, everything else in Cascais seems to cost more than in the Algarve region. Nonetheless, there are plenty of cheaper neighborhoods in both destinations.
How much do the Portuguese earn in Cascais?
Portugal is among the 13 countries in Europe with a minimum wage of below €1000. Currently, the minimum wage in Portugal is €705 per month, which explains the relatively lower cost of living.
The minimum wage in Portugal is updated every year and could increase or decrease depending on different economic factors in the country.
The good news, however, is that Cascais is among the regions with the best average salary for its residents, currently at €11,859 annually. It is also important to point out that professionals and highly skilled individuals have the capacity to earn more than the average salary.
Is it worth the cost of living in Cascais?
There are many reasons why Cascais is quite expensive in comparison to other cities in Portugal. First off, Cascais is strategically located, close enough to the country's capital yet far enough to escape the hustle and bustle of city life.
What's more, the fact that Cascais is a seaside town, it also experiences a lot of tourism activities which is bound to drive the cost of living up. Having said that, is the cost of living in Cascais worth it?
The answer to this question is entirely dependent on your individual financial situation. For expats looking for peace of mind not too far from the capital, the cost of living is just an expense that comes with the convenience.
However, for others looking for a passive kind of life with minimal expenditure, Cascais might not be the ideal destination.
When are you moving to Cascais?
There you have it, a comprehensive breakdown of the cost of living in Cascais. By now, we hope you have a better understanding of how much you will need to live comfortably in this beautiful town.
With this information, you should be able to tell whether this destination is ideal for you. If you find Cascais a bit too expensive, fret not. Portugal has something for everyone. There are plenty of other regions that will appeal to you.
Whenever you are ready to make the big move, reach out to us. Our professionals at Viv Europe have helped plenty of expats relocate safely to Portugal. If you have any further questions, be sure to join our Facebook Group – All About Portugal For Expats, and interact with other expats in Portugal currently.