Last Updated on May 5, 2022 by Letícia Melo
The Algarve is slowly gaining more popularity because of all it offers. With stunning beach views, mouthwatering traditional food, and historic architecture, Algarve is one of the best places to relocate. It's buzzing with tourists in peak seasons and also has a community of expats that is there for you all year round. But what is the cost of living in the Algarve?
Keep reading to get an estimate of rent prices, monthly groceries, real estate investment opportunities, and more! We'll also help you differentiate between the prices of the Algarve region and other cities in Portugal.
How expensive is the Algarve?
The beauty of the Algarve region lies in its diversity. There are regions in the Faro district that are a lot more expensive than the rest. But, there's something for everyone. You'll find a millionaire living right next to an average-income family, enjoying life in the most beautiful ways.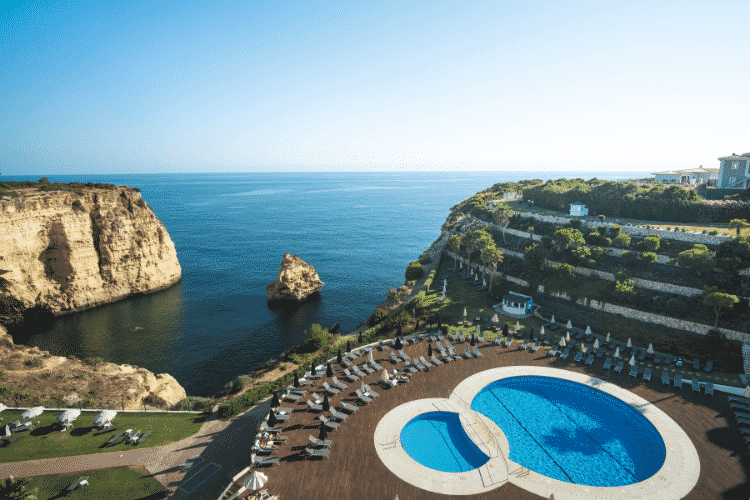 The Algarve is a growing economy with an influx of tourists, out of which many decide to stay. Due to the rising demand for property, the Algarve is known to be the second most expensive region in Portugal. Living in Lisbon is still the most costly, with due credit to technological hubs and exceptional facilities.
What is the cost of living in the Algarve for expats?
Like in any other city, the cost of living in the Algarve can largely depend on your spending habits. The average spending is €556 (excluding rent), which varies from region to region. Later in the article, we'll also cover the most to least expensive areas within Algarve.
Check out the table for a summary of monthly expenses as reported on Numbeo – a well-ranked cost of living website.
| Expenses | Cost |
| --- | --- |
| 1-bedroom apartment rent in the city center | €880 |
| 1-bedroom apartment rent outside of city center | €705 |
| Groceries | €170 |
| Utilities | €88 |
| Mobile internet and phone calls package | €30 |
| TV channel package and wifi | €37 |
| Public transport pass | €33 |
| Gym membership | €31 |
Read also: Top 10 Cities In The Algarve For Expats and choose the best place for yourself!
Cost of rent in the Algarve region
Property in the Algarve region has a huge demand thanks to the booming tourism. However, it is still relatively more affordable than in other European countries. Residing near beautiful beaches is a dream for many expats and Portuguese nationals. This dream has turned into a reality for many digital nomads as expats have started working remotely in Portugal.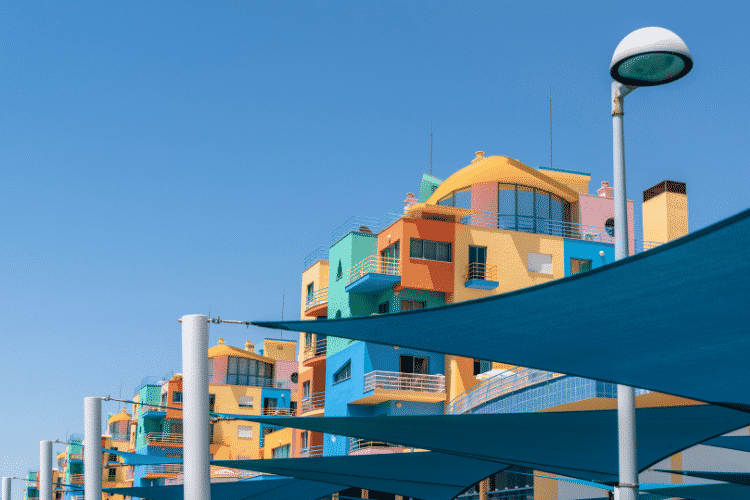 The prices for real estate vary depending on tourists' demand and how far it is from urban areas. You'll have a great time in Portimão and Albufeira if you value more privacy. The table below shows average rental prices per 50 m² in the most popular regions for expats:
| Region | Rent (per 50 m²) |
| --- | --- |
| Portimão | €445 |
| Albufeira | €480 |
| Faro City | €505 |
| Lagos | €530 |
| Loulé | €590 |
The prices of rent were taken from the Idealista real estate website in April 2022.
The average price of purchasing real estate properties
Purchasing Real Estate within Portugal is an excellent investment decision. Many expats use this opportunity to apply for the Portuguese Golden Visa, although the Algarve is now off-limits for this program.
If you're interested in acquiring property within the Algarve region, we recommend that you understand the real estate market first.
The table shows average property prices per 50 m² in the Algarve, from least expensive to most:
| Region | Property Prices (per 50 m²) |
| --- | --- |
| Faro City | €111,400 |
| Portimão | €112,850 |
| Albufeira | €136,200 |
| Lagos | €152,850 |
| Loulé | €159,250 |
Property prices have been taken from the Portuguese real estate website; Idealista.
House bills
Check the table for the monthly expenses of utilities and internet packages per month if you live in an apartment. These are usually standard rates and won't vary greatly in different regions.
| Expenses | Cost |
| --- | --- |
| Electricity, Heating, Cooling, Water, Garbage | €88 |
| TV channel package and wifi | €37 |
| Mobile internet and phone calls package | €30 |
Average spending on food
We know how difficult it is to stop yourself from indulging in a Conquilhas à Algarvia or Tarte de Alfarroba. Fresh seafood from the Algarve coast and Portuguese desserts can be incredibly hard to resist.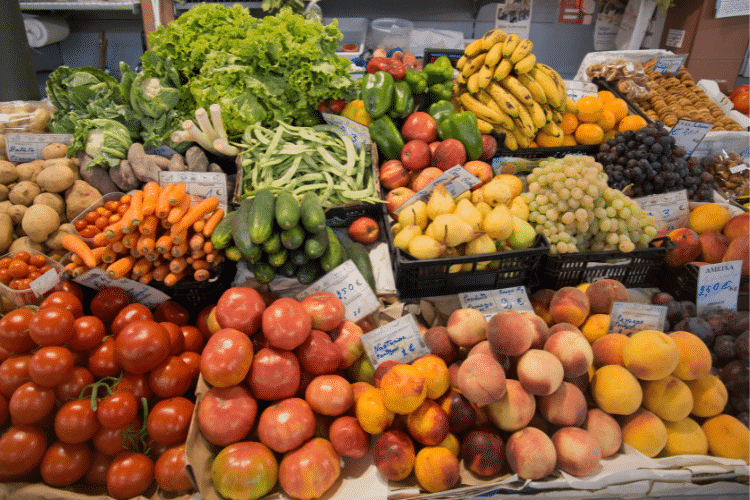 However, cutting down on food expenses will help you stick to your financial goals if you're on a budget. Cooking at home will allow you to maximize spending in the right places. This table shows the prices of the most common grocery items for people living in the Algarve.
| Expenses | Cost |
| --- | --- |
| Milk (1 liter) | €0.54 |
| Loaf of Fresh White Bread (500g) | €1.02 |
| Rice (1kg) | €0.85 |
| Eggs (12) | €1.78 |
| Local Cheese (1kg) | €7.50 |
| Chicken Fillets (1kg) | €4.75 |
| Beef Round (1kg) | €11.00 |
| Apples (1kg) | €1.45 |
| Banana (1kg) | €1.06 |
| Oranges (1kg) | €1.19 |
| Tomato (1kg) | €1.58 |
| Potato (1kg) | €1.01 |
| Onion (1kg) | €1.11 |
| Lettuce (1 head) | €1.07 |
| Water (1.5-liter bottle) | €0.34 |
| Bottle of Wine (Mid-Range) | €3.79 |
| Domestic Beer (0.5-liter bottle) | €1.07 |
| Imported Beer (0.33-liter bottle) | €1.22 |
Average spending on groceries would be around €170 per person, which is subject to increase depending on personal preferences.
Expected transport cost in the Algarve
Almost 66% of the population in the Algarve is part of the working-age category. This means that thousands of people between the age of 15 and 64 years have to travel. If you're frequently required to travel inter-city, renting a car for long-term use might be a good decision.
Many locals prefer using the subway or taxis, and they're great options too. Here's a breakdown of different transport options:
| Expenses | Cost |
| --- | --- |
| Subway ticket in Faro | €2.33 |
| Yellow tram ticket in Faro | €4 |
| Bus and subway pass in the Lisbon area | €33 |
| Average price per 10 km ride on taxi app | €10 |
| Average price per liter of gasoline in Faro (April 2022) | €2.03 |
If you'd like to know more about bringing your own car to the Algarve, feel free to Contact Us.
Leisure expenses
Surfing is one of the best and most popular leisure activities that people do in the Algarve. In fact, you can easily cross off your monthly gym subscription if you learn surfing. Walking around the city, fishing, or going on a vineyard tour are also some affordable leisure activities you'll love equally.
We understand you won't always have the energy to go for a walk or surf on the beach. To help you, we've compiled a list of activities you can do to relax and recharge:
| Expenses | Cost |
| --- | --- |
| Gym monthly fee | €31 |
| Movie theater ticket | €7 |
| Streaming platform basic price | €8 |
| Fast food combo | €7 |
| Meal at a simple restaurant | €9.25 |
| Three-course meal at a mid-range restaurant | €20 |
| Beer | €2.5 |
What are the cheapest areas in the Algarve?
Living in the Algarve can get slightly costly due to the tourism. However, there are still equally marvelous options with more privacy available. Some of these areas are barely 30-minute drives from Faro and Lagoa. So, you can easily travel whenever you feel like connecting with more people or exploring a new restaurant.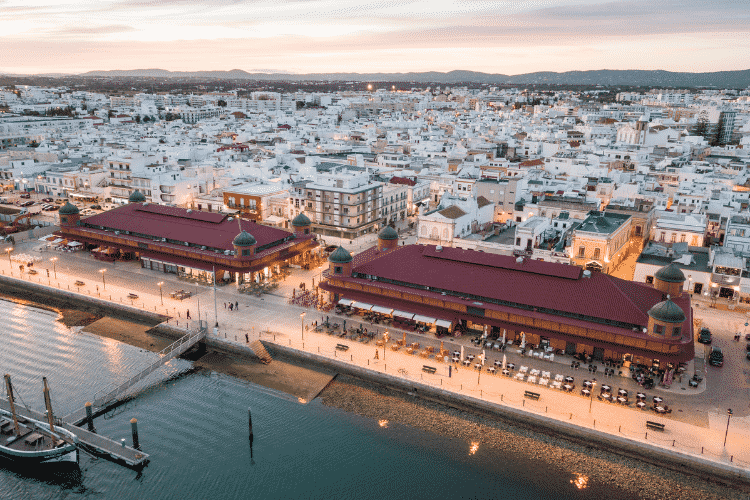 Here is a list of the 5 cheapest areas of the Algarve, based on real estate prices (per 100 m²):
Alcoutim: €74,300;
Monchique: €206,100;
São Brás de Alportel: €209,100;
Vila Real de Santo Antonio: €213,058;
Olhão: €221,400.
What are the most expensive areas in the Algarve?
Albufeira is the most famous city in the Algarve and comes under the top 5 most expensive areas. Loulé, the most expensive area, is a city full of rich Portuguese culture, local artisans, and outdoor activities. It also hosts the Loulé Carnival in February, which is one of the biggest events of the year. In fact, some of the areas where the rich live in Portugal are located on the sunny southern coast.
The areas listed below have central locations, excellent restaurants, captivating beaches, and lots of expats:
Albufeira: €272,400;
Vila do Bispo: €275,700;
Lagoa: €295,000;
Lagos: €305,700;
Loulé: €318,500.
This list is based on real estate property prices (per 100 m²).
Read also: 8 reasons why expats retire in the Algarve
Is the Algarve region more expensive than Lisbon?
The cost of living in the Algarve varies from the cost of living in Lisbon due to different reasons. Lisbon can be pricier due to the technology hubs and brilliant infrastructure. However, Algarve can also be a little expensive due to the foreign community and tourism.
An average 100 m² apartment in Santa Clara can cost around €268,800, which is the lowest. While real estate in areas like Ajuda, Campo de Ourique, and Misericórdia are priced between €400,000 to €600,000.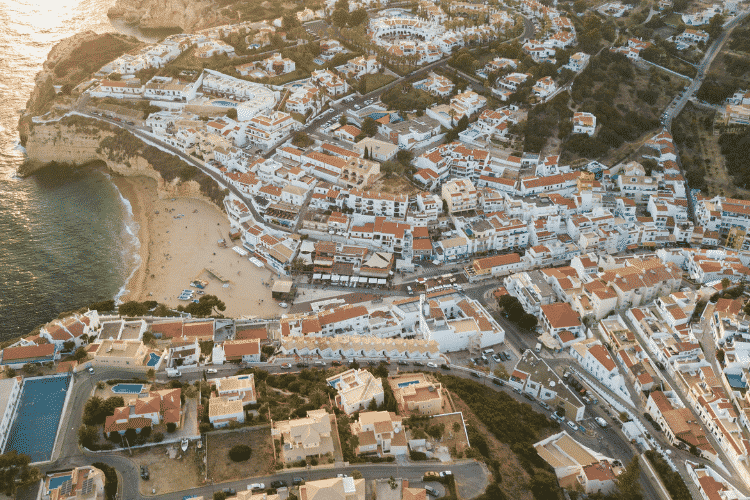 The consumer prices in Faro are 3.03% higher, and groceries are 2.94% higher than in Lisbon. However, the rent in Faro is 6.06% lower than in Lisbon, so it depends on what you value more.
Is the Algarve more expensive than Porto?
Similar to the calculation above, a definite answer is very subjective. There are some things in the Algarve region that you will find cheaper than in Porto. While you may find other things to be more expensive.
Real estate prices in tourist hubs like Ribeira Baixa in Porto are valued at nearly €385,000 (per 100 m²). While Loulé in the Algarve is the most expensive area, valued at only €318,500.
According to Numbeo, the consumer prices in Faro are 4.50% higher than in Porto. In addition to that, rent prices in Faro are 20.52% higher. All areas of Portugal are unique and enjoyable in their own ways.
Read also: Cost Of Living In Porto: Find Out How Much You Need.
How much do the Portuguese earn in the Algarve?
Salaries in Portugal may seem relatively low if you compare them to wages in the United States, United Kingdom, or Canada. However, the cost of living in Portugal is almost 40% lower than in other European countries.
According to data from Pordata, the average wage of an individual residing in the Algarve was €1,029 in 2019. Since it is a tourist hub, jobs in the real estate, construction, and digital marketing sectors are rising.
Is it worth the price of living in the Algarve?
As an expat, you probably value particular things. So, it is a personal decision to give a definite answer of whether it is worth the price. However, what we can tell you is that hundreds of expats have relocated to the Algarve and haven't looked back.
Apart from the growing expat community, living in a region with pleasant weather and a connection to nature is priceless. Everything is not perfect; the labor market or healthcare system might make you rethink your decision. We suggest knowing all the pros and cons of living in the Algarve before planning.
When are you moving to the Algarve?
Like we said at the start, living in a Portuguese beach house is more affordable than you think. Now that you have an idea of the cost of living in the Algarve, let's help you pack your suitcases!
If you prefer reading about expats' experiences living in Portugal, join our Facebook Group – All About Portugal for Expats.
Connect with fellow expats and find the best city in the Algarve region for you! If you need any help with your relocation checklist, our team of professionals would be happy to help you!