Last Updated on June 30, 2023 by Laila Oliveira
Portugal is a hot topic among the expat and tourism circles. However, while many people are considering moving to Lisbon, or the Algarve, you should consider plenty of other hidden gems. One of those cities that is often not given the attention it deserves is Coimbra. Located on the Silver Coast, the romantic city of Coimbra is a good place to call home. But is finding a rental in Coimbra difficult?
It is not just the first capital of Portugal but is also ranked the third best destination to live in the country. So, if you're among the few who have discovered this destination and looking for a home, this post is for you. Sit tight as we delve deep into the intricacies of finding a rental in Coimbra. Happy reading!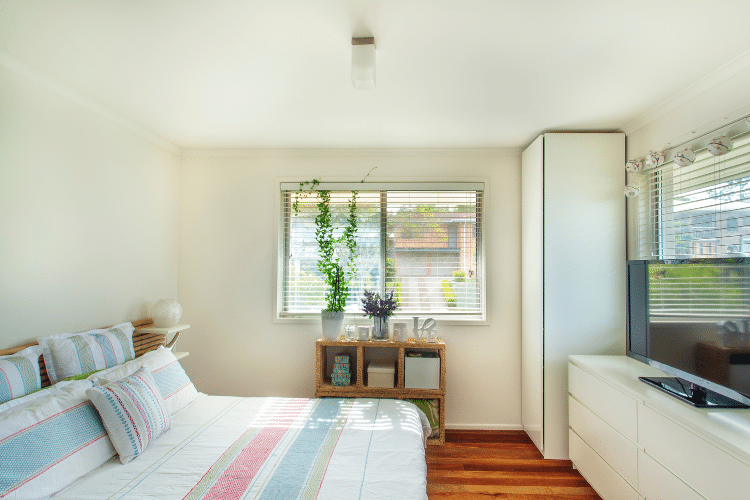 The challenges of finding a rental in Coimbra
Like most other destinations worldwide, finding a suitable rental for you doesn't always come easy. One of the main challenges of finding a rental in Coimbra is the high market demand for housing. Although Coimbra is not quite as popular as other destinations in the country, it's a major education hub with many students and professionals, leading to high demand for rentals.
The limited supply of available rental properties can make it challenging to find suitable accommodations within a desired budget and location. Another challenge common to anyone new to the city is the experience with the real estate market.
Suppose you are new to Coimbra or unfamiliar with the local rental market. In that case, navigating the different neighborhoods, understanding rental prices, and assessing the quality of available properties can be challenging. Conducting thorough research and seeking advice from locals or real estate professionals can help overcome this challenge.
Vacation rentals give tenants much more profit in the summer
If you're fortunate enough to have a rental property in Coimbra, renting it out during the busy summer months is wise. 
Remember, Portugal is a tourist magnet, and so is Coimbra, the tourists who make their way to this city often top the demand and supply balance when it comes to finding rental accommodation. Usually, tourists don't mind paying more to secure a good place to anchor down in their short stay in the city.
While this is a huge advantage to the tenants, it also makes it quite hard for other people looking for long-term accommodation, especially in those prime locations.
However, this doesn't mean it'll be impossible to land a good rental for your needs. The trick is being patient. Also, if you can begin your search earlier, before the peak summer months, your chances of finding a suitable rental also increase dramatically.
Long-term rentals vs short-term rentals in Coimbra
In Coimbra, as in many other cities, you can choose between long-term and short-term rentals. As the name suggests, long-term rentals typically involve lease agreements that last for a year or more.
They are suitable for individuals or families planning to stay in Coimbra for an extended period. Short-term rentals, on the other hand, are the exact opposite. They're available for days, weeks, or a few months. And are mostly suited for travelers, students, or individuals who need temporary accommodations in Coimbra.
When it comes to a cost comparison, long-term rentals often have lower monthly costs compared to short-term rentals. It's also common for landlords to offer discounted rates for longer lease agreements. 
When deciding between long-term and short-term rentals in Coimbra, consider your specific circumstances, duration of stay, budget, and preferences. Long-term rentals are generally more suitable if you plan to stay in Coimbra longer and seek stability and lower costs. However, short-term rentals offer more convenience if you require flexibility or are visiting for a shorter duration.
Living in Coimbra is trending
Living in Coimbra is trending and for all the right reasons. It is amazing that expats are finally discovering this hidden gem and choosing to relocate permanently!
To give some context to this, the number of legal foreign nationals has increased from 6,636 in 2011 to almost 8,000, according to the Pordata. This is largely attributed to the quality of life in this destination.
The cost of living is the other draw that motivates expats to move to Coimbra. Unlike the popular cities in the country, Coimbra is quite affordable, and every coin you earn goes a long way. The fact that Coimbra is home to the famous University of Coimbra makes this destination quite popular among local and abroad students.
Other than that, the climate of the city of Coimbra is one of the mildest in Portugal. As the city is in the center of the country, not too close or too far from the west coast, it has no temperature extremes. It's considered warm and can get quite rainy during winter. Doesn't it sound like a lovely place?
There are still affordable options to rent
Despite the recently found popularity, Coimbra is one destination with something for everyone. Thanks to the higher education institutions in this destination, plenty of affordable accommodation options cater to the students and professionals around. If you're on a budget, you can take advantage of the relatively cheaper accommodation options, mainly for students.
However, if you don't mind spending extra for monthly rent, consider looking for bigger houses, preferably further from the city center where the houses are bigger for a family set up. If you don't know where to begin your search, keep reading, we've listed some websites down below!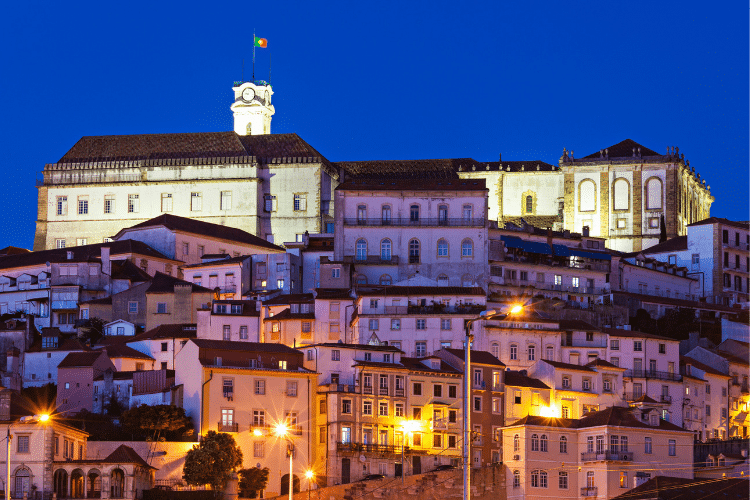 A traditional university town
Coimbra is home to one of the oldest universities in continuous operation in the world, the University of Coimbra, which was founded in 1290. The university has played a significant role in shaping the city's culture, history, and identity.
The university's presence attracts a large student population, making Coimbra a vibrant and dynamic city with a youthful atmosphere. The students contribute to the city's cultural scene, nightlife, and overall energetic ambiance.
The traditions and rituals associated with the university, such as the academic processions, the Festa das Latas (a student festival), and the Queima das Fitas (a traditional celebration marking the end of the academic year), further emphasize Coimbra's status as a traditional university town.
The university serves as an economic engine for the city. The student population helps businesses thrive, particularly those that cater to the needs of the students.
Coimbra rental prices rise every year
Real estate in Portugal is thriving, and the sudden interest in moving to this country is not making it even better. Coimbra is one of the cities in Portugal that is also experiencing good prospects in the real estate industry, manifested in a steady increase in property prices.
Also, the recent popularity of this city makes it quite hard for the demand for rental properties to catch up with the supply, hence the price increase every year.
However, while this is true, the cost of property in Coimbra is still within the affordable range compared to other popular cities in the country and beyond.
Is it worth renting a house or apartment in Coimbra?
Renting a house or apartment in Coimbra can be worth it, depending on your needs, circumstances, and preferences. However, it is worth pointing out that Coimbra is generally more affordable in terms of housing costs compared to larger cities in Portugal, like Lisbon or Porto. Rental prices in Coimbra can vary depending on the property's location, size, and condition.
Researching the current rental market and comparing prices is advisable to determine if it aligns with your budget. Unfortunately, this is one of those decisions you must make for yourself.
So before making any rush decisions, be sure to do your personal research and also seek expert advice from reliable people before making any major step. Nonetheless, Coimbra is a wonderful choice for anyone looking for a quiet, laid-back lifestyle.
How to choose or find a good rental in Coimbra?
Finding the right rental apartment can seem difficult at first glance. You will need to find the right neighborhood and apartment, not to forget one that is close to all the necessary amenities, which adds to the complexity of the process.
However, there are a few simple steps that expats and tourists can take advantage of to ensure success in their house hunting. Let's take a look.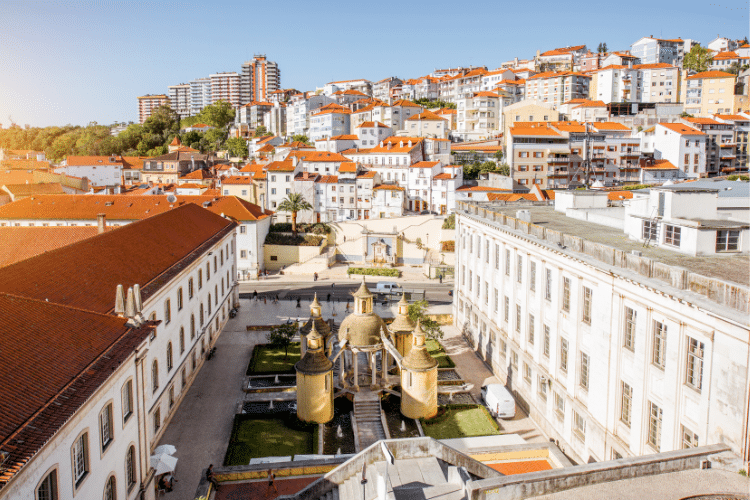 Search a lot on real estate websites
The preliminary stages of finding a suitable rental apartment should begin in your house. In fact, the fastest way to narrow down your search is to take your house-hunting endeavors online. This will help you get a feel of what you are looking for and understand some non-negotiables before visiting any physical location.
Some of the pertinent information that an online search will give you could be about the budget, size, and also specific location. The good news is that many websites with up-to-date information about different houses are available that you can look at as you filter out the ones you don't like.
These websites also give you the unique opportunity of virtually experiencing what the space looks like as well. Here are some of the reliable real estate websites you can visit.
Make contacts with tenants in Coimbra
Take advantage of the existing expat network. It pays to understand the market before you even start looking for a place to live. A good way to achieve this is by getting in touch with those already living in your location of interest.
They can inform you in advance if there are any problems with particular locations or if the neighborhood is suitable for a family setup.
Making connections can offer you access to insider knowledge about the neighborhood rental market, suggest reputable landlords or property managers, and even alert you to impending property availability. Through online expat communities like our Facebook Group – All About Portugal For Expats or other regional community pages, you can get in touch with tenants.
Talk to real estate experts
Lastly, there is no substitute for professional help. Only a real estate expert will be able to understand your unique needs and advise you accordingly.
Realtors have years of experience and also understand the current market trends that you might not be aware of. So before signing any papers or closing any deals, be sure to consult with a real estate expert first.
This can help you immensely to find the right property that meets your needs and budget. And it also helps to let professionals deal with the bureaucracy that comes with trying to find a rental and locking a deal.
Do you want to come and live in Coimbra?
If you have gotten this far, it is highly likely that you are interested. It is a good destination to call home despite the few challenges that often hinder finding a rental in Coimbra.
Just like the rest of Portugal, Coimbra has found the perfect balance between a low cost of living and a good quality of life. It is just one of those things that you have to experience on your own.
Still need clarity and help? Our experts at Viv Europe will help you transition to Portugal and provide you with expert advice when looking for a house for rent. Reach out, ask questions, and start working on your dream location!