Last Updated on April 26, 2023 by Maryam Siddiqui
Portugal is a beautiful and diverse country, and expats have been discovering that recently. But while most people are moving to Lisbon or the Algarve, the romantic city of Coimbra is often unduly forgotten. We're here to shed light on what it's like to be living in Coimbra as an expat and why you should consider it too.
Tag along to discover all about living in one of Portugal's most important towns near the charming Silver Coast. Keep reading to know who lives there, the best neighborhoods for you, employment opportunities, safety, and more!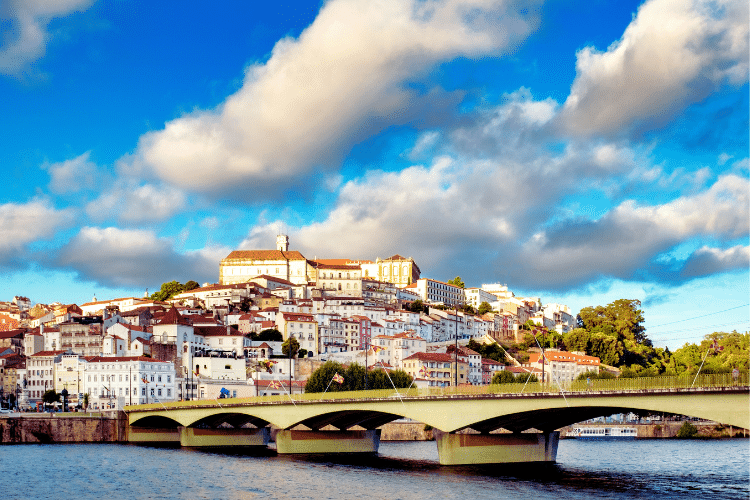 Living in Coimbra: day by day
The city of Coimbra is one of the oldest and most important in Portugal. Before Lisbon, it used to be Portugal's capital and home to many monarchs, poets, and scholars. As time went by, Coimbra never lost its charm.
Today, it's possible to enjoy the city's medieval monuments, beautiful gardens, and amazing promenades along the Mondego River.
According to the Portugal City Brand Ranking 2022, Coimbra is the 3rd best city to live in Portugal, behind Lisbon and Porto. In addition, it's also the 5th best city to do business in Portugal.
Who lives in Coimbra?
With a population of around 141,396 in 2023, Coimbra maintains its small-town vibe while being an urban hub. According to data on Pordata, around 5.7% of the city population comprises foreigners with residence permits.
Why are expats moving to Coimbra?
In addition to being a complete and self-sufficient city, Coimbra is beautiful and provides its inhabitants with a high quality of life.
Families find Coimbra an excellent place to live in safety and good value for money.
It has also attracted many international university students and researchers, given the excellent reputation of the University of Coimbra. Wait till you see the beautiful Botanical Garden inside this university.
Get to know the district of Coimbra
Located in the Central region of Portugal, and also in the Silver Coast area, the district of Coimbra is one of the most important for the Portuguese economy.
The natural beauty of Coimbra attracts thousands of tourists every year, especially in the summer.
The district capital, Coimbra, is full of life. However, the rest of the Coimbra region is much less densely populated, especially inland. Most of the district is made up of rural and mountain areas, true paradises for lovers of nature and the outdoors. But the coastal part of the district is also very pleasant, one of the best on the Silver Coast.
Some of the main cities to live in Coimbra, in addition to the district capital, are:
In recent years, the region of Coimbra and the Center of Portugal has been working hard to modernize the area.
Piódão, at the eastern end of the district, is a very charming remote mountain village, considered one of Portugal's most hidden secrets.
Cost of living in Coimbra
Does all this beauty come at an exorbitant cost? Nope.
The cost of living in Coimbra is one of the lowest of the main cities in Portugal. For example, living here costs much less than living in Lisbon, and some say it's much more rewarding.
Check the table below for average values for the cost of living in Coimbra.
| Expenses | Costs |
| --- | --- |
| Apartment (1 bedroom) in City Centre | €590 |
| Apartment (1 bedroom) Outside of Centre | €430 |
| Apartment (3 bedrooms) in City Centre | €855 |
| Apartment (3 bedrooms) Outside of Centre | €666 |
| Groceries (monthly) | €250 |
| Utilities | €101 |
| Public Transport | €30 |
| Gasoline (per liter) | €1.88 |
| Leisure/Sports | €40 |
Estimates are from Numbeo (as of April 2023).
It's worth remembering that the values in the table are estimates, which may vary according to the real estate market, your consumption habits, and your needs.
For example, the cost of housing for students at the University of Coimbra can be much lower if they take advantage of student accommodation or share apartments.
Best neighborhoods to live in Coimbra?
Vale das Flores and Solum
The neighborhood of Vale das Flores, in the parish of Santo Antonio dos Olivais, is an excellent option for families to live in Coimbra. The Solum area, right next door, is also worth appreciating. They're among the most valued sites in recent years, recognized as noble areas of Coimbra.
Even though these neighborhoods are located close to the center, and the University of Coimbra, those who live here can enjoy a peaceful lifestyle. They are right east of the city, north of the Mondego River, and are full of the best parks, supermarkets, shops, schools, and banks. It pleases practically any type of person.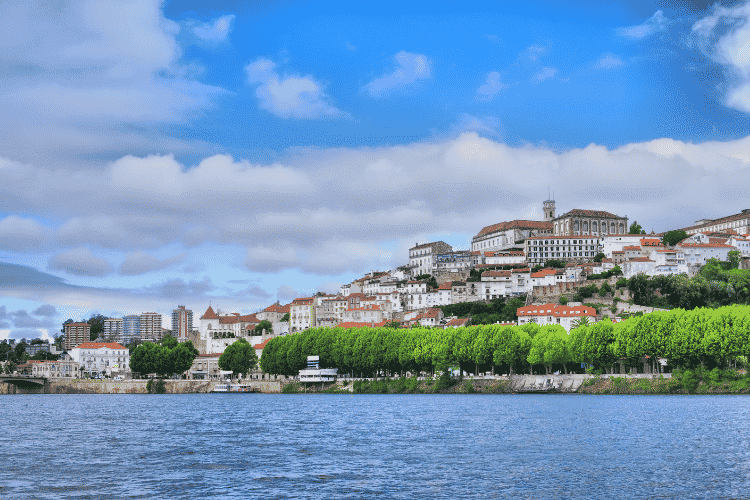 São Martinho do Bispo
One of the biggest neighborhoods in Coimbra, and also one of the best, is São Martinho do Bispo. It covers the western part of the city from north to south of the Mondego River and offers a more modern and spacious area to live in.
The inhabitants of São Martinho do Bispo, despite not living in the center of Coimbra, are well connected there by the good public transport available. This is also where the Polytechnic Institute of Coimbra is located.
As well as the main hospital centers in the city, supermarkets, restaurants, and more modern buildings and houses. São Martinho do Bispo is ideal for families and those who're looking for more peace.
Santa Clara
South of the Mondego River and a bit far from the center of Coimbra's attention is the Santa Clara neighborhood. Despite not being the city's center, this area is very pleasant to live in and has important tourist attractions. And besides, it's just a bridge crossing from the university area.
The famous Quinta das Lágrimas is located here, next to many green areas. The inhabitants of Santa Clara can then enjoy calm and serene day-to-day. Shopping malls, cafes, and supermarkets supply the area, which is excellent for raising a family.
Alta
Known as Alta, for being the highest part of the city of Coimbra, this is one of the best neighborhoods to live in here. It's central and very old, so the streets and buildings can be a bit old-fashioned, as well as charming.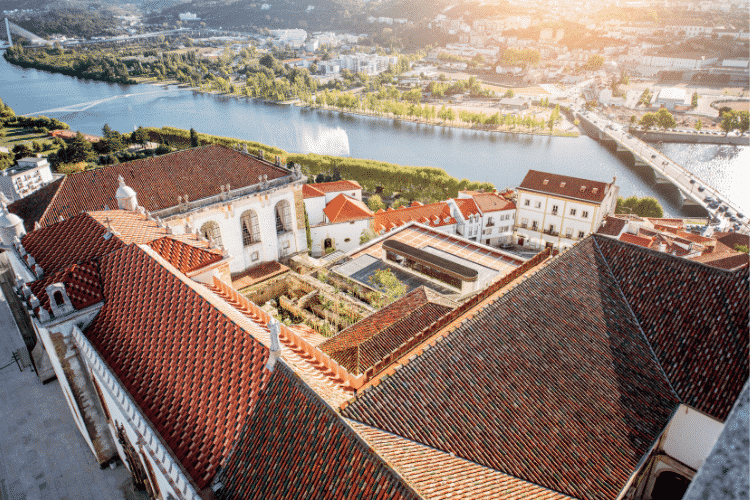 Even so, if you're looking for fun and being close to the University, this is the ideal place for you to find a home. It's located in the parish of Coimbra, north of the Mondego River.
However, you should know that you may have difficulty finding spaces to park your car and have to walk many climbs in the upper part of Coimbra. But in all honesty, people don't mind because of the value this place offers.
Celas
Another neighborhood recommended for those going to study at the University of Coimbra is Celas. The neighborhood is one of the most complete areas in the city, offering hospitals, university centers, schools, hotels, and supermarkets. It's a central area, but not too busy.
Not to mention the many hip cafes, bars, and restaurants in the area. Celas is also home to some historical monuments of Coimbra, and a commercial street with famous fashion brands. A neighborhood to keep in mind!
Buying a house in Coimbra
Buying a house here, whether or not you're going to be living in Coimbra, is an excellent decision. Portugal's real estate market is booming, and investments by expats are at an all-time high.
If you're interested in Coimbra, it's worth getting to know the real estate market in Portugal well in advance. After all, a real estate investor must be able to identify good and bad investments.
Find out some values for the Coimbra district in the table below. Values are taken from Idealista, a renowned real estate website in Portugal:
| Area | Price of 100 m² property |
| --- | --- |
| City of Coimbra | €228,900 |
| Figueira da Foz | €152,600 |
| Cantanhede | €96,500 |
| Montemor-o-Velho | €78,400 |
| Oliveira do Hospital | €65,300 |
Estimates are from Idealista (as of April 2023).
It's worth remembering that these numbers may vary over the next year, location, and property conditions. Before making a real estate investment in Portugal, it's advisable to consult a professional.
Viv Europe has helped many expats with their real estate decisions. We offer professional consultancy services that'll support you in living your dream life in Portugal. 
From the moment you start your legal migration process till your final move to Portugal. Contact Us in case you have any doubts about investing in real estate in Portugal.
With Viv Europe your plans for Portugal
will finally come to a reality
Weather in Coimbra
The climate of the city of Coimbra is one of the mildest in Portugal. As the city is in the center of the country, not too close or too far from the west coast, it has no temperature extremes. It's considered warm and can get quite rainy during winter.
See the table below for some data about the average temperatures in Coimbra:
Data
Spring
Summer
Fall
Winter
Max. Temperature
19 ºC
(66.2 ºF)
27.2 ºC
(80.96 ºF)
21.3 ºC
(70.34 ºF)
13.8 ºC
(56.84 ºF)
Min. Temperature
8.7 ºC
(47.66 ºF)
15.1 ºC
(59.18 ºF)
11.4 ºC
(52.52 ºF)
4.8 ºC
(40.64 ºF)
Rainfall
85.6 mm
(3.3 in)
17.6 mm
(0.6 in)
98.6 mm
(3.8 in)
103 mm
(4 in)
Table data was taken from the Climate Data website.
As you can see, it's neither too hot, as the Algarve can be for some expats, nor too cold, like many northern European countries. In other words, practically perfect weather.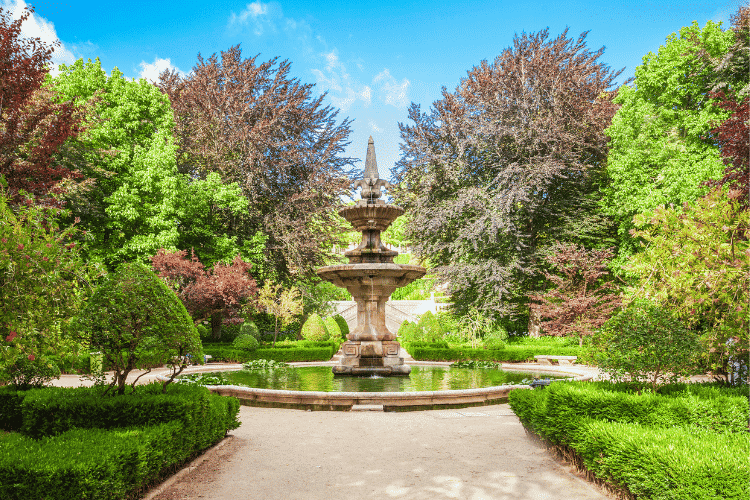 Traffic and Public Transport in Coimbra
Coimbra is served by a public transportation system consisting of buses and trains. Things are a little different here than in Lisbon and Porto, where the metro is the preferred channel. However, thanks to expats and tourists like you, developments within cities are on the rise.
Most tourists arrive in Coimbra via a train from Porto or Lisbon, where the former is closer. Once tourists are here, they like to walk around since the distance between major attractions is short.
The other option is its bus system which is very punctual and efficient. They're an excellent option if you want to travel a bit far away. Alternatively, you could take a taxi waiting outside the major public areas, but it might get expensive. 
Some roads are a little narrow and tight. So if you do decide to rent a car or drive your own, it's nice to be mindful of the car's size. A car may be useful if you want to go to other areas in the Centro region.
Safety in Coimbra
According to the Global Peace Index, Portugal is one of the top safest countries in the world. Hence, you can be sure to wander the streets of Coimbra freely.
The Annual Internal Security Report for Portugal stated that Coimbra has one of the lowest crime rates in the country. Thus ranking it as the third-best city to live in Portugal.
As you can probably tell by reading the article so far, you'll find numerous families living in Coimbra. Many of which will be there for you and your family in case you need something.
Of course, everyone's advised to practice caution no matter where they are in the world. But, thanks to Portuguese culture, people are very welcoming, and hate speech is not a norm at all.
Labor market in Coimbra
If you want to find work in Coimbra, there's a lot that the city offers. However, not as comprehensive or well-paid as Lisbon or Porto. In addition, entering the job market in Portugal can be a rather thankless task due to the country's high competitiveness and low salaries.
Many students from Coimbra move to the capital Lisbon, or even to other European countries in search of better job opportunities.
To work in Portugal, in the vast majority of cases, the worker must know at least the basics of the Portuguese language. Another situation where learning to speak Portuguese pays off when we move here.
Public and private healthcare
Coimbra also offers its inhabitants excellent public healthcare. The National Health System of Portugal, (SNS), welcomes all people in the country and has several free essential services for the population. 
When you move to Portugal and already have your residence permit, you can register in the public system and make your User Number. In this way, benefiting from the same rights to the public system as a local.
Coimbra has a large general public hospital, the Coimbra Hospital and University Center (CHUC), and the Portuguese Oncology Institute of Coimbra (IPO). Excellent professionals usually do the services, and the local population is satisfied with the services.
Even so, if you prefer faster or more personalized service, you'll be happy to know that Coimbra also has an excellent offer of private healthcare.
We have an article on the Top 5 Best Hospitals in Central Portugal. To make it easier for you to understand, the main options for private healthcare in Coimbra are:
If you want to resort to private health, it's recommended that you have Portuguese health insurance for the costs, which are usually much lower than in the United States, for example.
Studying in Coimbra
Studying in the third-best city in Portugal is nothing short of an experience itself.
The University of Coimbra accepts international students in its various higher education courses. In addition to being one of the oldest universities in the world, it's also one of the best universities in Portugal. In fact, since 2013, the University of Coimbra has been recognized by UNESCO as a World Heritage Center.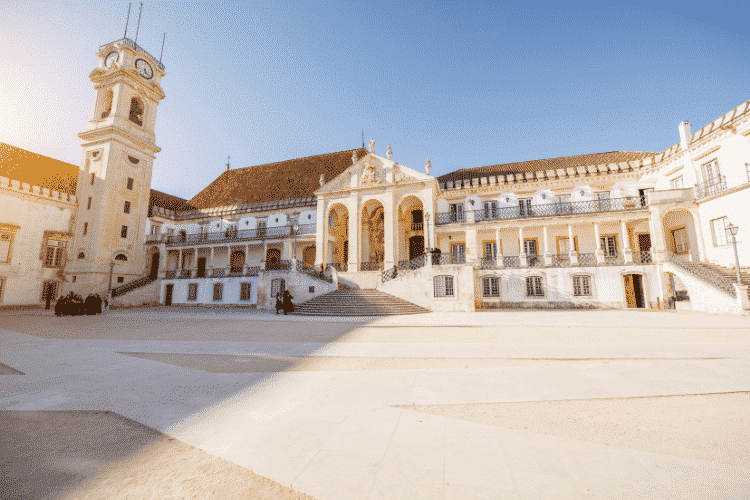 Nightlife in the city revolves around academic life, one of the country's most traditional. And the animation of young university students shapes the day-to-day life of Coimbra's residents while offering more friendly prices to the university city.
In addition to the University of Coimbra, there are other good higher education institutions in the city with classes in English. Let's look at some of their names:
For foreign citizens wanting to study in Portugal, a student visa is needed if they're from outside the European Union. Check out how to get a Student Visa In Portugal.
Leisure and Nightlife in Coimbra
While living in Coimbra, you can enjoy the city's many leisure options. For those who like to practice sports, Coimbra has excellent outdoor areas along the bank of the Mondego River with gardens, playgrounds, and much more. Perfect for running, weight training, rollerblading, yoga, and so on.
In addition, Coimbra is famous for its nightlife. Thanks to university students, there are many typical restaurants and excellent bars at lower prices than normal in Portugal. There are parties and excitement throughout the week in the university area.
If what you're looking for is a city with calmness, do not despair. Although there's indeed a young audience in Coimbra, there's plenty of space for families and the quieter ones. 
There's an excellent offer of restaurants, schools, and a rich cultural program. You and your family can also enjoy malls, theaters, museums, and parks to entertain all ages.
How is Coimbra compared to Lisbon and Porto?
Coimbra has its own charm. Although it's much less than the two best cities, living in Coimbra is not far behind in terms of quality of life. Living in Lisbon and living in Porto are undoubtedly excellent choices for some people. 
However, especially for those looking for peace and calmness, Coimbra can stand out. It gives you the feeling of being in civilization without losing the charm of a small town. Not to mention, it's much cheaper.
Some say that Coimbra is Lisbon on a smaller scale, but that would diminish the city's true value. Coimbra is the first capital of Portugal, rich in history and culture, and one of the best cities to live in Portugal.
Coimbra or Aveiro? Which is the best city on the Silver Coast?
Coimbra and Aveiro are some of the tourists' favorite cities to explore. If we're being honest, they're similar but have their unique charms; let's help you compare them a bit.
By now, you know much about living in Coimbra. So let's tell you what Living in Aveiro is like. The city of Aveiro has almost half the population, standing at 81,490. 
The city is much like the Algarve, a newly-found retirement destination that once used to be a tourist hot spot. Don't get us wrong, it's still a tourist hotspot, but you'll also find many foreign residents there.
Aveiro, or the Venice of Portugal as people like to call it, has amazing infrastructure, education, and social amenities. It's as full of history, culture, and pretty sights as Coimbra is. The city of Coimbra, however, is more of a mountain town surrounded by ridges.
As far as the expenses are concerned, rent prices in Coimbra are nearly 9.2% lower than in Aveiro. Additionally, grocery prices in Coimbra are about 4.4% lower, but the purchasing power is 10.2% higher.
Is it worth living in Coimbra?
We'd love to know your thoughts too! As far as we're concerned, we think living in Coimbra may be an excellent choice for your lifestyle. Or perhaps, you may find your ideal city elsewhere in Portugal. The only way to be sure is by visiting Coimbra and deciding for yourself.
But one thing is for sure; there's something for everyone in Portugal.
Living here, you'll get to be in a safe and fun city, with life, opportunities, and quality of life for a low cost, and still feel like you're somewhere in a small town. It's traditional, hilly, very Portuguese, and pure charm. If that's what you're looking for, then welcome to Coimbra!
Consider joining our Facebook Group – All About Portugal For Expats to get in touch with other expats and learn from their experiences. Share your thoughts, doubts, and experiences, and remember, you can always count on our community.
Feel free to book a consultation with Viv Europe to kickstart your dream life. Let experts deal with bureaucracy and paperwork while you get packing!