Last Updated on February 17, 2023 by Laila Oliveira
Are you thinking of moving to Europe? Well, there are endless options for choosing the country you want to settle in. Before you get overwhelmed by choice, let's help you decide whether Portugal or Italy can suit your lifestyle.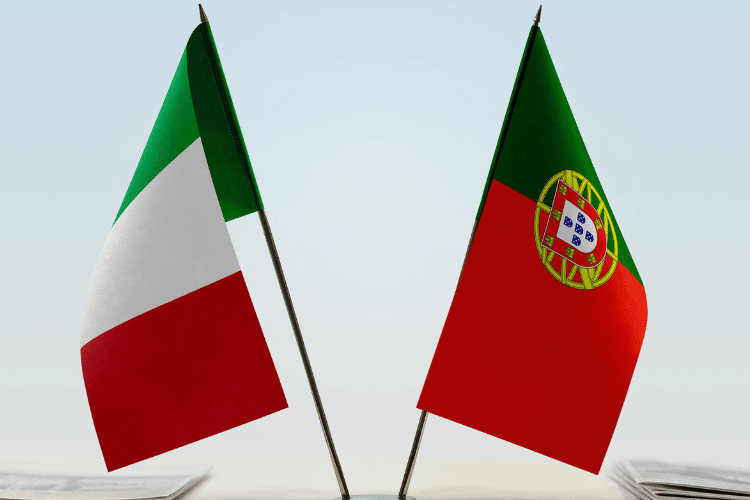 There are many reasons why these two options are great for expats; among the popular ones include the rich culture, beauty, and history, not to mention the fantastic gastronomic scene.
Although both countries are great, you have to settle for one at the end of the day. So, which one is it? Portugal or Italy? To help you in decision-making, here is a detailed guide about the similarities and differences between these two countries concerning issues like the cost of living, transport, and general livability of the country.
Portugal or Italy? Why expats choose them
Moving to a different country is not always an easy choice. The thought of starting over in a completely new place is often overwhelming for many people. While that is true, it is quite surprising how easily expats from all over the world find it easy to relocate to either Portugal or Italy.
It is no coincidence that Portugal and Italy are among the most sought-after destinations in Europe. From the outside looking in, you would be forgiven to think that these two countries are similar. They both offer amazing weather all year round and rather relaxing and slow-paced life that you wouldn't find just anywhere.
Also, the overall quality of life in these two destinations is impressive. Whether you are moving to one of these two countries for work-related reasons or retirement, you should know that plenty of good things await you.
Differences between the countries
From the outside looking in, the cultures of these two countries may appear almost similar. However, several subtle differences help distinguish these two nations from one another. Cultures aside, several other distinguishing factors will help you in the decision-making process, for instance, the cost of living and other aspects of everyday life.
Cost of living in each country
Before thinking of moving to any country around the world, you ought to find out what the cost of living is like. Remember that the cost of living will affect your everyday activities and overall quality of life. That said, it is common for expats to be drawn to destinations with a cheaper cost of living.
When it comes to choosing either Portugal or Italy, the cost of living should also be a major consideration. In comparison, it is necessary to acknowledge that the cost of living in Portugal is relatively cheaper than in Italy.
To put some context to this statement, consumer prices in Portugal are 20.7% lower than in Italy, including rent. Also, you would need approximately €4,174 in Rome to get the same lifestyle that €3,700 will give you in Lisbon, Portugal, according to data from Numbeo. 
Portugal is an excellent option if you want a destination where you can live comfortably on a budget. Although the cost of living in Portugal is cheaper, you should keep in mind that your individual spending will often determine how much you will need every month.
| Expense | Portugal | Italy |
| --- | --- | --- |
| A single person's estimated monthly cost (without rent) | €547 | €765 |
| 1-bedroom apartment in the city center | €749 | €655 |
| Family of four estimated monthly costs (without rent) | €1,921 | €2,698 |
| 3-bedroom apartment in the city center | €1,315 | €1,249 |
Data is from Numbeo (as of February 2023).
Renting a property in Portugal or Italy
Although the cost of living in Portugal is generally cheaper than in Italy, you will be surprised to know that the cost of rent in Portugal is more expensive. While this is true, it is worth mentioning that since the cost of living on other fronts is generally cheaper, you will still be saving money if you choose to live in Portugal compared to Italy.
The labor market in Portugal and Italy
To begin with, it is worth pointing out that Italy is significantly larger than Portugal when it comes to both square footage and population. With regard to size, Portugal is about 92,090 square kilometers, while Italy is approximately 301,340 square kilometers.
Portugal has a population of just over 10 million people compared to Italy's 59,110,000. As such, the economy of Italy is also significantly larger than Portugal's.
As it stands, Portugal has an average unemployment rate of 5.7%, and expats often find the transition slightly challenging. On the other hand, Italy is not so different either; with an unemployment rate of 8.1%, the prospect of finding a job is relatively more difficult compared to Portugal.
However, that is expected, given the country's population size. While that is true, it is also worth mentioning that there is a demand for highly skilled personnel in specific fields like technology, especially in larger cities like Lisbon and Porto.
| Data | Portugal | Italy |
| --- | --- | --- |
| Minimum Wage | €760 | No minimum wage in Italy |
| Average Salary | €983 | €1,551 |
Transport
The good news about living in most European countries is that the public transport system is efficient, and the same is true for both Portugal and Italy. You don't necessarily need a personal vehicle to get by in these two countries; there are several reliable public transport options that you can take advantage of.
The two most common public transport systems in Portugal are trains and buses. The vast train network in the country connects different towns and regions, facilitating easy movement for anyone interested in moving around.
The beauty of this mode of public transport is that monthly passes are affordable. Apart from the train, public buses are another affordable yet reliable means of transportation. The buses ply different routes and are a great way of exploring cities in Portugal. Portugal boasts of two subway systems in Lisbon and Porto that offer monthly passes or daily tickets.
Italy has similar means of transport as well. The vast train network connects different cities with the help of the high-speed Frecciarossa trains that travel at 300km/hr. Italy has 4 metros in Turin, Milan, Rome, and Naples. Each metro station charges different prices for tickets with varying periods of validity.
Finally, buses in Italy are also another good choice, especially when you want a good view of the city. However, you need to keep in mind that buses in Italy are limited during public holidays and on Sundays.
With Viv Europe your plans for Portugal
will finally come to a reality
Climate
The climate in Portugal and Italy is among the most favorable in Europe. Both nations have reliable warm weather almost all year round, which is often a major draw for expats from the world's colder regions.
However, when compared side by side, Portugal is relatively warmer, with some regions in the Algarve promising up to 3,000 hours of sunshine every year. As expected, the summer regions in Portugal are very hot, while the winters are surprisingly not as dramatic as in other European regions. However, if you are interested in settling in the northern region, remember that northern Portugal is often colder, with heavy rainfall during the winter.
Although Italy is generally warmer, for the most part, different cities often experience extremities about the weather difference. This is largely attributed to the relatively larger geographical size causing some cities to experience different weather patterns.
For instance, southern Italy enjoys a Mediterranean climate while cities like Milan and Venice experience extreme climates, especially during the winter. Here is a summary of what the temperature looks like in the different seasons of the year.
Region
Spring
Summer
Fall
Winter
Portugal
15.4 ºC
(59.72 ºF)
21.4 ºC
(70.52 ºF)
18.1 ºC
(64.58 ºF)
11.8 ºC
(53.24 ºF)
Italy
10.6 ºC
(51.1 ºF)
22.5 ºC
(72.5 ºF)
17.1 ºC
(62.8 ºF)
8.5 ºC
(47.3 ºF)
Data is taken from the Climate Data website.
Culture
To an expat, the cultures of Portugal and Italy might appear to be similar. In fact, this assumption is not far from the truth because both cultures have a strong focus on food and family. The major difference, however, is in the type of food that the two cultures enjoy. In the case of Portugal, the local population loves seafood, while Italians cannot live without pasta.
Another difference between Portuguese and Italians has to do with their personalities; while in Portugal, the local folk are relatively quieter, Italians are the exact opposite. They are passionate and can be quite loud, especially when talking about the things that they love.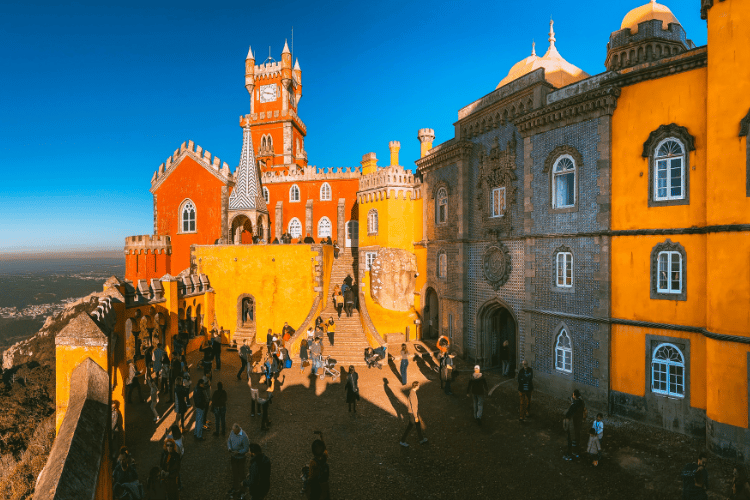 However, while there might be some truth in this, remember that these are just stereotypes and don't necessarily apply to everyone you meet in Italy.
Another thing worth pointing out is that both nations have rich histories dating several centuries ago. However, Italian history and culture are often more interesting to many people compared to Portuguese culture.
Security
When it comes to which country between Portugal and Italy is safer, it is worth mentioning that Portugal is the clear favorite. Data from the Global Peace Index ranks Portugal as the fourth safest destination in the world while Italy takes the thirty-first place.
What makes Portugal generally safe and peaceful begins with the local population. The Portuguese are very accommodating to people of all ethnicities. Also, the government's laws against gun ownership have gone a long way in limiting the prevalence of organized crime.
Although Portugal is one of the safest destinations in the world, you should always be aware of petty crimes that happen in touristy destinations like the Algarve region.
Italy, on the other hand, is generally safe; however, the only disadvantage is the prevalence of organized crime groups like the mafia. Although this only occurs in some cities in Italy, it is a concern that expats must be aware of before settling in this country.
Finally, whether you choose to settle in Portugal or Italy, you should always take your safety as personal responsibility. Avoid walking along dark and unfamiliar routes, especially when alone. Also, being aware of your surrounding will go a long way to keep you and your loved ones safe.
Immigration Law
Because the two countries are among the European Union member states and within the Schengen area, they have similar immigration requirements. If you follow the due regulations, it is possible to get a residence permit in Portugal or Italy.
Another note-worthy similarity between these two nations is that both have the Golden Visa program that allows qualified investors to move and stay in either of the countries.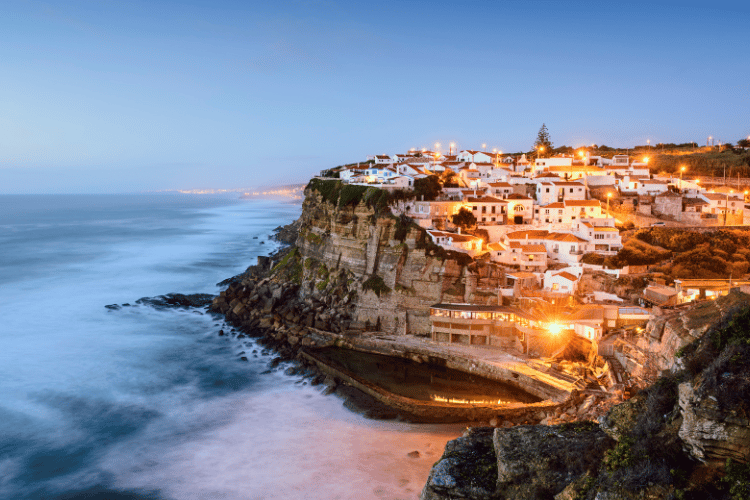 Taxes
Before discussing the differences when it comes to taxation in both nations, the one similarity that Portugal and Italy share is that there is no room for double taxation. Both countries have treaties with EU and Non-EU nations to help prevent this problem.
Now, when it comes to taxation Portugal and Italy are quite different. The standard income tax for everyone working in Portugal ranges from 14% to 48% relative to what you earn.
Expats in Portugal can also enjoy the Non-Habitual Tax Regime, that provides tax benefits for 10 years to qualified applicants. This regime only taxes income earned in Portugal at a flat rate of 20% regardless of your salary.
Also, any income you earn away from the country as an expat is not subject to any taxation.
Italy, on the other hand, has a different approach when it comes to taxes. Apart from the standard national income tax that ranges between 23% to 43%, you need to be aware of other types of taxation. Here is a breakdown;
Regional income: 1.23% to 3.33%.
The Municipality Income tax. This levy depends on the municipality of residence and ranges between 0% and 0.8%.
Flat 7% tax rate for pensioners if they live in a municipality with less than 20,000 inhabitants.
Bottom Line: Portugal or Italy?
There you have it, a detailed breakdown of the two similar yet quite different European nations. We hope that this comprehensive rundown has helped bring you closer to a decision.
Nonetheless, regardless of your choice, you should know that both nations have a lot to offer to expats worldwide. However, if you are looking for a destination that has a little bit of everything in one place, Portugal should be ideal. The cost of living is relatively lower, it is peaceful, and the taxes are also fairer.
So when you are ready to make the jump, be sure to reach out to our experts at Viv Europe, who will walk with you every step of the way. Also, join our Facebook Group – All About Portugal For Expats, and get to interact with other expats who have been through the journey before.