Last Updated on March 20, 2023 by Laila Oliveira
It's hard to choose between two countries as good as Portugal and the UK when you're thinking about moving. Both have their own set of pros and cons to offer. They're not just two countries with picturesque streets and a dream-like lifestyle; there's so much more to them! But which one seems to be better? Portugal or UK?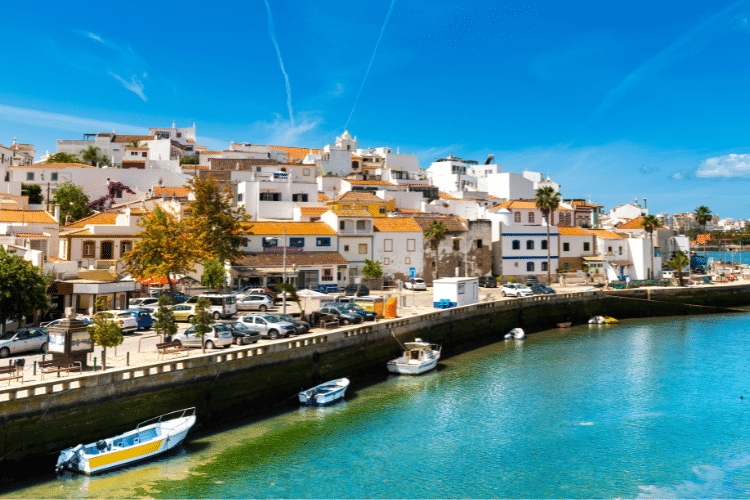 There's much to consider when you're making that decision. First things first – what is it that you're looking for? A relaxed lifestyle? A different climate to live in? A retirement destination or perhaps good schooling opportunities? Here's a run down on everything that'll be a key factor when planning your relocation. 
In this article, we'll guide you to make a better-informed decision between the two countries. Whether that is to retire, work, or study in Portugal or the UK, you'll have all the info you need! Happy reading! 
Portugal or UK? Here's why expats choose them
Our goal for this article is to summarize all the reasons that go through an expat's mind before they finalize their decision. First, let's talk about why Portugal became famous in the first place. 
Portugal has become a popular destination for expats due to its warm climate, stunning beaches, and lower cost of living compared to the UK. Porto, Lisbon, and the Algarve are particularly popular among expats for their standard of living. And they maintain their popularity because of the large expat community.
More importantly, Portugal has a favorable tax system for foreign residents. This makes it an attractive option, especially for retired expats who're living on a pension. To make it a complete package, Portugal offers a high quality of life, with a laid-back lifestyle, excellent healthcare, and a welcoming local community.
We'll talk more about Portugal throughout the article. But first, the main reason why a lot of young expats prefer the UK is thanks to its excellent education system and a strong economy. 
For example, London is a hub for international businesses and thus attracts professionals from all over the world. The UK also offers a higher standard of living than Portugal, with access to world-class healthcare, entertainment, and shopping.
So as you can tell, they're pretty similar but unique in their own ways. If you want a relaxed lifestyle and a warmer climate, Portugal might be the better option for you. If a relatively larger economy and a variety of job opportunities interest you, then the UK might be the better option. 
Even so, you need to learn about the cost of living, immigration laws, safety, and much more before you make your decision. Below is a complete analysis that can help you decide whether Portugal or UK is the destination for you. Keep reading!
How is the UK different from Portugal for living?
Language, climate, lifestyle, and cost of living are only some of the many differences between the two countries. The UK is more convenient for communication for expats as English is the national and widely-spoken language.
The language barrier may be slightly greater in Portugal, where the national language is Portuguese. Though English is also widely spoken in Portugal, it would make your life much easier if you learn Portuguese.
You'll also find differences in the weather, food, and even the manner in which the locals interact with you! From the culture and security to the job opportunities, each has something unique to offer, and you may make your decision based on what you prioritize.
Which offers a better cost of living?
When it comes to prices, it's no surprise that Portugal offers a lower cost of living than the UK. Housing costs in Portugal are favorable for expats, and the rent and property prices are also lower than in the UK. 
Additionally, groceries and other facilities, such as public transportation, are relatively cheaper in Portugal. For example, groceries in London are 30.4% higher than in Lisbon, and general consumer prices (which include transportation, entertainment, utilities, and such) in London are 45.4% higher than in Lisbon. 
However, items such as clothing or electronics may be more expensive in Portugal due to import taxes.
Differences in the cost of living in Portugal may vary based on the location. For example, larger cities such as Lisbon and Porto have higher living costs than smaller cities and towns. This is similar to the UK, where areas like Central London are quite expensive even for locals!
So, how do both countries actually compare? Let's talk numbers:
Expenses
Portugal
UK
Family of four estimated monthly costs (without rent)
€2,055
(£1,809)
€2,751
(£2,434)
A single-person estimated monthly costs (without rent)
€591
(£520)
€807
(£714)
Apartment Rent (1 bedroom) in City Centre
€769
(£680)
€1,017
(£899)
Apartment (3 bedrooms) in City Centre
€1,300
(£1,149)
€1,783
(£1,577)
Estimates are quoted from Numbeo (as of March 2023).
Is it cheaper to rent a property in Portugal or the UK?
According to the estimates quoted above, Portugal has an overall lower living cost, of which low rental costs play a huge part. To rent a property in Portugal, you should have proof of employment, a good credit rating, and a fiscal number from the tax authorities. 
It's best to contact a reputable real estate agent who can guide you through the process and help you find the right property, as doing it on your own might take you longer and be more of a hassle.
The UK has a more developed rental market with a range of properties available. Unlike in Portugal, here, you only have to provide proof of employment and a good credit rating to secure a rental property. Remember to research the different areas and neighborhoods to find a place that matches your budget and lifestyle.
Both countries offer a wide range of rental properties, from apartments to houses, and the prices vary depending on location and size. As an expat, the choice between renting in Portugal or UK will ultimately depend on your preferences and financial standing.
What's the labor market like in Portugal and the UK?
If you're a working expat, you should know the job opportunities and labor market are very different in both countries. While the UK has a more dynamic and diverse job market, Portugal offers a smaller and less diverse one, although Lisbon and Porto don't come under this category. 
The UK thrives in industries such as finance, technology, and media. These are largely concentrated in London but are also present in other cities. Additionally, the minimum wage and average salary offered are much higher than in Portugal. Now you may think it's higher, but so is the cost of living. 
You should know that the labor market in Portugal is rather competitive, with an unemployment rate of 7.1%. In addition, most job opportunities are concentrated in Lisbon and Porto. So, if you wish to land a job, you'd have to choose your city carefully. 
However, on the brighter side, Portugal offers a better work-life balance as the overall lifestyle is slow-paced. Later in the article, you'll see how even Portugal's tax incentives for expats can help if you wish to build a career there.
Data
Portugal
UK
Minimum wage (monthly) in 2023
€760
(£669)
€2,213
(£1,950)
Average salary (monthly)
€1,314
(£1,157)
€2,300
(£2,025)
The unemployment rate in 2023
7.1%
3.7%
Is the transport better in Portugal or UK?
As an expat, transport is an essential factor to consider before you move to a country. At the very least, you'll be commuting every day for work, personal, or recreational reasons.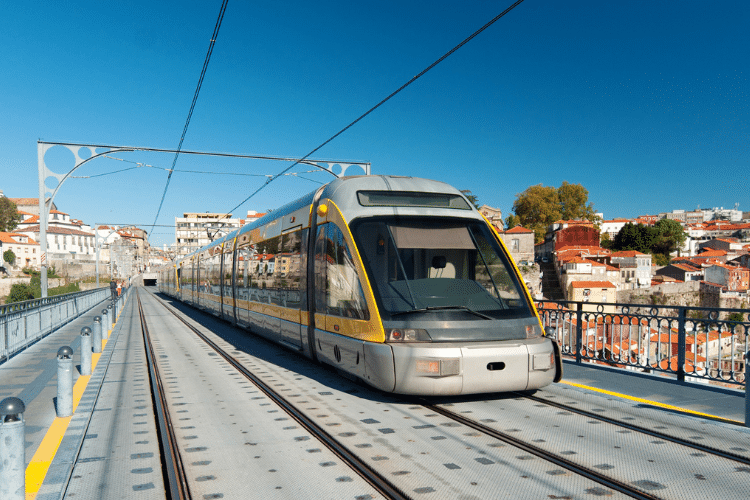 While both areas offer public transport, the UK has superior local public transportation compared to Portugal. UK's transport network is reliable and efficient, with the subway, buses, and taxis being a convenient means for routine travel. Taxis are almost always available, and the subways and buses follow a fixed schedule. This adds to the charms of the UK.
However, Portugal's public transport is not all bad either. It can indeed be unreliable in rural areas and smaller cities, but in Lisbon, Porto, and the Algarve, the network of metros and buses are heavily relied upon by locals and expats alike. 
They're well-equipped, and the government is trying to expand these networks to make traveling more accessible. In addition, Portugal's trains are perfect for long-distance city-to-city travel. It's affordable and reliable despite being old and slow.
With Viv Europe your plans for Portugal
will finally come to a reality
What's the weather and climate like in Portugal and UK?
If you're still confused, Portugal's climate might just tilt your preference away from the UK. Unlike UK's cold climate, Portugal has warmer and sunnier weather throughout the year. The summer season there is particularly attractive, with average temperatures ranging from 15-25°C. This Mediterranean lifestyle really does lead British expats to move to Portugal. 
The UK has a slightly harsher climate with cooler temperatures throughout the year, particularly in winter. Although the UK does experience warm weather during the summer months, the temperatures are not as consistent or as warm as Portugal's.
If you're seeking a more relaxed and outdoorsy lifestyle, then Portugal is the place for you!
Country
Spring
Summer
Autumn
Winter
Portugal
15.4 ºC
(59.72 ºF)
22.4 ºC
(70.52 ºF)
18.1 ºC
(64.58 ºF)
11.8 ºC
(53.24 ºF)
UK
6.7 ºC
(44 ºF)
17.8 ºC
(64 ºF)
11.8 ºC
(53.2 ºF)
4.8 ºC
(40.6 ºF)
Data from the Climate Data website.
How different is the culture?
Moving to a new country is a difficult process, and learning about its culture may help you in your decision-making.
The Portuguese are known for being friendly and welcoming to foreigners, which makes it easier for expats to settle in. However, it's vital that you know they're family-centric, and people tend to remain close in their social circles. So, while they are friendly by nature, it may still be challenging to make friends from the get-go. 
It may help to know the Portuguese like to socialize over food, so you should have some knowledge of their cuisines. Their meals are known for delicious fresh seafood, grilled meats, and delicious pastries.
As an expat in the UK, you will be able to find diverse cuisines due to their multicultural population. British are more open to foreigners. However, making friends in the countryside may not be easy as people tend to stick to their social groups.
Ultimately, the verdict between Portugal or UK would depend on which culture appeals more to you. There's a lot more that needs to be taken into consideration. To learn more about Portuguese culture, check out our article  How Adopting The Portuguese Way Of Life Can Make You Happier.
Does Portugal have better security than UK?
Portugal is a safe country for expats. You'll be relieved to know the crime rate is relatively low, and violent crime is not something you'll come across while walking down the street. In fact, Portugal is ranked as the sixth safest country in the world on the Global Peace Index. Expats can enjoy a peaceful and secure lifestyle in Portugal. 
On the other hand, the UK ranks as the 34th safest country, with certain areas with relatively high crime rates. As an expat, you need to be aware of the areas to avoid and take precautions to stay safe.
Overall, both offer a safe environment for expats. However, Portugal comes with the advantage of being one of the safest countries in the world, which can be a significant factor in a decision to move there. Especially if you have children or are retired and just want to have a relaxed life.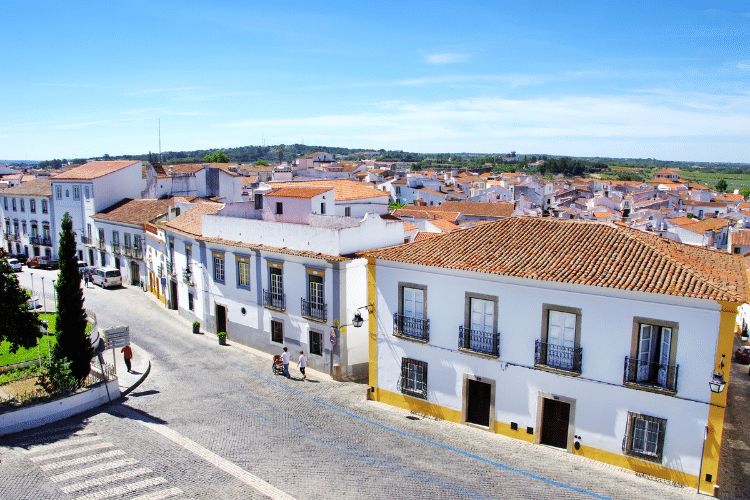 Which country has better Immigration Law policies?
It's important that you learn about the immigration laws for both countries before you decide to move. 
In Portugal, EU citizens can come without the need for a Visa. As a non-EU expat, you would need to obtain a Visa or residency permit to stay in Portugal for a long period. This process can take some time and requires documentation such as proof of income and health insurance.
The UK immigration laws changed after it left the EU. Even as an EU citizen, you must apply for a Visa to live and work in the UK. If you're a non-EU expat, you would not need any additional documentation other than a Visa to stay in the UK. However, this process takes time and requires documentation.
The process for obtaining a Visa or residency permit in Portugal is generally easier than in the UK, especially for non-EU expats. 
Are taxes for expats lower in Portugal or UK?
Portugal has a favorable tax regime for expats. The Non-Habitual Resident (NHR) is a special tax regime for expats that allows you to receive certain tax benefits for a period of ten years! These benefits include a flat tax rate of 20% on certain types of income, such as pensions and royalties, and exemption from tax on foreign income.
In contrast, the UK has a more complex tax system, and you may be subject to various taxes depending on your residency status and income sources. For example, non-residents are generally only taxed on income derived from UK sources, while residents are subject to tax on their foreign income. Gains for UK residential property owned by non-residents is around 28% CGT.
Overall, the tax system in Portugal is more advantageous for expats, especially for retired or passive income streamers. However, it's important to seek professional advice and consider all factors, such as healthcare and cost of living, before deciding to relocate to Portugal.
Bottom Line: Portugal or UK?
Now that we're at the end of it – what do you think fits your lifestyle better? Portugal or UK? 
Most expats think it's a tough call, and we have to agree. There's an entire list of pros for living in the UK. And there's an entire list for Portugal. At the end of the day, no one can decide for you, but Viv Europe can facilitate your relocation to Portugal. 
If you're still conflicted, take help from expats who've been through this tiring decision-making process. Join our Facebook Group – All About Portugal For Expats, and ask others why they chose to relocate from the UK. 
Whenever you're ready, book a consultation with Viv Europe and get the help you need! From Visa applications, shifting your house, and importing a car to helping you settle down, we've got it covered!