Last Updated on August 1, 2023 by Maryam Siddiqui
Did you know the history of the Sephardic Jews community in Portugal goes centuries back? Until the 15th century, numerous Jews lived here, before some unfortunate events took place. However, ever since the Portuguese Citizenship Act, it's been easier to get Portuguese nationality for Sephardic Jews. Find out how in this article!
If you are a Sephardic Jew yourself, you'll be glad to know this article answers all your questions. Thanks to new laws, the community has grown tenfolds and become a part of Portugal's rich cultural heritage.
We will highlight how hundreds of Sephardic Jews have been granted immediate access to the European Union. Keep reading to learn how you can prove your ancestry and our tips when applying for Portuguese nationality. Happy reading!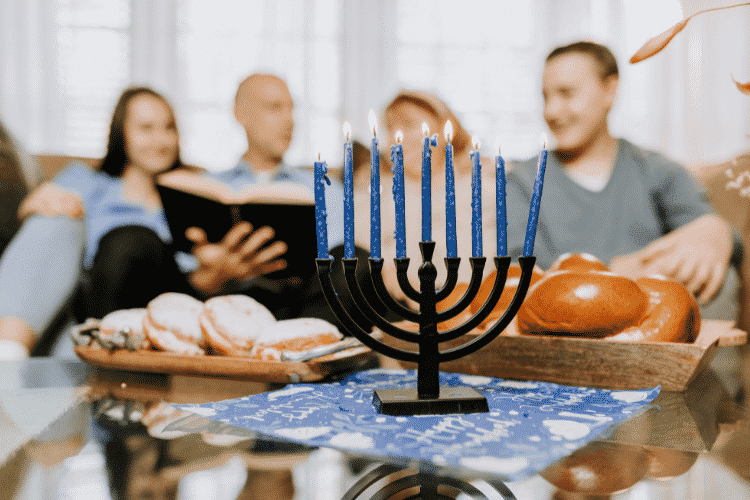 Portuguese nationality for Sephardic Jews
Before getting into the topic, the first thing to differentiate is the key identification between Portuguese nationality and citizenship.
Nationality is a legal status representing the country an individual belongs to. This essentially means that the individual shares historical or cultural ties with the nation and its citizens.
Whereas, citizenship is a political status that denotes the recognition of an individual as a citizen of the country. Any individual can become a citizen by birth, marriage, inheritance, or naturalization.
Now that you know the key difference between the two, let's get into the prerequisites to apply for Portuguese citizenship.
Prerequisites to apply for citizenship in this way
The Portuguese Passport is a very powerful document – standing as the fifth most-strongest passport globally! Given the prestigious status, there are some prerequisites Sephardic Jews should know when applying for citizenship: 
You should be of Portuguese Sephardic descent;
You must belong to a Sephardic community of Portuguese origin;
You must be 18+ years old and liberated by Portuguese law.
As you can see, it's easier to obtain Portuguese nationality for Sephardic Jews as compared to other foreigners. Keep reading to find out how you can present your family roots when applying.
We also have a detailed FAQ on Portuguese Nationality that you can refer to in case of more queries. Alternatively, our team of professionals at Viv Europe is always here to help you out.
Who were the Sephardic Jews?
Sephardic Jews are part of a traditional religious community that lived in the Iberian Peninsula, i.e., Portugal and Spain. Until the 15th century, countless Jews lived there and were a significant part of Portugal's political and economic situation.
Things changed dramatically in 1496 – for the worse. An unfortunate royal decree passed that year ordering the expulsion of Jews who refused to convert to Catholicism. This was followed by massive riots and massacres against New Christians and Jews. Jews who forcefully converted to Catholicism were called New Christians.
Some Jews, who are also referred to as crypto-Jews, were forced to practice their beliefs in secrecy. Several Portuguese Jews escaped the tyranny by fleeing to Mediterranean countries or Northern Europe.
In spite of everything they went through, Sephardic Jews have held on to their ancestry saving documents and family names. The Lisbon Chamber recently approved a Jewish Museum's construction in Belém to preserve its legacy and significance for Portugal.
Portugal's heritage is of utmost importance to the state, and Sephardic Jews are a part of it. In 2015, the Portuguese Decree-Law 30-A/2015 granted Portuguese nationality for Sephardic Jews. 
Sephardic Jews can now claim nationality by providing documents that prove their ancestral lineage with due credit to this law.
How can I prove to be a descendant of Sephardic Jews?
Now that you know about the historical significance, are you intrigued to learn how your ancestry can help you get Portuguese nationality?
Let's dive right into it!
Before you go forward with your application, it's helpful to research your family history as a supporting document.
Research your family roots
Researching your family roots is particularly helpful if your parents didn't acquire the nationality for some reason. In this case, you may apply for it directly in relation to your Sephardic Jewish Portuguese grandparents.
Understandably, you might require some help exploring your genealogy. Platforms such as FamilySearch.org are an excellent option to explore your ancestry and find links to your family roots.
You can also consider visiting local archives and historical societies. Perhaps even hiring professional genealogists to assist you in your research. Collecting old photographs, documents, and family heirlooms can provide valuable clues and insights into your ancestors' lives.
Our tip is to gather as much information as you can about older family members, their names, places of origin, significant events, and any traditions that have been passed down in your family. This is going to be an exciting process for you to know more about your ancestors!
Get the Jewish Community Certificate
The following documents are needed when applying for the Jewish Community Certificate in Portugal:
Evidence of family history – this is to show the historical connection to the Sephardic Jewish community;
Ladino usage (Judeo-Spanish language) – the applicant must show proof of using the language as a family language. They may show inscriptions in Ladino on graves or written documents in Ladino;
Evidence of Portuguese Jewish ancestry – other documents such as your family tree, birth certificates, marriage certificates, or cemetery registries are valid.
Two Jewish communities have the legal right to issue the Community Certificate. Your options are; Jewish Lisbon Community or Jewish Porto Community.
This step will require you to compile all documents, including a well-documented family tree that connects you to your Sephardic Jewish ancestors.
Be prepared to wait a little, because the process may take time. You may choose to track your application through follow-ups.
Applying for Portuguese nationality for Sephardic Jews
The step-by-step guide to obtaining Portuguese nationality is relatively straightforward once you have your Jewish Community Certificate verifying your lineage. The process is fairly similar to if you were applying for the Portuguese Golden Visa or others. 
Here's what you'll be required to do:
Assemble the necessary documents
Along with your signed application form, you will need to attach the following necessary documents:
Birth Certificate;
Jewish Community Certificate – this document is for proof of the Sephardic Jew lineage of Portuguese heritage;
Criminal Record Certificate – this document can be issued by Portuguese authorities, the current resident country, or the country of origin.
Out of these, the Jewish Community Certificate is of utmost importance as it proves a direct family relationship.
With Viv Europe your plans for Portugal
will finally come to a reality
Show proof of your Sephardic ancestry
As mentioned throughout this article, you'll have to show your Sephardic ancestry. Take this as an opportunity to gather everything you have pertaining to your heritage. You need not be a Jew yourself, but your Sephardic ancestry should be valid.
Your Jewish Community Certificate must show the following information:
Full name and date of birth;
Location of birth;
Residential address and the countries you have lived in;
Current nationality;
Description of your Sephardic genealogy;
Any supporting evidence.
Along with this, in case you have any old residence permits, wills, or property acquisition documents, please submit them too.
Go to the Portuguese office of choice
Once all your documents and supporting evidence are in line, you can go to any Portuguese office. We've helped narrow down the options for your convenience:
How much does it cost to apply for Portuguese nationality for descendants of Sephardic Jews?
The application fee for Portuguese nationality costs between €175 to €250, depending on the category you're applying for.
You can make the payment via ATM card at the Portuguese office you submitted your application to. The other option is via cheque if it's by mail.
You can Contact Us if you have any queries about this payment structure.
How long until the nationality application is approved?
There has yet to be a set legal timeline for the nationality application to get approval by the state.
However, some things affect how soon your application is processed, such as:
The degree to how well organized the documents are;
What the object of your application is;
Where you started the application, and so on.
From our thorough experience in helping numerous applicants, the average time is between 6 months to 2 years.
What are the benefits of having Portuguese nationality?
Do you mean apart from living in the sixth-safest country in the world? 
There's a lot to love about this beautiful country. Its tranquility, quality of life, the lowest cost of living in Europe, and captivating beaches are only some motivations.
Here are some benefits of having Portuguese nationality:
Acquire EU citizenship – the ability to travel in EU countries without a Visa;
Obtain a Portuguese Passport;
Numerous employment opportunities – no need for a work permit;
Access to social security benefits, pension, and health facilities;
Voting rights in elections;
Education in the best schools;
Buy property in Portugal's thriving real estate market.
Before you proceed with the application, we advise you to research things deeply and understand the specific advantages you would gain.
What if my application is rejected?
The Ministry of Justice is responsible for granting Portuguese nationality for Sephardic Jews. The application process is slightly complex and requires attention to detail.
Considering its complexity, there is a big chance of an application getting rejected if it's poorly done. This is especially true if you're not aware of legalities or currently live outside of Portugal.
We understand that it can be disheartening if your application gets rejected. But it doesn't necessarily mean that it's the end of the process.
Numerous people prefer having the support of legal advisors, such as Viv Europe, to increase their chances of getting approved. We've helped many applicants before you, and would love to help you out throughout the process!
Get professional assistance to apply for Portuguese nationality for Sephardic Jews
You're only one step away from acquiring your ancestral nationality officially! It's a huge honor to carry Portuguese nationality for Sephardic Jews, considering the community's struggles. This article summarized all the details you need to know to start your application process today!
Are you looking to connect to other Sephardic Jews living in Portugal? You may find your community on our Facebook Group – All About Portugal For Expats. And remember, our team here at Viv Europe is always here to assist you. If you're confused by any step of the process to obtain your rightful nationality, book a consultation and get the clarity you need. Good luck!