Last Updated on July 29, 2022 by Maryam Siddiqui
We bet you've seen at least one person on your social media who recently visited Portugal. But what brought them here? Was it the quality of life in Portugal, the low cost of living, or the famous Algarve beaches?
Most likely, it was a combination of all of these. This Southern European country has attracted millions of tourists to live in its beautiful lands every year. Those who fall in love with its peace and serenity decide to become expats like you!
So, naturally, you'd be curious about the quality of life. Discover what it's like to live a life full of safety, health, tranquility, and abundance. Let's tell you all about our magnificent lifestyle and cities with the highest quality of life. Happy reading!
Is there good quality of life in Portugal?
Some countries are fantastic tourist destinations but might not be the best to live in. We're fortunate enough, and so grateful, that Portugal has the best of both worlds! 
The concept of quality of life involves much more than nice views and delicious cuisine. It has to do with basic and supplementary living conditions, job prospects, education, and health facilities, and the cost you pay for these amenities. 
So, what do the Portuguese have to say about the quality of life?
We've got many articles on the detailed cost of living in Portugal for various regions, so we'll focus more on other factors. One thing is for sure – the cost of living is much lower than in other European countries for a very similar quality of life.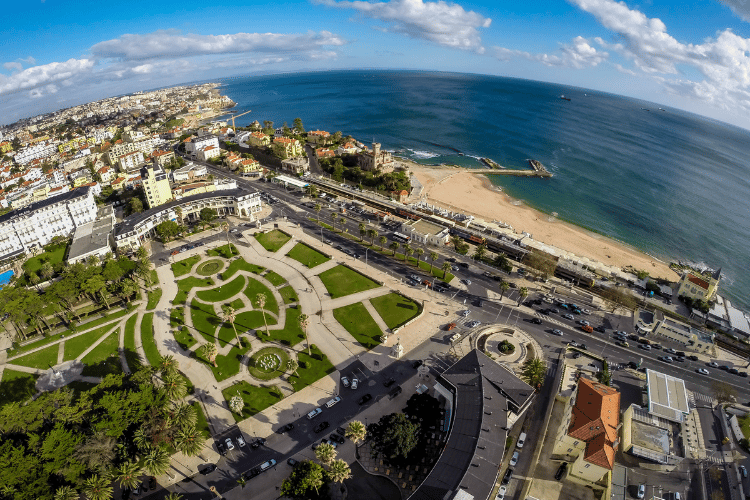 According to Eurostat, 87.7% of people believe that they will always have someone to rely on in case of need. That's absolutely correct; one thing about the Portuguese is how close-knit they are, even with foreigners! 
With the world rapidly turning into a place full of individualist societies with self-centered ideologies, it's a blessing to have neighbors who treat you like family. In Portugal, it's not unusual to welcome a new resident with a dinner invitation.
Any resident can agree that people are fond of living in Portugal. That's why more and more people are visiting the country, and why some decide to stay forever. 
Let's talk about each valuable aspect you should look for before moving to a new country.
Safety
That's going to be the least of your worries!
Fortunately, Portugal is one of the safest countries in the world. In 2021, the Global Peace Index ranked it as the 4th safest country in the world. In several other years, Portugal was in 3rd place.
If you're a solo traveler or a family with children, roaming around the streets of Portugal will be something you'd look forward to every day. You can drop your children off at a recreational park and enjoy a cup of warm Arabica coffee at a cafe nearby.
The country is also one of the three with the lowest violence cases in the European Union, according to a crime report by the EU Agency for Fundamental Rights. Hate crimes are not a norm, and people are progressive.
Life expectancy
The current life expectancy in Portugal is nearly 83 years, which is above the European average. Following the Covid-19 pandemic, EU average life expectancy has fallen slightly over 80 years.
The expectancy rate in Portugal has risen in recent years thanks to the numerous developments in the health sector. With the economy growing swiftly, more money is being invested in hospitals and health centers.
What makes it easier is the fact that all public healthcare in Portugal is free for legal residents, including expats like you! So, there's no need to worry; you're in safe hands with European-standard of medical care.
Environment
You surely do know about Portugal's beauty and one-of-a-kind beaches all over the country, right? We thought so; it's one of the most attractive factors that allures expats to starting a new life here.
No matter where you are in Portugal, there's always a natural park nearby. The country is a fantastic destination for nature lovers, and you'll be surprised by the various flora.
Here's a question for our nature lovers: you can't have a good quality of life in Portugal without a breath of fresh air every day, can you?
Even in urban centers, it doesn't take much to be close to green areas and beautiful jacaranda trees. Keep reading to know the top cities with the best environment in the entire country.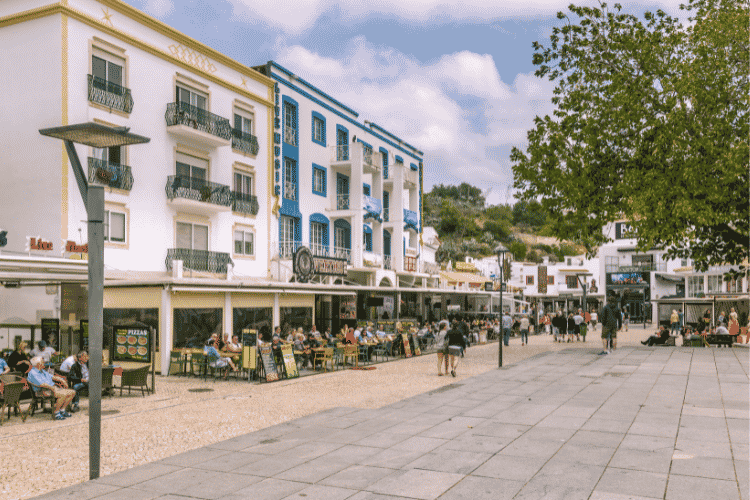 Public & private healthcare
As we mentioned earlier, all residents in Portugal have access to great quality and low-cost public health systems subsidized by the State. In a lot of cases, the services are free, except for emergencies.
Although it does not guarantee luxury or quick care in all hospitals or health centers, healthcare in Portugal is reliable. Children, the elderly, the unemployed, and pregnant women are some people who have consultations free of charge.
However, if you're looking for a more exclusive and urgent health service, there is also a wide range of private clinics and hospitals in the country. Even though they're privately owned, the prices are still not as high as in other countries.
Public & private education
Similar to healthcare facilities, the Portuguese public education system is also recognized for its quality. Not only is it free, but it also accepts all children and teenagers in Portugal, regardless of nationality or legal status. 
The only thing that might concern you if your children are older is that public education is done in Portuguese. A family with younger children will find adjusting to the new system easier. There are only a few subjects in English and optional French or Spanish.
Hence, for your children to attend public schools in Portugal, they must learn to speak Portuguese. But, that's not all that Portugal offers; there are numerous International Schools across the country that you can explore. 
Additionally, there are multiple camps that you could enroll your children in that'd enhance their strong personalities and empower them for years to come.
Labor market
The labor market is known for being quite competitive, and salaries in Portugal aren't as high as in neighboring European countries – a monthly minimum of €705 in 2022. However, even though that's the minimum, people can earn more than €2,000 a month; it all depends on their skill set.
Recently, Portugal was ranked #1 on a CNN-endorsed travel website as a favorable destination for digital nomads. Shortly following Lisbon's fantastic boom with regard to business opportunities, the country is attracting many entrepreneurs, foreign investors, and remote workers. 
Many Portuguese who migrated a few years ago are incentivized to return to their home country and choose the improved quality of life in Portugal.
If you're planning to look for a job in Portugal, there are many options in the areas of IT, Digital Marketing, Tourism, Healthcare, Agriculture, and Construction.
Cost of living in Portugal
Especially for expats who are relocating from the U.S or the U.K., this particular factor seems to be the strongest convincing one.
Life in Portugal can be cheap, but it can also be expensive. It all depends on your spending habits and also which city you're residing in. Most expats in the country consider the cost of living in Portugal to be very low. 
For example, a couple without children could live well in Portugal, spending only €1,500 per month (considering all basic expenses).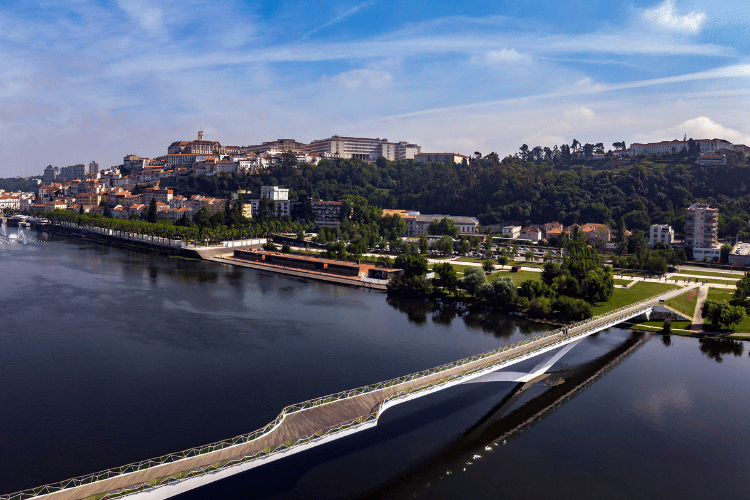 This factor makes the quality of life in Portugal very favorable considering all the advantages you're getting. Once people residing in the country feel at ease and debt-free, life feels better.
However, it's undeniable that the cost of living rises when there are foreigners in Portugal. As they generally have higher incomes than the Portuguese, the market around them adapts to their purchasing power.
For example, Lisbon, Cascais, and the Algarve are areas much loved by expats. This also makes them the most expensive regions in the country.
Here's a tip: If you're looking to live in Portugal with little money, try to live where most locals reside. Castelo Branco, Évora and Caldas da Rainha are some of the cheapest cities to live in Portugal.
Population and culture
The Portuguese population has been around 10 million for over 20 years. Between crises and recoveries, in 2022, there are 10.36 million residents in Portugal, according to data from the National Institute of Statistics (INE).
However, as the quality of life in Portugal is undeniable, the country's population has started to grow again along with the economy.
As the Portuguese way of life recommends, quality time with your family is important for your well-being. The country's culture involves taking care of loved ones, hanging out with friends, and simply being one of the friendliest people on the continent.
The door is open for anyone who wants to enter, and the people are very welcoming. With the increasing expat population, it's not that challenging to Find Your Community either. 
The cities with the highest quality of life in Portugal
Of course, the entire country offers good quality of life, but some cities stand out. Depending on your prerequisites, these cities might not be the best options since everybody's preferences are different.
However, according to a recent Consumer Defense survey, the following cities have the highest quality of life in Portugal:
1. Viseu
A historic city in central Portugal with around 100,000 inhabitants, Viseu surprises visitors and pleases locals. It's one of the cheapest places to live and has the highest quality of life in Portugal. 
The city has clean streets, a good cultural agenda, and is surrounded by mountains and rivers. Viseu is located just 120 km (1 hour 20 minutes) from Porto, one of the two metropolises of Portugal.
2. Leiria
Leiria is a city with a fantastic quality of life located near the coast of central Portugal. It has a population of around 128,000, 5.5% of which are foreigners with residence permits. 
The city of Leiria is both historic and modern. It is 140 km (1 hour 40 minutes) from Lisbon but has an independent economy and identity. In other words, a great place to visit and live.
3. Braga
One of the oldest cities in the country, Braga is also one of the places with a uniquely brilliant quality of life in Portugal.
It's the capital of the Minho region, in the extreme north, and also the 3rd biggest city in the Portuguese territory. Tradition and religion accompany the locals in Braga, but it's also a city with a lot of pride in education and business.
4. Viana do Castelo
Even further north of Portugal, almost in Spain, is the city of Viana do Castelo. The city of around 88,000 inhabitants is rich in culture and stunning sceneries. 
Only 84 km away from Porto, it's a great place to live in peace and harmony. The lifestyle is calm but lively enough to keep the locals happy. Definitely one of the cities with the highest quality of life in Portugal.
5. Coimbra
Perhaps one of the most important cities in Portugal, Coimbra is a magical experience on its own. The city is home to one of the oldest and best universities in Portugal, dating back to the 11th century.
People say that Coimbra, in central Portugal, is the cradle of the Portuguese language, so culture here matters a lot. Life in the city is marked by tranquility, beautiful landscapes, and good outdoor spaces.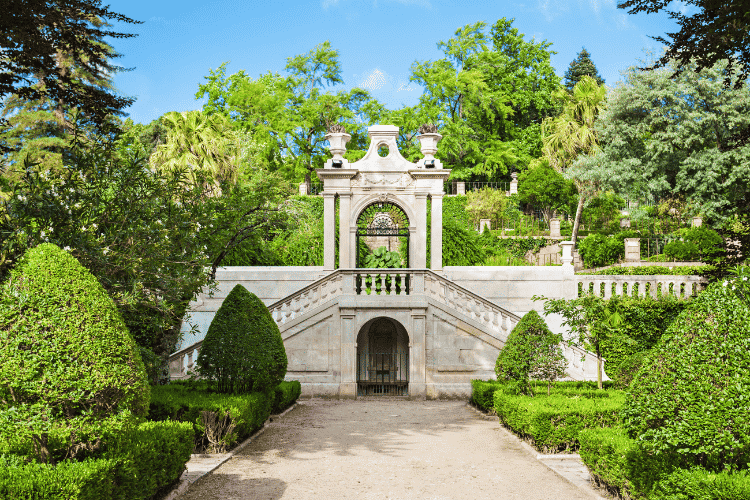 Be sure to visit this beautiful botanical garden on your scouting trip to experience the real quality of life in Portugal. 
Ready to experience the quality of life in Portugal?
Has the variety of cities with excellent quality of life in Portugal confused you? You're definitely not alone. It can get overwhelming to decide your new forever home. The whole country is truly charming, from cityscapes and natural beauties to the food and culture.
One thing is for sure no matter which city you choose, living in Portugal isn't something you'd regret later on. Some regions might be more appropriate for you, but that's where your research will come in!
Join our Facebook Group – All About Portugal For Expats and exchange questions and experiences online with our international community. There are over 7,000 Portugal enthusiasts waiting to help you out.
And whenever you're ready to experience the magic yourself, you can count on Viv Europe to help with your visa or finding a new residence. Contact us now and turn your Portugal dream into a reality.