Last Updated on June 9, 2023 by Victor Queiroz
Cascais has been an excellent option for expats who prefer living close to the capital without dealing with all the chaos. Its peaceful environment with friendly residential neighborhoods has significantly drawn foreigners with families. But even though there is so much to love about this city, we must outline all the pros and cons of moving to Cascais that you should be aware of before making the big move.
You will understand why this destination is an expat favorite and some drawbacks that it will present your way should you choose to live here. We only want to be candid so that you can make the best-informed decision possible.
Let's dive right in!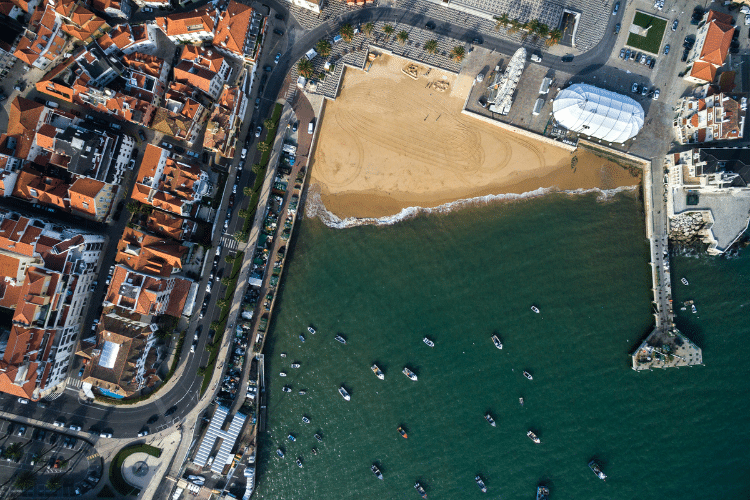 What is it like living in Cascais?
Often described as the Portuguese Riviera, Cascais is the beach town of Lisbon. Essentially, this is where tourists come to enjoy the nice weather, sunbathe, and also take a dive in the popular Praia de Carcavelos.
Life in Cascais combines modern sophistication with a touch of rich Portuguese tradition, which is also why expats love this city.
Cascais has a charming town center with narrow streets, traditional Portuguese architecture, and colorful buildings. The historic center offers a variety of shops, cafes, restaurants, and local markets, creating a vibrant and lively atmosphere.
Why are expats moving to Cascais?
Similar to the larger Lisbon area, Cascais is also a cosmopolitan city where people from all over the world converge for different reasons.
As mentioned earlier, Cascais is an expat magnet. To put this into perspective, 15.4% of its population in 2020 were foreigners with a resident permit, which is impressive considering the national average is currently at 5.4%.
Expats are drawn to this destination because of different reasons. At the same time, some are intrigued by the city's multicultural scene, while others love the climate or even the rich history packed in this small city.
Cascais has a rich cultural scene, with art galleries, museums, and historical landmarks. The town is home to the Paula Rego Museum, which showcases the works of the renowned Portuguese artist. The Cascais Cultural Center hosts various exhibitions, concerts, and performances throughout the year.
Pros of living in Cascais
Besides Lisbon, Cascais is another excellent choice for expats who would love to live near the capital. This destination blends beauty, history, and luxury, a perfect combo for tourists and expats.
Before making the big move, take a look at some of the advantages of living in Cascais.
Climate
Because Cascais is located on the western coast of Portugal, the climate here is different from other cities inland. This city experiences a Mediterranean climate with warm summers and mild winters.
In winter (December to February), temperatures range from 8°C to 15°C (46°F to 59°F), while in summer (June to August), temperatures range from 18°C to 28°C (64°F to 82°F).
Most of the rainfall in this city typically happens during the colder winter months. And the close proximity to the Atlantic Ocean makes the climate in Cascais milder than in Lisbon, according to data provided by the Climate Data website.
Generally, the climate in Cascais is better than in other popular cities around Europe; as advertised, you can expect up to 300 days of sunshine every year. However, you should keep in mind that the climate can change from year to year, so it's important to keep tabs on reliable weather forecasts to get up-to-date information.
Strategic location
The geographical location of Cascais makes it a great city to live in. To give you some context, this city is about 30 minutes away from Lisbon, allowing you to enjoy the benefits of living close to the capital.
This proximity to the capital city provides several advantages in terms of infrastructure, transportation, and economic opportunities. But that is not all; as mentioned earlier, Cascais is on the western coast of the Atlantic Ocean, which also comes with its fair share of advantages.
The coastline provides opportunities for maritime trade, fishing, and water-related activities that you can enjoy with your family whenever you have the time. The beautiful coast also has a role in the city's tourism industry, making businesses, particularly in real estate, quite lucrative for those willing to invest.
A slower pace of life
If you're used to a relatively fast and chaotic way of living, you will find Cascais relatively slow and relaxing. Although this city is close to Lisbon's bustling capital, the vibe here is quite relaxed and laid back.
Part of the reason for this type of lifestyle is because Cascais is relatively small. This destination has a small-town charm to it, characterized by narrow cobblestone streets, historic architecture, and a generally cozy environment.
While this is true, you should remember that Cascais experiences increased activities during the busy summer months.
Nonetheless, this destination offers a balance between proximity to urban amenities and the charm of a coastal retreat, making it an attractive destination for those seeking a more relaxed and peaceful lifestyle.
Close to a lot of great beaches
Cascais is known as the Riviera of Portugal for the right reasons. It is close to some of the Lisbon area's greatest beaches. Here are some of the most popular options available.
Praia da Ribeira
Praia da Rainha
Guincho Beach
Praia do Tamariz
Praia Grande
Praia das Maçãs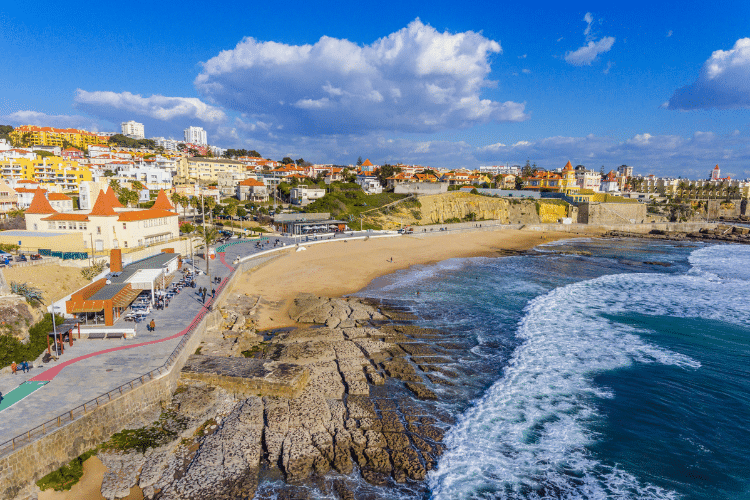 Other than the activities you can do on the beaches, other different coastal landscapes, like small coves, cater to different people.
Whether you're looking for relaxation, water sports, or family-friendly environments, Cascais provides easy access to a range of beautiful beaches along the Atlantic coastline.
A popular destination for international retirees
If you're looking for a destination to live off your golden years, Cascais is a retiree's choice for a few reasons. To begin, life's slower pace is ideal for anyone looking to live in peace and tranquillity. 
Another essential reason why Cascais makes a good retirement destination is the high quality of life. Cascais offers a high quality of life with its well-maintained infrastructure, public services, and healthcare facilities.
The town has excellent medical facilities, including private clinics and a public hospital, ensuring access to quality healthcare services. Also, considering this city has a considerable expat community, there is a welcoming community with opportunities to connect with like-minded individuals and participate in expat-oriented activities and groups.
With Viv Europe your plans for Portugal
will finally come to a reality
Great digital nomad and expat scene
Due to convenience, the number of digital nomads has dramatically expanded over the past few years, and Cascais has become a hub for them. The digital nomad lifestyle is becoming popular since it enables people to live their dreams while earning a living at the same time. The increase in opportunities has also led to a growth in the number of foreigners relocating to Cascais.
Living in a cheap city with all the advantages of a developed European nation is a wonderful experience. Cascais offers visas that simplify admission for visitors from other countries, which is another benefit this destination has to offer. This is your cue to get your stuff together and head to this region in Portugal!
English is widely spoken
Fortunately, English is widely spoken in Cascais. Because this city is quite popular among tourists and also has a large expat community, many people speak fluent English. Learning Portuguese is always an added advantage; however, you can easily make your way through by speaking English as well.
Hence, making friends, communicating with people, and asking queries are easy. Additionally, English language education is widely available in Cascais. International schools and language institutes offer English language courses to both children and adults, ensuring proficiency in the language.
Cons of living in Cascais
There is no doubt that living in Cascais is great. However, just like any other city around the world, it also has its own fair share of disadvantages. Take a look at some of the cons of living in the Riviera of Portugal.
Bureaucracy
Unfortunately, bureaucracy is right at the top of the list of disadvantages of living in Cascais. The public system in Portugal could be faster, with a lot of paperwork that can feel like a nuisance for anyone new to the country.
One trick around this is to have all your documents ready whenever you want to get a particular service, for instance, opening a bank account or buying property.
It's also good practice to be acquainted with the process for adequate preparation. The upside is that you will soon get used to the process; as mentioned, Cascais is a rather laidback city, and this is one of the disadvantages of this approach.
Learning Portuguese
It's worth mentioning that this is not a significant disadvantage since English is widely spoken in this city. However, while this is true, it's recommended that you understand the local language to make integrating into the local community much more effortless.
Also, learning the language will be advantageous, especially when doing deals or negotiating for better prices. The sad news is that learning Portuguese is not very easy for most expats; in fact, you will need to take classes to make the process easier and faster.
Renting and buying property is a challenge
Finding an affordable property to rent or buy is increasingly becoming a challenge because of the price. You might not know this, but Cascais is one of the most expensive cities in Portugal.
This part of the country is largely preferred by the upper echelon of the community and expats who love the lavish lifestyle. The demand for housing is ever on the rise, and basic economics dictates that an increase in demand comes with a price increase.
On average, the cost of renting a space is €17.9/m² while the cost of buying property is about €4,601/m². The town's desirability, quality of life, and proximity to Lisbon contribute to the higher price levels. This can pose challenges for those looking to rent or purchase property, especially for those with budget constraints.
Fewer job opportunities
Cascais is predominantly known as a residential and tourist destination, influencing the local job market. The available job opportunities are scarce and highly competitive, considering the demand.
However, it's worth noting that you can also look for job opportunities in Lisbon. Employment is gradually on the rise in Lisbon. Therefore, organizations want employees that are skilled and knowledgeable.
Knowing how to speak Portuguese is an added advantage; however, you won't be disadvantaged if you don't know the language. Lastly, as with any job search, networking, utilizing online job portals, and reaching out to local employment agencies can help in finding job opportunities in Cascais. It's also important to consider individual qualifications, skills, and language proficiency, as these factors can affect the availability of suitable job positions.
What do you think of the pros and cons of Cascais?
So what do you think about the pros and cons of Cascais? Was there anything that you were surprised by? We would like to know what your thoughts are in the comment section. From this detailed breakdown, we hope you now understand better what to expect about living in Cascais.
If you have any further questions, join our Facebook Group – All About Portugal For Expats. A community of over 12,000 Portugal enthusiasts is waiting to help you out with advice and planning.
Whenever you are ready to transition to this part of Europe, be sure to book a consultation with Viv Europe, they are more than willing to point you in the right direction and help you at every stage of your journey.