Last Updated on September 24, 2023 by Victor Queiroz
We don't mean to gloat, but Portugal really does have something for everyone. From entrepreneurial hubs in Lisbon to the stunning islands in the Azores, it doesn't end there. Living in Cascais is one of the most desired wishes for expats looking for exceptional quality of life. It's a popular destination for locals and expats equally.
What makes it so special? We're here to guide you through a virtual experience of what it's like living in the Portuguese Riveria. Let's dive right into how you can get your golden ticket to obtaining a residence permit in the beautiful Cascais!
What is living in Cascais like?
As many testify, every day in Cascais feels like a day from a long vacation.
Picture this: You wake up, and the beautiful Portuguese sunshine glints on your face. You think to yourself – what a magnificent day to walk alongside the Riveria with a cup of fresh Robusta coffee. Warm, clean, incredible, and a true privilege to be living here. The gush of fresh breeze comforts your soul as you step outside in your calm neighborhood.
You can hear the placid chatter from the urban center nearby, enough to excite you for a day by yourself. It's as if you're getting the best of both worlds. The tranquility you always craved, and the infrastructure of a developed European city.
That's life in Cascais for you.
Who lives in Cascais?
The Portuguese Riveria is notorious for being home to wealthy families. This isn't to say that only rich families reside in Cascais; you'll see many successful entrepreneurs and digital nomads too.
Given its prime location near the Lisbon coastline, it attracts inhabitants who want some exclusivity and luxury.
The city of Cascais is a wonderful place to raise a family, especially one that loves to connect with nature. It has access to parks and beaches and is still close to the biggest urban center.
Why are expats moving to Cascais?
Portugal has a large expat community overall, with more than 6.8% immigrants out of its 10.33 million residents. This number stood at 5.4% in 2021.
Within Cascais, 15.9% of its population in 2022 were foreigners with a resident permit, according to data from Pordata.
Here are some things expats love about Cascais, and you will too:
Exquisite beauty all around;
Sixth-safest place to reside worldwide;
The standard of living is high;
Expats enjoy Portugal's cost of living;
Sophistication and luxury;
Healthcare and education are top-notch.
Cascais is Lisbon's cool neighbor
You may think Lisbon is Portugal's finest city, and while you're not entirely mistaken, Cascais has its own glorious vibe. Being only 40 minutes away from the country's capital, Lisbon's cool neighbor has been a magnet for many.
Don't get us wrong, living in Lisbon is nothing short of a gratifying experience. There's nothing quite like the hustle and bustle of Portugal's tech hub. Nonetheless, Cascais has a unique charm and independence that you can only experience by spending time in the city.
The sun shines brighter in the Portuguese Riviera
The Portuguese sun warms your soul like a good cup of coffee on a Monday morning. If you've read any of our other articles, you would've probably come across knowing Portugal's pleasant weather.
The country has almost 300 days of sunshine and moderate temperatures all year round. This is one of the biggest attractions for expats who've lived in colder regions and wanted an escape. Paired with the stunning beaches in Cascais, it truly feels like a zen state of mind.
According to the Climate Data website, the average temperature of Cascais is warmer than in Lisbon. Temperatures rise to 20°C in the summers with cool winds blowing from the Riveria.
Cascais has long been a place of luxury
In the past century, Cascais has transformed from being a small fishing community to a destination with yachts and luxury. Known for its chic resorts and fancy hotels near the bay, Cascais has been the perfect summer getaway for decades.
For many years, even today, it's been a place where the affluent from Lisbon would spend summer. Nearby towns Estoril and Sintra are noble areas with a grand casino and excellent Portuguese restaurants that entice tourists.
Buying a property in Cascais
A truly savvy investor's secret is exploring historical regions. Thanks to its history, Cascais's lavish real estate market is very valuable.
Property in Lisbon is quite demanding, given its central location and numerous perks for businesses. So you can only expect Lisbon's cool neighbor to be one of the most wanted locations in Portugal.
The real estate market in Cascais is expensive, but it's a great way to secure your future. The demand for property in this region has only ever gone up. According to prices from Idealista, a property in Cascais is €4,627 per m². Estoril has an even higher value at €5,664 per m².
Of course, the option of renting also exists. It can be a little difficult to land a good deal in some places, so we do recommend reading our article Finding A Rental In Cascais: Best Areas And Tips.
Living in Cascais and Working in Lisbon
Expats who want to make the most of Portugal's slow-paced life choose to work in Lisbon but reside in Cascais.
Many people are okay with spending around an hour commuting to and from Lisbon during traffic. Only to come back and experience the incredible serenity of Cascais when they come home. That's quite telling of what a wonderful place this city is.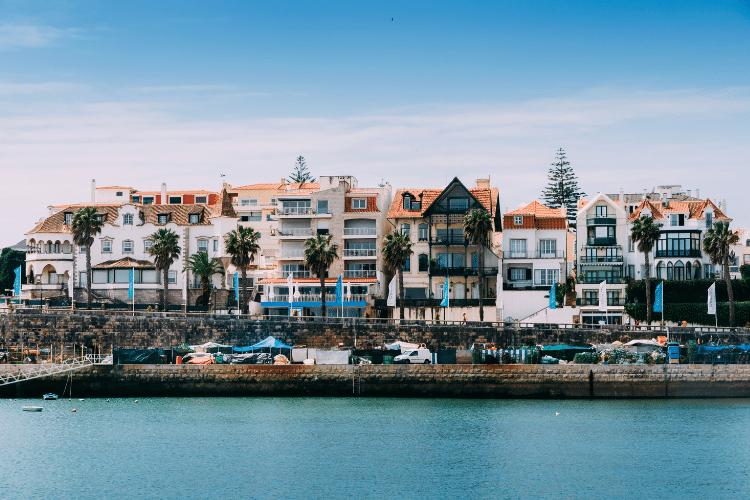 Is it better to live in Cascais or Lisbon?
Lisbon and Cascais are next to each other and equally fantastic; it's more about personal preferences.
Cascais is great for spending more peaceful family time, de-stress, and relaxing in a place with luxury and status. It's also an ideal location for retirees with passive income to support themselves.
Don't be mistaken; we absolutely love Lisbon! It's the reason behind Portugal's thriving success. At the same time, the hustle and bustle can get overwhelming for some, especially if they prefer calmness.
Is living in Cascais better than living in the Algarve?
The Algarve has much to offer, similar to Cascais when it comes to the weather, beaches, and the sun. However, they're simply different.
Both places are serene, but Cascais has way better infrastructure. Overall, it's a more suitable option if you're looking for a high standard of living for your family. There are also more business opportunities to explore while living in Cascais.
What is the cost of living in Cascais?
The cost of living in Cascais is a bit higher than in Lisbon and Porto, and people honestly don't mind! The purchasing power of its residents is also higher as it attracts affluent business owners and families with passive incomes.
We've got a detailed guide on the Cost Of Living In Cascais that you can refer to and analyze in detail.
In the meantime, let's take a look at some average expenditures you're most likely to incur:
| Expense | Cost |
| --- | --- |
| Apartment (1 bedroom) in City Centre | €1,037 |
| Apartment (1 bedroom) Outside of Centre | €792 |
| Apartment (3 bedrooms) in City Centre | €2,193 |
| Apartment (3 bedrooms) Outside of Centre | €1,458 |
| Groceries | €250 |
| Three-course meal for 2 people at a restaurant | €50 |
| Utilities | €163 |
| International Schooling (monthly fee for 1 child) | €1,097 |
| Fitness Club | €40 |
| Tennis Court Rent | €13 |
| Monthly Transport Pass | €40 |
| Gasoline (1 liter) | €1.90 |
Estimates are from Numbeo (as of July 2023).
Safety living in Cascais
Did you know Portugal is the sixth-safest country out of 163 countries globally?
You'd best believe that Cascais is already part of a safe and secure region. Crime rates are low, friendly neighbors are the norm, and life is beautiful. Major natural disasters like earthquakes are also unheard of in Portugal.
Nonetheless, petty tourist thefts are unfortunately common anywhere in the world, so you should be vigilant.
With Viv Europe your plans for Portugal
will finally come to a reality
Traffic and Public Transport in Cascais
Since Cascais is Lisbon's cool neighbor, it benefits from the developed public transport facilities that Lisbon has. You might know about Portugal's swift metro system or the vintage yellow trams. The metro is a highly efficient way to travel between Lisbon and Porto, with as little as 3 minutes of waiting time.
But can someone who's living in Cascais rely on public transport?
Mostly, yes. The vast majority prefer using the available facilities. If you live in the center of Cascais, you'll be able to do just fine. However, a car may be helpful if you want to travel to Lisbon and escape the crowded metros, trains, and buses.
The rush hours in Portugal mean that many passengers will be on board, which might not be everyone's cup of tea. From 5 am to 7 am and from 5 pm to 7 pm, there's a lot of traffic from Cascais to Lisbon and vice versa.
So, if you need to travel between those hours, we'd suggest planning ahead. Or, you could relax at a nearby cafe in the evening to wait until traffic has passed.
Leisure and nightlife
How could we miss out on fun and partying while living in Cascais? Impossible!
The people of Cascais sure know how to keep things exciting. From music cafes to nightclubs with a view of the beautiful ocean – there's much to explore.
Here's a list of some of the activities you'd enjoy:
As you can tell by the list, the city has amazing nightlife with lots to do even during the day.
Weather in Cascais
Portugal is very famous for its pleasant weather all year round; Cascais is no exception. Many expats are drawn to the city for this very reason – the beautiful weather and level of luxury it offers.
The climate is usually very tropical, till temperatures start rising slightly in June. Even then, it's not too warm, with an average of 19 °C during peak summer months.
Check out the table below to see what the maximum and minimum temperatures are:
| | |
| --- | --- |
| Maximum temperature | 19.9 °C(67.8 °F) |
| Minimum temperature | 11.9 °C(53.4 °F) |
| Average Rainfall | 97 mm(4 in) |
| Average Humidity | 76% |
For our prospective tourists – July and August are the best months to visit Cascais. Get ready to experience cool gushes of wind while you're mesmerized by the stunning beaches!
Access to health care in Cascais
Cascais is no exception to Europe's highly esteemed healthcare facilities and services. With some of the best hospitals in Portugal, you've got nothing to worry about in times of emergency.
Public and private hospitals are equally available for all residents. You will only require a Número de Utente (a license number) before receiving healthcare.
We have a complete guide on Healthcare in Portugal with listed Public Hospitals if you're interested to know more.
Work labor in Cascais
Apart from being a renowned tourist destination during summer break, Cascais is a city full of movement! It's home to many companies, thriving solopreneurs, and digital nomads. The D2 Business Visa has recently helped many expats get a residence permit by starting a business anywhere in the country.
Numerous digital nomads with additional passive incomes from abroad find Cascais to be the ideal destination to enjoy Portugal's lifestyle. And things have simplified tenfolds with the New Digital Nomad Visa up for grabs.
As per official data from Pordata, the purchasing power of residents is above the average in Portugal. A city like Cascais is an excellent place to work and relax.
Education in Cascais
Portugal is home to some of the very best International Schools with exceptional education and extracurricular activities for children. Portuguese education has holistic curriculums that focus on nurturing growth and expanding aborning horizons. But if you're looking for international education, Cascais has that too.
International Schools in Cascais pay close attention to your child's needs and growth. You can find different curricula in these schools, equipped with experienced teachers and extra-curricular activities for learning and development.
Your child is in safe hands – whether with private, International, or public schools. Cascais is one of the best places for families to live in.
Studying at Cascais universities
Moreover, the international students moving to Cascais have an excellent time altogether. Many foreigners study here in the area of health, hospitality, and tourism.
The city is one of the best tourist hubs in Portugal, so you're guaranteed excellent education with regard to the subject.
Here are the most-prestigious Cascais universities:
If you don't find what you're looking for within Cascais, you'd be pleased to know that some of Lisbon's universities are only 25 minutes away.
To explore Lisbon's top universities, read the article Living in Lisbon. We've also talked about all the disciplines offered there. Some of which are business management, finance, law, engineering, architecture, and data science.
How can a foreigner move to Cascais?
Whether you're contemplating moving alone or with your loved ones, the city's charm is exemplary. Expats from within the European Union don't require a residence visa or permit to benefit from all that Cascais offers.
However, if you're from outside of the EU, for example, America or the Middle East, you'd require a visa.
The Business Visa and the Passive Income Visa are increasingly popular among expats. Long-term prospects include Portuguese Citizenship and the opportunity to invest in the best industries.
Additionally, the Golden Visa is also a brilliant option if you can't stay in Cascais for more than 6 months. It's important to note that the law for the Golden Visa is prone to changes, so you must contact an expert for updates before looking into the application.
Is it worth living in Cascais?
As with any other city, living in Cascais is a personal decision. It all comes down to what environment you prefer and what your lifestyle can support. That said, Cascais is one of expats' favorite places in Portugal, whether to explore or reside permanently.
You'll find many expat residents super happy with their decision and suggesting to other people that it's worth it. We agree that Cascais is quite a privilege to live in; it's not cheap, but it definitely is worth it.
Do you need help moving to Cascais?
This brings us to the end of your virtual experience of living in Cascais. Would you like professional assistance with your move to Cascais? We've helped many expats turn their dream into reality, and would love to be a part of your journey too!
You can connect with some expats we've helped via our Facebook Group – All About Portugal For Expats. Feel free to post queries, ask for help, and look for inspiring stories.
If you'd like to start your relocation process, you can book a consultation and get started. Let's turn your dream project into a reality!