Last Updated on July 15, 2022 by Maryam Siddiqui
By now, you would've most definitely heard about Porto and how relatively better life is in most aspects. What draws most people to this city is the excellent standard of living. But, what is the estimated cost of living in Porto?
To better understand the cost of living in Porto, we'll delve deep into the essential expenditures you should expect. We'll cover everything from groceries and rent to leisure and transport.
This will allow you to come up with an estimated budget of how much you'll need to live in Porto. By the end of this article, you'll also be able to know exactly how the cost of living in Porto compares to your home country. Read on!
How expensive is living in Porto?
There's no correct way to answer this question. In fact, you'll get variable answers to this question depending on who you ask.
However, looking at it from a local's point of view, Porto is among the most expensive cities to live in while in the country. It's the second-largest city in Portugal and is a multicultural and economic hub of the country.
Looking from an expat's perspective, Porto might be relatively cheaper than most European or North American countries. For this reason, many expatriates who work remotely from their countries or those with passive income can take advantage of the lower cost of living.
Compared to the capital Lisbon, Porto is up to 6.4% cheaper as far as the cost of living is concerned. In Porto, you can enjoy a comfortable lifestyle for €2,900, whereas you'd need €3,265 in Lisbon for the same standard of living.
What is the cost of living in Porto for expats?
Before moving and settling down in Porto, it's essential to understand how much you'll need for everyday living.
To paint a clear picture of how basic expenditures cost in Porto, here are data estimates of costs from Numbeo (as of July 2022).
On average, a single person will need €568 for a monthly expenditure without including house rent.
| Expenses | Cost |
| --- | --- |
| Apartment (1 bedroom) in City Centre | €703 |
| Apartment (1 bedroom) Outside of Centre | €544 |
| Groceries | €200 |
| Monthly Utilities | €141 |
| Public Transport pass | €37.5 |
This list is not exhaustive in any way, remember, what individuals need per month will greatly vary depending on their different spending habits.
Cost of rent in Porto
If you intend to live in the city center, you should budget an average of €650 to €700 per month for one-bedroom house rent.
In Porto, good housing properties are hard to come by, and the available ones disappear just as quickly. To be safe, your budget should be up to €800 for housing, including rent, utilities, and the internet.
If paying the full rent for an apartment is not viable for you, then a flatshare might be an option. While the specific prices may vary, you'll typically be expected to pay €300 for rent.
The average price of purchasing real estate properties
As an expat, investing in real estate in Portugal has many advantages. The prospect of an increase in the value of properties is there and also, and Portugal has other benefits for expat investors.
Here's a summary of what property prices look like in Porto:
| Municipality | Price of property per m2 |
| --- | --- |
| Bonfim | €3,159 |
| Campanhã | €2,560 |
| Maia | €1,800 |
| Gondomar | €1,455 |
| Paços de Ferreira | €1,022 |
Prices are from Idealista (as of July 2022).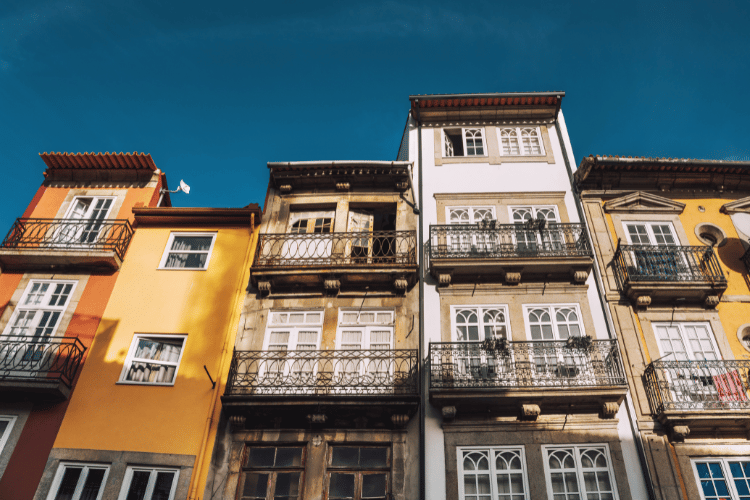 You'll be surprised by how much property prices have appreciated over the years. Let's look at Bonfim as an example; property prices have risen by 21% in the last two years. 
Another example is Maia, which was only €1,400 per m2 till July 2021, and now stands at €1,800 per m2. So, as you can tell, the real estate market is a great investment and a reason why many expats end up buying a house here.
House Bills
House bills exclusive or rent and food are not expensive in Porto. Here are some of the costs you should expect for regular house bills.
These estimates are based on prices for an 85m2 apartment for one individual.
| Utility | Cost |
| --- | --- |
| Heating, cooling, water, garbage, electricity | €107.95 |
| 1 minute of prepaid phone local tariff | €0.18 |
| Internet | €34 |
Average spending on food
Once you get to Portugal, you'll quickly realize how important cooking at home is for the people.
For most locals, cooking at home is not just about culture or tradition but also a means of significantly reducing the monthly bills. Cooking at home will always be cheaper than eating out in restaurants.
It's also a way for the community to come together. As a new expat, you may find that your neighbor invites you for a dinner at their house. It's a way to greet and welcome new people to the community. Eating out at restaurants is less common, especially for family gatherings.
On average, the cost of food often comes second after rent, which means it's an important bill to break down. Here are some of the most common food items and their prices.
| Product | Cost |
| --- | --- |
| Milk (1 liter) | €0.63 |
| Loaf of Bread | €1.13 |
| Rice (1kg) | €1.00 |
| Dozen of Eggs | €1.92 |
| Local Cheese (1kg) | €8.13 |
| Chicken Fillets (1kg) | €5.27 |
| Beef Round (1kg) | €9.50 |
| Apples (1kg) | €1.79 |
| Banana (1kg) | €1.26 |
| Oranges (1kg) | €1.33 |
| Tomato (1kg) | €1.57 |
| Potato (1kg) | €1.13 |
| Water (1.5-liter bottle) | €0.53 |
| Bottle of Wine (Mid-Range) | €4.00 |
| Domestic Beer (0.5-liter bottle) | €1.05 |
Table data is from Numbeo (as of July 2022).
On average, the recommended daily amount one person can spend on food should be around €5.70, which translates to €176.56 per month. However, this cost is subject to change depending on individual habits.
Expected transport cost in Porto
Getting to know and explore the beautiful city of Porto will require you to move around. However, as a new person in the city, navigating using private means is not recommended because of the difficulties you'll encounter initially.
Nonetheless, you can take advantage of Portugal's wonderful public transport systems. They are affordable and convenient since they facilitate movement from one part of the city to another.
Since Porto is generally a working city, it's common to find most locals using public transportation means to commute daily to work. Here's a breakdown of the cost of transportation using the various means available.
| Expenses | Cost |
| --- | --- |
| Tram ticket | €3.50 |
| Taxi tariff per km | €0.60 |
| Monthly bus pass | €37.50 |
| 1-way bus trip | €1.40 |
| 1 liter of Gasoline | €2.01 |
Leisure Expenses
There are plenty of leisure activities that you can get yourself into while in Porto. Some of these activities will need you to pay some money.
However, there are many other activities that you can involve yourself in that do not need paying.
A good example is taking nature walks or even taking photographs on the iconic Dom Luis Bridge. Here are some leisure expenses that you may encounter while in Porto:
| Expenses | Cost |
| --- | --- |
| Fitness membership | €37.32 |
| Fast food combo | €6.50 |
| Meal at a regular restaurant | €8.00 |
| Meal for two at a mid-range restaurant | €35.00 |
| Beer | €2.00 |
| Cinema (international release) 1 seat | €7.00 |
What is the cost of living in areas around Porto?
Living in the second-largest city in Portugal is nothing short of amazing. Within this city, full of outstanding architecture, are several smaller towns where expats choose to settle.
Living in the heart of Porto can be quite expensive compared to the outskirt towns. Here is the cost of living in some of the major towns.
| City | Monthly 1 bedroom rental apartment | Price of an apartment per m² |
| --- | --- | --- |
| Braga | €560 | €1,364 |
| Viana do Castelo | €480 | €1,149 |
| Vila Nova de Gaia | €640 | €1,976 |
| Matosinhos | €675 | €2,537 |
Prices are from Idealista (as of July 2022).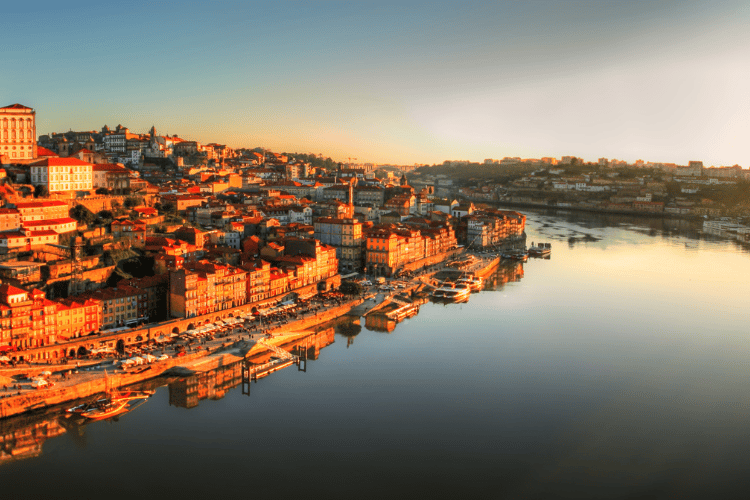 Is Porto cheaper than Lisbon?
Porto comes second in line after Lisbon in many ways, including the cost of living and business opportunities. Hence, in comparison, the cost of living in Lisbon is generally higher than in Porto.
According to data provided by Numbeo, the cost of living in Porto is 6.4% lower than in Lisbon. Expenses like the average monthly rent for a single-bedroom apartment is 26.49% lower in Porto than in Lisbon.
Lisbon is the main center in Portugal; it's home to different multinationals and is expected to have a higher cost of living than any other city in Portugal. It's mostly higher rent; other costs like groceries and utilities are more or less similar.
Is Porto cheaper than the Algarve?
Similar to other comparisons on what city is more affordable compared to the other, this one too, doesn't have a straight answer. This is often because different individuals have different spending habits regardless of their residence.
However, looking at data available at Numbeo, it's clear to conclude that Porto is actually cheaper than the Algarve.
Looking at the consumer prices, the cost of living in the Algarve is  13.94% higher than in Porto. Also, rent in the Algarve is 15.93% higher than in Porto.
The sunny region of the Algarve is home to many tourists and expats with a relatively higher purchasing power than the locals.
Therefore, this is why the cost of living is significantly higher than in Porto, which has comparatively fewer expats.
How much do the Portuguese earn?
When trying to decipher exactly how much Portuguese citizens earn, it's essential to look at the minimum wage in the country.
Portugal has the lowest minimum wage in Western Europe, which translates to €705 per month.
However, salaries also vary with the level of education that you have. The higher wages in Portugal are reserved for the top-level managers in the tourism industry, medical management, and legal counsel, among others.
On the other hand, foreigners find it relatively easy to settle in expensive and valued cities because of their higher wages. Many people here also have passive income streams that allow them to maintain a comfortable standard of living.
Is Porto still cheap?
This question is a recurring query, especially amidst the current global inflation. To be fair, it's a great question and something that we will discuss honestly.
However, there's one important distinguishing factor; the purchasing power of locals compared to expats'. Overall, the purchasing power for expats is generally higher because of higher income rates.
Nevertheless, prices in Porto have risen over the years, especially in the last five years, ever since Portugal has gained more attention. The most impacted sector is housing because the real estate market is booming.
Rental and property sale prices are soaring, along with gasoline prices, which consequently result in overall inflation. If you ask a local if the cost of living in Porto is still cheap, they're most likely to disagree.
On the contrary, if you ask an expat whether it's still cheap, they'll probably say yes. The difference in answers is due to the higher cost of living than they would pay back home.
At the end of the day, it all comes down to how much you're able to spend every month. Portugal has something for everyone, so if it isn't Porto, you can find another city that suits your budget for sure!
So when are you moving to Porto?
There you have it, everything you need to know about the cost of living in Porto. From all we've talked about, you can quickly tell that Porto is quite affordable compared to other cities in Portugal. Not to mention, the quality of life that the city offers its residents is priceless.
Besides that, Portugal has so much to offer expats from around the world. If you're ready to live the rest of your life in this part of the world, be sure to contact our professionals at Viv Europe! We're ready to help you every step of the way. 
And don't forget to join our Facebook Group – All About Portugal for Expats for some extra insights. It's a community of over 6,400 Portugal enthusiasts ready to help you out.