Last Updated on May 19, 2023 by Victor Queiroz
Formerly a small fishing village, Albufeira has since transformed into a major city that attracts tourists and expats from every corner of the world. Other than the excellent weather and beautiful beaches, the cosmopolitan vibe is among the major attractions for expats in this city. So, if you want to get a piece of this beautiful city for yourself, consider buying a house in Albufeira once you move here.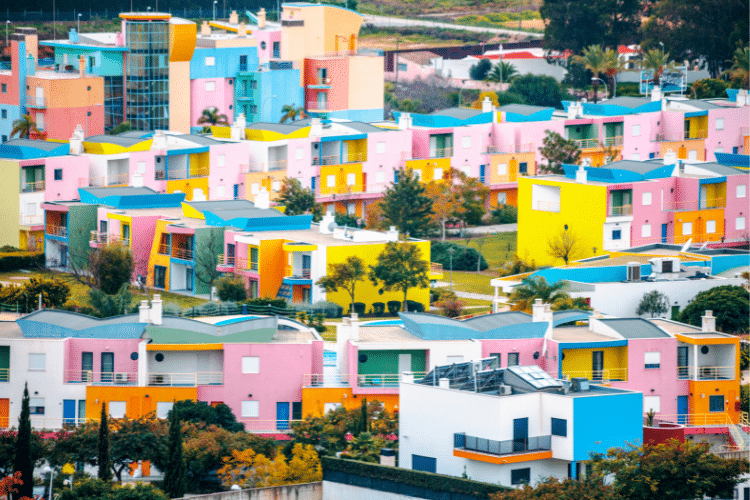 If you are considering settling in the heart of the popular Algarve region, then Albufeira is a great choice. Think about living in a city with plenty of restaurants, an active nightlife, and relatively close proximity to the capital, Lisbon.
The close proximity to the capital will allow you to get the best of both worlds; all you have to do is hop on a public means of transport and make your way to Lisbon. If this is something you might be interested in, this post is for you. Stick around as we delve into the intricacies that go into buying a house in Albufeira for expats.
Why should I think about buying a house in Albufeira?
Although Albufeira is often popular among tourists, this destination welcomes thousands of new residents yearly. In fact, according to the recent census, foreigners with legal resident status in this city make up about 37% of the population, mentions Pordata.
So why would you want to buy a house in Albufeira and be part of the foreign community in this city?
Thriving real estate
Buying property in the Algarve region is often considered a good real estate investment. Although buying a house for personal use in this region might seem ideal, especially for an expat, it doesn't need to stop there. Albufeira offers great opportunities for getting into thriving real estate opportunities, which could also be an additional source of income for you.
You could rent your house out to holidaymakers during the peak summer months. Prices in Albufeira are good but are still on an upward trend, so there is no better time to get into the real estate industry than now.
Another thing worth mentioning is that the hotel and resort developers have a special interest in foreign investors looking to tap into the real estate prospects of the city. It is not uncommon for hoteliers to offer investors a guaranteed return of between 3% to 5% return every year, according to their investment.
Albufeira is a great place to live
There is more to Albufeira than the miles of pristine sandy beaches. First, this coastal city is strategically located right in the middle of the Algarve region, giving you access to the northern or southern extremes of the region.
Something else that makes Albufeira a great place to live is the weather. The Algarve promises up to 300 days of sunshine annually, which allows you to explore outdoor activities as often as you want. Another thing you will love about this city is its rich culture and gastronomy.
The Portuguese love their traditional dishes, which are predominantly made of seafood and natural spices sourced locally. Also, the locals are quite friendly and very tolerant of people of diverse backgrounds and ethnicities. As an expat, you will not have a hard time integrating into the community.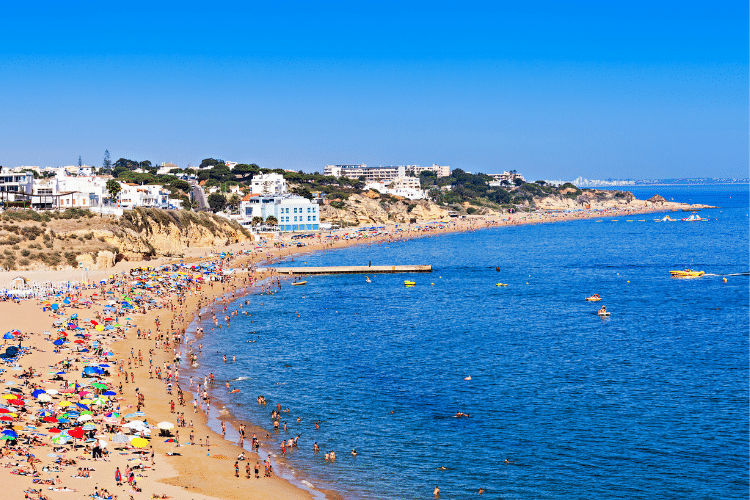 Prospects of getting a D7 visa
If your intention is to live your golden years in the coastal town of Albufeira, you need to know about the D7 Visa, better known as the Passive Income Visa.
However, in order to qualify for this Visa, you need to be a passive income earner, either through investment, pension, or rent, just to mention a few. The good news is that buying a house in Albufeira is one of the ways to earn a passive income should you choose to rent the house out.
The income from rent will help you pay for property taxes and save up for future investments. Getting the D7 Visa not only grants you entry into Portugal but also allows you to apply for a residency permit as well. Investing in real estate is a good move because the property will only improve in value as the years go by.
How to buy a house in Albufeira
The process of buying a house in Albufeira is not so different from other places in the world. You will need to provide documentation that will go through different verification steps before finally getting your deed. While that is true, you need to know that the process can be quite tedious, especially if it is your first time.
Also, the Portuguese public services are so bureaucratic, with plenty of tie-downs, that the process takes longer than you might be used to.
Fortunately, our experts at Viv Europe are experienced in the immigration process and will take care of the financial and legal process on your behalf. This way, you will reduce the chances of making errors and also focus your time and energy on other things!
Can a foreigner buy a house in Portugal?
The beauty of immigrating to Portugal is that you can buy property in any region or city in the country. In fact, buying a house as a foreigner is similar to that of the locals, apart from a few small things you will need to have.
The very first thing that you will need is the NIF Number and a Portuguese bank account. Also, if you want to stay in the country for periods longer than 90 days, you will need to process a residence permit.
How can I buy a house in Albufeira?
Now, here comes the interesting part! Despite the fact that the process is often slow, it is fairly easy and quite straightforward. That said, take a look at this step-by-step guide to buying a house in Albufeira.
Research and choose your investment
There is no shortage of houses to buy in Albufeira. Therefore, it's easy for anyone scouting for a good home to be overwhelmed by the options available. With that in mind, it's advisable to do extensive research before settling on any other house you come across. 
One way of shortlisting options is by looking at your budget. This should give you a good indicator of the types of houses you should be scouting for.
Other than that, you need to figure out what your plans for the house are. If you're looking to rent, consider getting one close to the beach. If you want a house for a family, consider going further inland, where the houses are bigger and cheaper, and the neighborhoods are less chaotic. 
You can search online, work with a real estate agent, or attend open houses. It's essential to be familiar with the local property market and aware of the current market conditions, prices, and trends. Here are some reliable websites that will help you with your search.
Prepare the paperwork
Before getting to the nitty-gritty of the business, you will need to prepare some paperwork beforehand. First, you will need to apply for the Número de Identificação Fiscal (NIF). You can easily get this document from the local tax office by yourself or ask your legal representative to do it on your behalf.
Also, you will need to apply for a residence permit if you are a non-EU citizen. The other things that you might need to provide in the preliminary process include proof of income and a valid identification document.
With Viv Europe your plans for Portugal
will finally come to a reality
Visit the property in Albufeira
Before closing on any deal, make a point of evaluating the current condition of the house yourself. No one is better equipped to judge whether the house is good for your family than yourself.
Some of the things you need to pay attention to during your visit are the neighborhoods, especially if you have a family. You want a house in a good neighborhood close enough to the main means of public transportation in that area.
With that in mind, you should avoid virtual tours unless they are completely necessary. Instead, consider attending private shows or even working with a respected local real estate agent who knows the current trends in the market. Visiting the property also allows you to talk with the owner and possibly strike a better deal.
Get your documents settled in Portugal
To legitimize the process, here are additional documents you'll need to provide for verification before buying a house in Albufeira.
Certificate of Land Registry (Certidão de matrícula): This document is issued by the local land registry, and it serves as proof of the property's ownership.
License of Use (Licença de Utilização): Obtained from the parish council of the respective house; this document clearly indicates the purpose of the said property.
Building Book (Caderneta Predial): This shows that the property has been tax compliant. You can obtain this document from the local finance office.
Tax Declaration: This will confirm the amount of property taxes, which will be the new owner's responsibility.
Housing Technical File (Ficha Técnica de Habitação): Highlights all the technical descriptions of the house.
Transfer the payment and sign the deed
Money transfers are more convenient today compared to a couple of years ago, and there are so many options that you can use even if you are outside the Eurozone. Here are some of our top recommended options.
Wise (Previously known as TransferWise)
Xoom from PayPal
Following the signature of the reservation contract and receipt of the NIF, you will sign the final sales contract (Contrato de Promessa de Compra e Venda). This sales contract contains a complete description of the acquisition.
Once the paperwork is in order, the property transfer can be completed in the notary's office. To ensure everything is done properly, a lawyer should be present.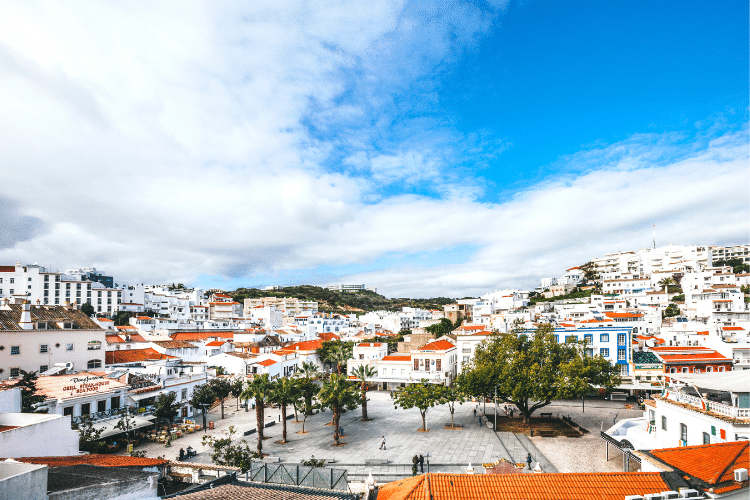 How much does it cost to buy property in Albufeira?
Depending on the town you are interested in, the price of purchasing or renting a home in Albufeira varies. When it comes to buying a home, there is no such thing as an all-inclusive price. It depends on factors like the specific location of the house, its size, and its current condition.
On average, the cost of buying property in Albufeira is about €3,131 per square meter. The price of buying a home in some of Albufeira's well-known neighborhoods is broken down below.
| Neighborhood | Cost per m2 |
| --- | --- |
| Albufeira e Olhos de Água | €3,136 |
| Ferreiras | €2,524 |
| Guia | €3,961 |
| Paderne | €2,296 |
Estimates are from Idealista (as of May 2023).
How much can you make renting out a property in Albufeira
Other than buying a house for personal use, another reason why expats consider buying a house in Albufeira is for rental income. It goes without saying that Albufeira is a major tourist hub in Portugal. Therefore, rental houses, especially during the summer, are a good source of revenue for house owners.
When it comes to renting out a house, there are two options, long-term and short-term rentals. Out of these two options, short-term rentals are often more lucrative in the summer. Depending on the house's condition, the cost of renting a house per night could be between €60 and €250.
| Residence Type | Rent per month |
| --- | --- |
| Apartment (1 bedroom) in City Centre | €1,083 |
| Apartment (1 bedroom) Outside of Centre | €933 |
| Apartment (3 bedrooms) in City Centre | €1,750 |
| Apartment (3 bedrooms) Outside of Centre | €1,450 |
Estimates are from Numbeo (as of May 2023).
Can I apply for a Portugal Golden Visa to invest in a property in Albufeira?
The Golden Visa program is a good incentive for investors to consider pitching camp in Portugal. The sad bit is that Albufeira and the entire Algarve region are no longer eligible for this program. The recent shakeup in the Golden Visa program has excluded all urban and densely populated regions in Portugal in a bid to encourage the development of other regions as well.
Is making a real estate investment in Albufeira worth it?
The trick to getting into real estate is finding a place that is still well-priced but has the potential for growth. The good news is that although Albufeira is not the cheapest destination in Portugal, it still has a lot of potential for growth, considering the influx of tourists and expats interested in settling in this region.
If you're buying property for rent, there is plenty of demand; you can always count on the busy summer months every year.
That said, there's no doubt that Albufeira is a good destination for real estate investment. However, before making any financial decision, be sure to do your due diligence beforehand and understand all the risks that are also possible should you choose to invest.
When are you coming to Albufeira?
Albufeira is a dream home for many people around the world, so if you want a piece of this great city, buying a house is a good way to do that. Whether it is for rent or personal use, Albufeira is a good place to buy a house. Whenever you are ready to make the final move, get in touch with Viv Europe's real estate professionals.
We've helped numerous families buy a home in Portugal and would love to kickstart the process for you too! Finally, be sure to join our Facebook Group – All About Portugal For Expats, and interact with other people who have been through the process before!