Last Updated on December 16, 2022 by Laila Oliveira
So many choices and such little time. It's difficult to choose where to go when the magic of Portugal leaves you wanting more. Buying a house in Portugal isn't just a way to get the Golden Visa; it's a way to create a home that reflects your personality and makes you feel safe in a new country.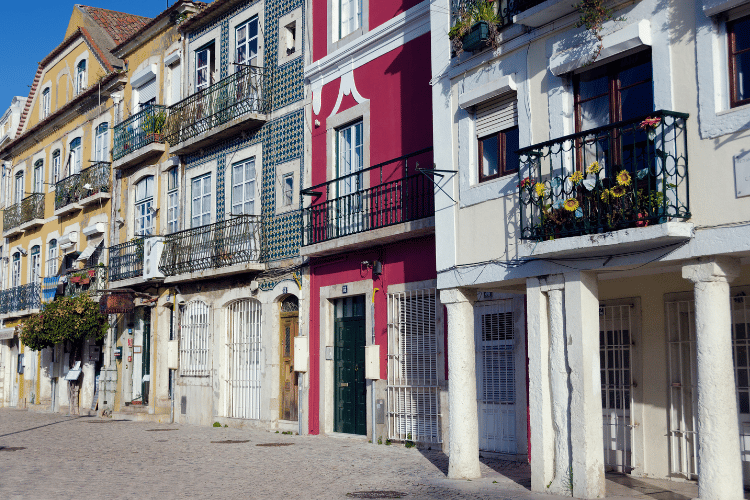 Most expats go on a scouting trip to find their new forever home, but some fall in instantaneous love too. There's no right way to go about this decision. Lisbon is a unanimous go-to for expats from all over the world, and Madeira is hard to stay away from for retirees. What makes these places special? Let's find out!
In this article, we'll explore the top 8 cities that most attract expats and what makes them the best of the best! Here's your guide to choosing your new home among the sea of opportunities that Portugal offers. Happy reading! 
Why should I think about buying a house in Portugal?
With 75% of the population owning homes, Portugal is one of Europe's most family-friendly countries. With its beauty, leisure-free lifestyle, and wide range of affordable houses, both in the countryside's cobbled streets and in the city centers' metropolitan lanes, Portugal is a top destination for expats looking to relocate or enjoy their retirement years.
Surely there must be something about this country; keep reading to know why expats buy a house and why you should think about it too!
The real estate market is booming
If you've already fallen in love with Portugal and seek to invest in real estate here, you should know that the real estate market has been performing surprisingly well for a country that wasn't all that famous a few years ago. 
Property prices have been steadily rising by 7% to 10% annually, even in the last two years, which were a few of the toughest years the world has seen lately.
Even though prices in some areas are relatively low than in the rest of Europe, it's crucial to consider that demand in the real estate industry is constantly increasing. The Algarve, Lisbon, and Porto are the most expensive areas. And despite their higher prices, these areas remain "good investments" due to rising demand.
You can thank the annual flock of millions of tourists for that!
Finding the house of your dreams doesn't take too long, but you mustn't wait because it also does not take too long for someone else to close that deal.
Portugal is a great place to live
Buying a house in Portugal means feasting your eyes on the views of the Atlantic while basking in the golden sun.
Portugal develops into whatever you want it to be. The capital city of Lisbon is ideally suited for entrepreneurs and social butterflies. On the other hand, Cascais would be the best place for you if you value a quiet, calm, and luxurious atmosphere.
The country also leads the world in terms of low crime rates, a high safety index, affordable utilities, and sophisticated infrastructure. With a growing expat community, you can tell buying a house in Portugal is a fantastic choice to experience European life on a budget.
The best place to buy real estate in Portugal may depend on your financial situation and the kind of house you want. You must first decide what you want and where you want to live in Portugal before doing anything else.
We've kept you waiting for long enough! Let's look at the top 8 cities that most attract expats:
#1 Lisbon: The city that most attracts expats
Portugal's capital, Lisbon, is rich in history and culture, offering unique architecture, entertainment, and places to explore. The relaxed lifestyle, friendly neighbors, and beautiful views are just the beginning of what draws expats here. Nightlife in Lisbon is as colorful and active as the day, and there is a huge range of dining options.
Lisbon's enthusiastic workforce, a growing economy, pliable investing policies, incentives for startups and entrepreneurs, and a favorable tax system all contribute to Lisbon being one of the world's top real estate markets. Although the prices are higher, buying a house in this region of Portugal is absolutely worth it.
How much does it cost to buy property in Lisbon?
Property prices are high in Lisbon because of limited supply and growing demand. If Lisbon sounds like something that excites you, be prepared to spend more money than you would elsewhere in Portugal. 
The prices vary depending on the property's area, condition, and age. However, on average, Lisbon's prices per square meter can range from €3,000 to €7,000.
| Municipality/Parish in Lisbon | Price per 100m2 |
| --- | --- |
| Lisbon | €381,200 |
| Amadora | €245,700 |
| Azambuja | €113,400 |
Estimates are from Idealista (as of December 2022).
#2 Porto: The one chosen by North Americans, Brazilians, French, and Spanish
For North Americans, Brazilians, French, and Spanish, life in Porto is precisely what they look for: a safe environment, plenty of sun, a calm lifestyle, and no political radicalization. Porto has the same quality of life and atmosphere as California and Western Europe, but at a fraction of the price.
People come here looking for a slower pace of life, lower costs, and a stronger sense of community. While $5,000 per month is the average income for living reasonably in California, the same lifestyle does not cost half as much in Porto.
How much does it cost to buy property in Porto?
Porto and Lisbon are two top cities attracting tourists and expats alike. It's often referred to as a cheaper and much less busy alternative to Lisbon. Porto is also great in terms of buying a property because the lifestyle is pretty similar, but the prices aren't. 
Prices in Porto are relatively lower as compared to Lisbon and the Algarve. However, the real estate market is seeing an upward trend here as more and more people are exploring Portugal and finding alternative options. The prices per square meter in Porto can range from €1,900 to €5,000.
| Municipality/Parish in Porto | Price per 100m2 |
| --- | --- |
| Porto | €238,200 |
| Maia | €183,200 |
| Amarante | €92,700 |
Estimates are from Idealista (as of December 2022)
#3 Albufeira: In high demand for French and British buyers
Over the decades, people have been passionate about the sun, sea, and golf in the Algarve. And Albufeira is a prime location within the Algarve region that offers what expats love. An easy-going life, tax incentives for ten years, about twenty-five beaches, and a low cost of living add to the list of why it's a favorite for the British and French. 
Most British and French tourists visit Albufeira in September to indulge in the renowned golfing season. Additionally, the luxury sector of the Portuguese real estate market is becoming increasingly enticing. And who wouldn't want to invest in a secure region with perks that make your life better?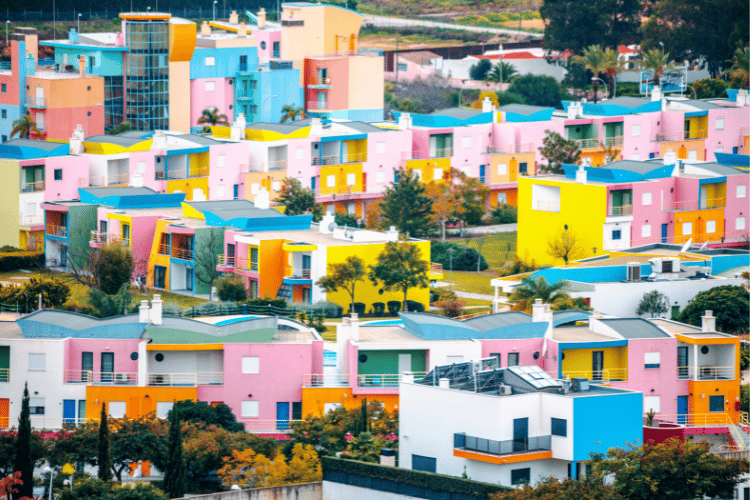 How much does it cost to buy property in Albufeira?
Lisbon, Porto, and the Algarve are Portugal's top three most expensive regions. Albufeira's golden beaches have been popular among tourists, especially from the UK. The summer season is buzzing with people renting short-term rentals, resulting in great profits for those that own property nearby.
Albufeira has a dynamic and attractive real estate market in the south of Portugal. The prices per square meter in Albufeira can range from as low as €2,100 to as high as €4,500.
| Municipality/Parish in Albufeira | Price per 100m2 |
| --- | --- |
| Albufeira | €295,600 |
| Ferreiras | €215,100 |
| Guia | €374,00 |
Estimates are from Idealista (as of December 2022).
#4 Cascais: A North American favorite
Cascais is a lively and lavish neighborhood for many North Americans, offering everything between sports activities, quiet nature walks, and the gaming tables of Casino Estoril. Cascais likes to party, and the year is filled with events, including the colorful Cascais summer festivals.
The city is a seaside town, home to wealthy Portuguese seeking an escape from city life. However, it is equally notable amongst tourists for its location. Some of the most expensive and beautiful properties can be found in Cascais.
With Viv Europe your plans for Portugal
will finally come to a reality
How much does it cost to buy property in Cascais?
There is a wide range of excellent housing options available, including large independent homes near grocery stores, gyms, and yoga studios. Furthermore, the Cascais housing market is stable and highly valued, with house prices rising by 37% in recent years.
Property prices in Cascais are relatively higher as compared to the Algarve. The prices per square meter in Cascais can range between €4,200 to €6,500. You'll find some of the most luxurious villas built here.
| Municipality/Parish in Cascais | Price per 100m2 |
| --- | --- |
| Cascais | €420,100 |
| Estoril | €520,600 |
| Carcavelos e Parede | €347,700 |
Estimates are from Idealista (as of December 2022).
#5 Loulé: The British buyers' choice
One of the most incredible tourist destinations, Portugal's Loulé is regarded as a distinctive and lively city. It's where you can get an excellent view of Portuguese culture and history. Quite a few British gravitate toward locales with historical references and deeply rooted cultural ethnicity.
Loulé's unparalleled weather and beautiful coast make it an undeniably stunning choice to buy a house here. Whether it's a holiday home or a place you wish to rent out seasonally, consider the idea to be an excellent investment.
How much does it cost to buy property in Loulé?
Portugal offers a simple way of life everywhere you look. Loulè combines the modern lifestyle of Lisbon with the Algarve's traditional values.
Because it is one of the most expensive places to invest, property prices in Loulè are also higher than the average. The average price per square meter can range from €3,000 to €7,000.
| Municipality/Parish in Loulé | Price per 100m2 |
| --- | --- |
| Loulé | €365,700 |
| Boliqueime | €254,300 |
| Alte | €142,000 |
Estimates are from Idealista (as of December 2022).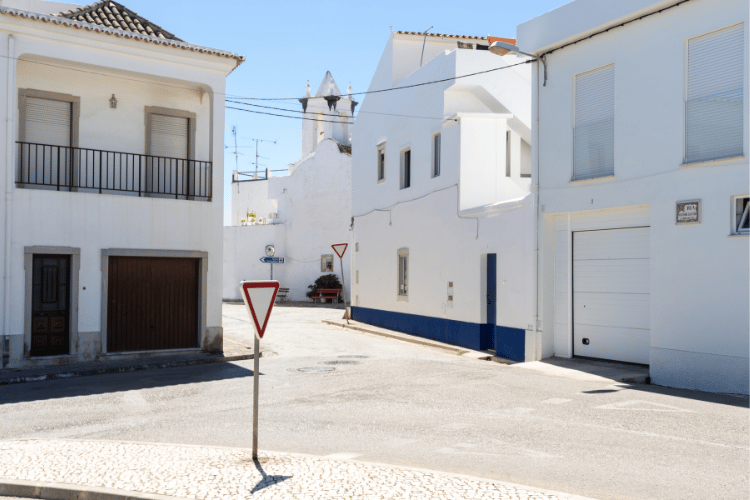 #6 Braga: Popular between Brazilians, French, and Swiss
One of Portugal's oldest cities is Braga. The Brazilians, French, and Swiss are said to favor Braga the most. It has a particular history that combines religion and culture, making it best known for religious-themed events and traditions.
The Bom Jesus do Monte complex, a neoclassical church, is in the east. Porto is in the northeast, and Braga Cathedral, home to sacred art, is in the center. In every direction you look, you're surrounded by beautiful historic streets and monuments here. As a result, this extraordinary city attracts expats that are looking for tranquility and solitude.
How much does it cost to buy property in Braga?
Braga is one of the cheapest municipalities with a relatively lower cost of property and an even lower cost of living as compared to Cascais, Lisbon, and Algarve.
A house in Braga can cost you as little as €1,400 per square meter. Compared to Lisbon, where a house costs €3,700 per square meter, this is a significant difference. Of course, the real estate market is different too, but Braga has its own charm.
| Municipality/Parish in Braga | Price per 100m2 |
| --- | --- |
| Braga | €140,500 |
| Esposende | €203,300 |
| Barcelos | €125,800 |
Estimates are from Idealista (as of December 2022).
#7 Lagos: The retirees' and digital nomads' paradise
Located between islands and the coast, Lagos is full of hidden gems. Retirees and digital nomads enjoy the tranquil life in Lagos, making us think: who doesn't want to spend their retirement years by the ocean?
It's just a one-hour drive to the international airport, close to national parks, the historic town of Sagres, which dates back to the Portuguese discovery era, and Albufeira. It's ideal for living away from the city's noise while still enjoying all of its benefits.
How much does it cost to buy property in Lagos?
Lagos is one of Portugal's most expensive regions. But it also meets the expectations of those living there. Retirees who buy a house here can get the best of both worlds, a safe and beautiful place to spend their golden years and an appreciating asset value.
If you're interested in purchasing real estate in this serene and charming region of Portugal, be prepared to spend a significant amount. Property prices in Lagos start from €3,300 per square meter.
| Municipality/Parish in Lagos | Price per 100m2 |
| --- | --- |
| Lagos | €338,700 |
| Odiáxere | €431,200 |
| Barão de São João | €304,400 |
Estimates are from Idealista (as of December 2022).
#8 Madeira: Island life at its best
Madeira Island is well-known for its scenery, folklore, and its mystical wine, which was served to the American Founding Fathers. You'll find amazing nature with breathtaking views, a gorgeous sea encircling the island with dolphins and whales, delectable food, and incredibly welcoming people.
It's a great option to find a property for vacation, retirement, or investment. The region has developed programs for independent contractors, digital nomads, and international investors. 
Every year, more and more such programs are expected to launch to attract foreign entrepreneurs and freelancers from all over the world. The real estate market is thriving and will likely continue to do so.
How much does it cost to buy property on the island of Madeira?
Madeira offers you an excellent quality of life at a very low cost. Even though you might miss Lisbon's city life from time to time, the peace in Madeira is unmatched. Housing is quite cheap if you compare it to other cities of Portugal, like Lagos or Porto.
Despite the growing popularity, you'll find the average property prices start from €2,000 per square meter only. 
| Municipality/Parish in Madeira | Price per 100m2 |
| --- | --- |
| Madeira | €231,200 |
| Funchal | €258,300 |
| Ponta do Sol | €162,400 |
Estimates are from Idealista (as of December 2022).
Is making a real estate investment in Portugal worth it?
Portugal has made significant strides in recent years to improve its competitiveness and make it easier to invest there. The country aims for world-class infrastructure, a highly qualified workforce, and a safe environment. But it's not just all talk and no action; the real estate market's statistics speak for themselves!
Buying a house in Portugal is an easy and hassle-free procedure, and multiple tax incentives entice investors to make a purchase here. From bustling Lisbon to small municipalities like Oeiras, people are relocating to Portugal for a secure future and quality of life. Most investors think it is well worth buying a house in Portugal.
It goes without saying that any big financial decision is entirely up to you. We suggest that you do your own research, talk to other expats, and reach out to real estate experts to get some more perspective. This guide only highlights the top 8 cities that attract expats the most and why they do so.
When are you buying a house in Portugal?
That's it, folks; this was your guide to expats' favorite real estate markets as judged by real estate experts. We've reached this conclusion after dealing with numerous clients over the years. And this article might have left you feeling in either of these two ways: ready to choose your go-to or increasingly confused. But don't fret!
Viv Europe is here to guide you every step of the way. The real estate market can be challenging to deal with if you're unfamiliar with Portuguese bureaucracy. That's why people choose to let Viv Europe do the work for them! Contact us and mention your favorite city you're ready to call home.
If you need more opinions from people who've already made the big move or are about to, join our Facebook Group – All About Portugal For Expats. We're a community of over 9,000 Portugal enthusiasts waiting to help more people to live their dreams. See you soon!