Last Updated on April 12, 2023 by Maryam Siddiqui
One of the hidden gems of Portugal is the greater Alentejo region. This is one special destination, especially for anyone who wants to escape the busy life of the concrete jungle. For any expat considering moving to this destination permanently, buying a house in Évora is a great idea.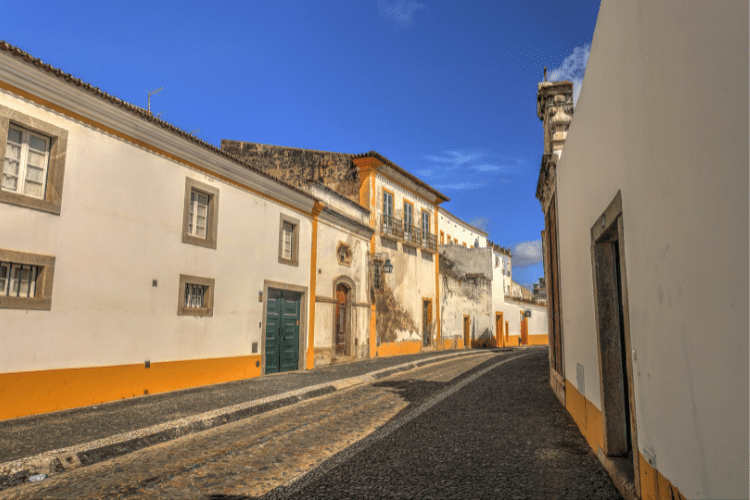 The capital of Alentejo, Évora is one of those laid-back cities that is characterized by beautiful landscapes with plenty of wildflowers that come to life during spring. If you love history, then you will be happy to find out that Évora is recognized by UNESCO as a World Historic Site and is home to a lot of history that dates back to ancient Roman times.
While it is a good idea to consider buying a house in Évora, is it possible for an expat to buy a house? Are there special requirements that they need to know about? If you are asking yourself such questions, this post is for you! Here is a detailed guide that will attempt to answer most of the questions that you might have.
Why should I think about buying a house in Évora?
There are so many reasons why you should consider buying a house in Évora. Other than the beauty and history, life in Évora is relatively slow-paced compared to the big cities in Portugal. As such, you will love this destination, especially if you are a retiree or looking for a quiet space where you can start and raise a family.
Also, the cost of living in Évora is relatively cheaper compared to cities like Lisbon or the Algarve which are among the most expensive destinations in the entire country. That said, let's take a look at other reasons why you should consider buying a house in Évora!
Évora is open to real estate development
You might not know this, but Alentejo is the largest region in Portugal in terms of square footage. However, the irony is that this region only accounts for 5% of the country's population. This means that there is a huge potential for many things, including real estate, in this region. This is especially true if you want to escape the competition that is common in big cities.
Another reason why Évora is a good place for real estate is that the cost of properties is still relatively low compared to other destinations. This is quite advantageous for expats who are looking to buy a house but on a budget.
On average, the cost of buying a house is about €2,016 per square meter, according to data from Idealista. Keep in mind that the real estate market is also influenced positively by other factors like a stable government and the safety of Portugal.
Good quality of life
One of the biggest perks about Évora that is often not mentioned enough is the quality of life. Unlike living in the bigger cities that are often overpopulated, Évora gives you the unique opportunity to live the life you want, which could include resting farm animals if you so wish. Also, the local population is quite happy with the current quality of life; in fact, Évora has the second-best living conditions in the country.
Generally, Évora is ideal for anyone looking for a peaceful and private life. Different from other popular destinations in Portugal, Évora is not plagued by over-tourism, which is so popular in Lisbon and the Algarve, especially in the peak summer months. However, while this is true, it doesn't mean that this city doesn't get tourists at all; the numbers are significantly lower than in the other touristy destinations.
Retirees are getting their D7 Visa
This might be the major reason expats need to turn their eyes to the large Alentejo region and even consider buying a house in Évora. The town has a very slow pace of life, attracting retirees that have been looking to relax and enjoy.
As mentioned earlier, the cost of property in Alentejo is still lower compared to other cities in Portugal. This is another reason why retirees are able to live peacefully on a budget. The D7 Passive Income Visa allows you to live in Portugal based on the monthly pension you receive. Compared to other visas, the process is simpler, and the benefits are endless!
Thus, investing in this region is particularly beneficial because you get to secure an asset, and let it increase in value while living your best life in Portugal.
How to buy a house in Évora
The process of buying a house in Évora is not so different from anywhere else in the world. You need several documents that need verification before the process is finalized and you get your deed. Nevertheless, you need to remember that the Portuguese public system is quite bureaucratic, with plenty of bottlenecks and tie-downs.
In this regard, it can get quite overwhelming if it is your first time. Therefore, working with a legal team that will guide you is always a good idea. Our experts at Viv Europe have an able and well-established legal and financial team that will help you navigate the process without too much trouble.
Can a foreigner buy a house in Portugal?
Fortunately, Portugal is one of the few countries in Europe that do not restrict expats from buying and owning property in the country. In fact, the process of buying land in any given destination in Portugal is the same whether you are an expat or a citizen.
That said, you will need a few documents before buying a house in Évora as an expat. You will need to open a Portuguese bank account and get a tax identification number, better known as a NIF Number. Also, if you want to stay in Portugal permanently or long-term, you may also need to process a residence permit.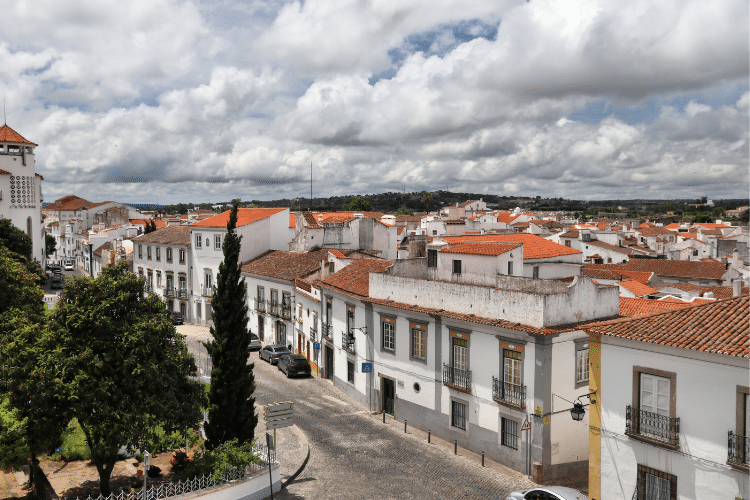 How can I buy a house in Évora?
As mentioned earlier, it is possible to buy a house in Évora as a foreigner. But what does the process look like? Here is a guide that should help you get started.
Research and choose your investment
The city of Évora has no shortage of houses for anyone considering buying one. Although this might seem like an advantage when house hunting, it can also be quite challenging and overwhelming to narrow down to one specific house. However, to help you avoid confusion, you should approach this whole process with a clear head and have your objectives right.
First, think about your budget, the specific neighborhood, and even the size of the house. This should give you a clear direction on the type of houses to focus on. Also, by doing your due diligence, you will also find out the current trends and prevailing market conditions in the city.
The internet is a good place to begin your research before committing to just any other house. Here are a few websites that you can use to research from the comfort of your home.
Prepare the paperwork
After finding a few options that you are interested in, the next order of business is to ensure that you have the right documentation. The first document that you need to have is the tax identification number NIF. Visit your local Portuguese tax office in order to get this document.
If you need help with the process, it might be a good idea to let your legal representative handle the process on your behalf. Other than that, you will also need to produce a valid identification document like a passport. Also, if you are a non-EU member, you will need a residency permit if you intend to stay in Évora permanently.
Visit the property in Évora
This is one of those important steps that you ought not to skip. While some agencies will visit and inspect the prospective houses you have chosen, no one knows your unique wants and needs for a house better than you.
By scheduling a visit, you will be able to look at some details like the particular neighborhood or even the proximity to the bus and train stations. You will not get such details from an online tour of the house.
Also, this visit might present an opportunity to meet up with the owner and possibly strike a better deal one-on-one.
Get your documents settled in Portugal
To verify and make the process legitimate, you will need to present additional documents that outline some of the important things before the sale. Here are the documents that you will need to have.
Certificate of Land Registry (Certidão de matrícula): This document is issued by the local land registry, and it serves as proof of the property's ownership.
License of Use (Licença de Utilização): Obtained from the parish council of the respective house; this document clearly indicates the purpose of the said property.
Building Book (Caderneta Predial): This shows that the property has been tax compliant. You can obtain this document from the local finance office.
Tax Declaration: This will confirm the amount of property taxes, which will be the new owner's responsibility.
Housing Technical File (Ficha Técnica de Habitação): Highlights all the technical descriptions of the house.
With Viv Europe your plans for Portugal
will finally come to a reality
Transfer the payment and sign the deed
The last bit of the process is to transfer the money and sign the deed. Money transfer today is easier than it was a decade ago; expats out of the Eurozone can now use reliable online money transfers that are a lot faster and also very convenient.
Here are some of the best online money transfer platforms that you can use.
Wise (Previously known as TransferWise)
Xoom from PayPal
You will then sign the final sales contract (Contrato de Promessa de Compra e Venda) following the signing of the reservation contract and receipt of the NIF. The purchase is fully described in this sales contract. Having your lawyer present when signing the final documents before you are presented with the deed is always a good idea.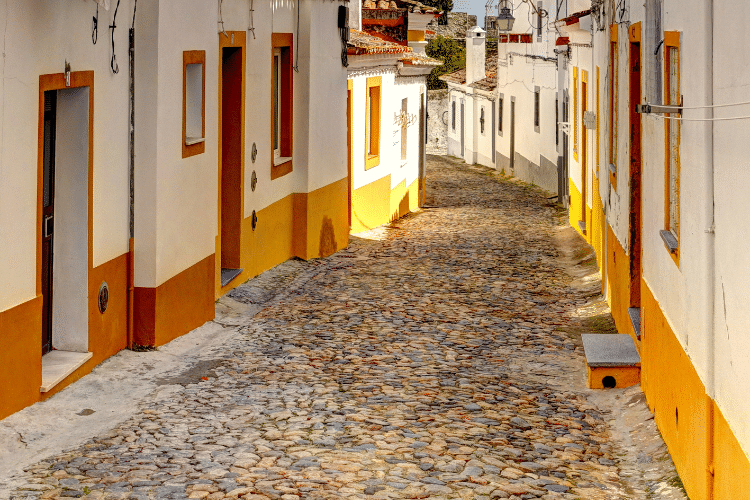 How much does it cost to buy property in Évora?
The cost of property in Évora varies greatly depending on the size of the house, its location, and also the present condition. Generally, the cost of property in Évora ranges from €200,000 for small properties all the way to over €1,000,000 for luxurious beachfront villas.
To understand what to expect, here is a breakdown of the cost of buying property in some of the major parishes in Évora.
| Parish | Price per 100m² |
| --- | --- |
| Bacelo e Senhora da Saúde | €2,042 |
| Évora | €2,544 |
| Malagueira e Horta das Figueiras | €1,846 |
The data above is from Idealista (as of April 2023).
How much can you make renting out a property in Évora?
People choose to buy houses in Évora for different reasons, and while some do it for personal use, it is also possible to rent out a house for extra income. This is especially true during the summer months when tourists visit this destination.
Renting out your house is a good way to make money during the peak months of summer when demand for short-term accommodation outstrips the available supply. Keep in mind that short-term accommodation is also quite lucrative for homeowners who choose to rent their properties out.
The charges per night range from €60 to €250 depending on the location and size of the house. However, if you choose to rent your house out long term, how much you will charge for rent will depend on the property's size, condition, and location. Here is a rundown of the average cost of rent in Évora.
| Residential Type | Rent Per Month |
| --- | --- |
| Apartment (1 bedroom) in City Centre | €616 |
| Apartment (1 bedroom) Outside of Centre | €490 |
| Apartment (3 bedrooms) in City Centre | €950 |
| Apartment (3 bedrooms) Outside of Centre | €812 |
Estimates are from Numbeo (as of April 2023).
Is making a real estate investment in Évora worth it?
Investing in real estate can be a good venture especially, if you find a location full of investment potential and also the properties are also well-priced. You will be glad to find out that Évora is one of those places in Portugal.
This destination has been flying under the radar for far too long, and finally, expats, tourists, and investors are finally turning their eyes in this direction.
The cost of properties is generally low, and there is no better time to get into the real estate scene of this city, other than now. However, before making any rush decisions, be sure to research extensively and also consult with realtors in this particular region.
Finally, it is important to carefully consider the potential risks and opportunities before making any investment decisions.
When are you coming to Évora?
Whether you are buying a house for vacation, retirement, or investment, there is no better place to do so, than in Évora. This destination has plenty to offer for expats from all over the world. Take your time and make sure you do your due diligence before making this big purchase.
Nonetheless, if you need help with the process, be sure to contact our experts at Viv Europe, who are more than willing to make it a possibility for you. Consider joining our Facebook Group – All About Portugal for Expats, to connect with other expats who have experienced similar challenges as you.