Last Updated on August 4, 2023 by Laila Oliveira
Albufeira, the coastal town right in the heart of the Algarve region, is one of the most popular destinations for tourists and expats. Finding a rental in Albufeira can come with challenges because of the demand, but it offers many advantages due to its coastal charm and tourism infrastructure.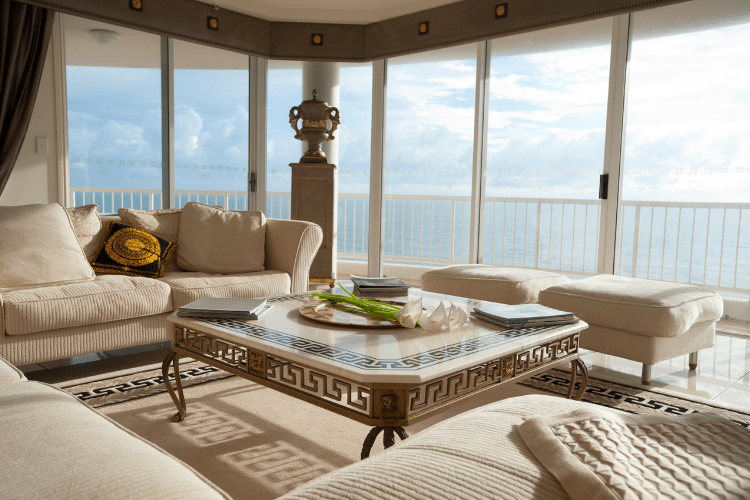 It doesn't end there. The weather and beautiful beaches are two other reasons why expats and tourists love this place. Albufeira enjoys a Mediterranean climate with long, hot summers and mild winters, not to mention up to 300 days of sunshine per year. 
If you're as smitten by Albufeira as we are, continue reading this guide to finding the best rental for you and your family. You don't need to wait until you have the funds to buy a house; renting in Portugal gives you as great of an experience either way! So how do you find a rental in Albufeira? Let's discuss.
The challenges of finding a rental in Albufeira
Finding a rental in Albufeira, like in any popular tourist destination, can present some challenges due to the high demand for accommodation during peak tourist seasons. Albufeira experiences a significant influx of tourists during the summer months, which can make finding a rental during this time more challenging.
Many property owners may prioritize short-term vacation rentals over long-term leases to cater to tourists, reducing the availability of long-term rental options. During the peak summer months, demand for accommodation makes the competition for housing high.
This competition means that desirable properties may receive multiple inquiries, making it essential to act quickly when a suitable rental becomes available.
However, you can still find a rental in Albufeira if you start your rental search well in advance, preferably during the off-peak season. Let's talk about some more details.
Vacation rentals give tenants much more profit in the summer
Vacation rentals, commonly known as short-term rentals, offer lodging options for visitors seeking temporary stays. This type of accommodation is particularly prevalent during the summer months when tourists flock to this part of the country.
Since many tourists often move to multiple destinations, they prefer vacation rentals as their preferred lodging choice.
In comparison to long-term rentals, vacation rentals tend to be more expensive. Numerous websites facilitate finding such rentals, with Airbnb being a popular choice. Daily rates for vacation rentals can range from €30 to well over €100 per night, enabling landlords to capitalize on the higher demand during the summer season.
However, the cost of short-term rentals per night varies depending on the type of property and the amenities provided with the rental.
Long-term rentals vs. short-term rentals in Albufeira
Albufeira offers different rental options depending on your needs. The two popular rentals include long-term and short-term options. Long-term rentals typically involve lease agreements for an extended period, usually six months or more. These rentals suit individuals or families looking for stable and consistent housing arrangements.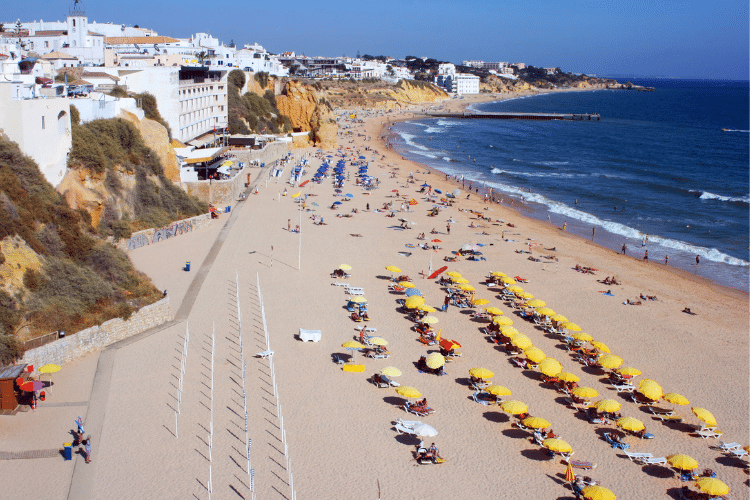 On the flip side, short-term alternatives are designed for temporary stays, ranging from a few days to a few weeks. These rentals cater to tourists and visitors seeking temporary accommodation during their vacation or business trips. Generally, long-term rentals offer more cost-effective solutions for housing as landlords often provide reduced rates for extended leases.
Monthly rental costs tend to be lower than the daily rates of short-term rentals. Short-term rentals, on the other hand, are more expensive since you pay per night basis. Also, short-term rentals may have premium pricing due to the higher demand during peak tourist seasons, such as the summer.
Living in Albufeira is trending
As mentioned earlier, Albufeira is a popular destination for tourists and expats. This coastal city is trending, and it is all for the right reasons! Albufeira has a thriving expatriate community from various countries, which creates a multicultural atmosphere and makes it easier for newcomers to integrate into the local society.
To give you some context, Albufeira is among the top destinations regarding the number of foreign nationals. According to Pordata, foreign nationals in this city have increased from 26.5% in 2011 to 37.1% as of this year. Albufeira is beautiful and comes with all the advantages of living in bigger cities like Lisbon and Porto.
Something else that makes this destination appealing to foreign nationals is that English is widely spoken, especially in areas frequented by tourists. This makes it easier for English-speaking individuals to communicate and adapt to the local environment.
More and more real estate constructions are being built
Albufeira was experiencing significant real estate development, and this trend shows no signs of stopping. Real estate development within this city and region as a whole is driven by several factors.
To begin, Portugal's economic growth, stability, and investment incentives have contributed to the overall attractiveness of the real estate market in Albufeira and the Algarve region. Investors find investing easier in the country because the stable economy enables businesses to thrive.
This has, in turn, attracted real estate investors from both Portugal and abroad. Many investors view Albufeira as a promising long-term capital appreciation and rental income potential market.
Rise in the expat community
As mentioned, Albufeira has a good foreign presence. This is no coincidence since many factors have encouraged such rapid foreign presence in this region. First, Portugal, including the Algarve, is often considered more affordable than many other European countries.
The relatively lower cost of living in Albufeira attracts expatriates seeking a high-quality lifestyle at a reasonable cost. Also, Albufeira's well-developed tourism infrastructure, including amenities, restaurants, entertainment options, and medical facilities, caters to the needs of both tourists and expatriates. Expats are often drawn to destinations that are popular among foreigners.
An existing expatriate community and social groups provide a support network for new expats, making integrating into the local society easier. Lastly, Albufeira's picturesque coastal location with beautiful beaches, cliffs, and clear waters is a significant attraction for expatriates seeking a laid-back and scenic lifestyle.
With Viv Europe your plans for Portugal
will finally come to a reality
Albufeira rental prices rise every year
Rental prices in Albufeira are rising annually and have been doing so for a few years now. However, this economic phenomenon happens worldwide, as you must have already seen. Albufeira is a sought-after location for both tourists and expats, leading to a high demand for rental properties.
The influx of visitors during the peak tourist seasons contributes to the demand for short-term rentals, while the growing expat community increases the need for long-term rentals.
Apart from that, Albufeira's real estate market can be influenced by fluctuations in property values and construction costs, which may contribute to the annual rise in rental prices.
Also, general economic factors, including inflation and changes in the overall cost of living, can impact rental prices over time. Rental prices also vary based on factors such as the property type, location, and amenities provided.
Additionally, market conditions could change but are expected to continue with the same trend in the foreseeable future.
Is it worth renting a house or apartment in Albufeira?
Deciding whether to rent an apartment in Albufeira is a personal choice, much like any significant decision in life. By assessing your needs objectively, you can make a well-informed choice. It's worth noting that Albufeira is highly popular among expats, evident from its sizable foreign population of around 16,433 residents.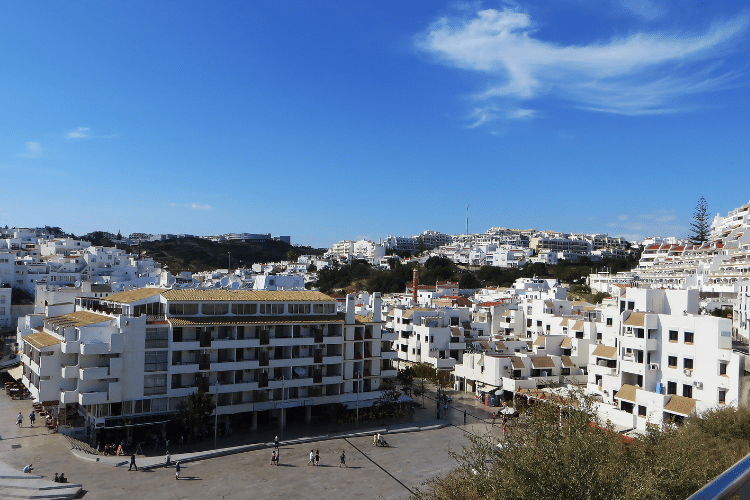 Many foreign nationals find this location appealing for both short-term visits and permanent residence, thanks to its beauty and proximity to some of the world's most beautiful beaches. 
However, it's essential to consider that Albufeira is also known for its luxurious reputation, which can result in higher living costs than other less popular places in Portugal. Before renting an apartment in Albufeira, it's crucial to take this into account and weigh the associated expenses.
How to choose or find a good rental in Albufeira?
Although finding a good rental in Albufeira can be hard because of the competition, there are several things you can do during your search to make the process easier and also increase your success rate. Here are a few:
Search a lot on real estate websites
Using the internet to conduct your search is usually the quickest way to explore available options, just like with many other things. However, the vast array of choices online can sometimes be overwhelming.
To avoid feeling overwhelmed, clarifying your objectives before starting your online search is essential. Take a moment to identify the specific neighborhood you prefer to live in and establish your budget and preferred accommodation type.
Doing this lets you streamline your search and focus on specific types of houses in your chosen neighborhoods. For short-term rentals, platforms like Airbnb can be helpful. However, if you're looking for long-term rentals, it's better to concentrate your search on websites like Idealista or Kipper Tree.
Make contacts with tenants in Albufeira
Networking is valuable wherever you go, and it's beneficial to understand the market before embarking on your search for accommodation. Contacting tenants will help prepare you for any potential issues with specific areas or properties.
Building connections can provide insider information into the local rental market, recommendations for reliable landlords or property managers, and advanced knowledge of upcoming available properties.
You can connect with other tenants through online expat groups such as our Facebook Group – All About Portugal For Expats, or other community pages specific to the area.
Talk to real estate experts
In case everything else proves unsuccessful, you can rely on the assistance of a real estate professional who will always be available to offer the best guidance.
While their services may involve a fee, they are the ideal experts to consult for any real estate matters. Established real estate professionals have ample resources to provide tailored advice based on your specific accommodation goals.
Moreover, a certified real estate agent will help you navigate the obstacles and challenges that are common when renting or buying property in Portugal. They can guide you through the process and ensure a smoother experience. Give it a try!
Do you want to come and live in Albufeira?
There you have it, a detailed guide to finding a rental in Albufeira. Now that you understand the intricacies that go into finding a rental in this coastal town, when are you making the big move to Portugal?
Moving to a new country can be nerve-racking. However, our experts at Viv Europe are more than happy to help you navigate this journey. Be sure to reach out whenever you are ready.
Viv Europe has been instrumental in helping numerous individuals achieve their dream of relocating and establishing permanent residence in Portugal. The country has so much to offer, and your journey begins with a seamless transition guided by the right professionals by your side. We look forward to welcoming you soon!