Last Updated on November 11, 2022 by Maryam Siddiqui
Formerly a traditional fishing village, Albufeira has recently morphed into one of the liveliest destinations for locals and expats. With a population of close to 50,000 residents, the number gets as high as 300,000 every summer. This goes to show just how popular this destination in the central Algarve is. But does popularity mean the cost of living in Albufeira is sky-high?
In an attempt to answer this question, this post will bring to the fore a detailed analysis of the cost of living in Albufeira. In addition, you will also get a realistic estimate of how much you will need to lead a comfortable life in the Albufeira, right at the heart of the Algarve region.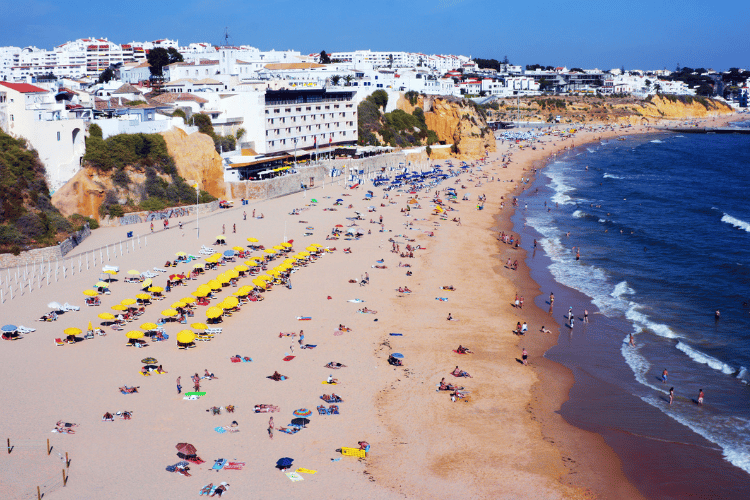 How expensive is Albufeira?
One unique fact about Albufeira is that there is something for everyone. While there are certainly expensive places in Albufeira, it is also possible to have a cheaper and more regular lifestyle, especially when you move further inland.
However, there is also no denying the fact that Albufeira is among the most expensive destinations by Portuguese standards. On a global scale, however, living in Albufeira is relatively cheaper compared to other bigger and more popular cities across Europe. To put this into perspective, data from Numbeo indicates that the consumer prices inclusive of rent are 98.02% higher in London compared to Albufeira.
In essence, you will need about €5,742 to maintain the same living standard in London that you can get with €2,900 in Albufeira. Having said that, it is also important to remember that how much you spend is entirely dependent on your individual lifestyle.
What is the cost of living in Albufeira for expats?
Again, the cost of living in Albufeira is relative to your spending habits and overall living standards. Nonetheless, looking at a few important aspects, like the cost of rent and food, should give you a rough idea of just how much you need for everyday living. Let's dive into the details!
Cost of rent in Albufeira
The cost of rent in any given location operates within the basic rule of supply and demand, and the same is also true for Albufeira. By virtue of being quite popular, especially among tourists and foreign nationals, you can always expect the cost of rent to be higher than average.
In fact, during the busy summer months, when everyone from around the globe makes their way to this beautiful destination, the demand for accommodation goes up, and so does the cost of the rent. On average, the cost of rent in Albufeira is about €10.4 per square meter. Rent can range from €600 to €800 for a one-bedroom apartment, depending on the neighborhood.
House bills
The cost of house bills in Portugal is almost the same regardless of the region of the city. Some of the common utility costs to expect include gas, internet, phone packages, electricity, water, and TV packages. Here is the cost breakdown of some of these utility bills.
| Utility | Cost |
| --- | --- |
| Electricity, Gas, Garbage, and Water | €170 |
| Mobile internet | €53 |
| TV channel package, wifi, and phone calls package | €35 |
Estimates are from Numbeo (as of November 2022).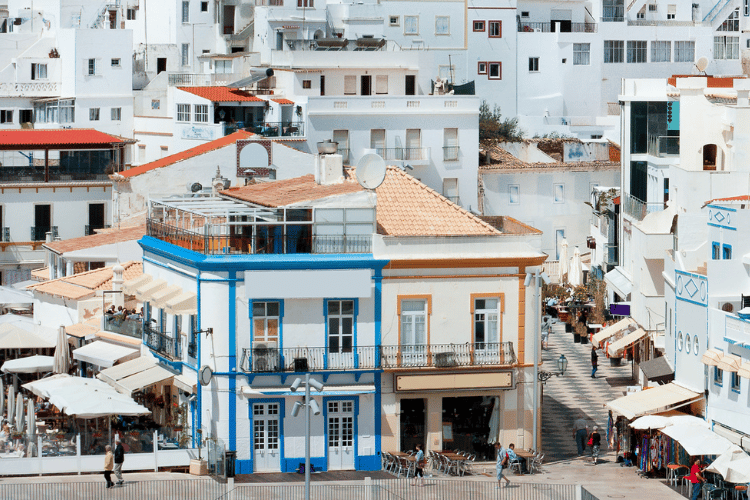 Average spending on food
While there are plenty of restaurants to eat out in Albufeira, buying fresh produce to prepare your own meals is relatively cheaper. Also, Portuguese culture is essentially centered around sharing a hearty home-cooked meal with friends and family.
It is quite common for families to spend a Sunday afternoon enjoying meals cooked right from home. So how much is the cost of food in Albufeira? Take a look at what a typical grocery shopping list will look like.
| Expense | Cost |
| --- | --- |
| Milk (1 liter) | €0.69 |
| Loaf of Fresh White Bread (500g) | €1.10 |
| Rice (1kg) | €0.78 |
| Eggs (1 dozen) | €2.39 |
| Local Cheese (1kg) | €5.25 |
| Apples (1kg) | €1.75 |
| Potato (1kg) | €1.20 |
| Tomato (1kg) | €1.50 |
| Onion (1kg) | €1.00 |
| Lettuce (1 head) | €1.00 |
| Water (1.5-liter bottle) | €0.61 |
| Chicken Fillets (1kg) | €6.32 |
| Bottle of Wine (Mid-Range) | €5.00 |
Estimates are from Numbeo (as of November 2022).
Expected transport cost in Albufeira
Unlike Porto or Lisbon, moving around Albufeira is quite easy, and you won't need a personal vehicle for that. Take advantage of the reliable train and road network that will get you to most destinations you want.
The public bus system, better referred to as Giro, has 5 different routes and is Albufeira's most common means of transport. You can catch a train if you want to travel to the east, north, or west of the Algarve. Nonetheless, having a private vehicle will make movement quite easy for you; you will be able to make stops at locations where a bus or train cannot.
| Expense | Cost |
| --- | --- |
| One way ticket | €1.40 |
| Monthly Pass (Regular Price) | €40.00 |
| Taxi Start (Normal Tariff) | €3.00 |
Estimates are from Numbeo (as of November 2022).
Leisure expenses
There are so many things you can do in Albufeira; one of the popular things that expats and locals like to do is walk down the mosaic cobblestone streets. This is the perfect opportunity to interact with the local population and also get to enjoy local cuisine in the many family-friendly restaurants available.
Other than that, there are plenty of other family-friendly parks where you can enjoy the weekend afternoon with your kids. However, if you are into nightlife, there are plenty of places to explore. Be sure to pay a visit to the popular Oura Strip, which is also the liveliest part of the city.
| Expense | Cost |
| --- | --- |
| Gym monthly fee | €37.50 |
| Streaming platform basic price | €8.00 |
| Tennis Court Rent (1 Hour on Weekend) | €11.88 |
| Cinema, International Release, 1 Seat | €7.00 |
| Three-course meal for 2 at a mid-range restaurant | €40.00 |
Estimates are from Numbeo (as of November 2022).
What are the cheapest areas in Albufeira?
Although Albufeira is known to be more expensive, there are cheaper neighborhoods that won't require you to break the bank. One of the cheaper neighborhoods in Albufeira is Montechoro. Montechoro is located further than where all the action is, but it is ideal for those who want to explore the Algarve region on a budget.
This particular neighborhood is quite interesting, with plenty of local characters for those interested in immersing themselves in authentic Portuguese culture. Montechoro is quite popular among digital nomads who want some peace away from the popular tourist strip. This neighborhood experiences some tourism but is not close to the main strip.
With Viv Europe your plans for Portugal
will finally come to a reality
What are the most expensive areas in Albufeira?
One of the coolest and also most expensive areas in regard to the cost of living is the Albufeira Marina. Although relatively new to tourism, Albufeira Marina is slowly getting the recognition it deserves. Known for having colorful modern buildings, it is everything you would expect from a luxurious neighborhood.
It is strategically located near the waterfront and also close enough to the lavish restaurants and bars. If you want to enjoy your time at sea, there are plenty of boat-hiring companies in this particular area. It is relatively peaceful and not quite as busy as some other neighborhoods like the old town.
Is Albufeira more expensive than Lisbon?
Lisbon is the capital and financial hub of Portugal. As such, it goes without saying that the cost of living is also relatively higher than in any other city in Portugal. But how do these two destinations compare when it comes to the cost of living?
To put this into perspective, you will need about €3,553 in Lisbon to have the same lifestyle that you can get with €2,900 in Albufeira.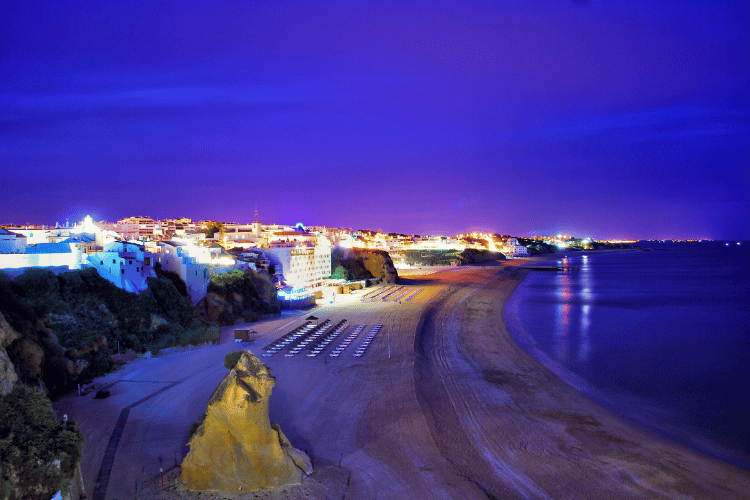 Is Albufeira more expensive than Porto?
Although Porto is the second largest city in Portugal, the cost of living in Albufeira is not quite as high as when compared to Lisbon. In comparison to Albufeira, however, living in Porto is relatively more expensive. However, it is also important to mention that the difference is not quite as high as compared to the capital Lisbon.
Data from Numbeo indicates that consumer prices are 1.20% lower in Albufeira compared to Porto. Also, you will need about €2,894 in Albufeira to maintain a lifestyle that you can have with €2,900 in Porto.
How much do the Portuguese earn in Albufeira?
Right off the bat, it is important to mention that Portugal is not the best-paying country as far as minimum wage is concerned. In fact, Portugal is among the 13 countries in Europe with a minimum wage lower than €1000. On average, the minimum wage of employees in Portugal is about €705 per month.
With this in mind, you can now understand why the cost of living in Portugal is also relatively lower compared to other European nations. The good news, however, is that Albufeira is among the few destinations with a minimum wage of €850, which is above the national average. Similar to any other country, highly skilled individuals have better salaries.
Is it worth the cost of living in Albufeira?
There are plenty of reasons why you should consider moving to Albufeira. It is located in the heart of the beautiful Algarve region. If you have done some research, Albufeira is home to some of the most magnificent beaches in the entire world. Also, because Albufeira is a popular tourist destination, English is widely spoken, which makes it easier for expats to integrate. But is the cost of living worth it?
Well, there is no one true answer to this question. First, you will need to look at your objectives for moving to Portugal. If you want somewhere peaceful with beautiful beaches, then Albufeira might be ideal. However, you also need to factor in the possibility of over-tourism, especially during the summer months.
Finally, take a look at your financial situation; Albufeira is not the cheapest destination in Portugal; if you want a laid-back lifestyle away from too much activity, consider moving further inland.
When are you moving to Albufeira?
Albufeira is a beautiful town in the large Algarve region. It is not only popular among tourists but also locals and expats. In fact, data from Pordata indicates that up to 37% of the population in Albufeira is of foreign descent. Now that you know how much you will need to live in Albufeira comfortably, when are you making the move?
Whenever you are ready, our experts at Viv Europe are more than willing to help you navigate the otherwise boring process. Our legal and financial experts will handle all the paperwork on your behalf, all in a bid to make the process easy for you. If you have any further concerns, be sure to follow our Facebook Group – All About Portugal For Expats, and ask others who have been in your position before.