Last Updated on September 13, 2023 by Maryam Siddiqui
Although formerly popular as a fishing hub, Albufeira has made major leaps as far as development is concerned. It has only taken this beautiful coastal town about 40 years to move from a small fishing village to one of the most beautiful holiday destinations in the Algarve and Portugal as a whole. But is living in Albufeira worth the hype?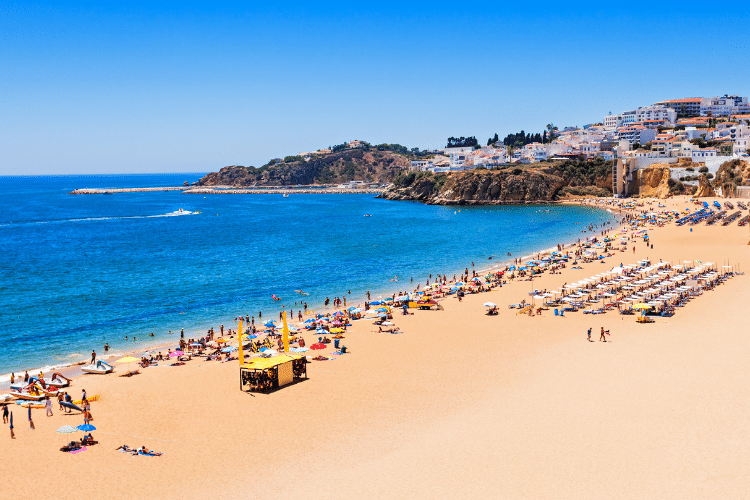 Albufeira is a city full of life featuring plenty of beaches, restaurants, and bars. With a population of roughly 50,000 residents, the population quickly grows to close to 300,000 during summer, this goes to show you how popular this city is.
There is no doubt that Albufeira is among the most sought-after cities in the Algarve, and because of that, we are going to dig deep and uncover what living in Albufeira is like. This should help you know what to expect if moving to Albufeira is in your future plans. Tag along to find out more.
What is it like living in Albufeira?
Have you ever wondered what living in a coastal town that is most active throughout the year would be like? Well, this is Albufeira for you! This town is strategically located right at the center of the Algarve, giving you quick access to the eastern and western extremes of the Algarve.
What's more, you will also be pleasantly surprised to find out that the capital of Portugal, Lisbon, is only two hours away from Albufeira. Now if this doesn't excite you, then I don't know what will! 
It goes without saying that the Algarve as a whole is a tourist destination. The number of tourists that visit this city is astonishing, especially over summer and spring.
Because of this, there are plenty of things to do in Albufeira. You can go and play a round or two of golf, visit the sand sculptures, or go down to the beach on a lazy afternoon.
Living in Albufeira has so much to offer; the promise of warm and sunny weather all year round is just a few exciting things that you should know about this beach paradise in the Algarve.
Who lives in Albufeira?
Albufeira is a tourist hub that has also turned into a small international community in its own right. There are plenty of locals and expats who equally call this city home.
According to official data from Pordata, 37.1% of residents in Albufeira were foreigners. This place is one of the main expat centers in Portugal!
Why are expats moving to Portugal?
Portugal is still a hot topic among travel communities not only in Europe but across the globe. Often referred to as the California of Europe, Portugal is a tourist and expat magnet for all the right reasons. To begin, Portugal's cost of living is relatively lower than the other European and North American nations.
To put this into perspective, data from Numbeo details that consumer prices, including rent, in the United States, are 81% higher than in Portugal.
But this is not all; the friendly local community and good all-year weather give expats worldwide a good environment to live a quality life.
There is something for everyone in Portugal, right from the warm sandy beaches of the Algarve to the beautiful landscapes of Madeira, you can be sure that there will be an activity that you will be interested in.
Cost of living in Albufeira
It doesn't come as a surprise that the cost of living in Albufeira is relatively higher than in most cities in Portugal. The cost of living in the Algarve is considered low for expats, but high for the Portuguese.
Coastal tourist hubs are usually more expensive, especially when renting, compared to other inland cities in Portugal. The purchasing power of tourists and expats from other countries drives up the prices of most commodities.
However, how much you will live off per month largely depends on your individual spending habits. Nonetheless, here is a breakdown of some of the common commodities and their respective prices in Albufeira.
| Expense | Cost |
| --- | --- |
| Apartment (1 bedroom) in City Centre | €1,437 |
| Apartment (1 bedroom) Outside of Centre | €1,000 |
| Apartment (3 bedrooms) in City Centre | €2,562 |
| Apartment (3 bedrooms) Outside of Centre | €1,562 |
| Utilities | €200 |
| Groceries | €300 |
| Public Transport | €50 |
Estimates are from Numbeo (as of September 2023).
Buying a house in Albufeira
The cost of renting or buying a house in Albufeira depends on the specific town that you are interested in. There is no one-cost-fits-all mentality when it comes to either purchasing or renting a house. 
According to Idealista, the average cost of renting a house in Albufeira is €13.2/m2. Therefore, the bigger the house, the higher the cost of rent per month.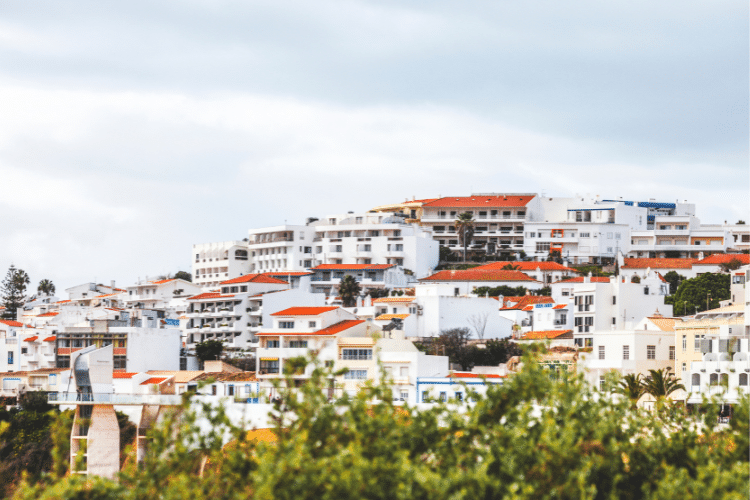 The property market in Albufeira consists of luxurious villa homes and regular properties that are within reach for many people.
Here's a breakdown of the cost of purchasing property in some popular towns in Albufeira.
| Location | Cost per m2 |
| --- | --- |
| Guia | €4,118/m2 |
| Albufeira e Olhos de Água | €3,266/m2 |
| Ferreiras | €2,814/m2 |
| Paderne | €2,112/m2 |
Estimates are from Idealista (as of September 2023).
Best neighborhoods to live in Albufeira
There are plenty of neighborhoods within Albufeira that sometimes can be difficult to choose where you should settle. Here are some of the popular neighborhoods within the coastal paradise of Albufeira.
Albufeira and Olhos D'Água
The city's central neighborhood is also called Albufeira, where you'll find charming white-washed buildings with old Portuguese ladies at the windows overlooking the sea. However, as time goes by and tourism grows, this area is becoming increasingly touristy.
Olhos D'Água is a beautiful resort town right in the center of Albufeira with a population of just over 26,000. It is historically known as a major fishing town but has since developed into an attractive tourist hub. Its strategic location close to Portugal's finest beaches makes this town attractive to both tourists and expats who love the coastal life.
Guia
In contrast to Olhos D'Água, Guia is rather small, with a population of about 5000 residents. This small municipality in Albufeira compensates for this lack of size with immense beauty.
Although a little inland from the coast, the land in Guia gives you the perfect experience of a beautiful countryside vibe without going too far away from the sea.
Ferreiras
This is another smaller neighborhood in Albufeira, covering only about 21 square kilometers. It is slightly bigger than Guia, with a population of over 6,000 residents. It is about 5 kilometers from the coast, giving you easy access to the sea and also ample living space further inland.
Paderne
This is another popular neighborhood within Albufeira that you ought to take into consideration. While it is larger in terms of square footage (52.56 km²), it has the lowest population density compared to the aforementioned neighborhoods of slightly over 3000 residents.
Public Transport in Albufeira
Moving around Albufeira is easy thanks to the several public transport options available. However, the popular means of moving around the city is via the public buses, better referred to as 'the Giro'. This local bus network plies 5 different routes and is easily recognized by the color difference of the buses. 
Another possible public transportation option is via the train. Trains in Albufeira are ideal, especially when traveling to the west or east of the Algarve or even to the north of the country.
However, if your intention is to have an efficient trip to other parts of the Algarve, having a private vehicle will be very convenient for you. 
The labor market in the city
It is no secret that tourism plays a huge part in the economy of Portugal. In this regard, since Albufeira is a tourism hub, the tourism industry is the biggest employer in the city.
Therefore, it is best to concentrate your search on the tourism sector when looking for active employment.
However, you should know that Albufeira offers the perfect environment for digital nomads. Everything you would want as a digital nomad is at your disposal, for instance, fast internet, a calm working environment, and untaxed proceeds from digital currencies.
With Viv Europe your plans for Portugal
will finally come to a reality
Safety in Albufeira
Portugal is one of the safest destinations in Europe. In fact, Portugal is ranked as the 7th safest country, according to the Global Peace Index 2023. First, the residents are friendly to foreign nationals and will go out of their way to help. 
Also, in a tourist hub like the Algarve, English is widely spoken, making it easy for you to get by and settle in easily. 
It is important to note that safety starts with you! You have to be aware of your environment and be cautious of how and where you place your items.
While Portugal is quite safe, there are isolated incidents of petty theft like pickpocketing and muggings. Besides that, you will find life quite calm and peaceful during your stay in Albufeira.
Healthcare and education
Access to reliable healthcare is a major consideration when deciding whether a particular place is ideal for long-term settlement or not. In the case of Albufeira, there are several private hospitals and public clinics nearby that you can visit.
However, it is worth mentioning that public hospitals are only available in neighboring cities like Faro and Portimao.
As far as education is concerned, several international schools within Albufeira offer proper education at all levels. 
Leisure and nightlife in Albufeira
While Albufeira fails in other things, this coastal city compensates in other ways, like providing plenty of things to do for every age group.  One option that you should explore is walking down the old town's mosaic-tiled streets, interacting with locals, and experiencing the local cuisine in the small family-friendly restaurants. 
You can easily access the nearest beach from the old town, dubbed the 'tunnel beach', since you have to go through a tunnel to get there.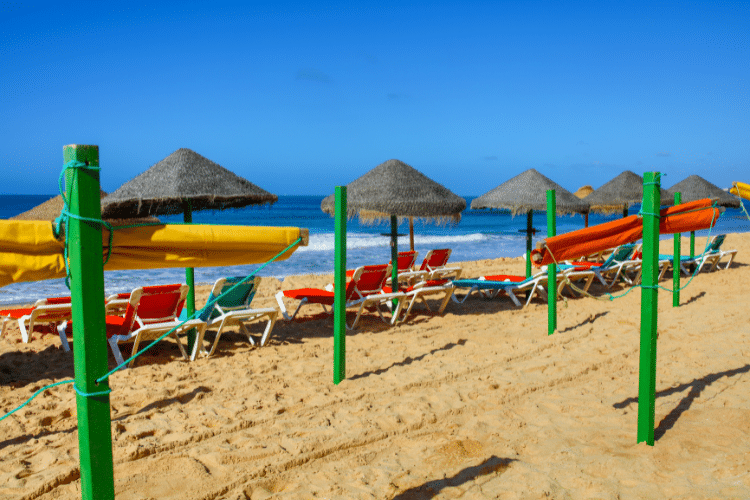 There are also several family entertainment joints like the Zoomarine Park that offer seal and dolphin shows perfect for a family outing. Furthermore, your children will also get the rare opportunity to swim with dolphins in a safe and controlled environment. 
However, if you are into the exhilarating urban nightlife, then you have to pay a visit to 'the Oura Strip', which is the liveliest part of Albufeira.
The strip is a small busy place packed with the conveniences of a big city, for instance, tattoo parlors, nightclubs, and fast-food restaurants. If you are looking for a place to dance and party the night away, then 'The Strip' beckons.
Living in other cities in the Algarve
Albufeira is just one among many cities in the Algarve. Therefore, if this coastal paradise is not for you, here are other options that you can consider.
Faro
This historical city, which is also the capital of the Algarve region, is rich in culture and home to several tourist attraction sites. While it is popular because of the Faro airport, the capital of this city has so much to offer its residents. 
Living in Faro will present you with the amazing views of the Ria Formosa Natural Park and all the infrastructure you may need. Universities, hospitals, malls, and more.
Lagos
Located in the southern Algarve, Lagos is the perfect place to explore what this side of Portugal has to offer both inland and in the sea. There are plenty of cliffs perfect for photography and also long sandy beaches for walks during the sunset. 
Lately, Lagos has become one of the best places to work remotely in Portugal. 
Digital Nomads enjoy Lagos' many co-working spaces around town, and the large expat community too. Not to mention the stunning views of some of the best beaches in the Algarve – or in all of Europe.
Tavira
This is the smallest city in the Algarve region, offering expats the unique opportunity to interact with the traditional Portuguese heritage. Tavira is known for being one of the most beautiful cities, if not the most beautiful, in the entire Algarve.
Between the river, the bridges, and clean and organized old streets, the city is very charming and is already an old point of interest for tourists, especially those who choose to stay in Tavira and settle down. There are several churches and many family-run restaurants perfect for a family meal.
Portimão
For those who want to get as close to the sea as possible, then Portimão is the place for you. Portimão is the port city of the Algarve region and is popular for the busy marinas. 
It is also the biggest city in the western Algarve and was formerly popular for shipbuilding and the fishing industry.
However, tourism has slowly replaced these activities, and Portimão is now a major tourist hub as well. You'll find anything you need here. While the weather is pleasant, events happen throughout the year, and the prices are lower than in other big cities in the Algarve.
Loulé
Loulé is a must-visit, especially if you are in the Algarve, but it is also a hub for expats. Many foreigners live around Loulé, especially in the luxury condo Vilamoura. 
Besides having plenty of authentic stalls that sell fresh, natural produce from the land and the sea at the Loulé market, a beautiful Arabian-covered building, the city is complete and has its hectic life all year round, even without being the focus of tourists.
Pros and cons of living in Albufeira
Similar to any other place around the world, Albufeira has its good and bad sides. Here are some of the pros and cons that you should know about living in Albufeira.
Pros
The city is beautiful, with a lot of things to do;
Mediterranean climate;
Living in Albufeira means having a vibrant nightlife;
Relatively lower cost of living than other European countries;
Most people speak English;
Good weather all year round.
Cons
Albufeira is a victim of over-tourism in Portugal;
Seasonal economy;
Public transport is a little limited;
Overvalued real estate.
Do you need help to move to Albufeira?
Albufeira is a lovely city that is worth paying a visit to and also immigrating to. There are plenty of attraction sites that fit people of every age group. The weather and the excellent standard of living make it an expat favorite – the 37% foreign population proves just that!
Whenever you're ready to make the move, get in touch with Viv Europe and obtain your Visa quicker! Our experts can guide you through Visa services, school enrollment, renting your new house, and much more! 
While you're busy planning, join our Facebook Group – All About Portugal For Expats and interact with other people who have been through the process before. Good luck!