Last Updated on November 20, 2023 by Laila Oliveira
As you approach your golden years, the allure of retiring abroad becomes irresistible. And you've come to the right place if you are thinking of retiring in Portugal. But it can be tricky to choose between spending your retirement in the Algarve versus the Azores Islands. From taxes to transport, the article is a complete guide to your retirement in the country!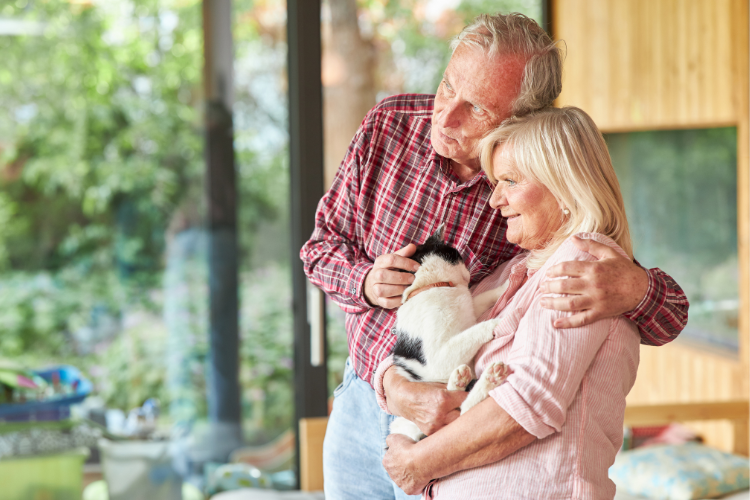 With mesmerizing coastlines, historic charm, and affordable living, the two beckon to those searching for a tranquil retirement. So, let's embark on a journey that will ignite your imagination and help you make an informed choice for your post-work paradise. Happy reading!
Retirement in Algarve versus Azores Islands? Why do expats choose them?
Expats often choose the Algarve for the Mediterranean lifestyle. With the pleasant climate, the region also offers a rich cultural experience with historic villages and bustling markets. The modern healthcare facilities, shopping centers, and sports grounds make it a convenient living space.
But nestled in the middle of the Atlantic, the Azores allure expats with a landscape of volcanic craters and tranquility like a timeless escape. The Island's housing costs and other daily expenses are less than Algarve's, making it a budget-friendly haven.
We know you're starting to understand why it's a tough choice. It only gets tougher from here, but don't worry; we'll help you make a choice. 
Similarities between the Algarve and the Azores Islands
The Algarve's pristine beaches and the emerald pastures of the Azores boast a beautiful landscape for nature enthusiasts to find solace in. And there are plenty of outdoor activities, such as hiking, to pass the time with. From housing to safety, the Algarve and Azores guarantee excellent public services to ensure retirees peace of mind.
While the Algarve may be slightly of a higher quality, both localities offer standard healthcare facilities and public transport. And, of course, the warm Portuguese culture and shared sense of community are home to both. You can immerse yourself in local culture and make meaningful connections in either destination, which could light up your golden years. So what leads to the debate of retirement in the Algarve versus the Azores Islands?
Algarve versus Azores Islands for expats
Let's take a deeper look at the differences between living in the Algarve and living in the Azores.
The Algarve's real estate market offers diverse options, from charming coastal villas to modern town apartments. You'll find well-developed infrastructure and convenient access to different housing styles. 
You'll find housing options relatively limited in the Azores. But, you'll also find the available options to feature traditional architecture surrounded by the islands' natural beauty. 
That's not all. Continue reading to learn about the specificities of retirement in the Algarve versus the Azores Islands.
About living retired in the Algarve
The Algarve is a popular expat choice, with its picturesque Lagos and Albufeira coastal towns. The area provides a relaxed and sunny ambiance, perfect for a laid-back retirement. Plus, the warm and friendly locals, delicious cuisine, and rich culture add to its appeal.
You can find a single-bedroom apartment for €1,100 in the city center and for €763 outside the center. Plus, you'll find the modern amenities and vibrant expat community make the region a welcoming home.
About living retired in the Azores Islands
In the Azores, you'll find Ponta Delgada to be particularly eye-catching. This is located on the largest Azorean Island and allows expats to immerse themselves in its historic bewitchment of cobblestone streets.
Here, São José and São Sebastião are popular among retirees for their expat communities and quiet charm. But it's not like the place is secluded from civilization.
You'll find local markets selling fresh produce and also arty-crafty cafes for leisurely afternoons. Plus the living cost is quite reasonable, with rent being only €750 in the city center, and €600 outside of it.
The absence of bustling crowds only encourages a sense of belonging for retirees. On the islands, you can savor the simplicity of Azorean life, where every nook breathes historical tales, and the slow pace fosters a serene retirement.
Differences between the two
Though part of the same country, the question of retirement in the Algarve versus the Azores Islands arises because of core differences between the two. Let's break these down one by one:
Cost of living in each region
Firstly, the Algarve. With its higher quality healthcare and other improved facilities comes a higher living cost.
It is also a more common expat choice. It's true that not all expat retirees wish for a secluded and quiet life. To help decide on the basis of finances, we've made a budget breakdown for you to assess potential expenditures in the areas.
| Expense | Algarve | Azores |
| --- | --- | --- |
| Apartment (3 bedrooms) Outside of Centre | €1,281 | €833 |
| Utilities (Electricity, Heating, Cooling, Water, Garbage) | €100 | €107 |
| Groceries | €250 | €250 |
| Mobile Phone Monthly Plan with Calls and 10GB+ Data | €18.50 | €18.50 |
| Mid-range restaurant meal (2 persons) | €38 | €40 |
| Internet (60 Mbps or More, Unlimited Data, Cable/ADSL) | €32.00 | €26.99 |
Estimates are from Numbeo (as of November 2023).
Housing
Algarve has more diverse housing options ranging from traditional villas to modern apartments. But the Azores also have a neat collection to offer of countryside cottages and traditional stone houses.
Check out the rent costs of these houses from the popular neighborhoods of Algarve and Azores:
| Municipality | Monthly Rent (per 50m²) |
| --- | --- |
| Portimão, Algarve | €615 |
| Faro, Algarve | €660 |
| Lagos, Algarve | €695 |
| São Miguel, Azores | €550 |
| Ponta Delgada, Azores | €590 |
| Horta, Azores | €625 |
Estimates are from Idealista (as of November 2023).
Taxes
In the Algarve, businesses are subject to the national corporate tax rate, which is 21%. This rate applies uniformly across the mainland and is also observed in the Algarve. Businesses in this region also benefit from the country's various tax treaties, creating a favorable environment for international business activities.
However, the Azores is an autonomous Portugal region and not included in the mainland. So, it has the authority to set its own regional corporate tax rate of 14.7%.
Apart from the differing rates, you should also look into any regional regulations that apply to the corporate sector. If you're a retiree who's also looking to invest in a business here or start your own in the long run, you will benefit from the lower tax rates here. 
If you want more information on this, book a meeting with Viv Europe's experts and understand the tax system better.
With Viv Europe your plans for Portugal
will finally come to a reality
Transport
Getting around the Algarve by public transport is generally reliable and affordable. The bus system is well-established and covers most major towns. This makes exploring the beaches, historical sites, and picturesque villages easy. But remember that buses can get crowded during peak tourist season.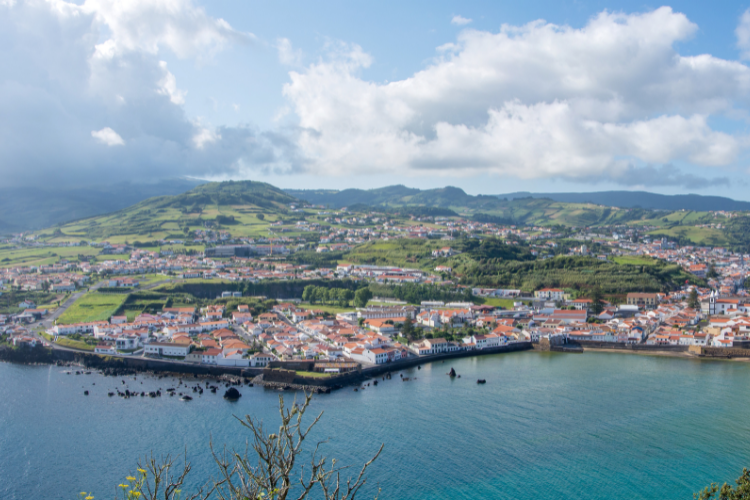 Algarve's train network runs along the coast and offers stunning views. Plus, trains are air-conditioned, making them a comfortable way to travel during hot summer months.
If you have long-term plans in the region, buying a car is a good option. If you'd like to consider importing your car or buying a new one, check out our article on How to import a car to Portugal: Is it worth it? 
And while you decide between retirement in the Algarve versus the Azores Islands, you'll find a car much more useful in the latter. The Azores Islands still lack the kind of public transport that you'd find in Lisbon, Porto, or the Algarve.
Larger areas like São Miguel do have buses connecting major towns, but their schedules aren't frequent. And smaller islands have even more limited transportation options, making a car more practical and efficient. 
Climate
The climate in both regions is overall a pleasant one, but your decision depends on what you find more pleasant: sunny or breezy. As the Algarve basks in the sun's embrace, the Azores is known for its temperate Atlantic breeze.
With over 300 days of sunshine, the Algarve experiences mild, wet winters and hot, dry summers. In winter, temperatures rarely go below 10°C, making it appealing for those looking to escape colder regions. As a retiree, this temperature is what people look for.
Something that isn't too cold nor too hot; just perfect! 
In the Azores, winters are mild, and the temperature rarely falls below 14°C. And the summers remain cool, with temperatures averaging around 24°C.
Security
In your decision between retirement in the Algarve versus the Azores Islands, security won't be a prime concern. As localities of Portugal, both are safe for expats and retirees. Portugal ranks as the 7th safest country in the Global Peace Index. 
Still, due to its relatively higher population, Algarve's crime index is slightly higher than the Azores. For example, in the Algarve, attacks based on skin color, ethnicity, gender, or religion are at a low of 25 but are even lower in the Azores, with a score of 16. Similarly, the safety of walking alone during daylight is 93.99 on the Islands and slightly less, at 92.86 in the Algarve.
But overall, both regions are safe and secure for retirees.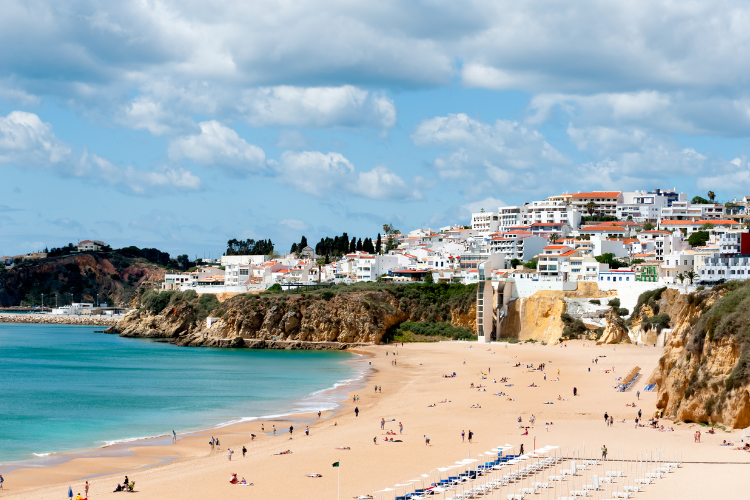 Entertainment
Portugal is famous for its vibrant cultural scene, with music festivals, art exhibitions, and performances that showcase traditional and contemporary talents!
In the Algarve, you can stay busy playing golf on some of the best golf courses in Europe! If you're not into sports, you can get a thrill from the theater or live music performances. Expat retirees also love boat trips, seafood, and scenic walks along the cliffs.
In the Azores, you should explore the stunning landscapes by hiking around volcanic craters or relaxing in natural hot springs. You'll find whale watching and strolls of botanical gardens to be popular pastimes, and you may even be pleased by it.
Then, of course, there are cozy cafes and restaurants where retirees often savor local delicacies. You must try Café Central Ponta Delgada for its fish soup and Queijadas da Vila do Morgado for the famous queijadas!
Bottom Line: retirement in the Algarve or the Azores Islands?
Now that you've learned how retirement in the Algarve versus the Azores Islands differs, you can make an informed choice. Both destinations are great, with reasonable living costs, housing options, and public services. 
While one may offer more modern amenities, the other offers immense tranquility. Ultimately, the decision depends on your preferences, budget, and how you wish to spend your golden years. We've got a Facebook Group – All About Portugal For Expats for retirees just like you. Join in and ask questions! 
And if you need more personalized help, book a call with experts from Viv Europe! We're here to guide you every step of the way, from Visa assistance to settling in your new home.