Last Updated on May 4, 2022 by Letícia Melo
Choosing a place you want to retire in can sometimes be tricky to determine. You want comfort, you want recreational activities, you want peace, and you want the warmth of having a community. Some people even desire change and adventure, something completely different from their routine for decades. And we understand all of these reasons. Take a look at why expats retire in the Algarve. Keep reading to know more about the wonderland that's calling for you.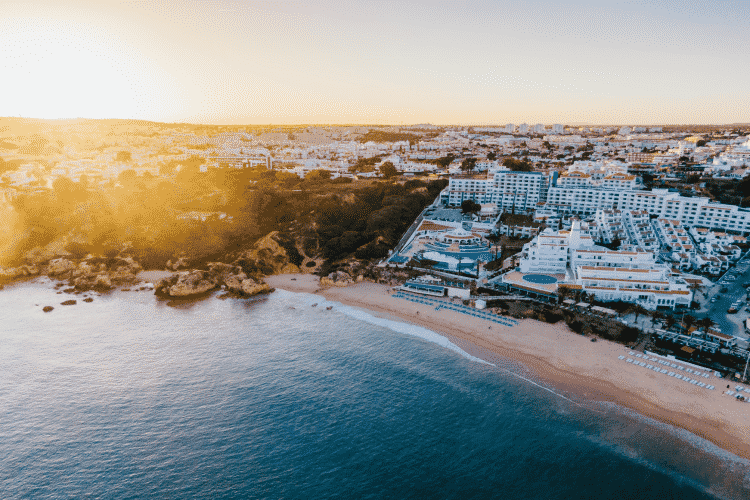 Check out our article Top 10 Cities In Algarve – a complete evaluation of their infrastructure, surroundings, and costs. Get to know more about the opportunities waiting for you in Portugal.
Why Should You Retire In The Algarve?
With more than 5 million tourists in 2019, Algarve is one of the most famous tourist spots in Europe. Thousands of retirees praise everything this region has to offer. Prehistoric architecture, tabernas with delectable traditional food, and the best beaches, Algarve is slowly gaining global attention.
The Algarve is also a growing economy that offers more than pretty views among the scenic beauty and beaches. The real estate market is underrated, and the opportunities to invest in the country are endless. Being in a prime location, travel to places is easy, and the high standard of living tops it off. Algarve is becoming a popular favorite among many foreigners, and we don't want you to miss your chance!
Here are the top reasons you should consider retiring in the Algarve:
Top Reasons To Retire In Algarve
We can list down a plethora of reasons to retire in Algarve. However, let's stick to our top 8 reasons expats agree with. Here's a glimpse of what this article covers about Algarve:
The blissful sunny days;
People who treat you like family;
Hundreds of expats just like you;
English is widely spoken;
Numerous beaches to relax at;
Low prices – High standard of living;
Travelling options to Spain;
Experience all seasons during the year.
Let's dive into the details of why we've ranked them as our top 8 reasons.
Sunny Days All Over The Year
The climate of where we live considerably affects our wellbeing, whether we notice it or not. Dark, gloomy, and rainy weather can set our mood to be perpetually grumpy. If you've spent a big chunk of your life in a climate like that, it's time to embrace the sun. Algarve has 300 days of sunshine, with shorter days during winters and pleasant temperatures during the rest of the year.
The highest average temperature is nearly 29°C in mid-July, and the lowest average goes to almost 16°C in December. A magnificent climate with stunning tropical beaches, serenity, and wholesome people around – a fabulous way to replenish your soul.
Welcoming People
Humans have an undeniable need to connect; our brains function that way. It makes sense why you'd want to retire in a place that helps you feel at home.
What we love about Portuguese people is their hospitality. The community nearby makes new foreigners feel at home and are always there to support you with anything. Portugal has recently welcomed many families and individuals from the UK, Brazil, Germany, Canada, and United States.
Over the years, the international community has helped set up many recreational activities like book and sports clubs. Algarve, in particular, is loved by many retirees for everything that it has to offer. While you're never going to feel alone because of fellow expats, the locals feel honored to have you there. Portuguese people are known to be very easygoing, thoughtful, and generous. So, don't be surprised if someone offers you a delicious traditional dinner to welcome you!
Huge Expats Community
If you're a British looking for options and think about whether you'll fit in, don't fret. Viv Europe has helped several British families move to Portugal – and they love it! Living in Algarve, you'll always have expats that you can connect with at any time of the day. Honestly, what's better than having people who will make you feel at home, no matter where you are?
Tourists come here all year long for Algarve's most prominent attraction; its beaches. Many of these tourists fall in love with the tranquility here and then relocate permanently. So you have the opportunity to connect with different expats, socialize, and learn more about their experiences. You'll never go through a dull moment alone!
You Won't Struggle With Portuguese Language
We understand that this is one of the most important things to consider when relocating to a new country. Climate and language can significantly impact your quality of life around a new place.
The excellent news – English Language is widely spoken in Algarve.
Going around Algarve, it is surprisingly easy to converse with people if you speak English. Many people retire here and have gone years without learning Portuguese, and they haven't found it challenging. Despite what you may have heard about Portuguese, it is not that difficult to learn.
Attempting to have a conversation in Portuguese will slowly help you learn the language little by little. The natives will love you for trying because they'll feel respected – but it's not essential.
Live Near The Most Beautiful Beaches
The biggest attraction for tourists from all over the world; is Algarve's breathtaking beaches. Praia da Marinha near Carvoeiro is featured in award lists regularly for being one of the best beaches globally. The coastline gets particularly busy with hundreds of tourists during summers. With over a hundred different options across the southern coast of Portugal, you'll always find a beach quiet enough for you.
Imagine looking out your window to see a breathtaking mix of rock formations, crystal-clear water, feeling the cool breeze. There's something about living near the coast that brings instant relaxation and positive energy while connecting with nature. As a retiree, you're bound to love Algarve's slow pace of life and magnificent beaches.
Prices Are Not As Expensive As In Lisbon
Of course, when you're retiring, you don't want to worry about managing your finances closely. You want to spend your days enjoying every bit of the beautiful life you have. A limited retirement budget is one of the reasons why Algarve might be the ideal fit for you. Affordability in Algarve is almost thirty percent higher than in other parts of Europe.
Relocating to Algarve will ensure that you have a higher standard of living than one in Lisbon. A retired couple can live a modest life for under £1200. If a luxurious lifestyle is your preference, £1800 to £2000 will be more than enough.
You can estimate a weekly expense of only £20 to £35 for a couple's groceries. Since its location is near the coastline, food is fresh, and fish is caught and sold locally. What's more, property prices and private healthcare are lower in comparison to Lisbon. And, of course, public health care is always an option once you become a resident.
Easy To Travel To The Most Beautiful Spanish Cities
Lots of beaches all year long, not your cup of tea? You're still in luck.
Portugal and Algarve have recently invested in their infrastructure, making it easier to use the highway and airports. This development allows you to take a car and have road trips whenever you feel like you need a change. Or just take a flight from Lisbon Airport to Madrid, and reach Spain in less than an hour!
Fortunately, the most beautiful Spanish cities are very close by. Seville, a city known for its architectural beauty, is one of Spain's most mesmerizing places. You can choose to go on a guided tour or explore Seville's various activities. From art museums, fairs, exotic parks, historic cathedrals, and incredible flamenco dancers – it's an enchanting place to unwind.
Marbella and Malaga should definitely be on your list to explore more of Spain's captivating history. The La Concepción Historical Botanical Gardens is one of the most extensive subtropical gardens in Europe, with over 2000 species of plants and trees. Punta Umbría is also an equally enjoyable option if you want a break from Algarve's beaches.
The best time to be a tourist in Spain is between April-May or September-October, a perfect way to recharge yourselves.
Enjoy All The Season In One Place
While Algarve's beaches are a hot spot for tourists during summers, the weather is surprisingly pleasant for a tropical region. Combine one of Europe's best climates with scenic beauty, and you get a life that looks like an excerpt from a commercial. Algarve is a popular destination for those trying to escape Northern Europe's coldest months to relish some sunshine.
Winter is usually from mid-December to February, followed by Spring until the beginning of April, ending with Portugal's famous carnival. It gets warmer from May until the end of September, which are also peak tourism months. October and November experience cool autumn winds with increased rainfall and average sunshine of 6 hours per day.
The atmosphere during winter is perfect for destressing as the region is entirely empty and allows you to relax silently. Once you feel ready for some connection and entertainment, summer will be knocking at your door with energized tourists.
Visa To Move To Portugal
By now, you're probably wondering what the next step is to make a move. If you don't have EU citizenship, you will have to apply for a residency Visa and get a Residence Permit. There are different options, such as obtaining a Passive Income Visa (D7 Visa) or a Business Visa (D2 Visa). The process varies according to what your objectives are within Portugal.
To understand in-depth differences and choose the correct one, read our article on the Business Visa and Passive Income Visa. Additionally, a simpler way to get a Residence Permit is to apply for a Golden Visa. If you're interested in the vast investment opportunities within Portugal, the Golden Visa is best suited for you.
Want To Connect With Expats Living In Algarve?
We're sure you're tingling with excitement by now. Algarve is one of our favorite places in Portugal, and now you know why! Connect with hundreds of expats via our Facebook group to know their candid experiences living in Portugal.
Our expat community is full of diversity – from students and families to retired couples; you will find someone just like you. If our list of reasons to retire in Algarve has got you thinking, read our article on the Portuguese Residence Permit. Viv Europe's team is waiting to answer your questions.