Last Updated on May 8, 2023 by Laila Oliveira
Picking a favorite destination isn't a piece of cake. Portugal is a charming and affordable country with beautiful beaches, delicious cuisine, and a rich cultural heritage. And Thailand? It's no less. A tropical paradise with beautiful beaches, warm weather, and delicious food. But is it better to spend your retirement in Portugal or Thailand?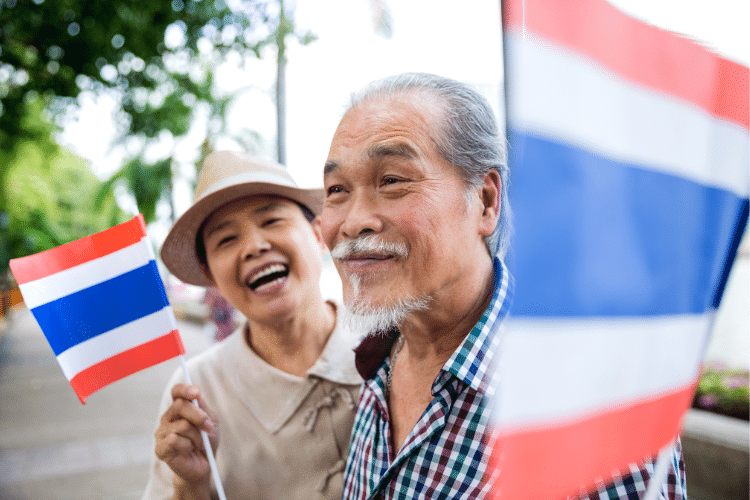 Portugal's relaxed pace of life, friendly locals, and plenty of outdoor opportunities make it a perfect destination for retired expats. But Thailand is more affordable than Portugal and also offers a friendly culture and a range of activities from yoga to sightseeing.
With both countries having to offer something unique, retirement in Portugal or Thailand is increasingly intriguing for expats. Stick around to find out which one you'd be inclined to more! After all, it's about what you're looking for and how you want to spend your golden years.
Retirement in Portugal or Thailand? Why expats choose them
Retirement in Portugal and Thailand is a popular choice for expats looking for a peaceful retirement destination. Let's see why they prefer these two countries and what differentiates them from one another!
Portugal's rich culture, beautiful coastline, and mild climate make it an attractive option for a peaceful retirement. The cost of living is also lower than in other Western European countries, and the NHR Tax Regime serves as an attractive tax incentive for expat retirees.
Thailand, on the other hand, is known for its friendly people and exotic culture. The cost of living is lower than in Portugal, allowing retirees to enjoy a comfortable lifestyle on a budget. Health care is also more affordable and of good quality, essential for retirees requiring medical attention.
Both countries have incentives to offer, and they also hold certain similarities. Take a look at the similarities before we break down each component of living in the country as a retiree.
Similarities between the countries
Despite being located on opposite ends of the globe, Portugal and Thailand share more similarities than you might think!
Both have a warm and welcoming culture, with friendly locals and a relaxed pace of life. Portugal and Thailand also have a reputation for their beautiful natural scenery and activities that interest retirees, like beach-going and exploring historical landmarks.
Not only the culture but the cuisine in both destinations focus on fresh, local ingredients and bold flavors, which capture many expats' attention.
Even though Thailand is more budget-friendly, they both offer an affordable living cost compared to other Western countries.
If they're so similar, what stands out as a differentiating factor? Let's dive into the details!
Portugal vs Thailand for expats
As you can tell, both Portugal and Thailand offer unique advantages for expats looking to retire.
While Portugal may appeal to those looking for a quieter, more traditional lifestyle, Thailand offers a more adventurous and vibrant atmosphere. Here's what life is like in each country:
About living retired in Portugal
Retiring in Portugal is becoming increasingly popular among expats, and all for good reason. This charming country offers a high quality of life, excellent healthcare, and an affordable cost of living. It is known for its delicious food, world-renowned wine, and stunning natural beauty.
One of the things retirees enjoy about Portugal is the weather. With over 300 days of sunshine a year, you can enjoy a warm and comfortable climate all year round. This makes it perfect for outdoor activities for expats that like to stay busy..
Another great aspect of living in Portugal is the relaxed pace of life. You can take your time enjoying long lunches with friends, strolling through picturesque villages, or simply lounging on the beach. Doesn't that sound like the kind of life you'd want after retirement?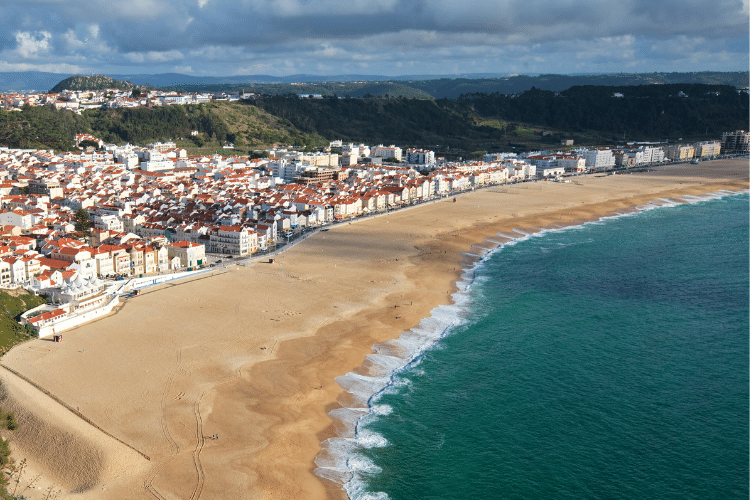 And let's not forget about the culture. Portugal has a rich history and heritage, with beautiful architecture, museums, and galleries. The locals are also warm and welcoming, making it easy to feel at home in this beautiful country.
About living retired in Thailand
While you can't stay away from Portugal, Thailand is worth considering too. This beautiful country offers a lower cost of living, friendly locals, and a vibrant culture. Plus, the warm and sunny climate makes it perfect for year-round outdoor activities.
One of the biggest draws of living in Thailand is the food. Thai cuisine is known for its bold flavors, fresh ingredients, and healthy options. You can find delicious street food or indulge in fine dining at one of the many international restaurants.
And while Thailand is famous for adventures like jungle treks to elephant sanctuaries, it also offers an easy-going lifestyle for retired expats. You can spend your days exploring temples or simply taking in the sights and sounds of the bustling city streets.
Differences between the countries
For expats considering a life in either of the two countries, you should be aware that retirement in Portugal or Thailand is a fundamentally different experience despite the similarities.
For example, Portugal has a favorable tax regime for retirees, offering a 10-year tax exemption on certain types of foreign income, such as pensions. In contrast, Thailand has a flat tax rate of 15% on all income, including pensions. This is just one of the many striking differences!
Continue reading to learn more about the unique areas because it's important to consider your personal preferences and priorities when choosing a retirement destination.
Is the cost of living in Portugal lower than Thailand?
One important factor to consider is the cost of living. While both are affordable, Thailand is more budget-friendly than Portugal if you're on a tight budget.
Thailand is known for its low cost of living, with many retirees living on a budget comfortably. Accommodation, food, and healthcare are generally affordable, and there are many options for entertainment and leisure activities that won't break the bank.
For example, a single person estimated monthly costs are €524 (฿22,037) without rent. And consumer prices, including rent in Bangkok, are 17.9% lower than in Lisbon. The rent prices in Bangkok are 37% lower than in Lisbon.
On the other hand, Portugal has a slightly higher cost of living, particularly in cities like Lisbon and Porto. You would need around €3,037 (฿114,804) in Bangkok to maintain the same standard of life that you can have with €3,700 (฿139,866) in Lisbon.
Of course, there's an opportunity cost to everything. So it all depends on what you're looking for.
Here are some estimates to give you a better idea of what the cost of living looks like in each country:
Expense
Cost in Portugal
Cost in Thailand
One-bedroom apartment in the city center
€778
(฿29,258)
€358
(฿13,475)
One-bedroom apartment outside the city center
€590
(฿22,190)
€200
(฿7,538)
Three-bedroom apartment in the city center
€1,313
(฿49,387)
€1,022
(฿38,428)
Three-bedroom apartment outside the city center
€960
(฿36,101)
€559
(฿21,023)
Utilities
€112
(฿4,217)
€61
(฿2,322)
Groceries
€250
(฿9,336)
€209
(฿7,826)
Transport (Monthly pass)
€40
(฿1,504)
€31
(฿1,200)
Tennis Court Rent (1 Hour on Weekend)
€11.64
(฿437)
€8.57
(฿322)
Estimates are from Numbeo (as of May 2023).
What are taxes like in Portugal and Thailand?
For anyone considering retirement in Portugal or Thailand, one of their biggest concerns is often taxes. Both offer attractive tax systems for retired expats, but which one is better?
In Portugal, the Non-Habitual Resident (NHR) Tax Regime provides tax exemptions for up to 10 years on certain types of foreign income, such as pensions. This means that retired expats can receive their pensions tax-free in Portugal and invest their savings into the diverse Portuguese market.
Thailand offers a similar program called the "Thailand Elite" visa that provides a 5-20 year visa for retirees, exempting them from paying tax on foreign income. But it should be noted that the tax system in Thailand can be complex and difficult to navigate for expats and may require the assistance of a tax professional.
With Viv Europe your plans for Portugal
will finally come to a reality
Does Portugal have a better transport system than Thailand?
When it comes to public transport, neither of the two lack in efficiency, but Thailand's public transport may be more challenging for non-Thai speakers.
Portugal's transport systems are generally easier to navigate due to being expat-friendly and because English is largely understood.
Portugal's public transportation is well-developed, with reliable buses, trams, and trains connecting different parts of the country. Taxis and ride-hailing services are also easily available, which can be helpful for those with mobility issues.
Similarly, Thailand has various modes of transportation, including buses, trains, and taxis. However, the transport system may not be as accessible for differently-abled as some areas may not have wheelchair-accessible infrastructure.
So while both countries offer reliable public transportation, Portugal may be a more suitable option for retiree expats with mobility issues, as there are more accessible options available.
Does Portugal have a better climate than Thailand?
The climate is an important consideration for expats looking for retirement in Portugal or Thailand. Portugal has a Mediterranean climate with mild winters and hot summers, making it an ideal destination for those who prefer warmer weather.
In contrast, Thailand has a tropical climate with high humidity, hot temperatures, and monsoon seasons, which may not be suitable for all retirees. A lot of retirees try to stay away from complicated weather conditions, and we can understand why.
Retirement in Portugal can offer a more temperate climate with plenty of sunshine and mild temperatures. This can be appealing to those who enjoy outdoor activities. Meanwhile, retirement in Thailand offers a year-round tropical climate with plenty of sunshine, which may appeal to those who prefer warmer weather.
All in all, neither country offers an extremely harsh climate, and it depends entirely on your personal preferences!
What is the security like in Portugal and Thailand?
In terms of security, Portugal is considered one of the safest countries in Europe, with low levels of crime and a stable political climate. While Thailand is generally safe, it does have higher levels of petty crime and occasional political unrest.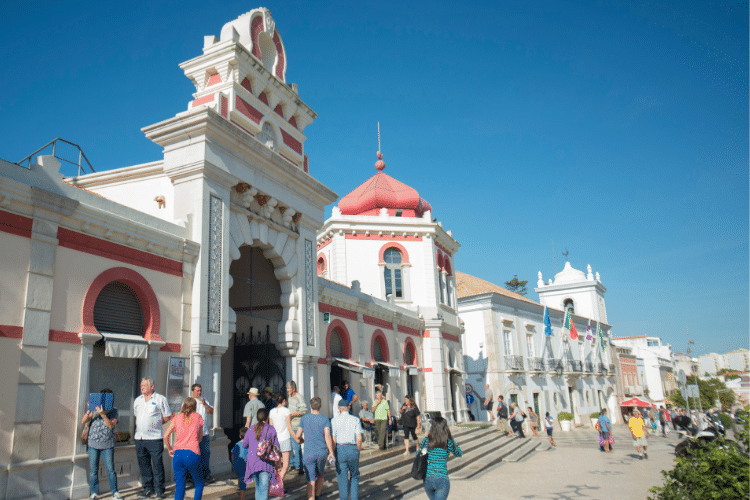 According to the Global Peace Index 2022, Portugal is ranked 6th out of 163 countries, indicating a high level of safety and security.
At the same time, Thailand is ranked 120th on the same Index, which suggests a higher level of crime and security concerns.
Retired expats in Portugal can benefit from a stable and peaceful environment with low levels of crime and a welcoming culture. However, in Thailand, expats may face some security challenges, particularly in certain areas, such as Bangkok and Pattaya.
What is entertainment like in Portugal and Thailand?
Both countries offer a variety of entertainment options for retired expats. In Portugal, retirees can enjoy cultural activities such as art galleries, museums, and music festivals. The country is also known for its beautiful beaches and outdoor activities such as golfing, hiking, and water sports.
Retirees in Thailand can experience vibrant nightlife, traditional markets, and temples, as well as beautiful beaches and natural parks. Thailand is also known for its delicious cuisine, including street food and high-end dining options.
So both destinations offer diverse entertainment options that cater to different interests, and in the end, it depends on what appeals to you more. It's okay to be confused even after reading the differences. Stick around to find out how you can get the help you need!
How to get a Visa in each country
Retired expats looking to relocate to Portugal or Thailand will need to obtain the appropriate visa. In Portugal, retirees can apply for the D7 Visa, which is a long-stay visa for non-European Union nationals who wish to retire in Portugal.
To be eligible for this visa, retirees must show proof of income, health insurance, and a clean criminal record. The D7 Visa allows retirees to stay in Portugal for up to two years, with the possibility of renewal.
In Thailand, expat retirees can apply for the "Thailand Elite" visa, which is a long-stay visa for retirees that offers a range of benefits. These include visa-free entry, airport services, and discounts on medical care and travel.
Expats must meet certain criteria to be eligible for this visa, such as being over 50 years old and having a minimum income or savings.
To sum it up, obtaining a visa for retirement in Portugal or Thailand requires careful planning and preparation. And you should research the requirements and seek assistance from a trusted immigration specialist to ensure a smooth process.
Bottom Line: Retirement in Portugal or Thailand?
Like we said earlier, choosing between two beautiful destinations is not a piece of cake. But what can help is knowing what you're looking for and how much you're able to pay to live well. Your retirement years are sacred and should be spent by planning them well!
To clear out your confusion and talk to other Thai retirees in Portugal, join our Facebook Group – All About Portugal For Expats. Ask questions, share experiences, and clarify your doubts. Our community of over 11,000 would love to help you out!
And if you're still looking for professionals to get you through the process, book a consultation with Viv Europe and streamline your retirement plan. Whether you need help getting a Visa, buying your new house, or relocating all your belongings, we've got it covered!