Last Updated on June 7, 2023 by Maryam Siddiqui
Retiring overseas is an excellent way to satisfy your wanderlust after decades of working in the same city. Whether it's the culture, weather, or living standards, Portugal is a go-to place for many expats across the globe. But, like any other country, there are pros and cons of retiring in Portugal too. Does that mean it's not worth it?
We're going to be candid with you. This article will help you apprehend what numerous retirees love about Portugal and some things that they consider as cons. Of course, it can't all be rainbows and sunshine, can it? Stick around until the end to learn everything you need to know about retiring in the fourth-safest country globally!
Explore the pros and cons of retiring in Portugal
Portugal is a fantastic place to live, with data to support our claims! However, let's get transparent about living here, especially as a foreigner. People experience life differently, so the challenges expats face will also be different.
The 7 pros of retiring in Portugal
Here are all the things we love about sunny southern Europe:
1. The weather is mostly fantastic
Oh boy, is this a blessing! The golden Portuguese sun does NOT disappoint. Unlike other European countries, the temperatures here barely exceed 10°C regardless of the season.
It's pleasant all year round, with the highest average temperatures reaching 26°C in most cities of Portugal. The Algarve region has been super famous for retirees recently. Do you know why? It's because the weather is fantastic, there are stunning beaches everywhere, and you can fully relax here.
The Algarve also experiences 300 days of sunshine all year round. This means that there are various activities retirees can indulge in to stay active.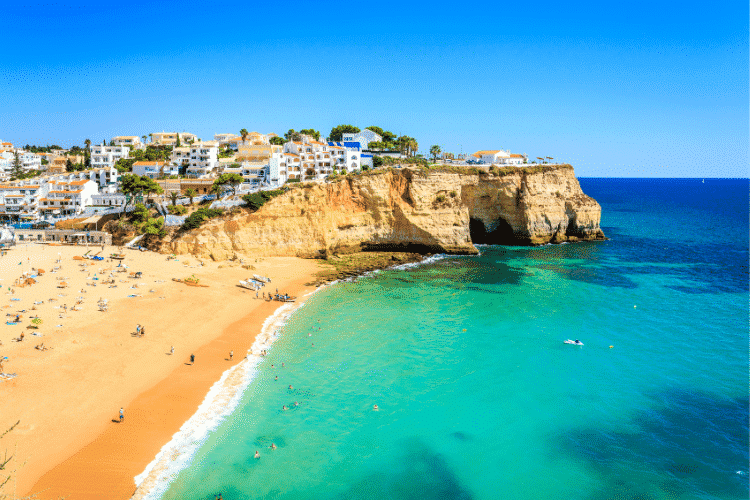 There are plenty of ways to relish the Portuguese sun. Whether you like golf, swimming, or a walk along the beach in the evening, it's all up to you. Who wouldn't want to live an endless vacation while spending their retirement in the Algarve?
2. You feel safe and welcome anywhere
It's paramount to ensure that whatever country you are moving to is safe enough for you. Fortunately, Portugal is one of the safest counties in the world. According to the Global Peace Index 2022, it ranks as the sixth-safest.
Crime is highly unlikely except for unfortunate petty crimes during tourist seasons. On top of that, everything feels better when you interact with Portuguese people. They're very hospitable and will go out of their way to help you if you need it. It's like finding a family away from home.
You'll hardly ever experience any aggression or danger while in Portugal. Nonetheless, safety begins with you; always exercise caution whenever you're out and about in the city or any place.
3. The cost of living is much lower than in other European countries
The cost of living is a massive attraction for people looking for the perks of a developed European country. One thing's for sure – the standard of living is exceptional compared to how affordable Portugal is.
You'll immediately notice how most things cost less than in other European countries or the United States. As of June 2023, according to Numbeo, expenditures in Portugal are, on average, 38.2% lower than in the United States. And rent prices are 53.8% lower in Portugal.
Numbeo's estimates also show that a retired couple can live a modest life for under €1,200. If you prefer a more lavish lifestyle, €1,800 to €2,500 will probably be enough.
The low cost of living makes it possible to switch to a reasonably lavish lifestyle. However, you should know that prices are relative to the city you choose to settle in.
Rural towns have even lower living costs compared to big cities like Lisbon. Expat hot spots have a relatively higher cost of living because of increased purchasing power.
4. Public healthcare is cheap and reliable
Next on our list of pros and cons of retiring in Portugal is healthcare. Surely, you must know that European healthcare is known to be the best globally. Portugal is no slouch in the medical field, either.
The Sistema Nacional de Saúde (SNS) is the Portuguese healthcare system with public and private healthcare parcels.
Public health care is commonly used and functions quite well compared to other nations worldwide.
The Portuguese National Hospital System is universal, meaning that it's accessible to anyone, whether from Portugal or not. However, you'll need a good health insurance plan to enjoy affordable prices in the private healthcare system.
5. Portuguese cuisine is rich and delicious
A healthy diet is essential at any age. But who says healthy food can't be tasty?
Fortunately, Portuguese cuisine is predominantly home-cooked and prepared with natural ingredients. Inspired by Asian, African, and European cuisines, the food here will leave you craving more!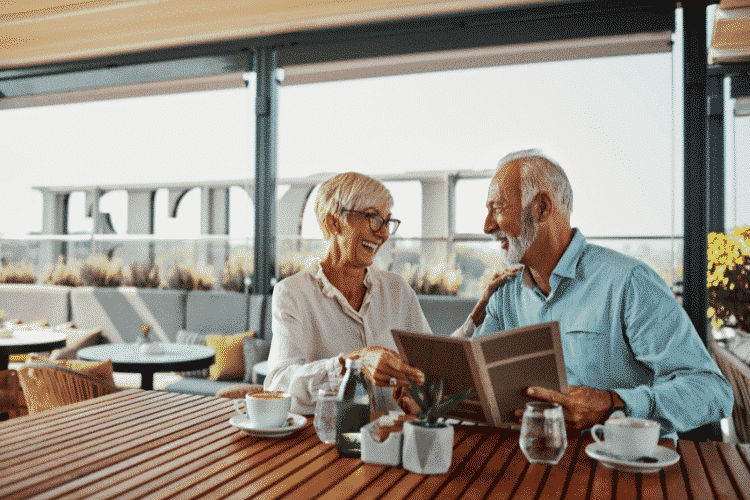 You'll quickly realize that the taste of Portuguese meals is a delight to your taste buds. Each dish is diverse and delicious, from cooking fresh codfish to seafood, pork, chicken, or Portuguese sweets. Enough to brighten up your day, for sure.
6. Non-Habitual Resident tax regime
The Non-Habitual Resident Tax Regime intends to provide benefits to passive income earners. To summarize it for someone unaware of complex legal terms: you'll pay much lower taxes!
The term "non-habitual" refers to citizens who have not had a tax residence in Portugal for the last five years. Once eligible, you can benefit from this regime for the next ten years.
You're in luck if your passive income is from pensions, dividends, royalties, capital gains, or property gains. The tax rate is only 10%, and depending on the country you're relocating from, you can also avoid double taxation. Keep reading to learn what double taxation is!
7. Leisure and entertainment
In Portugal, there's something for everyone. As a retiree, you might not be into water activities as much, but you can still have fun. If fishing interests you, there really isn't a better place to live in.
Portugal is known for some of the best seafood and world-famous Port wine; what a classic combination. It tastes even better when you're the one prepping everything from scratch.
Then there are over a hundred golf courses and tennis courts all around the country for people who love sports. Monte Rei in Eastern Algarve and West Cliffs (an hour from Lisbon) are two of Europe's best golf courses.
When you're in the mood to stay in your cozy house and watch some dramas or movies, you can do that too. Most movies and TV shows are broadcast in their original language, so you won't need to know fluent Portuguese.
The 7 cons of spending retirement in Portugal
1. Portuguese Bureaucracy
As an expat, you should know that processes often take longer to complete in Portugal, unlike in other European countries.
So whether you're applying for a job, purchasing property, or even applying for residential status. You're likely to encounter a lot of bureaucracy, and your patience will reward you.
What occurs as a challenge is figuring out who you need to speak to or what paper works you need to fill out. This is particularly true when applying for the D7 Passive Income Visa for the first time.
In the banking industry, there are no clear rules online. As a new expat, you'll benefit from having a translator to help you navigate around.
Again, it'll be advantageous if you come mentally prepared for some of the bureaucratic slowdowns in the system.
2. Understanding double taxation is tough
The Portuguese tax system consists of local taxes and state taxes. As an expat, you'll need to register as a taxpayer before you start earning money; it's what the law requires.
While you can take advantage of the NHR Tax Regime, double taxation is always a concern for most expats. Portugal has treaties with other countries aimed at preventing double taxation.
However, as a new immigrant, it'll be difficult at first to figure your way through the bureaucracy of the double taxation puzzle.
With Viv Europe your plans for Portugal
will finally come to a reality
3. Winters are chilly inside
Number three on our list of pros and cons of retiring in Portugal is the few weeks of cold.
One of the reasons people move to Portugal is the excellent weather. However, this doesn't mean it's summer all year round in Portugal.
Depending on where you settle in Portugal, you'll have different weather, especially during winter. If you decide to settle in northern Portugal, prepare for the rough winter conditions.
Unfortunately, most Portuguese houses weren't built keeping cold weather in mind. That means the insulation is much weaker than in the UK or Germany.
On the contrary, winters in Portugal are not as freezing as in other countries, with the lowest average being 10°C. Although, it's best to know where you'll be staying and the yearly weather patterns to expect.
So, even if Portugal does have higher temperatures in winter, you'll probably have to adapt your house significantly not to freeze at home.
4. Learning Portuguese is hard
As an expat in Portugal, one of the things that'll help you live and blend in with the people is learning their language.
While you're not required to be fluent, understanding the basics will help you get by independently.
Where you live will also determine whether you need to learn the language or not. If you live around the cities, you can get away with it because there are many English speakers.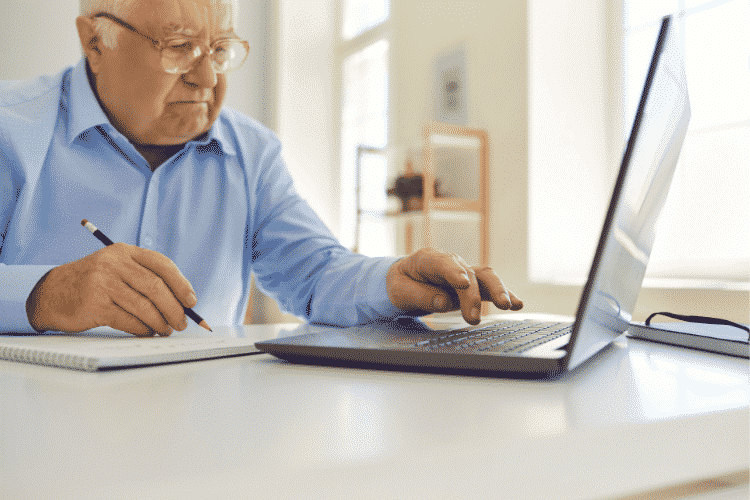 However, speaking Portuguese will come in handy daily if you intend to live away from the larger urban areas. For instance, negotiating for rent or even taking instructions from strangers.
Learning Portuguese is, however, easier said than done. First, European Portuguese differs from Brazilian Portuguese, so you need to know the correct type.
Don't fret so soon – you can learn from several online language training services at your own pace.
5. Cultural shock is a real thing
Before reading this one, you should know that we understand how difficult this journey is. From living in your home country to relocating to a new one, acclimatizing to an unknown environment can be sad.
While there's so much to be happy about, there's no denying that culture shock is real and manifests differently for every individual. The sad part is that no one prepares you for your experience.
You'll have to deal with this new reality on your own as you experience life in Portugal. However, there's always a light at the end of the tunnel! Within no time, you'll find ways to manage this emotional rollercoaster.
Being self-aware and acknowledging that cultural differences are typical will help you deal with this as you retire in Portugal.
6. High influx of tourists
After all, Portugal is a famous tourist hub, which may get to you sometimes. Especially from June till August, the numbers increase by a wide margin. This isn't to say that you won't get privacy around you; some areas are very secluded, like in Faro.
To be fair, an influx of tourists isn't even a problem if you like interacting with people from diverse cultures. Portugal is a place where you can make new friends at any age and at any moment.
However, people of introverted nature may feel a little out of place during these times, and rightfully so. To combat this, you can look for apartments with more privacy or visit Lisbon during summer, which is less touristic.
7. Slow pace of life
We genuinely think this is somewhere between the pros and cons of retiring in Portugal. We'll tell you why we believe it can classify as a con. However, most of the country's citizens think this is a blessing, so now it's up to you to decide.
The Portuguese truly love enjoying every moment slowly and relishing the beauty of life. They don't like rushing against the clock to be at a place or get a task done. Sometimes, this can mean that tasks face inefficient delays, as in the bureaucratic system in Portugal.
Decisions can take longer – slowing processes more than needed. It isn't a prodigious con, but we thought we'd highlight it just in case.
Did we miss any pros and cons of retiring in Portugal?
Have you heard of any other pros and cons of retiring in Portugal? We might've missed out on a few obstacles and opportunities. The best way to confirm is by connecting to expats who've gone through the same experiences. Our Facebook Group – All About Portugal For Expats, can help you connect with individuals to hear their stories.
We've never claimed that Portugal is perfect, and we never will! Nevertheless, retiring in a country with beaches, incredible weather, and affordable living standards is nothing less than a dream.
We advise you to set realistic expectations from the beginning. And remember, professional help always makes things easier, so feel free to book a consultation with Viv Europe before starting.