Last Updated on December 31, 2021 by Lea Melo
There are certainly many people who dream of retiring in Europe. Between Spain, Italy, or Portugal, living your retirement in sunny places is totally possible.
If you are looking for culture, good food, and entertainment, then you can find everything in the old continent. Also, your expenses will probably be much lower than you expect if you are planning to retire in one of the European countries.
In this article, we'll explore three popular options for low-cost living in Western European countries with great quality of life. Check it out!
Spain, Italy, or Portugal: how to choose?
In these places, you can easily find a house on rent for less than 600€ per month and you can purchase a property for less than 110,000€, that's right! You can also have a full meal for just 10€ and, believe me, buy a bag of fresh produce grown locally for less than 6€.
All of these countries have fabulous beaches, incredible rural areas, and cities with a rich history and stunning architecture.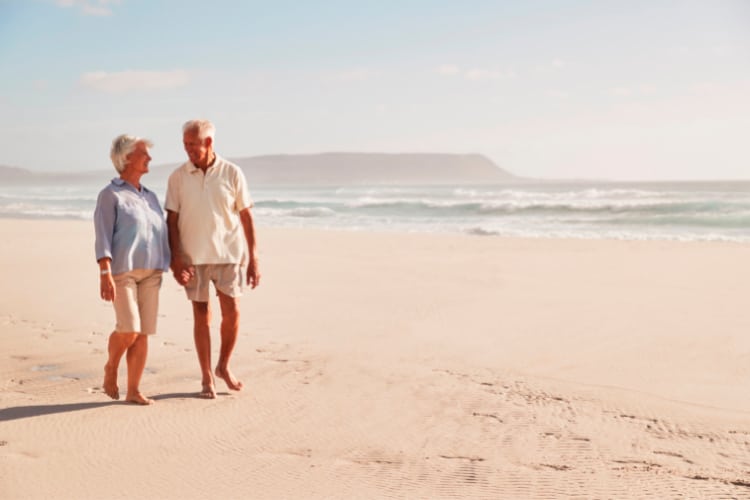 As you know, Europe has a strong focus on health care, and all three countries that have world-class health care standards.
Health care facilities are almost free in these countries (as long as you're legal), and you don't have to worry much about counting pennies for getting a health care facility.
Now let's get into the details of each country, one by one, so that it becomes easy to decide which country is more suitable for you to retire.
We will divide our analysis into four perspectives, which are: Cost of Living, Health Care, Security, and Entertainment options.
Living retired in Italy
Italy is one of the most famous countries in the world. When it comes to living out of retirement, of course, the nation that has everything is also at the top of the consideration list. See the advantages and disadvantages of choosing Italy to live in retirement.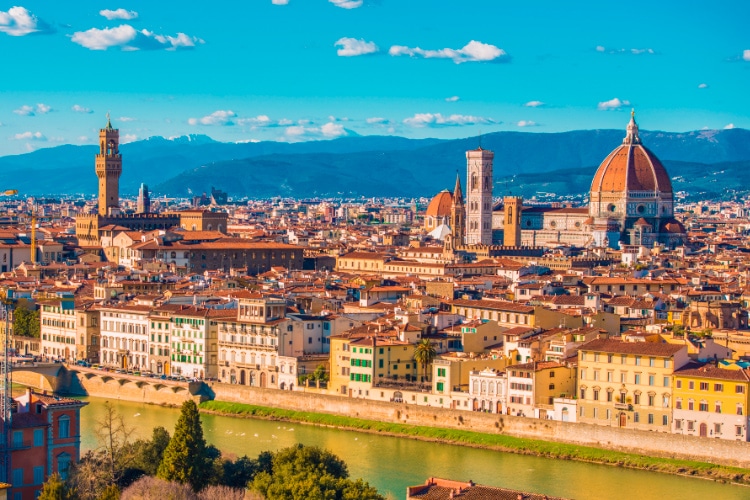 Cost of Living in Italy
Considering the prices and cost of living, Italy is an affordable country in Western Europe. Take a look at what it cost to live in Italy, according to Numbeo Cost of Living database:
| Expenses | Costs |
| --- | --- |
| A single person estimated monthly costs (without rent) | €746.32 |
| Family of four estimated monthly costs (without rent) | €2,631.66 |
| 1-bedroom apartment in the city center | €588.02 |
| 3-bedroom apartment in the city center | €1,012.02 |
You can easily find a luxury house with 3 bedrooms to living in, paying a rent of around €1,500, and the cost decreases as you go to less popular areas.
Of course, if you look for rentals in a tourist area, like Rome, the rental price will be a little higher.
Food, besides being a reason in itself for choosing Italy to live in, can be also quite affordable. Believe me, you can eat very well for less than €15 for a meal if you avoid the tourist area.
If you want to travel around the country, then there are plenty of public transportation options.
In Italy, most public transport, such as bus and tram tickets, costs around €1.50. If you buy a pass, this amount may be even lower, as you will pay per month.
Overall, you can live a luxurious life in many cities of Italy spending the same amount you would need to survive in London or Paris.
Health Care System in Italy
The health care system in Italy is known as SSN (Servizio Sanitario Nazionale), which is a regionally based national health service.
Citizens and residents get universal coverage with public health care almost free of cost.
Therefore, by paying a very small amount (from 15 to 20€) you'll be able to have a full medical analysis whenever needed.
Also, healthcare can be totally free of charge for children up to 6 years old, citizens over 65, and people with low income.
The treatments provided by public health care facilities include tests, medications, surgeries during hospitalization, and much more.
You should keep in mind that the quality of public health services in Italy can vary widely depending on the regions you choose.
Security in Italy
Italy has a low crime rate. Although violent crimes do happen there, they are very unusual. Most minor crimes, such as pickpockets activities, can be seen, mainly in tourist areas.
Italian residents are quite safe because they have strict rules for criminals and the punishments are very severe.
Italy ranks 31th out of 163 countries in the world analyzed by the 2020 Global Peace Index.
Entertainment Options in Italy
Italy offers all types of entertainment to its residents. If you love sports, Italy is the place for you.
Here you will find plenty of museums, theatres, orchestras, open-air cinemas, beaches, water activities, amusement parks, and much more to spend quality time with your friends and family at a very reasonable price.
If you just want to relax, you can go to one of many parks and read a good book from the shade of a tree. Also, if you like history and want to find a place to admire the achievements of your ancestors, Italy is the right place for you.
Don't forget that Italy is the country where was born:
Dante Alighieri (1265 – 1321)
Christopher Columbus (1451 – 1506)
Leonardo da Vinci (1452 – 1519)
Galileo (1564 – 1642)
Antonio Vivaldi (1678 – 1741)
Benito Mussolini (1883 – 1945)
Luciano Pavarotti (1935 – 2007)
Andrea Bocelli (1958)
Valentino Rossi (1979)
Living retired in Spain
Spain is also one of the top choices for retirees in Europe. The rich culture, climate, and infrastructure do not disappoint either tourists or residents. Learn more about retired living in Spain.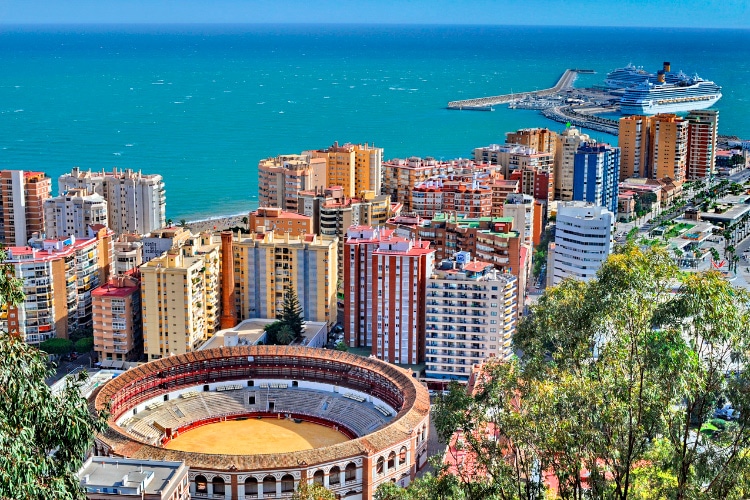 Cost of Living in Spain
Spain is considered a cheap country to live in Western Europe, especially if you choose a region like Galicia to live in. See the average spending in Spain, according to Numbeo:
| Expenses | Costs |
| --- | --- |
| A single person estimated monthly costs (without rent) | €607.80 |
| Family of four estimated monthly costs (without rent) | €2,146.49 |
| 1-bedroom apartment in the city center | €640.66 |
| 3-bedroom apartment in the city center | €1,007.59 |
If you are a couple and you are not living in a rental apartment, then the cost of living in Spain would hardly exceed €1,800 to €2,000 per month. You can easily get a satisfying meal for €20 to €30, which normally includes a beer or a drink.
If you are a couple, then your grocery bills would hardly exceed €100 per week. If you want to live on rent, then you can find a one-bedroom apartment for less than €450, if you look well enough. It is also possible to buy your own home for less than €100,000.
Obviously, if you look for properties in tourist areas like Madrid and Barcelona, the price of m² will be more expensive, easily reaching €5,000 per m².
In general, you can have a luxury lifestyle in Spain for as low as €2,000 per month.
Health Care System in Spain
Spain offers public and private healthcare systems, and both are excellent!
This country has the highest life expectancy in the European Union, rated as the healthiest country in the world in 2019.
Spain ranks first in the Bloomberg Index of Healthiest Countries in 2020, which ranks 169 countries according to factors that contribute to the overall health of the community.
In a survey published by "The Lancet", Spain is in the eighth place in the ranking that classifies the health systems of 195 countries worldwide, having a network of high-quality hospitals and health centers, with cutting-edge technology for care.
Public health in Spain is divided into two forms of assistance: Primary Care and Specialized Care. The first offers some basic services to the population and the second concerns specialized centers and hospitals.
The public health system of Spain also provides free health care services to retirees, including those that are from other European countries.
Security in Spain
According to the Global Peace Index 2020 report, Spain ranks 38th among the safest countries in the world, therefore, this country is considered a safe place.
Although there is not much violence among Spanish citizens, unfortunately, this country still suffers from terrorism.
In addition, like other European countries, there are some areas in Spain where the separatist movement can be seen, more specifically in the Catalan and Basque regions.
According to the crime rate ranking of Numbeo, Malaga and Valencia are among the safest cities in Spain.
Considering that Spain is a developed country and also one of the most popular places for tourism, it is always necessary to be attentive to your belongings, since pickpockets are quite common, especially in some places in Madrid and Barcelona.
Entertainment Options in Spain
Without a doubt, in Spain, you can do almost anything you want in terms of fun, as this country offers a lot, for all ages.
For example, the nightlife in Spain is rich and exciting. Don't forget about Ibiza!
Bars remain open in Spain all day, and they usually close at three or four in the morning.
The cities have a lot of historic buildings, museums, galleries, and landmarks. So stopping to admire the historic buildings and Gothic architecture distributed in many Spanish cities is a must!
Let's remember that Antoni Gaudí is Spanish, as he is a renowned architect and the face of Catalan modernism.
Here you will find some of the beauties you can find in Spain:
The Alhambra and Generalife Gardens, Granada
Barcelona's Sagrada Familia and Gaudi Sites
The Great Mosque of Cordoba (Mezquita)
The Prado and Paseo del Artes, Madrid
Guggenheim Museum, Bilbao
Seville Cathedral and Alcazar
And the list goes on and on…
If you are planning to live here with your family after retirement, then you won't get bored for a single day.
Living retired in Portugal
Last but not least, Portugal. Between Spain, Italy, or Portugal, the small southern European country surprises anyone with its enormous quality of life. So much so that it is one of the main destinations to spend your retirement in Europe.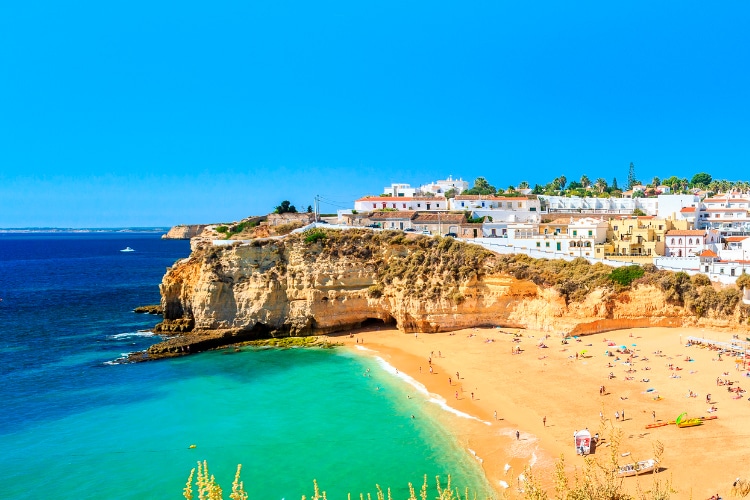 Cost of Living in Portugal
Everything is affordable in Portugal, including accommodation and groceries.
If you are a couple, you can live comfortably in Portugal for around 1,500€ a month, especially if you plan to live outside Lisbon, Porto, or Algarve. Check out the table below for some cost of living estimates from Numbeo:
| Expenses | Costs |
| --- | --- |
| A single person estimated monthly costs (without rent) | €528.36 |
| Family of four estimated monthly costs (without rent) | €1,852.55 |
| 1-bedroom apartment in the city center | €590.45 |
| 3-bedroom apartment in the city center | €1,020.21 |
If you want to rent a property in Portugal, a two-bedroom apartment would hardly cost more than 600€ a month in the cheapest cities in the country.
Your grocery bills won't exceed 300€ a month if you are a couple. The food here is so good and also quite cheap, and you can have a full meal under 10€.
Overall, the Cost of living in Portugal is extremely cheap as compared to other European countries.
If you didn't decide where to live yet, we highly recommend the article Complete Guide to Live in Portugal.
Health Care System in Portugal
NHS (National Health System) is responsible for providing basic health care services to people and expats living in Portugal.
The quality of the healthcare service is simply excellent! I do a complete checkup of my health situation twice a year, and the way this service is performed, in the public service, is simply remarkable.
According to the 2018 Euro Health Consumer Index, Portugal is ranked 13th for the quality of its health system, while Spain occupies the 19th and Italy the 20th position.
Security in Portugal
Security is undoubtedly a theme where Portugal stands out! For years and years, Portugal was considered the third safest country in the world! Behind Iceland and New Zealand.
The security system in Portugal is really fantastic. Crime rates are very low compared to other European countries and security standards are high.
Take me for example, I live in Braga and I never heard of robbery here. A crime considered to be non-violent is considered so serious that it is reported on TV. I can count on one hand how many times I have seen a police vehicle on the streets.
Obviously, there are some cases of pickpocketing and even car thefts, but the ratios are very low compared to the rest of Europe and most cases happen in the Lisbon area. Serious crimes and offenses are very rare in this country, and you can be assured that you are safe in this country.
Read more about the theme in our article Quality of life in Portugal: see what it's like to live in peace.
Entertainment Options in Portugal
Portugal has the oldest cities in Europe and, therefore, its history is simply fantastic. As it was considered the number one country in the age of discovery, this country is a must for anyone looking for culture and history.
Also, you can find any kind of attractions here, such as bars, nightclubs, markets, casinos, beaches, restaurants, parks, and much more than a person can expect.
Lisbon and Porto are obviously highlighted, as they offer more attractions to the public in terms of entertainment.
But wherever you go, no matter the size of the city, you will find a nice place to eat, a beautiful park to have a picnic, a church (without a doubt) and a historian's place.
Spain, Italy, or Portugal Final Ranking
Still in doubt between Spain, Italy, or Portugal to live in retirement? Check out our ranking below to clarify your ideas.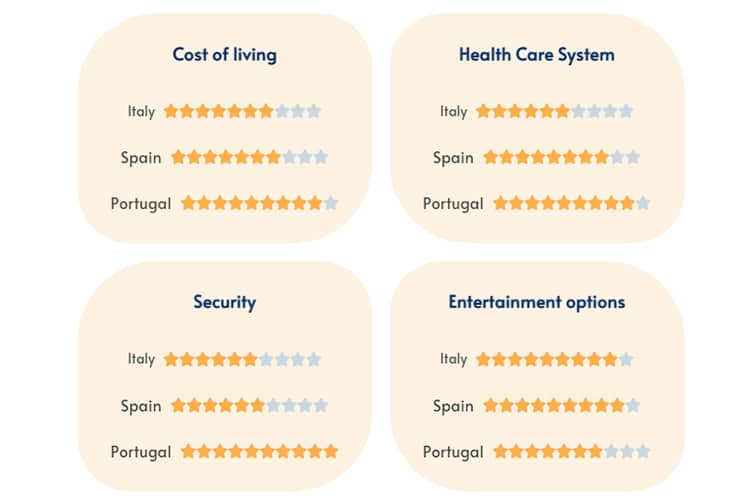 So what is your final choice?
Have you already decided in which European country you are going to take advantage of your retirement? Whether you've chosen Spain, Italy, or Portugal, we're sure you'll make good use of your retirement years.
If you are planning to retire in Portugal, Viv Europe can give you all the support for the relocation process. Contact us and let us know how we can help. We will love to make your Portugal plan a reality.