Last Updated on June 17, 2022 by Letícia Melo
Porto is one of the expats' favorite cities in Europe. Just like Berlin, Barcelona, and Budapest, Porto is a cool hub for artists, startups, and international communities. But how is living in Porto like? How expensive is Portugal, where are the best neighborhoods, what's the food and the weather there? Is it really worth it?
Viv Europe sought answers to these questions. After all, people from all over the world must move to Porto for a reason, right? Follow the article and discover everything about living in Porto as an expat.
Living in Porto day by day
Porto has its own essence. People who live here are proud of their Portuense heritage, and more and more expats are joining the community. You'll soon understand why.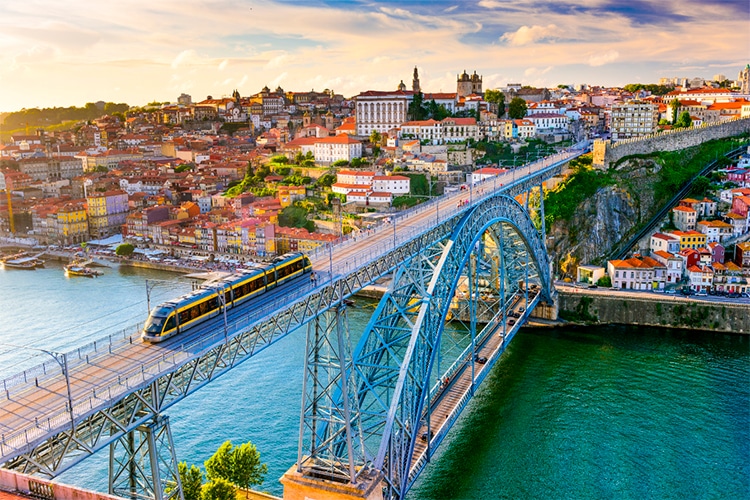 The great Porto feels like a small town for those who live in it. Its beautiful streets are safe, jobs are available, and even public transportation works perfectly. The river Douro, old buildings, and many bridges are a part of people's routines, but no one ever gets tired of it.
To live here looks and feels like a work of art. Porto does not disappoint.
Who lives in Porto
According to the 2022 census, the region of the city of Porto is home to over 230 thousand people. Of the total, 52.6% of the population is of working age, while 26% are elderly and 11.4% are young.
The official data shows that 7.9% of the residents in Porto are foreigners with a Residence Permit. That's above the national average of 6.4%. And the expectation is that this number will increase more and more.
Why are expats moving to Porto
But what is it that makes living in Porto so attractive for foreigners? Well, by now, you must know how popular Portugal is among tourists and investors. But the quality of life for a commoner is also very appealing.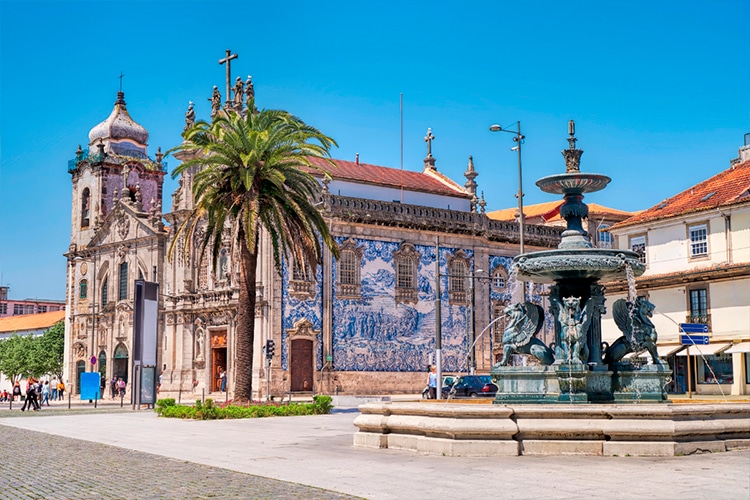 Some of the main factors that attract expats to Porto are:
Low cost of living compared to other European countries
Beautiful architecture and natural settings
Good investment opportunities
Safety and good location
Excellent infrastructure
Read also our article 8 reasons why Portugal became so popular for some insights.
Cost of living in Porto
The cost of living in Porto may vary greatly according to your spending habits, needs, and personal preferences.
Check out the table for some estimates provided by Numbeo (as of June 2022):
| Expenses | Costs |
| --- | --- |
| Apartment Rent (one-bedroom) | €700 |
| Apartment Rent (three-bedroom) | €1,240 |
| Groceries (monthly) | €200 |
| Utilities | €105 |
| Public Transport | €40 |
| Gasoline (per liter) | €2.01 |
| Leisure/Sports | €40 |
If you're wondering about whether the cost of living in Porto is like Lisbon, you'll be pleased to know that it is 10.32% cheaper. The rental cost difference is even higher, being 25.85% lower to rent an apartment in Porto than in Lisbon. This is just a small example of how the variable cost of living in Portugal can be.
However, all Porto residents can guarantee that these values do not reflect the greatness of Porto. The city is deeply underestimated.
Best neighborhoods to live in Porto
Now that you know how good and cheap Porto is, it's time to look at the city map and get to know the best neighborhoods to live in. After all, visiting and living in Porto are two very different things. Take your time to get to know the city map before we proceed.
Get to know some of the best neighborhoods to live in Porto:
Ribeira
One of the most touristic and historically important parts of Porto is the area of Ribeira. It is the city's postcard, full of colorful 18th-century townhouses.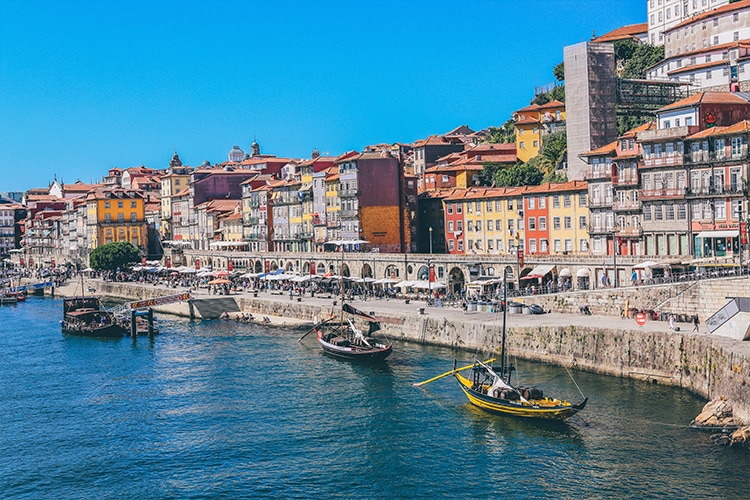 So you can understand how living here can be a dream come true for people who love movement.
The average price of a property of 100 m² is €437,450
Most popular among expats in Portugal
Excellent access to public transport
Not many green areas and parks
In the city center
Boavista
Living in Boavista is definitely a great choice for families. This residential area of town is mostly known for its gardens, cultural centers like Casa da Música, and excellent restaurants.
The average price of a property of 100 m² is €352,500
Popular among both the Portuguese and expats
Excellent access to public transport
Many green areas and parks
Near the city center
In case you're curious, check out the average prices for purchasing and renting properties on the Idealista website.
Bonfim
Elected as the coolest neighborhood in Portugal by The Guardian, Bonfim is a place full of character. It has views of the Douro river, hipster bars, and Portuguese seniors in the windows. Although being connected to the transport system, it's a part of town that's not usually flooded with tourists.
The average price of a property of 100 m² is €295,800
Popular among both the Portuguese and expats
Excellent access to public transport
Many green areas and parks
Near the city center
Massarelos
Perfect for university students and people who love nature, Massarelos is an underestimated neighborhood in Porto.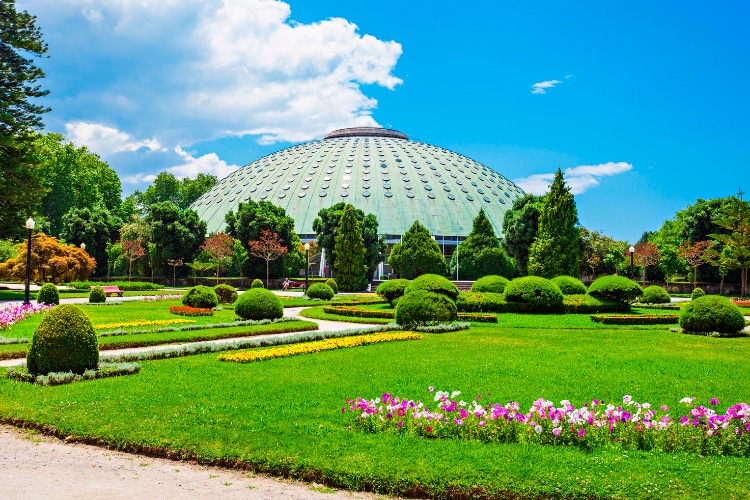 It is home to the botanical gardens, Jardim Palácio de Cristal, and to some of the most stunning viewpoints in the city.
The average price of a property of 100 m² is €340,300
Popular among both the Portuguese
Excellent access to public transport
Many green areas and parks
Near the city center
Considering investing in real estate? Then you must read our article Buying a house in Porto: main considerations and tips.
Public Transport in Porto
If you've read our article on Public Transport In Portugal, you might remember that we mentioned Porto's transport systems as one of the best. Porto and Lisbon are very similar in this regard. They've got excellent public transport options and expats can rely on it entirely.
There's only one difference; Porto feels like a small city, so you can rely on public transport even more than Lisbon. If your residence is near the metro, not just in the city's center, you'll be quite relaxed. In fact, you can do everything on foot since the distances are short.
Your options aren't limited to just metros; there are buses, yellow trams, and trains too. However, most people prefer the metro because it's swift and affordable. The Monthly Pack fare costs €30 which is peanuts if you compare it to the current gasoline prices.
Buying a car may be useful if you live far from where you work, but most people do just fine.
Studying at Porto's universities
Like we mentioned earlier, Porto is very underrated when it comes to universities and the excellent environment they provide. While Lisbon and Porto are the country's largest business hubs, Porto's education is a bit more creativity-centric. The University of Porto is known for the best courses in Architecture, Civil & Chemical Engineering, and Sports Science.
If you're looking for a student-friendly neighborhood, Massarelos is a fantastic option. You'll find like-minded people and a chance to expand your professional networking circle.
Hundreds of foreigners come to Portugal to obtain an education here. Let's help you understand the process a little. To study in Portugal, the applicant requires a D4 Visa. This visa (Study Visa) allows students to pursue their degrees and live in the country.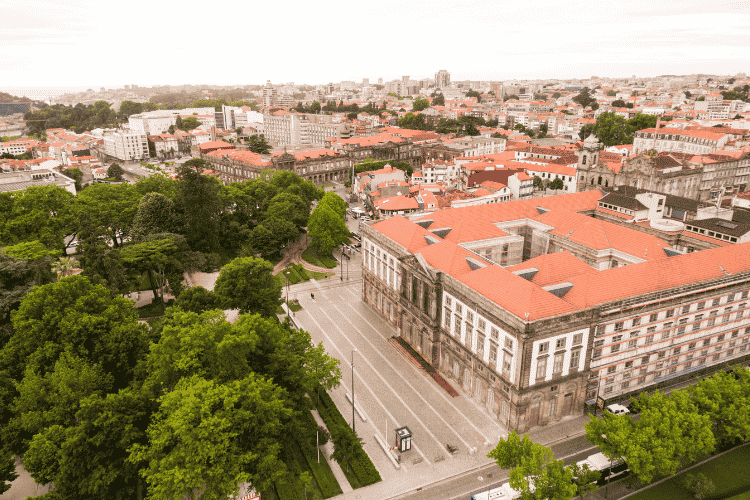 To obtain this, the applicant will need to show three things. These are an enrollment letter, means of subsistence for a year, and a criminal record certificate. The visa typically costs €90 and most applicants receive it within three to four months.
Take a look at the most prestigious disciplines offered in Porto's universities:
Business Management
Economics
Finance
Public Health & Pharmacy
Nutrition and Food Science
Fine Arts
Law
Engineering
Architecture
Data Science
We've also compiled a list of the most-renowned universities along with their official websites:
Labor market in northern Portugal
Along with Lisbon, Porto is one of Portugal's most important industrial and economic centers. It's a great place to find suitable job opportunities and a reference for young Portuguese to look up to.
Some of the best workplaces in Portugal are located here, such as:
Farfetch
Capgemini Engineering
Sonae
Robert Bosch
Adidas
Deloitte
The average wage of workers in Porto is €1,417 per month, one of the highest averages in the country. On the other hand, the minimum wage in Portugal in 2022 was €705, a value received by about 20% of workers.
The areas of Pharmaceuticals, Engineering, and IT are on the rise in Portugal. Read our article Finding a job in Portugal before relocating: an expat guide for more information on the theme.
Healthcare and education
Portugal is known for having a functioning, quality health system. Even though Porto is a populous city, its hospitals and health centers are reliable. Of course, it may get too crowded sometimes, so if you want short lines and fast appointments, consider using private healthcare. There's also a good offer of private hospitals in Porto.
Regarding education, Porto also has some of the best public schools in the country. The public educational system in Portugal is of quality, but lessons are taught in Portuguese. If you're looking for teachers that speak English, French, or German, read our article on the International Schools in Portugal.
Safety in Porto
Living in Porto poses no threats since it's known to be a safe city. In fact, Portugal itself is the fourth-safest country in the world, according to the Global Peace Index 2021. After all, there are reasons why expats are coming to live in Porto, and this is one of them.
However, it's a little unfortunate that tourists attract pickpocketers in busy tourist centers and sometimes on public transport. That's also a global phenomenon, so there's very little control over much this can be minimized.
One thing is assured, though. The Portuguese are very welcoming, progressive, and liberal. Hence, hate crimes and discrimination are off-limits, and you'll be safe from any kind of major crimes.
Some locals do suggest being cautious when traveling within Campanhã, Pasteleira, Aleixo, and Ramalde. This isn't to say that the neighborhoods mentioned above are completely bad or unsafe, but it's best to stay alert. Alternatively, you can consider one of the neighborhoods we mentioned earlier in the article.
Leisure and nightlife
Porto never sleeps. There is always something to do, some concert to watch, a mall nearby and people to meet. Having fun is hardly a problem in the city of Porto.
There are many nice restaurants, hip bars, and a diverse community with people from all over the world. Sports are also important to the city, and soccer is a national passion.
At night, even after the Covid-19 pandemic, the young residents found a way to party outside. The city's many parks, belvederes, and squares are always fantastic places for a picnic.
Consider living in other cities of the north of Portugal
As you can see, living in Porto is not bad at all. However, prices have been rising a lot in the last few years thanks to tourism and foreign interest rises. Therefore, from the local perspective, the city center may be too expensive. And also, if you're looking for a more peaceful place to live, you should get to know other cities nearby. See some other options of cities to live in the north:
Matosinhos
If you're looking for a home near the sea, Matosinhos is the best choice for you. The city is located just outside Porto, only 10 km away from the city center.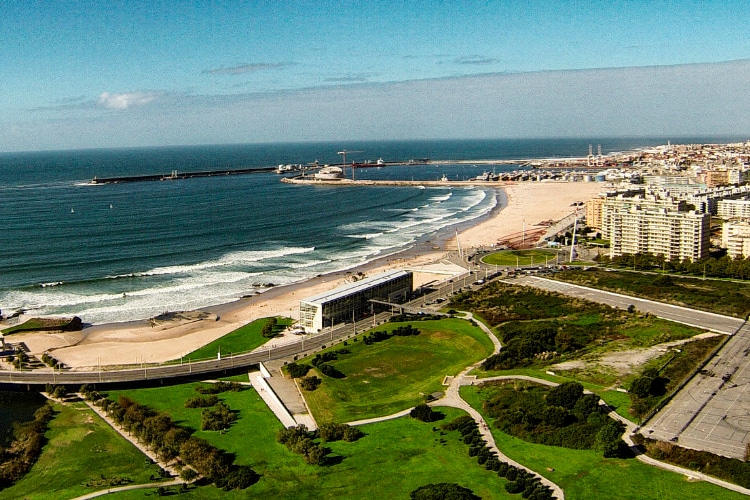 Matosinhos also offers a calmer lifestyle, higher temperatures than the neighboring city, and calmer traffic. So it's a great place to keep in mind.
Vila Nova de Gaia
Living in Vila Nova de Gaia is a great choice for those looking to be in Porto, but wish to escape the higher prices. The city on the south bank of the River Douro is known for its traditional wine cellars of Port wine, from the famous Douro wine region.
It has about 300 thousand inhabitants, but only 3.2% are foreigners. Vila Nova de Gaia is a twin sister of Porto, less known and less expensive, but definitely a fantastic place to live.
Guimarães
The city of Guimarães is historically very important for Portugal. Like the rest of the northern region, it is a very traditional and religious city. Even so, it has become an attractive destination for foreigners looking for peace and tranquility.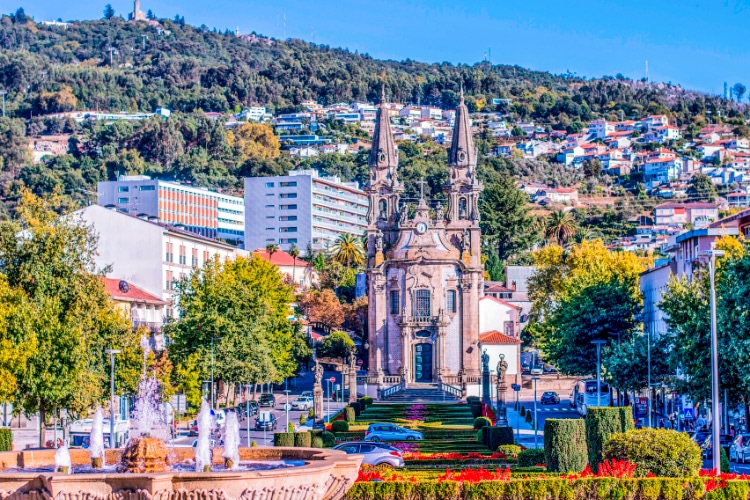 Its 150,000 inhabitants live a calm and humble lifestyle, characterized by the culture of working people from the north. The outskirts of the city are a paradise for nature lovers.
Braga
One of the largest cities in Portugal, Braga is also an important economic center in the north of the country. With around 200 thousand inhabitants, Braga is located only 55 km north of Porto. However, the city is independent and has its own identity.
It's a medieval town with many religious monuments, but many expats have found a perfect place to create a home in Portugal in this inner city. Thanks to the immigrants, the city's population has increased in the last few years.
Pros and cons of living in Porto
Since we're getting closer to the end of the article, let's make a list of the pros and cons of living in Porto. Of course, it can't all be rainbows and sunshine, right? Take a look at the most common perceived benefits and drawbacks of the city:
Pros
The cost of living is lower than in other countries
Second-largest business hub in Portugal
Beautiful architecture
Excellent infrastructure
Expat community (especially for university)
Safe and secure
Amazing weather all year
Top-notch education, health, and transport facilities
Cons
The influx of tourists can mean big crowds
Bureaucracy
Housing can get a little expensive
What should an expat think about living in Porto?
Porto is one of the best cities to live in Portugal, if not the best. Of course, each person knows their preferences, but generally speaking, Porto is very easy to love.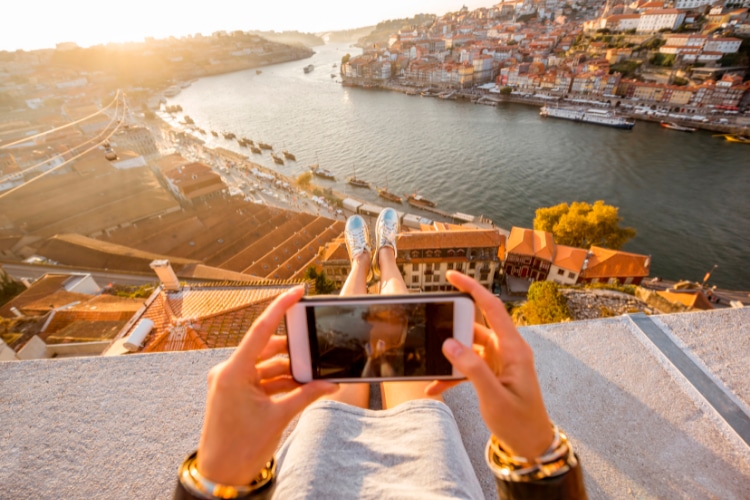 You'll hardly find another cultural hub like Porto, where opportunities are everywhere, mixed with art, digital nomads, and stunning sceneries. It's also much cheaper to live in than most European cities, and it does not lack any infrastructure.
So the honest advice is to drop whatever it is you're doing now and plan your relocation to Porto!
But, we understand you might have some questions, and we've got good news! You can now connect with expats living in Porto from anywhere in the world. Join our Facebook Group – All About Portugal From Expats, and ask as many questions as you'd like. Current expats would love to help you out.
If you still have doubts about moving to Porto, consider visiting it on a scouting trip to Portugal. Then you can be sure that the city is right for you.
And remember, Viv Europe's professional team is always here for you! Every step of the way every single day. Contact Us now and get ready to pack your bags because we're turning your dream into