Last Updated on October 28, 2023 by Laila Oliveira
While rental apartments are often a good option if you're waiting to make a big payment, nothing beats the comfort and convenience of living in your own house. If you are considering buying a house in Leiria, this is your guide to get started!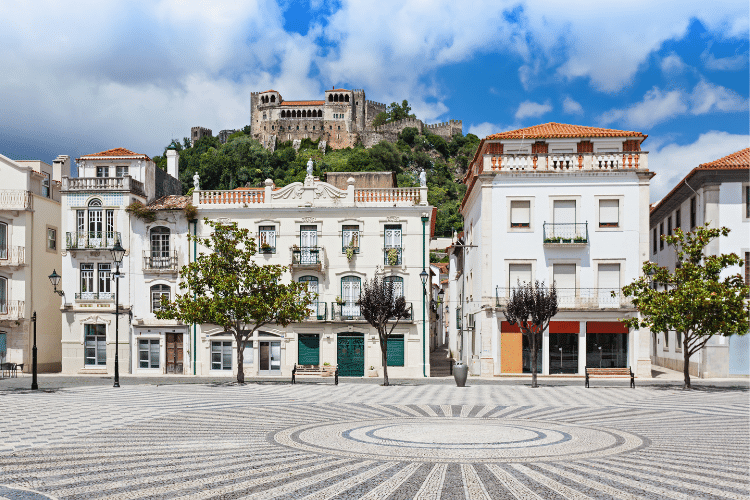 This city by the sea is one of these places with so much to offer for such a small geographical space. For instance, beautiful nature and landscapes, not to mention plenty of history about ancient Portugal.
This city has so much to love; buying a house in Leiria will allow you to settle down quickly. That said, things can be confusing if you're dealing with Portuguese bureaucracy, so let us help you during the process. Happy reading!
Why should I think about buying a house in Leiria?
Leiria is often described as the true Silver Coast for a reason. It is quite close to several beautiful beaches that both locals and expats frequently visit. The beaches within the city of Leiria are utterly special. They provide good coastal areas for many activities, including sports, concerts, and other cultural exercises.
If you have a passion for history, there are numerous destinations where you can indulge your inquisitive nature. Consider exploring Leiria Castle, touring the various museums, or immersing yourself in the cultural displays found within the theaters!
This compact geographical area is brimming with rich historical experiences waiting for you to discover and appreciate firsthand. Beauty and history aside, here are other reasons why you should consider buying a house in Leiria.
Real estate is just kicking off
This charming location boasting numerous scenic views is situated in the midst of a real estate boom that you should consider being a part of. Property prices here remain rather appealing compared to other equally sought-after destinations in Portugal, such as Lisbon or the Algarve. Even for foreign nationals seeking to establish a second residence in Portugal.
Presently, substantial property development is taking place on the Silver Coast. This is a fact reflected in the annual increase in property prices. It's worth noting that this development has been carefully planned, considering the preservation of the pristine beaches in the area.
As a result, the region is set to maintain its natural beauty, ensuring that real estate opportunities will remain attractive in the years to come.
Leiria is a good place to call home
Previously, Leiria has been flying below the radar regarding the popular destinations that expats love to call home. However, today, the narrative is slowly changing. According to data from Pordata, foreign presence within the city has significantly increased from 4.0% to 5.8%. This is a clear testament that expats are finally catching up.
One of the major draws for expats to this part of Portugal is the cost of living. Imagine getting a chance to live close to the beach and enjoy all the modern conveniences but on a budget!
Plenty of good schools, reliable healthcare facilities, and a vibrant business environment exist. Keep in mind that the local residents are very welcoming, making it easy for anyone to integrate into the community quicker than it often takes.
If you want to experience authentic Portuguese culture, there is no better place to get that from other than Leiria.
This destination is also quite popular for its authentic Portuguese cuisine. Seafood is a significant part of the local palette, reflecting their cultural and culinary heritage. Leiria is also quite popular for its authentic Portuguese cuisine.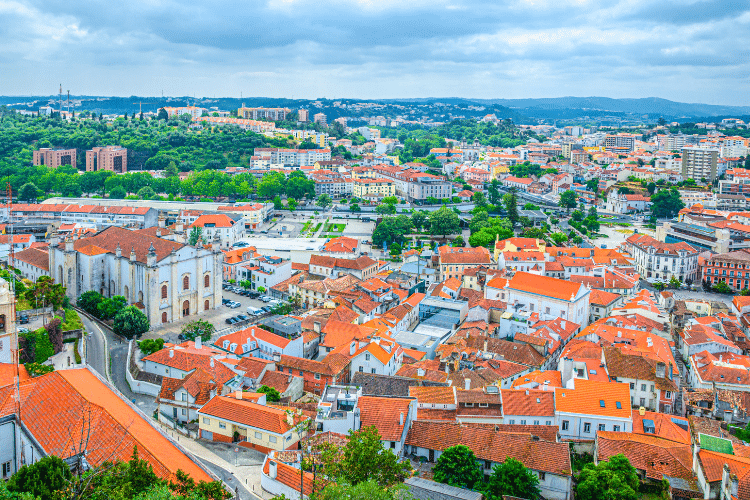 Opportunities for a Digital Nomad Lifestyle
Leiria presents an enticing prospect for individuals looking to embrace the digital nomad lifestyle. In the past, digital nomads had to secure a passive income visa to legally work in Portugal.
However, the introduction of the Digital Nomad Visa has completely transformed the landscape, making it possible for digital nomads from around the world to reside in Portugal for up to a year.
The great news is that digital nomads can avail themselves of the advantages of living and working in Portugal. Which includes a relatively affordable cost of living and the freedom to travel within the Schengen zone.
Within the town, you'll find a variety of coworking spaces equipped with reliable internet and comfortable seating arrangements, providing an ideal environment for your work. These spaces also serve as excellent places to connect and engage with fellow newcomers to the city.
How to buy a house in Leiria
As in any region around the world, purchasing a property in Leiria is a significant step for those seeking to establish themselves in Portugal. It's essential to conduct thorough research before making a hasty decision on any available property.
If you are familiar with the Portuguese public system, you can anticipate encountering certain delays and bureaucratic procedures throughout the process. You'll encounter a substantial amount of paperwork designed to safeguard your interests and ensure the transaction's legitimacy.
We strongly advise enlisting the assistance of professionals who can guide you through the process with ease and expertise.
Can a foreigner buy a house in Portugal?
Foreign individuals interested in purchasing a property in Portugal are warmly welcome to do so! Despite the bureaucratic processes, no additional paperwork requirements or specific criteria are imposed on foreigners.
One essential document needed for both local and foreign property buyers in Leiria is the NIF Number, also known as the Número de Identificação Fiscal. This is a unique tax identification number obtainable from the nearest Finance office. It holds great importance, as many essential transactions depend on it.
The Portuguese government also provides incentives, such as the Non-Habitual Tax Regime, aimed at encouraging and facilitating foreign individuals. This regime primarily benefits those with passive income and highly skilled professionals.
How can I buy a house in Leiria?
Although the process might appear lengthy, it is quite easy and straightforward. Discover below the steps you will need to go through when buying a house in Leiria.
Research and choose your investment
Leiria offers a wide array of choices, ranging from upscale villas to more relaxed apartments. Akin to any investment or business endeavor, thorough research is essential when selecting the type of property you desire. The region's characteristics should guide your decision and, of course, your budget.
Property values can vary significantly from one area to another. So, it's crucial to have a clear investment objective and seek a property that aligns with your needs. Especially as an expat planning to relocate and establish yourself in Portugal.
Other than that, it's wise to take into account other factors. Such as the property's potential resale value, in case you find the need to sell it in the future.
Prepare the paperwork
Certainly, you will need to manage and organize a substantial amount of documentation. The primary and crucial document is your NIF number, as discussed earlier in the article. If you encounter any difficulties obtaining this number independently, your legal representative can assist in obtaining it on your behalf.
Moreover, if you are not a European Union citizen, securing a permanent residency permit to reside in Leiria is imperative. This entails providing essential documents, including a valid Identity Card and evidence of your income.
Should you have any inquiries or uncertainties regarding the necessary paperwork, do not hesitate to reach out to Viv Europe for a tailored consultation to address your specific requirements.
With Viv Europe your plans for Portugal
will finally come to a reality
Visit the property in Leiria
Although there are other options for inspecting the property, it's important to recognize that you are the best judge of what suits you. While it is possible to have legal representatives visit potential properties on your behalf, there's no substitute for the reassurance that comes with personally verifying the authenticity of the house.
You can opt to have a legal representative join you on a reconnaissance tour to ensure that all aspects align with your expectations and help you avoid scams.
This could also serve as an opportunity for you to get a firsthand experience of life in Leiria and potentially engage in negotiations with the property owner for a more favorable deal.
Get your documents settled in Portugal
Before finalizing the process, you need to process a few more documents. According to Portuguese government regulations, the following documents are necessary for making the whole process legitimate:
Housing Technical File (Ficha Técnica de Habitação): This document features all the technical descriptions of that particular property.
Certificate of Land Registry (Certidão do Registo Predial): You can get this document from the local land registry. It documents the property's legitimate owner before the resale.
The license of use (Licença de Utilização): Get this document from the local parish. It describes the purpose of the property.
Building book (Caderneta Predial): This is another critical document showing the property's regular tax compliance record. You can get it from the local finance department as well.
In this phase, you will be required to address issues related to taxation and handling legal complexities. Many expatriates rely on the professional guidance of an accounting service, such as the one provided by Viv Europe, to ensure they follow the correct procedures. You'd want to avoid making mistakes at this stage at all costs!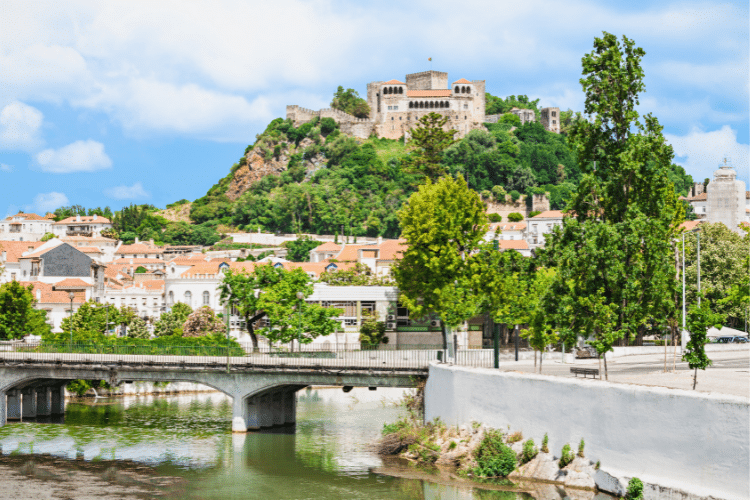 Transfer the payment and sign the deed
At last, the final step to becoming a new homeowner in Leiria involves completing the payment and signing the deed. Unlike in the past, you are no longer required to rely on bank transfers to facilitate your property payments.
For expatriates residing outside the Eurozone, we recommend considering three secure platforms for this purpose:
1. Wise (formerly known as TransferWise)
2. Xoom by PayPal
3. World Remit
Ensuring that the payment is only processed once the contract is signed and all legal procedures are finalized is crucial. It might also be prudent to research the optimal timing for converting your currency. Once the payment is successfully made, congratulations! The property is now officially registered in your name!
How much does it cost to buy property in Leiria?
Fortunately, property prices in Leiria are relatively lower than other popular destinations in Portugal, for example, Lisbon, Porto, or the Algarve. Also, it's no secret that buying or renting a property in this city differs from one neighborhood to the next.
However, the average cost of buying a house in Leiria is €1,331/m2. Here is a breakdown of how much it costs to buy a house in the different parishes in Leiria.
| Parish | Price per square meter |
| --- | --- |
| Coimbrão | €1,424 |
| Leiria – Pousos – Barreira e Cortes | €1,638 |
| Maceira | €945 |
| Marrazes e Barosa | €1,378 |
| Monte Real e Carvide | €1,035 |
| Parceiros e Azoia | €1,443 |
| Souto da Carpalhosa e Ortigosa | €856 |
Data is from Idealista (as of October 2023).
How much can you make renting out a property in Leiria?
The beauty of buying a house in Leiria is that you can take advantage of the peak summer when the demand for housing is at its highest. Tourists make their way to Leiria during the summer, presenting a good opportunity to rent out your house for short-term accommodation.
Short-term accommodation often brings more money than long-term alternatives, making it a good potential income source during the summer.
Since short-term rentals make much more profit in the summer, it is possible to make up to €1,500 a month. Check out the table below for average rent prices per month for different types of rentals.
These values are mere estimates and can go higher or lower depending on where your property is located.
| Residence Type | Rent per month |
| --- | --- |
| Apartment (1 bedroom) in City Centre | €712 |
| Apartment (1 bedroom) Outside of Centre | €572 |
| Apartment (3 bedrooms) in City Centre | €925 |
| Apartment (3 bedrooms) Outside of Centre | €656 |
Estimates are from Numbeo (as of October 2023).
Can I apply for a Portugal Golden Visa to invest in a property in Leiria?
Due to recent alterations in the Golden Visa regulations, buying a property to qualify for the Golden Visa is no longer possible.
However, you can still invest in Portugal through investment funds with a minimum transfer of €500,000 to be eligible for the Golden Visa.
Hundreds of applications are processed every year, and people take rightful advantage of the freedom that comes with the Golden Visa.
It gives you the possibility of acquiring Portuguese citizenship after 5 years, free movement within the Schengen zone, and the chance to extend these benefits to your immediate family members. Of course, all while living and working in Portugal (if you wish) and being able to enter Portugal without having a Visa.
Is making a real estate investment in Leiria worth it?
The real estate market in Portugal is flourishing. Over the last few years, property prices have consistently risen, and this upward trend is projected to continue.
Leiria is no exception to this trend. It stands out as the most cost-effective region when compared to other sought-after destinations in Portugal, such as the Algarve or Lisbon.
Also, a wide range of real estate options are available, catering to different budgets and investment goals. Nonetheless, keep in mind that investments are a very personal decision, especially regarding real estate.
The only person who can and should be deciding whether to buy a house in Leiria or not is you.
When are you coming to Leiria?
Buying a house in Leiria has a lot to offer, especially to expats. The prospects of a good quality of life and a relatively lower cost of living are just a few of the many reasons you should consider moving to Portugal. As far as real estate is concerned, Portugal is still breaking new ground, which means more is still to come.
There's no better time to join the real estate industry in Portugal. Viv Europe has helped numerous expats make their dreams come true through real estate purchases, and we can help you too. 
Contact us today to discuss your plans and get customized advice to help you live the best life possible. Also, be sure to join our Facebook Group – All About Portugal For Expats, to interact with other expats and read more stories that inspire you to make the right decision. Good luck!