Last Updated on September 30, 2022 by Laila Oliveira
When the south is overrun with tourism, buying a house in Northern Portugal might give you the necessary escape from all the chaos and madness. The northern region of Portugal is the third largest, stretching all the way from Coimbra right to the Spanish border.
Different from other regions of Portugal, the north is famous for having the coolest weather experiencing more rainfall during the winter. While the north might not be as warm as the Algarve, this region compensates with beautiful mountainous terrains perfect for hikers and nature lovers.
So how do you buy a house in this region of Portugal as an expat? Is buying property in Northern Portugal a good idea? To help you answer these questions, we have detailed everything you need to know about buying a house as a foreigner. Tag along to find out more.
Why should I think about buying a house in Northern Portugal?
There are many reasons why the northern region of Portugal appeals to many expats from all over the world. This region is a paradise for outdoorsy people; despite the rather cool weather than the south, this region packs a punch when it comes to the things you can do outdoors.
Northern Portugal is home to several national parks, and UNESCO World Heritage lists it as a significant wine region. It has so much to offer as far as real estate is concerned. Whether you are looking for a beachfront villa or a relatively small house in the countryside for sedentary living, there is always something for you.
Other than that, northern Portugal also has a rich history. If you want to witness authentic Portuguese culture, be sure to visit Braga to witness the unique easter celebrations firsthand. Nonetheless, let's look at some of the main reasons you should consider moving and buying a house in northern Portugal.
Good real estate prospects
Real estate in Portugal is barely breaking ground; in fact, it's among the few investments that did brave the worst of the pandemic without taking a major hit. Like the whole of Portugal, the northern region also offers plenty of opportunities for you to get a piece of this highly sought-after nation.
It's worth mentioning that the prices of real estate have been on the rise recently. While this has been the case, it's quite impressive that the cost of real estate is still within the acceptable range compared to other European nations.
Northern Portugal is a great place to live
The northern region is certainly among the best places to live in Portugal. If you're interested in moving permanently to this region, then you'll be happy to know that property prices are also significantly lower compared to Lisbon or the Algarve.
Porto, the second largest city in Portugal, is also located in this region. It's a cosmopolitan city with a foreign presence that accounts for about 8% of its population via Pordata. The north is home to several cities other than Porto with a relatively lower cost of living, such as Vila Nova de Gaia.
Generally, the northern region is great for anyone who loves a slower-paced life away from the city. The local population is also quite accommodating and will definitely go out of their way to help.
Possibility of getting the Golden visa
In an effort to attract foreign investors to Portugal, the government launched the Golden Visa program back in 2012. This program provides foreign investors with many benefits, including a chance to get Portuguese citizenship after 5 years.
However, as a result of the recent shake-up to the Golden Visa program, it is unfortunate to mention that most major cities were excluded from the program. This was done purposely to encourage foreign investment in rural Portugal.
The good news is that some smaller cities with high growth potential are open for investment and Golden visas, such as Douro valley.
How to buy a house in Northern Portugal
The Portuguese system is rather straightforward as far as the process of buying a house in Northern Portugal for expats is concerned. However, if you haven't gotten a chance to get involved with the Portuguese public service system yet, you should be ready to deal with plenty of paperwork and bottlenecks.
But this is not to scare you off from buying a house; in fact, with the help of professionals, you will find the process quite smooth without the many hiccups you would encounter if you tried to do it on your own.
Similar to any other country, you will need to meet specific requirements and qualification checks before being able to buy property in Portugal. Before investing your hard-earned money in any property, doing your background check and due diligence beforehand is imperative.
Can a foreigner buy a house in Portugal?
You will be glad to learn that Portugal is among the few nations that have made it easy for qualified foreign nationals to work, live, and invest. As mentioned earlier, the Portuguese government has also put several incentives to encourage investors and qualified professionals to consider working, living, and investing in Portugal.
The two popular incentives include the Non-Habitual Tax Regime and the Golden Visa program. The Non-Habitual Tax regime provides plenty of tax subsidies for foreign nationals to enjoy.
How can I buy a house in Northern Portugal?
There is no doubt that Northern Portugal is a beautiful destination, so if you're interested in buying a house and possibly settling here permanently, here is a detailed step-by-step guide that you should know.
Research and choose your investment
Again, there are plenty of real estate options in northern Portugal; while it is easy to get overwhelmed by options, making your objectives clear will go a long way in helping you narrow down your needs.
Think about the reasons for buying the house. Is it for self-use, rental, or a second home for the holidays?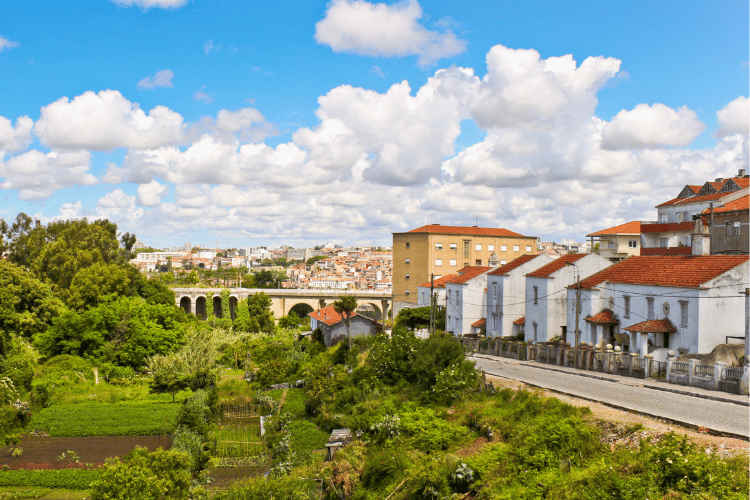 A beachfront house will be ideal if you are looking for a vacation home. On the other hand, if you want a quiet life away from the noise and drama, consider getting a country home where you will have peace and tranquility, which is ideal for raising a family.
When it comes to purchasing property in northern Portugal, a one price fits all mentality doesn't apply; typically, your budget will determine the locations and type of houses you should go for.
Prepare the paperwork
The first documentation you need to have, whether you are an expat or not, is the Número de Identificação Fiscal (NIF), often described as the tax identification number. Your legal representative can obtain this document on your behalf from a local Portuguese tax office in any city in northern Portugal.
You will also need to have a valid identification document, usually a valid passport, especially if you are not an EU citizen. Finally, you will also need to produce proof of income from your home country.
Visit the property in Northern Portugal
When buying property, a physical site visit is highly encouraged before finalizing any payment. For expats, this can be quite challenging because maybe you have not yet familiarized yourself with the country.
Many online websites would do the inspection and visit on your behalf, but it is worth emphasizing that no one will do a better job than you.
This is particularly true if you want to be sure about the neighborhood, especially if you are moving with your family. Also, getting a chance to have a sit down with the owner will give you the unique opportunity of possibly negotiating for better prices.
Get your documents settled in Portugal
You are not done with documentation, at least not yet. The respective authorities should legitimize this final piece of documentation before going any further with the house purchase.
Transfer the payment and sign the deed
With the many online money transfer options available today, queueing in the bank to send money should be the least of your worries. Other means have proven more efficient and faster than bank transfers.
However, you need to be careful when dealing with online money transfer platforms and do your due diligence to establish their legitimacy before trying to send money. Here are our three recommended money transfer options that are not only fast but also legitimate, not to mention that they also work in most countries worldwide.
Before sending the money, make sure you have duly signed the contract. The deed will be transferred to your name once the money is received by the other party.
How much does it cost to buy property in Northern Portugal
Northern Portugal is a vast region with many cities. In fact, it's the most populated region in the entire of Portugal. With this in mind, you can almost expect different valuations for properties depending on the city.
Also, a city like Porto is more popular than others; therefore, the demand drives property prices higher. Nonetheless, here is a breakdown of the cost of properties in the major cities in northern Portugal
| City | Price per/m² |
| --- | --- |
| Porto | €2,341 |
| Vila Nova de Gaia | €1,993 |
| Braga | €1,382 |
| Guimarães | €1,260 |
| Vila Nova de Famalicão | €1,245 |
Data is from Idealista (as of September 2022).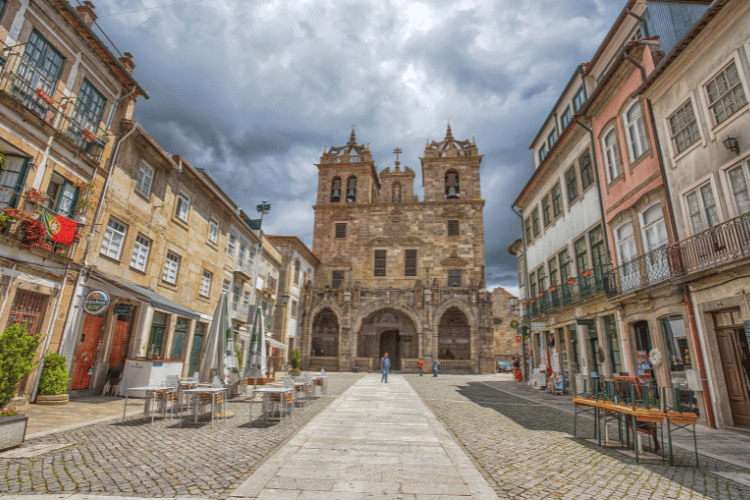 How much can you make renting out a property in Northern Portugal
The northern region of Portugal also presents many opportunities for renting out property. While tourism activities are not quite as dominant as in other areas like Lisbon and the Algarve, enough tourists make their way up north and also need accommodation.
This is particularly true during the warm summer months. Here is a breakdown of the rent costs in this region's major cities.
| City | Price per/m² |
| --- | --- |
| Porto | €10.2 |
| Vila Nova de Gaia | €8.4 |
| Braga | €7.1 |
| Guimarães | €6.8 |
| Vila Nova de Famalicão | €6.6 |
Data is from Idealista (as of September 2022).
Can I apply for a Portugal Golden Visa to invest in a property in Northern Portugal?
Because of the changes that occurred to the Golden Visa Program in early 2022, unfortunately, most regions in northern Portugal are no longer eligible for this program.
The changes excluded most urban and densely populated cities from the program, all in a bid to encourage investment in other regions in Portugal.
However, it is worth mentioning that with some research and due diligence, you will find other smaller towns with good growth potential that you can take advantage of.
Is making a real estate investment in Northern Portugal worth it?
There is no doubt that Portugal is a good destination for investors, tourists, and those who want to immigrate permanently. The weather is good, and the political climate is ideal for investments and businesses.
However, when it comes to deciding whether or not to invest in Portugal, there is no one better to make the decision apart from you. The same goes for any financial decision as well. Do your due diligence extensively before taking this bold step. Read our guide about the Top Real Estate Websites In Portugal and start browsing your real estate options!
When are you coming to Northern Portugal?
So are you ready to move to Northern Portugal? Well, if you are, our professionals at Viv Europe are more than prepared to help you fulfill your dreams. Portugal is undeniably beautiful, and you will get to experience it firsthand once you get a taste of what this country has to offer. Reach out today, and let's get you on your way to this beautiful country in Southern Europe.
Consider joining our Facebook Group – All About Portugal For Expats. The active community will answer most of your questions and also help clear your apprehensions.