Last Updated on July 11, 2022 by Laila Oliveira
You'd be surprised to know Portugal won Best Country To Work Remotely in 2022. Discover the best places in Portugal for digital nomads, how you can get a residence permit, and the pros and cons of moving here!
How is Portugal for digital nomads?
There is definitely something magical about Portugal.
Well, not just something; A lot of things.
From Lisbon's booming entrepreneurial tech hub and Porto's innovative coworking spaces, to Algarve's exquisite beaches and Madeira's stunning landscapes. There are plenty of reasons why expats like you have relocated to Portugal – and haven't looked back since!
Portugal is ranked #1 on a CNN-endorsed travel website, proving the best destination to work remotely. There is no doubt that Portugal has an incredible quality of life and a community that feels like family. Digital nomads explore the beautiful country while working remotely, and there's nothing better than living their dream.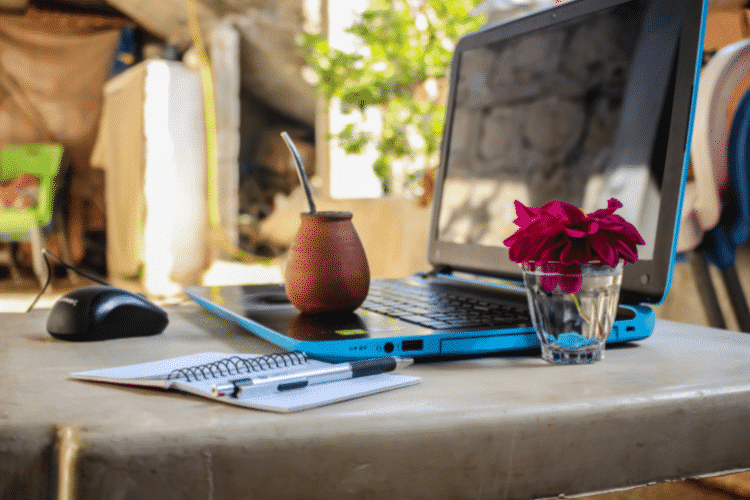 The pandemic has ascertained that working remotely and having flexible hours are viable options without affecting the work quality. Even recruiters have started to prefer employees who can quickly adapt to changes amidst uncertain global conditions.
Of course, we know you want to know more about Portugal than just working; we've got you covered. There's plenty to do within the country, and we'll tell you all about it. Keep reading to know where digital nomads reside, what they do in different cities, and the pros and cons. Finally, read about how you can start your life-changing journey.
Where do digital nomads live in Portugal?
The best thing about being a digital nomad is that you have the liberty to choose where to stay! You can also keep experiencing new destinations if one doesn't work out for you. Every part of Portugal has its charm, and it's okay if you prefer one place to another.
Some parts of the country will help you immensely in networking, while others will allow you to recharge by the beach. Get to know the top 4 places in Portugal for digital nomads!
Lisbon
A tech hub and an entrepreneur's favorite – the capital of Portugal; Lisbon.
Lisbon has developed tremendously in the last decade and has become a favorite for digital nomads to reside. The city is divided into various neighborhoods, each with a unique atmospheric energy that you'll eagerly explore. Living in Lisbon will also allow you to generate more intellectual leads in the different coworking spaces in the city.
Read our article Cost of Living in Lisbon to get a breakdown of tentative monthly expenses.
Algarve
Algarve is the perfect place for a relaxed lifestyle in a region with fantastic weather and stunning beaches.
You'll always find a cafe with a good Wi-Fi connection where you can work while looking over at paradise. Thanks to Algarve's brilliant bus and train systems, it's also pretty easy to commute between towns. If connecting with nature boosts your productivity, this is undoubtedly the place for you!
We have a detailed article on Living in the Algarve, which will help you gain more perspective on the lifestyle.
Porto
Porto – A city that never sleeps because it's always buzzing with creative digital nomads.
While Porto doesn't have as many coworking spaces as Lisbon, it has its own charm. Digital nomads prefer Porto since it's a calmer and more affordable place with most of Lisbon's perks. It allows illustrators, graphic designers, and writers to connect with their creative personas while avoiding the hustling of Lisbon. Porto is a beautiful city with rich culture and historical values that people never get tired of.
To know more about the fantastic nightlife and leisure, read our article on Living in Porto.
Madeira
If you've ever fantasized about living on an island and working remotely according to your schedule – Madeira is your jackpot!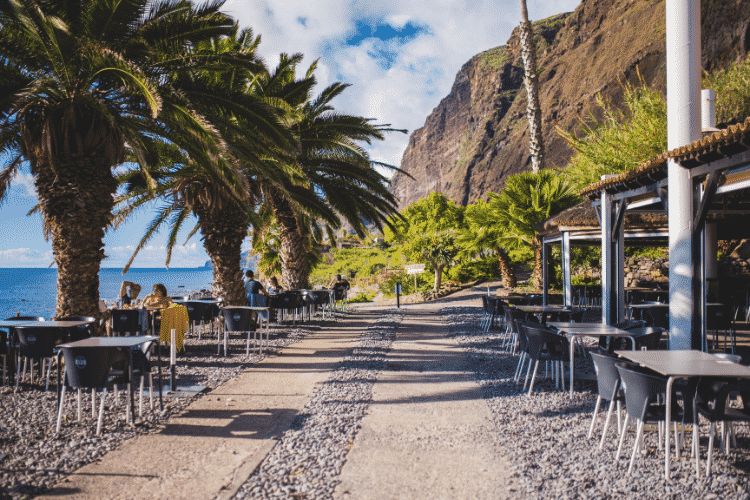 In 2021, the regional government launched a tester project named "Digital Nomads Madeira Islands" to form a digital nomad village. Following its success, many young professionals from different countries have started developing communities within the region. Madeira has everything you need for a harmonious quality of life with an excellent social experience.
Read more about Life in Madeira to know why expats like you love this island.
Is there a digital nomad visa in Portugal?
Short answer: Yes!
With a soaring consumer market and evolving technological structures, the Work Visa (D1 Visa) is a little complicated for freelancers. Applying for the Freelancer Visa, also called the D2 Visa, allows you to reside in the country for 2 years. After which, you can renew your Visa.
The D2 Visa authorizes digital nomads to travel anywhere in Portugal and work with foreign clients globally. Fast forward 5 beautiful years, and you will obtain your Residence Permit after applying for the nationality.
For more FAQs, read our article Working as a Freelancer in Portugal.
What are the pros and cons of living in Portugal as a digital nomad?
We know you're already daydreaming about your life in Portugal as a digital nomad; We don't blame you! Portugal is a serene place to live in, whether you're a full-time employee, a freelancer, or on a trip.
However, it may not be everyone's cup of tea – and that's completely okay. We want to be honest about what you could be signing up for. Here are some perks and disadvantages of being a digital nomad in Portugal:
The perks of being a digital nomad in Portugal
✔ Serenity
Nothing beats the views of Algarve's beaches and Porto's sunsets. The growing expat community has added to the peaceful charm of Portugal, nourishing souls and rejuvenating the cities.
✔ Low Cost of Living
The average rent and grocery expenditures are more affordable than in other European countries. As of February 2022, Portugal's inflation rate is the third-lowest compared to the EU, proving that the economy is stable.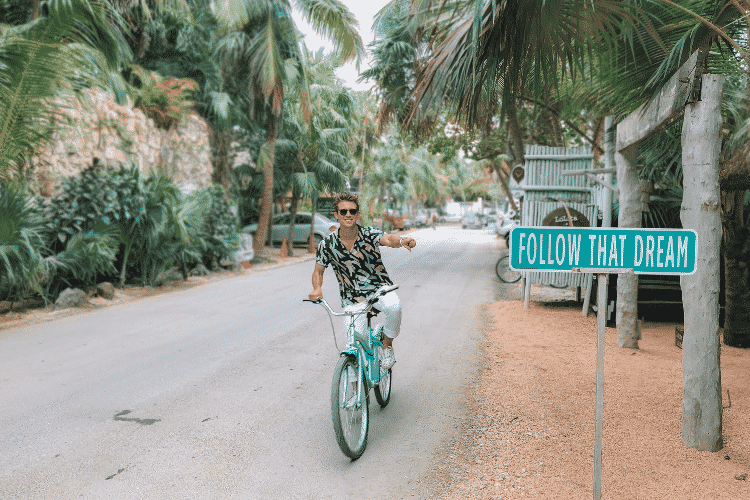 A solo digital nomad can live a comfortable lifestyle within a budget of €1,300. 
✔ Unquestionable Security
Our claims are not a hoax; the Global Peace Index of 2021 ranked Portugal the fourth-safest country globally. You will feel safe walking down the blissful streets of Portugal, no matter your gender or time of the night.
✔ Unmatched Weather
This is a major reason why many British expats decide to relocate every year. Portugal experiences 300 days of pleasant sunshine and a refreshing winter, making Algarve's beach parties all the more fun.
✔ High Standard of Living
The low cost of living ensures that people have a high standard of living without compromising on any luxuries. With progressively high economic growth and investments coming into the country, Portugal will soon become the next Silicon Valley. The technological innovation aspect isn't all; the transport, infrastructure, health, and education are also top-notch.
Disadvantages in Portugal for digital nomads
❌ Bureaucracy
While there's so much to love about Portugal, there are a few downsides. Bureaucracy might make governmental processes slightly less efficient than they have the potential to be. Government employees prioritize personal and state interests before collective interests; however, they are primarily socialists. If you're someone who prefers to just live in their element, you'd probably be least bothered about this.
❌ Taxes
This is a price you pay for the incredible lifestyle of Portugal. Non-residents have to pay a flat 25% of income tax annually. So, for example, if you're earning €1,500 per month, you'd be paying €375 in taxes. There are, though, tax incentives for people who change their fiscal address to Portugal that you may take advantage of. Click here to know more about the Non-Habitual Resident Tax Registration process.
Is Portugal worth it for digital nomads?
Despite the drawbacks, Portugal is undoubtedly worth it for digital nomads; and the number of expats speaks for itself!
Portugal has a community of more than 37,000 digital nomads, and these numbers keep on increasing. People work remotely for U.S.-based companies while living their best life on an island in Madeira. One of the best deal-makers is the proficiency of English within the country, which has increased the ease of accessibility.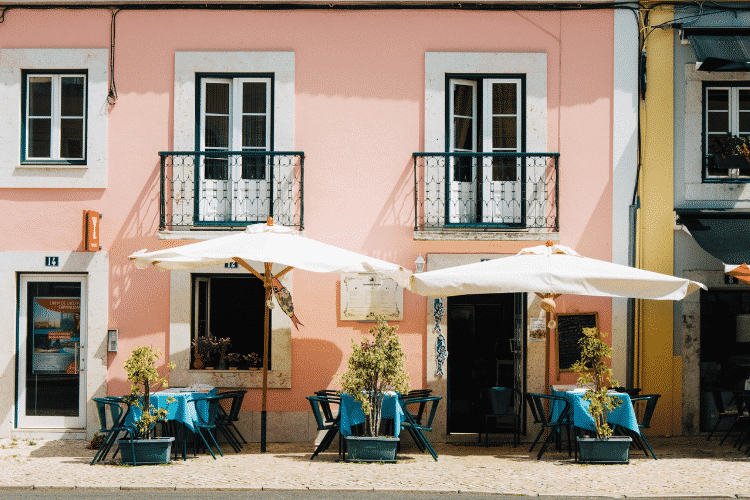 The trend of remote working is everlasting thanks to digitalization, with a diverse range of career possibilities.
As a digital nomad, you can have a career in accounting, designing, HR, marketing, software development, etc. The possibilities for growth are endless, and so are the number of connections you'll make in Portugal!
The only step left for you to do is to assess whether you want to let this one-of-a-kind opportunity go.
How can I move to Portugal and work remotely?
The first step is to know what documents you'll need to apply for your Freelancer Visa (D2 Visa). Our team of professionals helps several expats with this process every day. Feel free to contact Viv Europe, and we'll be there to guide you every step of the way.
Applying for the D2 Visa, the digital nomad is required to submit the following, among other standard procedures:
Declaration of a liberal profession according to the law
A contract that states you are a self-employed professional
The next step will be based on preferences; Do you pick enthusiastic entrepreneurs or an undisturbed beach house? They're both excellent options!
And of course, if you are an EU citizen, you do not need a visa to travel to Portugal.
The last step? Book your ticket and buckle up!
From vision to reality: Let's get started
If you liked reading this article on Portugal for digital nomads, you'll love connecting to other digital nomads like yourself. Our Facebook group has a community of more than four and a half thousand expats with inspiring stories.
Our team will always be available to assist you every step of the way. Without further ado, let's get started on your Freelancer Visa Application to kickstart your dream lifestyle!