Last Updated on November 17, 2023 by Laila Oliveira
Some love it for the UNESCO World Heritage sites, while others love it for the pristine beaches. But there's one thing that everyone can agree is the best part – the cost of living in Nazaré! Portugal always surprises you when you expect it the least. Wait till we elaborate!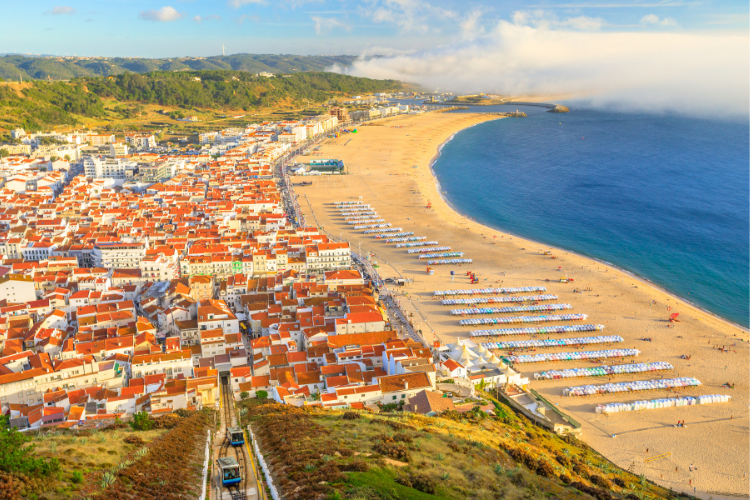 Nazaré is one of the few destinations in Portugal that enjoys the benefits of a small village without missing out on the necessary amenities of a large city. In fact, if you want to escape the chaotic city life, then you will find this destination quite relaxing.
If you are wondering how much you will need to lead a comfortable life in this small town, this guide is for you. Sit tight as we attempt to break down the cost of living one by one. Happy reading!
How expensive is Nazaré?
By virtue of its size and location, Nazaré is by no means the most expensive city in the country. On the contrary, it's one of those destinations where you can live comfortably, especially when you are on a budget.
First, when it comes to housing, Nazaré has several options that cater to different budgets. Of course, beachfront villas are going to be more expensive than smaller houses further inland. But what till you compare the prices!
As for groceries, you will be pleased to know that fresh produce from the local market won't break the bank. This makes it easy and quite affordable to prepare your meals from home.
However, if you need to eat out, plenty of restaurants are fit for every budget. Let's finish by stating that your individual spending will determine how much you will need every month.
What is the cost of living in Nazaré for expats?
As mentioned earlier, the cost of living in Nazaré is quite affordable. However, your individual spending habits will ultimately determine how much you will spend every month.
That said, here is a detailed breakdown of the cost of living in Nazaré with regard to different commodities necessary for daily living. This should give you a rough idea of how much you will need should you choose to live in Nazaré. Let's get into it! 
Cost of rent in Nazaré
If you're not 100% ready to purchase property in Nazaré, you'll be pleased to discover numerous attractive rental options available. Residing in this charming seaside town offers the advantage of securing rental homes, including beachfront houses with captivating ocean views.
Beyond the scenic ocean panoramas, the range of rental accommodations caters to various budgetary constraints. Much like the property buying process, the rental costs are contingent upon factors such as the size, location, and condition of your chosen apartment.
Renting a furnished three-bedroom apartment with two baths close to the beach will cost you approximately €575 per month. Should you choose to buy a house in Nazaré, it is about €2,479 per square meter, according to Idealista.
House bills
Moving on, let's delve into a significant aspect of your budget: utilities. This includes expenses for electricity, cooling, heating, water, and internet – essential components of daily living.
The advantage of household bills is their relative consistency across the country. Whether you're in Lisbon or elsewhere, you're unlikely to experience a significant variation in your essential utility expenses.
Electricity costs typically range between €40 and €60 per month for a moderate-sized apartment, influenced by your usage patterns and the season. Water bills, on the other hand, generally amount to around €20 to €30 monthly.
Generally, a budget of €150 should be enough to take care of your utility bills every month in Nazaré.
Average spending on food
In addition to rent, the expenditure on groceries represents a significant financial factor that can substantially impact your budget, especially if you frequently dine at restaurants in the city center. One effective strategy to reduce your food-related costs involves embracing the practice of cooking at home.
Fortunately, the tradition of enjoying homemade meals with friends and family is deeply ingrained in Portuguese culture, and spending considerable time in Nazaré may lead you to adopt this cultural norm.
Aside from financial considerations, preparing your meals provides the added benefit of having control over your dietary choices and cooking methods, allowing you to opt for a healthier lifestyle if desired.
If you're curious about the cost of groceries in Nazaré and other parishes within Leiria, the following list outlines the prices of various food items for your reference.
| Item | Cost |
| --- | --- |
| Milk, 1 L | €0.90 |
| Bread, 0.5 kg | €1.60 |
| Rice, 1 kg | €1.12 |
| Eggs, x12 | €2.50 |
| Cheese, 1 kg | €6.87 |
| Chicken Breast, 1 kg | €6.75 |
| Round Steak, 1 kg | €10.06 |
| Apples, 1 kg | €1.88 |
| Banana, 1 kg | €1.12 |
| Oranges, 1 kg | €1.28 |
|  Tomato, 1 kg | €1.67 |
|  Potato, 1 kg | €1.53 |
| Onion, 1 kg | €1.49 |
Estimates are from Numbeo (as of November 2023).
Expected transport cost in Nazaré
Thanks to its central location, moving to other destinations from Nazaré is quite easy. Leiria and Caldas da Rainha are about 30 minutes away. Leiria provides access to services, and Lisbon is about a 2-hour drive away. Which makes it easy to reach the capital and its international airport.
Keep in mind that Nazaré is a rather small town. Therefore, moving around the town is relatively easy. If you're staying within Nazaré, walking or biking might be feasible for short distances.
That said, transportation costs can vary based on factors such as the mode of transportation, distance traveled, and individual preferences. Nazaré, like many places in Portugal, has a public transportation system.
Public buses and trains are often cost-effective options. Taxis are available in most towns, including Nazaré, and the cost will depend on the distance traveled. Short trips within the town may be more affordable than longer journeys to nearby cities.
Leisure expenses
Nazaré offers a variety of leisure activities due to its coastal location and rich cultural heritage. You have a range of entertainment choices, like dining out at local restaurants, exploring the vibrant markets, spending time out on the beach, and attending cultural events.
Nazaré is also renowned for its beautiful beaches. Spend a relaxing day on the sandy shores of Praia da Nazaré or Praia do Norte. You can sunbathe, swim, or try your hand at various water sports like surfing. The good news is that such activities are often free!
Other than that, enjoying a meal at a mid-range restaurant might cost around €15 to €25 per person, while a fast food meal could be around €5 to €8. Nazaré's natural surroundings offer opportunities for hiking, picnicking, and enjoying the scenic beauty. Many of these activities are low-cost or free, aside from any minor expenses like transportation to trailheads.
If you're interested in visiting the historical sites within the town, for instance, Sitio, it is possible to get charged admission fees upon entry.
With Viv Europe your plans for Portugal
will finally come to a reality
What are the cheapest areas in Nazaré?
Nazaré is commonly regarded as an attractive and scenic locality, a factor that can influence the overall expense of living throughout the town. While there may not be explicitly labeled "affordable" districts as commonly found in larger and popular destinations, certain neighborhoods or sections within Nazaré could offer more economical housing options than central or tourist-centric areas.
Some of the most affordable neighborhoods are found further inland from the beach. One good example is Valado dos Frades, a village providing a more rural setting. It's a short distance from the coast and offers a different pace of life compared to the bustling town center.
Another good budget-friendly option is Pederneira. Not only is it quieter than the beachfront neighborhoods, but it also provides a more local atmosphere, creating a distinct and unique charm.
What are the most expensive areas in Nazaré?
If you aspire to live a more luxurious lifestyle, Nazaré has no shortage of upscale neighborhoods that can add a touch of luxury to your living experience! Praia da Nazaré is one of those expensive neighborhoods which is also the main beach area and the heart of the town.
You'll find a lively promenade along the waterfront with restaurants, cafes, and shops. This area is popular with tourists, especially during the summer months.
Another close contender for the most upscale neighborhoods is Avenida da República. This avenue runs parallel to the beach and is lined with shops, restaurants, and cafes. It's a bustling area, especially during the tourist season, and offers easy access to the beach.
Lastly, if you are a history enthusiast, you will love staying in the historic area of Sitio. It is situated on a cliff overlooking the ocean. It provides panoramic views of the coastline and is home to the Nossa Senhora da Nazaré Sanctuary. The Funicular da Nazaré connects Sitio to the lower town.
Is Nazaré more expensive than Leiria?
Comparing the cost of living between Nazaré and Leiria in Portugal can depend on various factors, including housing, amenities, and lifestyle choices. Both towns have their unique characteristics, and affordability can vary based on individual preferences and circumstances.
Nazaré, being a popular tourist destination with its scenic coastal location, may have slightly higher living costs, especially in terms of housing and dining options along the waterfront.
Leiria, while also a lovely town, may generally have a cost of living that is somewhat more moderate compared to Nazaré. However, the expenses will depend on your lifestyle, housing choices, and daily needs.
Is Nazaré more expensive than Óbidos?
Óbidos is relatively smaller than Nazaré both in terms of geographical size and population density. Each one of these two destinations has its fair share of history, but Óbidos is famous for that. 
That said, Nazaré is generally more expensive because it is a beach town popular among tourists and may have a higher cost of living than smaller towns like Óbidos.
Óbidos, on the other hand, is known for its medieval architecture and historical charm, offering a more tranquil and potentially cost-effective living environment compared to a busier tourist destination like Nazaré.
How much do the Portuguese earn in Nazaré?
In Portugal, salaries can vary significantly based on factors such as occupation, education, experience, and industry, and the same is also true for smaller towns like Nazaré.
Unfortunately, Portugal is not known for having the best salaries in Europe. In fact, Portugal is among the 13 nations in Europe with a minimum wage of less than the recommended €1,000.
However, salaries tend to be higher in larger cities and metropolitan areas due to increased job opportunities, industries, and cost of living. The good news, however, is that jobs in Leiria and the smaller towns nearby, for instance, Nazaré pay more than the minimum wage, particularly in skilled industries, averaging around €1,206 after taxes.
You stand a chance to earn more if you're a highly skilled professional in specific fields like technology and innovation.
Is it worth the cost of living in Nazaré?
Deciding if residing in Nazaré is worthwhile hinges on your tastes, priorities, and lifestyle objectives. Nonetheless, there are compelling reasons to contemplate relocating and settling in Nazaré.
To begin with, not every city affords the privilege of residing close to the Atlantic Ocean. If the idea of living by the beach appeals to you, Nazaré could be an ideal choice.
Keep in mind that Nazaré offers a coastal setting with beautiful beaches, a traditional fishing heritage, and a rich cultural atmosphere. If these aspects align with your preferences, it could enhance the overall value of living there.
It's a good idea to visit the town, explore the neighborhoods, talk to locals and expats, and gather firsthand experiences to make an informed decision. Lastly, visiting the town, exploring its neighborhoods, engaging with locals and expatriates, and collecting firsthand experiences is a wise approach to making an informed decision.
When are you moving to Nazaré?
If you've come this far, chances are you want to learn more! Be a part of our Facebook Group – All About Portugal For Expats, where you can participate in conversations, explore narratives, and connect with new individuals! We hope that this post has been insightful for you.
We understand that relocating to a different country can be overwhelming, especially for first-timers.
Don't worry; the Viv Europe team is fully committed to assisting you in your move and settlement in Portugal. When you feel prepared, book a meeting with our experts, and together, let's make this relocation a reality for you. See you!