Last Updated on October 16, 2023 by Laila Oliveira
The Silver Coast is a popular destination for tourists and expats looking for a mix of natural beauty, history, and culture. And there is no better place to experience all that than living in Caldas da Rainha.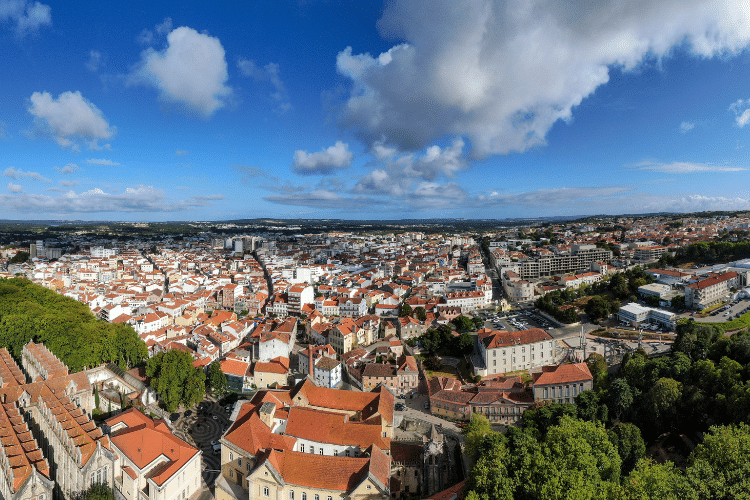 It's a small town on the Silver Coast, better referred to as the Costa de Prata in Portuguese. The coast is quite large, stretching from Lisbon in the south to Porto in the north. Caldas da Rainha is situated in this region of Portugal, particularly 90 kilometers north of Lisbon. 
Although formerly not quite popular, Caldas da Rainha is finally getting the recognition it deserves as a top destination for tourists and expats. So, if you're considering relocating to this region of Portugal, this post is for you. We attempt to shed some light on what living in Caldas da Rainha is like for expats. Tag along to find out more!
What is living in Caldas da Rainha like?
Caldas da Rainha is an old city with plenty of history to back it up. It was established back in the 15th century by Queen Leonor, the wife of King Dom João II. In fact, the name Caldas da Rainha translates to "Queen's Hot Springs" in honor of the founder.
Over the years, this destination has undergone different phases of change to become what it is today. The present-day Caldas da Rainha offers a blend of everything. Right from the ancient history of the city to the modern conveniences of any famous town around the world.
Living within the busy city center means waking up to a warm cup of coffee in a modern building. Conversely, living further away in the countryside would grant you the privilege of living in the older, well-preserved buildings.
Also, the Silver Coast's beautiful beaches are just a short drive away. This offers opportunities for beach outings and water-related activities, particularly during the hot summer months.
Who lives in Caldas da Rainha?
According to the most recent census, Caldas da Rainha is a small town with just over 50,000 legal residents. Despite its small geographical size, this relatively old town is a popular expat hub in the region.
To give some context, the expat population in the Caldas da Rainha is about 7.8% of the population. We can notice that this is an improvement from 4.5%, according to the 2011 census.
A greater percentage of the population falls between the working age of 15 to 64 years. The senior citizens account for about 26% of the population. This includes the expats who have chosen to relocate and retire in Caldas da Rainha.
The beauty of living in a destination with a sizable expat population is that you can integrate faster into the community.
Why are expats moving to Caldas da Rainha?
It's evident enough that expats are finding this destination quite appealing, hence the sudden growth spurt in the foreign population. 
So, what are the things pulling everyone to this town? Discover below some of the main draws for expats in Calda de Rainha!
History and Culture
Caldas da Rainha boasts a rich history, and this is evident in its historic architecture, cobblestone streets, and well-preserved buildings.
The town has a timeless and charming atmosphere. You'll find historic landmarks, such as the Church of São João Baptista and the daily fruit and vegetable market, reflecting its heritage.
It is renowned for its vibrant cultural scene, with museums, galleries, and cultural events. All of which offer opportunities for residents to engage with art, history, and local traditions.
Therapeutic thermal springs are another major draw for those seeking wellness and natural healing treatments. In fact, the thermal springs have been a part of its identity since its founding.
Good quality of life
Caldas da Rainha offers a relaxed and peaceful lifestyle. It's a place where you can enjoy a slower pace of life, be surrounded by natural beauty, and take in the healing properties of the thermal baths.
This is quite appealing, especially to the folks tired of the busy town life and looking for a rather laid-back and slow escape. Another contributor to the quality of life in this destination is the access and availability of regular amenities and services.
First, Caldas da Rainha is about an hour's drive from Lisbon, making it convenient to access the capital city for work, leisure, or cultural events. Also, for your daily food, the local market housed in an Art Nouveau building will be your one-stop shop for everything. You can find fresh fruits, vegetables, and other essentials like traditional cheese, just to mention a few.
The cherry on top is that food prices and other expenses in this small town are quite affordable. Meaning every coin you earn or spend goes a long way in Caldas da Rainha.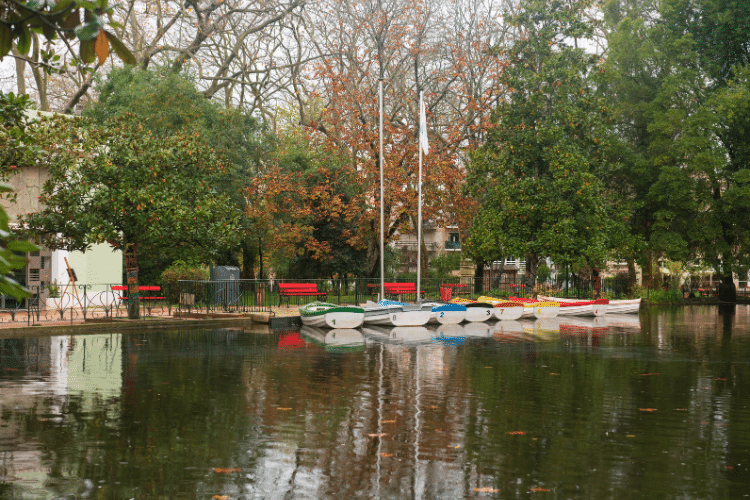 Prospects of Working as a Digital Nomad
Depending on your preferences and work requirements, Caldas da Rainha can be an appealing destination for digital nomads. If you prefer a quieter, more traditional Portuguese town with access to both a relaxed lifestyle and some cultural amenities, Caldas da Rainha can be a suitable choice.
Today, digital nomads who would like to experience the city's history no longer need to apply for a passive income visa. Instead, the Digital Nomad Visa grants expats the chance to work and stay in the country for up to a year! Let's not forget to mention the freedom of traveling to and from the Schengen zone.
While there might not be a lot of coworking spaces in this town, the cafes and restaurants are cozy enough for you to set up camp and do your work. The two most popular coworking spaces in Caldas da Rainha are Prontos Cowork and Pipe Dream Coworking, which charge €15 and €10 per day, respectively.
Buying a property in Caldas da Rainha
One thing you need to think about when considering moving to Caldas da Rainha is buying a house. Fortunately, Portugal is among the few countries in Europe that allow expats to own properties without imposing too many hoops in the process.
You can use the house for your personal needs or even choose to rent it out during the summer for extra income. The good news is that the cost of property in Caldas da Rainha is still relatively lower compared to other popular destinations in Portugal, for instance, Portugal or the Algarve.
On average, the price of buying property in Caldas da Rainha is €1,780/m2, according to recent data from Idealista. However, price tends to vary depending on the unique circumstances of that particular house, for example, the location, size, and condition of the property.
The cheapest parish in this town is Nossa Senhora do Pópulo – Coto – São Gregório, where the cost of buying a house is about €1,597/m2.
With Viv Europe your plans for Portugal
will finally come to a reality
Renting a flat
Renting a flat or apartment in Caldas da Rainha, Portugal, can be a practical and affordable option if you need more time to purchase a property.
Fortunately, Caldas da Rainha presents different options for rental depending on your unique needs as an individual. Whether you are looking for a modern house within the town center, a beachfront villa, or even a large farmhouse further away from the city, there is something for everyone.
On average, the cost of renting a house in this town is about €8.2/m2. However, exactly how much you will need for rent will depend on the size of the house, location, and condition, among many other things.
Is it better to live in Caldas da Rainha or Lisbon?
Let's begin by pointing out that no destination is better than the other. Caldas da Rainha and Lisbon all come with their own unique advantages and disadvantages that appeal to different people. 
Caldas da Rainha offers a quieter, more relaxed pace of life compared to Lisbon's bustling and fast-paced environment. It's an attractive option if you prefer a tranquil atmosphere and a smaller town setting.
Also, the cost of living in Caldas da Rainha is generally lower than in Lisbon, particularly in terms of housing costs. You can enjoy a good quality of life at a more affordable price.
On the other hand, Lisbon is Portugal's economic and business hub, providing various job opportunities in various industries. It's a suitable choice if you seek career advancement and economic opportunities.
Something else to note is that Lisbon is known for its cultural richness. Lisbon is a cosmopolitan city with a rich cultural scene, including museums, theaters, art galleries, and a thriving nightlife.
Is living in Caldas da Rainha better than living in Leiria?
Both Caldas da Rainha and Leiria are located on the Silver Coast. However, both destinations are relatively different from the other. Understanding their differences will go a long way in informing your decision on which to call home.
The first difference is that the overall cost of living in Caldas da Rainha is generally lower compared to larger Portuguese cities, including Leiria.
Something else unique to Caldas da Rainha is that while it is smaller than Leiria, Caldas da Rainha has a vibrant cultural scene with museums, galleries, and local traditions. Leiria, on the other hand, is a larger town with a diverse economy, offering more job opportunities across various industries.
Something else worth noting is that Leiria is home to educational institutions, including the Polytechnic Institute of Leiria, which provides academic and cultural resources.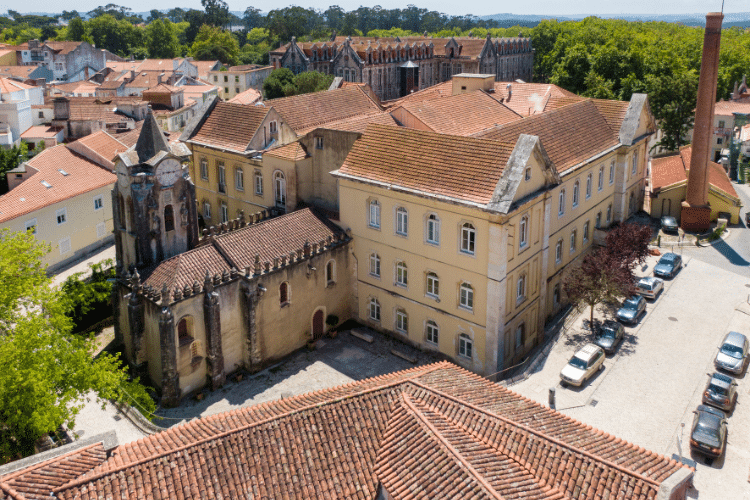 What is the cost of living in Caldas da Rainha?
It goes without saying that Portugal is cheaper than most destinations in Europe. While that is true, you will be impressed to find out that Caldas da Rainha is even cheaper. This ancient small town gives you the best of what Portugal has to offer but at a great bargain.
To give you some context, you would need around €3,887 in Lisbon to maintain the same standard of living that you can have with €2,900 in Caldas da Rainha.
Also, rent prices in Lisbon are 89.5% higher than in Caldas da Rainha. Other than housing, groceries, and utilities, healthcare and taxes are also relatively lower. You might not need to spend a lot on travel since most destinations can be easily accessed on foot.
Here are some estimates:
| Expense | Cost |
| --- | --- |
| Apartment (1 bedroom) in City Centre | €666 |
| Apartment (3 bedrooms) in City Centre | €975 |
| Utilities | €106 |
| Groceries | €200 |
| Monthly Transport Pass | €30 |
Estimates are from Numbeo (as of October 2023).
Safety living in Caldas da Rainha
Caldas da Rainha, much like the rest of Portugal, offers a high level of safety. Not only are the locals very hospitable, but the crime rate is also notably low. Portugal's impressive 7th place ranking on the Global Peace Index 2023 underscores the country's overall tranquility.
Local law enforcement does an exceptional job of maintaining security on the streets, and modern security measures are in effect in public areas.
Of course, it's always prudent to observe basic safety precautions. Examples are staying aware of your surroundings and avoiding dimly lit or secluded areas. Additionally, tourists should remain vigilant about common scams and incidents of pickpocketing in crowded places.
All in all, Caldas da Rainha is an excellent choice for travelers and expats who wish to explore the city in a safe and secure manner.
Access to health care
Caldas da Rainha, like other towns in Portugal, provides access to healthcare services through the national healthcare system, which is known as the Serviço Nacional de Saúde (SNS). Caldas da Rainha has health centers and clinics that offer a range of medical services.
These centers provide general healthcare services, primary care, and access to family doctors, nurses, and specialists. You can register with a local health center to have a family doctor assigned to you.
The town is home to the Hospital de Caldas da Rainha. This hospital offers a wide range of medical services, including emergency care. In addition, there are private medical facilities in the area that offer various healthcare services.
Work labor in Caldas da Rainha
Similar to other smaller towns in Portugal, work and labor in Caldas da Rainha are fewer and only in niche industries. However, this doesn't mean you cannot secure a job in this town. 
Some of the major employer industries where you can focus your job search include healthcare, education, tourism, ceramics, and retail.
Portugal is not known for having the highest salaries in Europe. The current minimum wage is below the recommended €1,000 mark. The average salary in Caldas da Rainhaa is about €971.50.
While this might appear low, remember that highly skilled individuals earn more than the average. Also, the cost of living in this town is equally low.
Education in Caldas da Rainha
Caldas da Rainha, like many towns in Portugal, offers a range of educational institutions and opportunities for residents and students. There are both private and public school options for your school-going children.
As for public schools, your children get a chance to immerse themselves in the local culture and language while following the standard curriculum.
However, if you want your children to continue with the same education system they were enrolled in, several international schools are available for your selection. A good example is the Colégio Rainha D. Leonor, which provides private education from pre-school through grade 12.
How can a foreigner move to Caldas da Rainha?
The first and pivotal stage in the process of moving to Portugal involves obtaining a Visa, depending on the reason for your relocation.
Portugal provides a broad range of Visa options, with the D2 Business Visa and the D7 Passive Income Visa being the most commonly used. However, other available visas include the Digital Nomad Visa, Golden Visa, Family Reunification, or Study Visa.
After getting the Visa, the subsequent step involves finding suitable housing in your chosen location. Depending on your preferences, you have the option to either purchase or rent real estate.
To access public services such as healthcare and transportation, it is crucial to register with the local authorities and the national healthcare system. While this might seem intimidating, working with reputable immigration consultants can simplify the entire process.
Is it worth living in Caldas da Rainha?
Living in Caldas da Rainha is a good option for anyone looking to step away from the busy city life. Caldas da Rainha offers a slower pace of life, which can be appealing if you prefer a more relaxed and tranquil environment.
The strong sense of community and welcoming atmosphere in Caldas da Rainha can be a positive aspect for those looking for a close-knit community. If you love the outdoors, you'll be glad to find out that the town is located near the Silver Coast's beautiful beaches. This will allow you to engage in a myriad of coastal activities whenever you wish. 
Lastly, deciding whether living in Caldas da Rainha is worth it depends on your personal preferences, priorities, and lifestyle goals.
Do you need help moving to Caldas da Rainha?
The beautiful town of Caldas da Rainha has so much to offer. If you are searching for a quiet environment to call home in Portugal, this particular destination might be ideal. So when are you making the move?
We reckon that moving to a different country might appear daunting, especially if it is your first time.
If you want to make the process far easier, consider contacting our immigration consultants at Viv Europe. Our team of professionals will hold your hand throughout the journey until you achieve your dreams of living in Caldas da Rainha.
Also, be sure to join our Facebook Group – All About Portugal For Expats, and ask other expats questions! Share experiences, read stories, and connect with fellow expats. Good luck!