Last Updated on September 18, 2023 by Laila Oliveira
This small coastal city right on the coast of the Atlantic Ocean is everything an expat would want. Nazaré is one of the few destinations in Portugal that enjoys the benefits of a small village vibe without missing out on the necessary amenities of a large city. Living in Nazaré automatically means being around a breathtaking coastline with towering cliffs, pristine beaches, and the powerful waves of the Atlantic Ocean.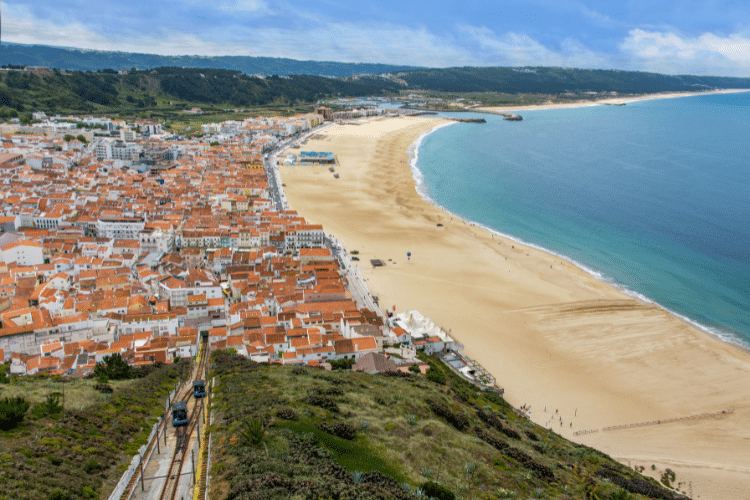 The views are simply stunning, making it a paradise for nature lovers and surf enthusiasts. What's more, Nazaré has a deep cultural and historical heritage. You can explore the narrow streets of the old town, visit the Church of Nossa Senhora da Nazaré, and discover the traditions and folklore that have been preserved for generations. But this article isn't only about all that glitters. Let's get into the details!
The town is also famous for its traditional fishing practices. And you can witness fishermen wearing colorful costumes and wooden boats. If this sounds like a place you would love to call home, here is a detailed glimpse of what it is like living in Nazaré.
What is living in Nazaré like?
Nazaré is a laid-back destination with a small village charm ideal for anyone looking to escape the busy city life. The town's slower pace is conducive to a peaceful and stress-free existence. You'll find that people take their time, and the atmosphere is unhurried. Nazaré enjoys a mild Mediterranean climate with pleasant temperatures year-round.
Summers are warm but not excessively hot, while winters are mild with occasional rain. This type of weather is perfect for the outdoorsy or anyone who wants to engage in outdoor activities all year round. Lastly, this town is well-connected to other parts of Portugal.
The nearby city of Leiria provides access to services, and Lisbon is about a 2-hour drive away. Which makes it easy to reach the capital and its international airport.
Who lives in Nazaré?
As mentioned earlier, Nazaré is a rather small town that has seen a major growth spurt and influx of expats within the last decade. To put this into perspective, this small town is home to just over 15,000 residents. Out of which, the expat population accounts for about 8.8%.
This is quite impressive, considering the national average is about 6%. Young people account for about 12.8% of the population. While the working class is about 61.1%, and the elderly comprise 26.2% of the population.
Part of the elderly population includes retirees from different parts of the globe who chose to move and retire in this small town along the shores of the great Atlantic Ocean. With the relatively higher expat population in the town, you will find integration into the community easier compared to other towns with a smaller expat presence.
Why are expats moving to Nazaré?
Clearly, the expat population in this town is above the national average. So, what makes this particular destination quite popular and appealing among foreigners? Here's a breakdown of the three main reasons why expats are increasingly falling in love with this town.
Lifestyle, community, and surfing
The lifestyle in Nazaré is laid-back and relaxed, which is typical of many coastal towns in Portugal. People often take time to savor fresh seafood in the numerous seaside restaurants and cafes. The local cuisine is delicious and features dishes like grilled fish, seafood rice, and the famous "caldeirada," a fish stew.
The town has a tight-knit community, and the people are known for their warmth and friendliness. If you decide to live in Nazaré, you'll likely find it easy to make friends and become a part of the local community. Just like the rest of Portugal, the local community is often very welcoming and tolerant of people from different ethnicities and backgrounds.
This town is a surfer's paradise! Nazaré is particularly renowned for its gigantic waves. Which can reach heights of up to 100 feet during the winter months, attracting surfers from around the world. Even if you are not an avid surfer, these activities make for a good show when you're at the beach.
Good quality of life
Apart from the laid-back lifestyle, Nazaré has plenty of other things that make living in this destination worthwhile.
To give you a glimpse of what to expect, a typical morning might begin with a cup of coffee at your favorite local coffee shop, followed by a quick stroll along the narrow cobblestone streets that lead to destinations waiting to be explored.
Of note is that the local town market is a walking distance, where you can purchase all the fresh produce, i.e., veggies, meat, and fruits for your kitchen.
Surprisingly, food in this market is quite affordable despite the fact that they are organic and fresh from local farms. If you want to get the best views, Sítio, the primarily residential area of the old town, will give you the best vantage point that overlooks the ocean. Here, you will find plenty of shops, restaurants, and cafes where you can enjoy a drink while catching the sunset.
Prospects of working as a Digital Nomad
The city has also become an attractive living destination for digital nomads, who previously needed a passive income visa to legally work in Portugal.
However, the situation has improved! The introduction of the Digital Nomad Visa has eliminated this requirement, allowing digital nomads from around the world to reside and work in Portugal for up to a year.
This allows digital nomads to experience the advantages of living and working in Portugal, including its affordable cost of living and the freedom to travel within the Schengen zone.
In town, you'll find various coworking spaces equipped with high-speed internet and comfortable seating, making them ideal locations to connect and socialize with fellow newcomers to the city.
Buying a property in Nazaré
Buying property in Nazaré, Portugal, can be a rewarding investment, especially if you're interested in living in this beautiful coastal town or using the property for vacation purposes. The good news is that this town's property cost is quite within the buying range compared to other bigger cities in Portugal and beyond.
However, there are a variety of budgets when it comes to buying properties in Nazaré. How much you will pay depends on the size, location, and current market conditions.
On average, the cost of buying property in Nazaré is about 2,310 €/m2. The parish of Famalicão is relatively cheaper, averaging about €2,200/m2, according to data from Idealista.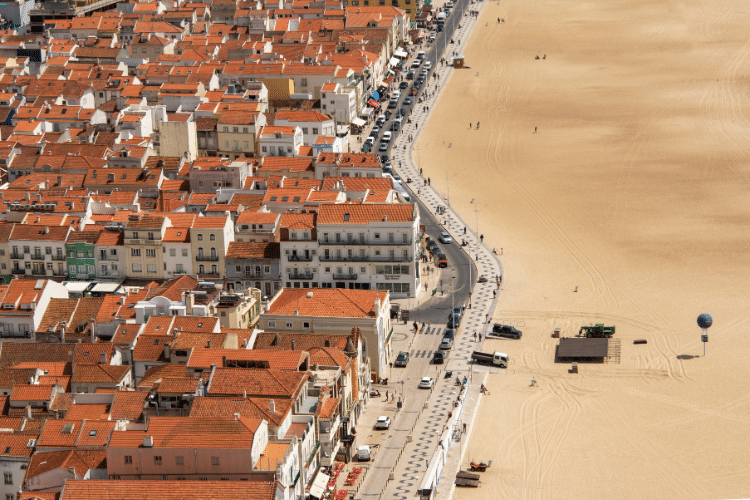 Renting a flat in Nazaré
If you don't have the necessary capital to buy property in Nazaré at the moment, you will be delighted to find out that there are so many good rental accommodations that you can get. The beauty of living in this small town by the ocean is that you can get a beachfront house that overlooks the ocean.
Ocean view aside, there are different rental accommodations depending on your budget. Similar to purchasing property, how much you are expected to pay will depend on the specific flat, with respect to size, location, and current condition.
Is it better to live in Nazaré or Leiria?
Let's begin by pointing out that no destination is better than the other; it all comes down to personal preferences and needs. With that out of the way, each destination comes with its own unique experiences. 
First, Nazaré is a coastal town known for its stunning beaches, ocean views, and a more laid-back, beach-oriented lifestyle. If you enjoy beach activities, surfing, and a coastal atmosphere, Nazaré may be more appealing to you.
Conversely, Leiria is a bigger city with more amenities, including shopping centers, cultural events, restaurants, and a wider range of services. Leiria may be more suitable if you prefer urban conveniences and a broader array of entertainment options.
Also, since Nazaré is a smaller city, the cost of living is relatively lower than in Leiria. While this is true, living costs depend on other factors like your spending habits.
Ultimately, the choice between Nazaré and Leiria comes down to your lifestyle preferences. If you value coastal living, a quieter atmosphere, and outdoor activities, Nazaré may be the better choice. On the other hand, if you prefer urban amenities, job opportunities, and a more vibrant city environment, Leiria could be the right fit for you.
Is living in Nazaré better than living in Aveiro?
If you are looking for a beautiful destination to call home, both of these destinations will be ideal. While Nazaré gives you the luxury of living along the shores of the Atlantic Ocean, Aveiro, on the other hand, is a canal city with colorful Moliceiro boats hence the name the "Venice of Portugal".
One advantage that Nazaré has over many bigger cities in Portugal is the cost of living. As expected, since Aveiro is bigger than Nazaré, the cost of living is higher.
What is the cost of living in Nazaré?
While Nazaré is popular among expats and tourists, it is quite surprising that the cost of living is still lower than most major cities in Portugal. To put this into perspective, the cost of living in Nazaré is about 26% lower than in the capital Lisbon. This means that you are able to afford the modern comforts of life without necessarily breaking the bank.
On average, renting a three-bedroom apartment close to the beach costs about €538, while groceries cost about €380 per month. The cost of utilities, i.e., electricity, internet, water, and gas, is about €150 on average.
Other than housing, groceries, and utilities, healthcare and taxes are also relatively lower. Remember that since Nazaré is a small town, you will not require a vehicle to move around, saving on transport costs further.
With Viv Europe your plans for Portugal
will finally come to a reality
Safety living in Nazaré
Nazaré, like the rest of Portugal, is relatively safe. Not only are the locals quite welcoming, but the crime rate is also low. According to the Global Peace Index, Portugal ranks 7th, which is a great indicator of just how peaceful this country is.
The local police do an excellent job of keeping the streets safe, and up-to-date security measures are in place in public spaces.
Of course, practicing basic safety precautions like being aware of your surroundings and avoiding dark alleys is always necessary. In addition, visitors should be aware of common tourist scams and pickpocketing in busy areas. Overall, Nazaré is a great destination for travelers who want to explore the city safely and securely.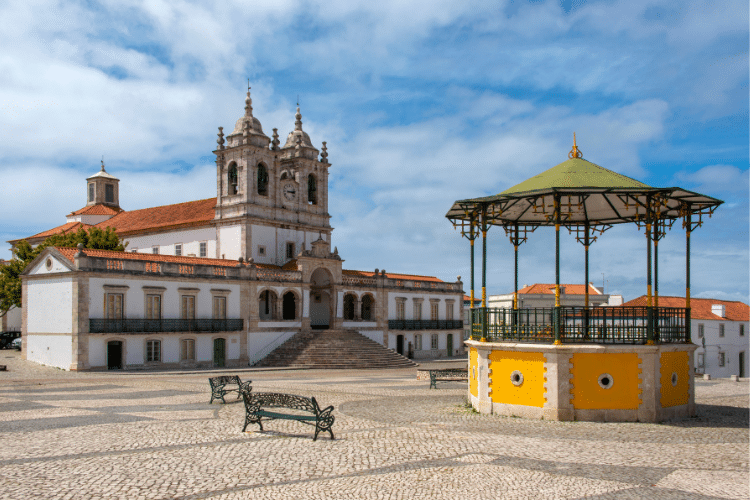 Access to health care in Nazaré
Just like the rest of Portugal, Nazaré has a universal healthcare system known as the Serviço Nacional de Saúde (SNS).
In Nazaré and the surrounding areas, you'll find health centers and local clinics that provide a range of healthcare services, including primary care, vaccinations, and some diagnostic tests. These services are generally accessible to residents.
While Nazaré itself does not have a hospital, there are hospitals in nearby cities, such as Leiria and Alcobaça, which offer a broader range of medical services. These hospitals can handle more complex medical cases and emergencies.
Work labor in Nazaré
Since Nazaré is a relatively smaller town, employment opportunities are also fewer and often in niche industries compared to the bigger cities in Portugal. The primary sectors that drive employment in the city are the service industry, tourism, fishing, and real estate.
Regrettably, the minimum wage in Portugal is not considered high, currently averaging around €1,000, which is low compared to other European Union nations. The average salary for employees in Nazaré is also within this range as well.
Education in Nazaré
If you're immigrating with children or are pursuing your own education, you'll be pleased to discover that Nazaré provides a diverse selection of excellent educational institutions. You have the option to consider public schools, where children can immerse themselves in the local culture and language while following the standard curriculum.
However, if you want your children to continue with the same education system they were enrolled in, several international schools are available for your selection.
These schools offer programs following the International Baccalaureate system and the British curriculum, and they conduct classes in languages such as French, English, or German.
While Nazaré itself may not have international schools, there are international schools in nearby cities like Lisbon and Porto.
How can a foreigner move to Nazaré?
The initial and crucial step in the process of relocating to Portugal involves securing a visa, which will be contingent on the purpose of your relocation.
Portugal offers a wide array of visa options, with the D2 Business Visa and the D7 Passive Income Visa being the most frequently utilized.
Following the acquisition of the visa, the subsequent step entails locating suitable housing in your preferred location. Depending on your preferences, you can opt to either buy or rent real estate.
To access public services like healthcare and transportation, it is imperative to register with the local government and the national healthcare system. While this may appear daunting, collaborating with reputable immigration consultants can streamline the entire procedure.
Is it worth living in Nazaré?
Whether living in Nazaré, Portugal, is worth it depends on your personal preferences, priorities, and lifestyle goals. However, it is worth emphasizing that there are many reasons why you should consider moving and living in Nazaré.
For starters, not every city gives you the luxury of living close to the Atlantic Ocean. If living by the beach is something you would love to do, then Nazaré might be ideal for you. 
Also, if you are looking for a relatively cheaper destination, Nazaré is beckoning.
Do you need help moving to Nazaré?
There you have it, a comprehensive guide to living in Nazaré. We hope that this post has been insightful for you. We also reckon that moving to a new country is often daunting, especially if it is your first time.
But fret not; our team at Viv Europe is more than willing to help you relocate and settle in Portugal. Whenever you are ready, reach out to our experts, and let's make this move possible for you. 
Also, be sure to join our Facebook Group – All About Portugal For Expats, and ask other expats questions! Share experiences, read stories, and connect with fellow expats. Good luck!